Why Connecteam is the Best Time Clock App for Small Business
When you're a small or medium business owner, you know that time tracking is as indispensable as accounting or payroll or human resources. And that's because time tracking shines a spotlight on the most crucial aspects of your company. You know what your hourly workers need to get paid. You know if you're actually making money on the work you're doing or if you're burning through cash. You know if your staff is working at a healthy pace. And the list just goes on.
And let's not forget one key reason time tracking is so important – it's required by law! FLSA (Fair Labor Standards Act) requires all businesses track their employee's work hours as part of their recordkeeping. According to FLSA, employers are required to have an accurate record of each hourly employee with a detailed breakdown of the number of hours worked per day and per workweek, the date and time of the starting workweek, the hourly pay rate, regular earnings, all overtime hours worked and overtime earnings.
On top of that, breaking the laws regarding time clock rules can lead to your business being penalized by needing to paying substantial fines for every breach.
But why is time tracking so difficult to manage? Well, if you're still using pen and paper to track your activities and the time spent on them, the door is wide open for huge mistakes to happen. If you or your team is not immediately writing down when you clocked in and clocked out, the guess work begins and the chances of error and payroll mistakes are far more likely. That's why making the switch to a time clock app for small business can help save the day, and every day after.
So, why do you need a time clock app for small business?
How much time do you spend on mundane tasks like answering emails? How much time is spent in meetings? You might just be surprised by the results! Once you know how much time is spent on certain tasks, you can better organize your time so you aren't, in turn, wasting time.
The Fair Labor Standards Act (FLSA) requires that businesses keep accurate records of employee working hours, but owners choose their timekeeping method. FLSA requires you keep documentation for at least two years, and it has to be readily available for government inspection. So by using a time clock app, you don't have to worry about anything getting misplaced or lost, like what you typically encounter with a paper trail.
Eliminate wage and time theft.
Most employees will commit some form of wage and time theft, both of which can cost you some serious money: 
Wage theft costs employees in the US $22 billion a year

Time theft costs employers in the US $11 billion a year

Buddy punching costs employers in the US $373 million a year

Accountants say that 92% of their clients have experienced time theft and on average, that 5% is added on top of their gross payroll costs.

The American Payroll Association also reports that more than 75% of companies will lose money from buddy punching as it accounts for around 2.2% of gross payroll.
By using a time clock app, you eliminate buddy punching as most apps add a GPS location stamp every time an employee clocks in and clocks out.
Everything is automatic and helps organize the process of confirming timesheets, meaning you save time by avoiding piles of Excel sheets.
At a click, you can see how many hours an employee has worked so if you have a client who wants to know how much they'll be charged at any given moment, you don't need to wait days or weeks to provide such information.
"Its been a perfect solution for our small business to track times more accurately which has saved us money because people are no longer "guessing" what time they clocked in and out. The staff really likes the feature of being able to see their time sheet, too!"

Katy A. General Manager, Hospitality, 1-10 employees
This is pretty obvious, but when an employee uses a time clock app to clock in and out, it helps to eliminate the likelihood that a coworker can do it for them.
A GPS location stamp is tagged whenever an employee clocks in and out so you are always aware of just where they were when they did so. This gives you peace of mind as you know you're paying for the work the employee did and not for unnecessary detours along the way.
"We like the GPS location reporting of where our team members are clocking in from. Being in the construction field, our job-sites change on a daily basis. Great value for the savings we received from either accidental or intentional time punches."

Devon P. Director of Operations
Quickly react to overtime.
The second an employee goes into overtime, you receive an alert so you aren't wasting time handling the situation. If an employee simply forgot to clock out, you can take care of this straight away so you're always a step ahead.
Easily know how much your employees are working so you can track if individuals, or an entire team, is regularly going over their capacity. Meaning, you can help lower their workload so they don't burn out. This allows you to create a healthy work-life balance for your employees so that they are, in turn, happier and motivated.
״Connecteam has improved the way we run our business and day-to-day work, as it allows full control over what's happening in the shop without the need to be physically there. 

 Most importantly, it gives us an easy and flexible way to manage the company's most valuable asset, which is our employees!״

Shaul W. Owner and CEO, Retail, 50 employees
An app doesn't round up a single second when tracking how long an employee worked. There is no minute here or there, instead everything is tracked down to the actual second.
While not all mistakes are eliminated, the likelihood of an error is drastically lower. The IRS reported that 33% of employers make payroll errors, and the American Payroll Association also reported that these types of errors range between 1-8% of total payroll.
Instantly know who asked for time off so you can approve or reject the request as soon as possible and can create a functioning schedule as a result.
Add additional information.
Whenever an employee clocks in, they have the ability to add additional information when relevant, including the client's name, the type of job, material usage, etc.
Don't get stuck in the past, so many companies have already made the switch to a digital time clock – and yes, it is actually a lot easier than you think. But before you rush into choosing a software solution….
These are the key factors to consider when choosing a time clock app for small business. Ask yourself the following:
How long will it take to implement? Consider if your employees are mobile or sit in front of a desk all day.

Is the solution easy to use?

How much time will it take to set up?

How much are you willing to spend?

Can you scale and add more to the solution when and if needed?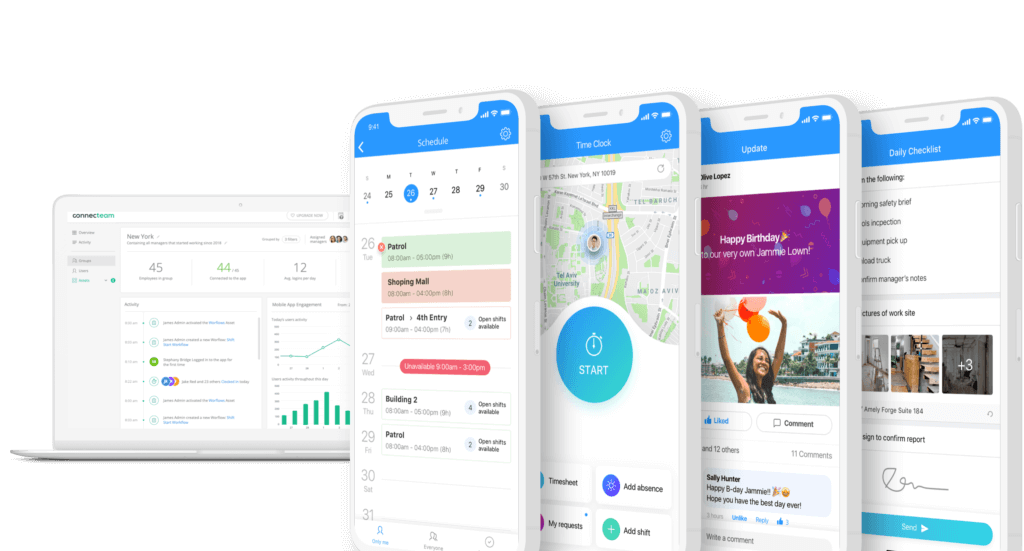 Why Connecteam is the best time clock app for small business:
Connecteam offers the best long-term solution for small and medium businesses, remote employees and Enterprise. You can communicate, organize tasks, share documents, schedule jobs and so much more. But what features are most impressive about its time clock app?
1. Extremely user-friendly.
With a sleek interface, employees can easily navigate through the app without the need for training. If you don't have tech-savvy employees, don't worry, it's literally as simple as download and GO.
"From initial startup to becoming familiar with the program the support has been second to none. It is very user-friendly and has improved our ability to respond in a timely manner as well as decreased the number of phone calls into dispatch operations allowing them to concentrate on customers and in turn increase orders."

Andy F. Dispatcher, Environmental Services, 51-200 employees
2. Set daily limits.
You can set a daily limit on exactly how many hours an employee can work so that way, you can avoid the hassle of overtime. And if an employee forgets to clock out, you can automatically clock them out yourself.
3. GPS empowered.
Each time an employee clocks in and out, a real-time timestamp and GPS location is tagged. If relevant, employees can also add additional information through tags, such as a job, project, location client, or anything else created in the system.
4. Send reminders.
Send a push notification to remind employees when it's time to clock in or clock out. This helps cut down on overtime or miscalculating hours.
5. Timesheets & payroll.
Timesheets on Connecteam are easy to navigate and you can instantly find what's missing or needs to be fixed. Moving back and forward between an employees' timesheet is incredibly easy, especially with the in-app chat. Plus, Connecteam has numerous export options that save valuable time, including a Quickbooks Online integration. Easily export as a full timesheet in detail or in a payroll format, simply export in a click, with specific dates, for individuals or for the entire team.
6. Automatically add unpaid breaks to timesheets.
Easily activate breaks so you can automatically lower unpaid time off from your employee timesheets. Once activated, according to the break settings you set up, an unpaid break is deducted from each employee's daily total hours.
If you need more information about a shift, you can easily send employees a message directly from the app. Or you can even send the entire team an update. Either way, you always know who read your message and who didn't.
Don't waste time searching for the right work contact, all work contacts are stored on Connecteam. Meaning, you don't need to save such information on your personal mobile phone. If you can't remember someone's name, just search by job role, department, location, etc.
9. Scheduling and workflows.
You don't need multiple apps to collaborate and manage your employees. Simply activate the scheduler to schedule shifts, dispatch jobs and collaborate 24/7. Through workflows, you can create checklists and forms to increase compliance and can officially ditch pen & paper for good.
10. Overtime settings
Measure overtime by setting up either weekly overtime or daily overtime on the time clock. The default overtime weekly limit is 40 hours but you can adjust as needed.
11. Ability to archive. 
When an employee leaves the company, you can archive their profile so that their status is set to deactivation of their mobile account but still maintains all their past records.
12. Affordable.
Connecteam is the most affordable time clock app in the market. It is available at a fixed monthly price for up to 50 users so you don't burn through cash paying per user. Choose from 3 affordable plans, starts at just $39 per month for up to 50 users. If you need more than 50 users, there is an Enterprise plan as well. Start with the free plan today!
Time tracking just got easier
With Connecteam, it's much easier to track and manage working hours on jobs and projects, improve your payroll process and collaborate with your deskless and remote employees like never before. Start your free to see what Connecteam is all about.
Start for tree
Benefits of using Connecteam for time tracking per industry 
As everything is available on smartphones, cleaning companies use Connecteam for all their time tracking and payroll needs, for example:
Clocking in and out of shifts with a GEO location stamp

Sending reminders to ensure employees are clocking in and out on time

Utilizing tags, shift attachments and notes to know how much time was allocated for all customers or jobs 

Manage and approve leave and time off

Exporting payroll sheets, per shift or as a total.
Care agencies
Managing all employee's work hours is easier as everything is instant and Connecteam's app allows for more than just clocking in and out: 
Clocking in and out with a GPS location stamp

Sending reminders to make sure all employees are clocking in and out on time

Utilizing notes and tags to address specific needs (like filtering by customer or specific dates).

Exporting payroll sheets, per shift or as a total

In-app chat for clarification regarding shifts or if additional information is needed.
Saving time on managing hours is easier than ever: 
Employees can clock in and out of shifts with a GEO location stamp

Sending reminders via push notification to ensure employees are clocking in and out on time

Using notes and tags in order to address specific needs

Exporting payroll sheets, per shift or as a total. 
Logistics and operational companies 
Connecteam allows you to be right where your employees are in terms of time tracking, payroll needs, and more: 
Managing hours by allowing employees to clock in and out of shifts with a GEO location stamp

Sending reminders to make sure your deskless employees are clocking in and out on time

Know when, what and where by using notes and tags to address specific needs

Exporting payroll sheets, either by shift or as a total. 
Time tracking is easier and saves costs by using Connecteam:
Security guards can easily clock in and out of shifts with a GPS location stamp

Reminders can be predefined so you can be sure your  employees are clocking in and out on time

Utilizing notes and tags to address specific needs

Adding scheduling features to maintain shifts and dispatch jobs 

Exporting payroll sheets by either shift or as a total. 
Connecteam: more than clocking in and out
Connecteam's time clock app has all the right tools for your employees. Clock in and out, request absences, view current and past timesheets, and add notes can all be done while on-the-go. With an intuitive, mobile-first user experience, your team will find it easy to use with no training at all. Start tracking time today with Connecteam's employee time clock app.
Learn more now
Want to get more tips?
Join 20,000+ others who get our weekly newsletter with Business owner tips!