When you're a small business owner, you're expected to have all the answers. Such as solving problems, communicating with employees and customers, marketing, managing finances, and so on. There is no doubt you're constantly searching for ways to increase productivity while competing with bigger companies but with little to no spare manpower. And let's not forget that your customers expect the best customer experience, it makes no difference to them if you're a small business or a large enterprise.
So to make your life a bit easier, you need the best small business apps.
And we know that in today's world, everyone has a smartphone, that's why so many small business owners are making the move to small business apps – they need their employees to get work done from anywhere, at any time.
What you are looking for in small business apps?
Affordable.

No commitment plans.

Easy to use.

Can scale with your business.

Great customer service if you need assistance.

It must have a direct impact on investment very fast.
We created a list of the best small business apps for 2021. Actually, we went a step further and categorized the apps into eight categories for clear and easy navigation! The eight categories for the best small business apps include:
1. Small business management apps
2. Payment apps for small businesses
3. Finance and accounting apps
Use the apps to communicate with all your employees, manage payroll, job scheduling, and so much more. When you have the right small business apps in your pocket, you can accomplish more than you thought while growing your business.
The 36 Best Small Business Apps In 2021
Small Business Management Apps
Connecteam is the employee app that connects everything a business needs from field to office, all in one place. In the click of a button, you can connect your staff, manage day-to-day operations, improve employee experience and engagement, and drive your business forward. Connecteam offers the full package.
From the minute an employee begins onboarding to daily communication to time tracking, job scheduling, and operational procedures, Connecteam has it all. This way, your employees are more productive, are easily kept in the loop, and you have full visibility on what is going on.

Operational features include an employee time clock so you can simply track work hours with a GPS time stamp, checklists and forms so all workflows and procedures are online, and also employee scheduling.
Internal communication features include customizable chat options with private or group conversations, an employee directory available directly on the app, live polls, sharing of videos, pictures, and GIFs, immediate updates through channels, surveys, a suggestion box, and more.
Create professional courses for easy employee training and onboarding, add policies with read & sign options, build a searchable library, conduct quizzes, and more.

The best thing about it is that you can truly have an all-in-one solution to manage your employees, instead of integrating multiple solutions which will be far more complicated, time-consuming, and expensive.

Connecteam is trusted by more than 8,000 companies and offers fixed monthly pricing plans, starting at $39. Start with the free plan to see what the best small business management app is all about!
Start scaling your business with Connecteam's free employee management app by signing up today!
SAP SuccessFactors makes it simple to engage your entire workforce and complete HR tasks. A main feature of SAP is to boost productivity – connect all your employees so they receive key information and processes no matter where they are. It includes self-service tools for managers, employees, and HR, this way everyone stays on time of critical tasks.
With its HCM feature, "you can automate your people processes, improve visibility and efficiency, and transform your business turning strategy into execution every day." If you're interested, this small business app costs $84.53/year/user.
Chanty is a team chat app that lets you communicate and collaborate with your team with ease. Get in touch with them using text and voice messages or make audio and video calls. Share your screen and communicate one-on-one or through public channels. Besides communication, you can manage your tasks and project by turning messages into tasks. Assign those tasks to your team and set deadlines so you can manage your work from Chanty. Finally, you can see everything in one place: your Teambook. This is your central communication hub that stores all of your contacts, messages, tasks, files, and much more.
Workday boasts of a single small business app for HR and finance so you can make better choices based on data and not guesswork. With this app, you can easily engage all your employees and it is customizable at any moment. Through their Workday Human Capital Management (HCM), as a manager, you hold all the cards to efficiently and effectively plan, recruit, and develop talent in just a click. This easy to use, user-friendly small business app seamlessly takes your employees from day one to their last day. Chat with a representative to get a price quote.
This New Zealand company allows you to monitor your cash flow in real-time. Send invoices (and see when they've been opened), create expense claims, and import and categorize all your latest bank transactions. There are dozens and dozens of more features that Xero offers and it also integrates with over 700 small business apps, like PayPal. Start a 30-day free trial and then choose from 3 plans: Early $9/month, Growing $30/month, or Established $60/month. Carefully review what each pricing plan includes as not each one is suitable for your business size and needs.
EmailAnalytics is an app that visualizes your team's email activity, enabling you to see essential productivity KPIs at a glance, such as emails sent, emails received, and average email response time. The app automatically integrates and performs all the calculations for you, and delivers you a convenient daily or weekly email report so you can effortlessly keep tabs on your team's workload and efficiency.
Pricing starts at $15/user/mo, but they also offer bulk discounts for teams of 5+ users, with pricing going as low as $5/user/mo.
Payment Apps For Small Businesses
Melio is a web-based account payable platform that lets you conveniently pay bills via bank transfer and debit card for free, even for vendors who only accept check payments. Currently only available to small businesses in the U.S.
Melio is a free solution you can use immediately on any internet-enabled device such as your laptop or smartphone. This works perfectly for busy entrepreneurs and professionals who are looking for a way to pay bills and manage cash flow on the go without spending a huge portion of their budgets on expensive accounts payable software.
Melio comes with payment scheduling features that help you set automatic payments so you don't have to worry about late payments or paying too early. It also has payment approval workflows so you can invite users or your accountant to access the platform while still having full control of transaction approvals. It integrates seamlessly with QuickBooks accounting software and allows paying with any credit card or bank in the US.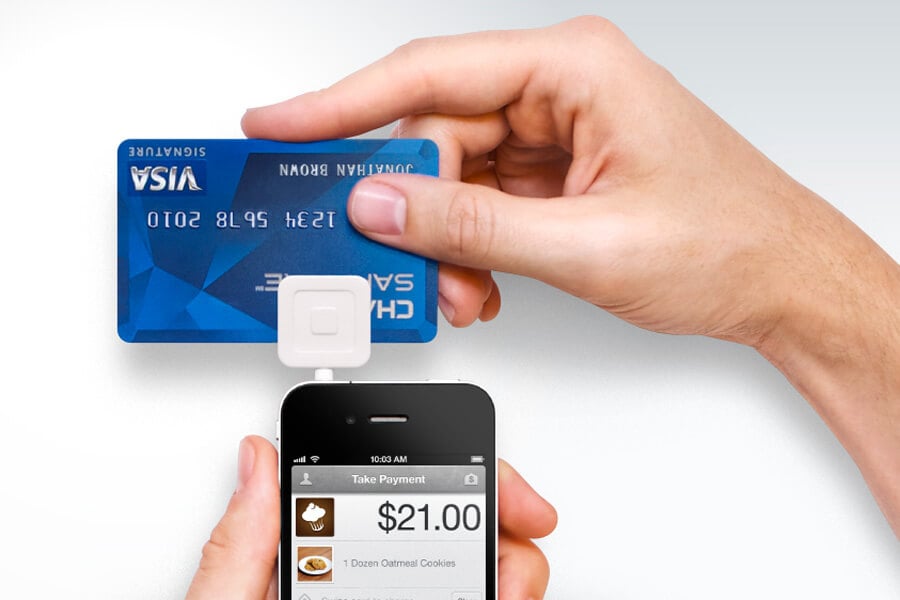 Doesn't matter where you sell, Square allows you to easily accept all payments; from accepting credit and debit card payments on your phone to building a custom solution on Square's payment platform, or selling your products online. Additionally, you can, "Get real-time analytics and sales data, send a marketing email and online invoices to your customers, manage your locations and employees, and even run it all on our hardware." Check out their pricing page to know exactly what it will cost your business.
Last on our list of payment apps for small businesses is Venmo. Venmo isn't just for splitting cab fares or sharing payments with friends, their social commerce platform allows you to do so much more. When customers checkout on mobile or desktop, Venmo steps in to connect real friends who can share what they experienced and bought. That network of friends can then view, like, and comment on a shared purchase – which means your brand gains a lot more exposure.
In other words, "Paying with Venmo allows customers on iOS and Android devices to make purchases using their Venmo account. Customers can connect their Venmo wallet to your mobile app or mobile website, and then seamlessly pay for all future transactions via Venmo without having to reauthorize in the Venmo app." Standard pricing applies, 2.9% + $.30 per transaction.
Finance And Accounting Apps
Quickbooks Online makes it super easy to manage all business needs, no matter the size of your company. Easily track expenses, create and send forms (such as quotes, invoices, accounting reports, etc.), know where your cash flow stands – its user-friendly dashboard presents everything in a way that's simple to understand.

Start a free 30-day trial and then you need to choose from a pricing plan: simple start ($15/month), essentials ($23/month), or plus ($31/month).
With Wave, you can track income and expenses, create and send invoices (from desktop or mobile), recurring billing, and scan receipts from anywhere. The Wave dashboard is easy to navigate and was built especially for small business owners. Maybe that's why this small business app is completely free – yes, you read that right.
"Connecteam helped us transition from a handful of productivity apps into ONE"
Discover More
Time Management Apps
RescueTime runs in the background of your mobile phone or desktop, it tracks the time you spend on applications and websites so you have an accurate picture of your day, and it sends you a detailed report based on your activity. RescueTime will set alerts so you know how much time was spent on an activity, block distracting websites, you can pause RescueTime at any time (like if you're on vacation), detailed answers on how much time you spent reading emails, scrolling social media, etc. Once you know where you're wasting time and how much of it, you can be far more productive!
Choose their free for life plan to really understand how you spend your time or choose their Premium plan that costs $9/month (includes a 14-day free trial) and is way more in-depth than the free plan.
You can set personal goals like the minimum or maximum amount of time you actually want to put into a task. For example, spending "at least"1-hour exercising, or "at most" 30 minutes checking your email. Set days for when your tasks repeat and My Minutes will remind you about them. As your "streaks" change to green, you will be more motivated to tackle them again and again. This small business app is free to use and helps you manage your personal time far more productively.
Toggl can help boost productivity, it is "The simplest time tracker to help you get things done. Ideal for teams, freelancers & agencies." All you need to do is push a button. Toggl will quickly break down the numbers and the data is laid out at your feet in a clear, easy to understand format. Plus, the Toggl Button browser extension efficiently allows you to track your time in over 80 online tools. Once all the data is accessible and you see where all your time is spent, you can adjust as you need. Pricing starts at $9/month/per user, $18/month/per user, or chat with a representative about their Enterprise plan.
Project Management Apps
Monday is a project management app that clearly organizes all tasks and boosts team communication. Just create a project, add tasks to the said project, and finally, add steps to each task. As your employees complete a task or steps of a task, the status is updated so everyone can easily see where a project or task currently stands. In addition, you can create knowledge bases to store documents and anything else project related.

Monday is available on desktop and mobile and you can receive notifications in real-time so you never miss a beat. The pricing plans available differ by the number of users, for example, 5 users cost $29/month or for up to 10 users costs $59/month. There are also Standard, Pro, and Enterprise plans.
nTask is a cloud-based task and project management software that caters to small businesses and individuals. It provides users with tools that enable collaboration with team members on tasks, projects, issues, meetings, timesheets, and risks.
You can plan all your projects in nTask with just a few clicks by adding description, assigning resources, setting a budget, and creating tasks. You can visualize your project progress with beautiful interactive Gantt charts that can help in decision making. nTask is available on the web, Android, and iOS devices. You can get started with nTask with the forever free plan. The Premium plan starts are $2.99/user per month, and the Business package starts at $7.99/user per month.
Use Trello for all business needs like project management, a daily/monthly task list, organization, meal prep, maintaining a blog, and so on. All of their Kanban boards are shareable, flexible, and so much detail can be added to each card.
You don't even need to use Trello just for work purposes, use it to organize it your life too! Choose from Trello's two pricing plans: free or $12.50/monthly per user.
Basecamp describes their product clearly, "Basecamp combines all the tools teams need to get work done in a single, streamlined package. With everything in one place, your team will know what to do, where things stand, and where to find things they need." Create, assign tasks, and set due dates with a to-do list, create a message board on a single topic, schedules clearly display all projects, all files and documents are conveniently located in one place, chat in real-time, "check-in questions" allow you to ask questions daily, weekly or monthly, share access with your clients, hill charts show project status, Pings are a direct messaging option, forward emails into Basecamp, and SO much more.
Start a free 30-day trial and then you need to choose if the $99/month for your entire team is right for you.
ProofHub is a project management app that gives you access to all your projects on the go. It is one place for all your projects and team collaboration. Managers can delegate from a distance. They can assign tasks, check the current status of any task, have a look at the planning aspect in no time with the ProofHub app.
Apart from this, the features like in-app notifications help in keeping everyone on the same page regarding duties and task updates. With an Android app, everyone can join in the Discussions and chat whenever the need to communicate arises.
ProofHub is supported on iOS, Android, and Windows platforms. And the fact that it's super affordable doesn't hurt either. It is available for $89 per month for unlimited users.
Start scaling your business with Connecteam's free employee management app by signing up today!
Job Scheduling Apps
Connecteam's scheduling app makes it easy for managers to save time, money, and effort on planning. How so? It's easy to use, affordable and offers real-time oversight on where things stand. Not to mention, the app's robust scheduling features allow you to reduce labor costs, improve worker morale and satisfaction, and eliminate the headaches that come with creating a schedule. If you're on the go, Connecteam makes it easy to manage your schedule (even if you have multiple sites or departments), you can create the schedule by week or month, use features like duplicate, drag & drop, templates, bulk actions, and you can even communicate with your team directly from the app. Try it for yourself and start for free now!
If you need daily planning helped, Schedule Planner, is the answer. All tasks are organized by category and priority. Schedule Planner is easy to use, practical and has a sleek user interface. Users can create plans from scratch or choose a pre-existing one. Chat with a customer service representative about pricing.
Everything you need for job scheduling, like availability, time offs, and shift swaps, is available on one app, ZoomShift. Use existing templates to create a schedule in minutes, you can also drag and drop shifts on the calendar. Share the schedule via text message, email, or push notification. All team members can view their schedules, set availability preferences, request time off, and can pick up open shifts.
If you're looking to replace Excel, sign up for their free plan. Otherwise, you are looking to pay either $2 or $3 per user every month, depending on exactly which plan you choose.
10to8 has a feature, Meeting Scheduling Software, built to help remote teams connect and organize meetings, like daily calls, virtual coffees, cross-department meetings, and more. And if your team is spread among many time zones, there is a timezone management feature so you're not stuck calculating the differing hours.
There is also a native Zoom Video integration that allows you to manage video calls easily.
Marketing Apps
Within minutes, through Wix, you can easily create the website of your dreams. Choose from thousands of templates or start from scratch, then simply add content, and publish. It really is that simple. With an amazing website, customers enjoy their online experience and you can generate more leads.

With more than 110 million customers, Wix helps you create your own stunning website, "We have the only drag and drop website building platform with HTML5 capabilities, 500+ designer-made templates, top-grade hosting, innovative Apps, and 1000s of features for free." Wix offers a free plan that you can start off with and then you can upgrade to "unlimited" so you can enjoy even more features to further your business at $12.50/month.
Schedule and manage every one of your social media posts from a single place. Easily send your message to your social platforms, without any of the added hassle. Create posts, analyze the data, and engage your followers.
Up to 25 users can be added to your Buffer account, and you can choose who has full posting access or needs permissions. Choose from free or $15/month starter plans or their business plans. However, based on what your needs are, take a close look at each of the plans so you can choose the right fit for you.
You're looking at a social media management system. Hootsuite helps you track and manage all your social network channels. It enables you to monitor what people are saying about your brand and helps you instantly respond to them. View streams from various networks like Facebook, Twitter, and Google+ and post an update or reply directly. What is best about Hootsuite is that you really can monitor multiple streams from one place, currently, it supports Twitter, Facebook, LinkedIn, Google+ Pages, Foursquare, Instagram, WordPress blogs, Vimeo, Tumblr, Evernote, Flickr, Mailchimp, Slideshare, Storify, and more.
For $19/month, you get one user and up to 5 social platforms with unlimited scheduling. $99/month gets you 10 social profiles with 3 users and unlimited scheduling. $559/month gets you 35 social profiles for 5 users (up to 10) and unlimited scheduling. If you need an Enterprise plan, chat with a Hootsuite professional.
If you want real-time media monitoring on your brand, you need Mention. You can easily g live updates about your brand from all over the web and social media. With Boolean alerts, you can closely monitor your brand, competitors, and customers. This allows you to attract customers, build brand awareness, and improve the reputation of your business.
Choose from 3 plans: $25/month (2 basic alerts, 3,000 mentions, 2 social accounts and 1 user), $83/month (5 basic alerts, 5,000 mentions, 5 social accounts and 3 users) or $600+/month (Boolean alerts, custom mentions, 10+ social accounts and unlimited users).
So you want to send out newsletters straight to your customer's email? Or create landing pages, signup forms, and Facebook ads? Mailchimp is the solution! The interface is easy to navigate, their unique templates are professionally designed, and you can even start for free. Easily reach your clients and get new ones as you increase your marketing efforts in a snap.
As your audience grows, Mailchimp grows with you. The small business app has even more features that can help automate all your marketing goals and it isn't complicated to understand. Their customer service is always available and membership is free, then costs you $10/monthly.
Org Chart Software
Pingboard is an amazing tool that provides real-time, collaborative org chart software so it's that much easier to organize teams, plan for growth, and keep everyone on the same page. Simply create multiple private org charts to better manage hiring, execute succession planning, build interactive charts with real-time data, and benefit from the employee directory that's available on iOS and Android.
You can start for free and then choose a pricing plan that best suits your budget and needs. On Pingboard's pricing page, it separates pricing by how many employees you have so you can get a more calculated total.
Other Favorites
BlogIn is a beautifully simple internal blog and knowledge-sharing platform for teams of all sizes. The internal blog acts as a central information hub or a 'virtual bulletin board' for the company, allowing all employees to stay in the loop with what's going on in and around the office. In addition, the blog opens a new, transparent, two-way communication channel inside an organization, where everyone can ask a question and get the information they need to make faster and smarter decisions. The internal blog is intuitive and easy to use, so everyone can quickly get on board, which is one of the reasons why it works so well as the internal communication tool.
What are some key benefits to your company? Share internal news and knowledge, improve internal communication, boost company culture, and enable transparent, two-way communication.
With the help of Acquire, you can easily sell and support customers using a single platform. It helps in providing positive customer experience through its customer engagement software. As a business owner, it gives a unified customer view wherein you can check out all their digital interactions in one single timeline.
On top of this, the software also offers an omnichannel customer experience. Using this feature, you can utilize its real-time communication tools and capabilities, and offer an omnichannel customer experience. This way, it is possible for you to be everywhere your customers are. It also consists of more than 50 integrations that assist you connect your Acquire account to the most popular sales, support, and customer service tools.
Kipwise is a knowledge management tool that helps teams build up their company knowledge hub easily. It offers powerful Slack integration, browser extensions and is integrated with Google Drive, Trello, Airtable and more, so you can save and retrieve team knowledge easily, wherever you need them.
Using its real-time collaborative editor with rich embedding options, your team can edit the same doc at the same time and create visually appealing documentation easily. You can also set designated reviewers for your collections, and Kipwise will remind them to review the content regularly to ensure your knowledge base is always up-to-date and accurate.
YouTeam will support your company's expansion. When you need to hire a remote software engineer or even hire a development team, this platform will help to make your hiring experience smooth, fast, and reliable. Backed by Y Combinator, YouTeam operates the network of trusted outsourcing companies from Eastern Europe and Latina America. Every partner in the network, as well as every developer that they submit to YouTeam's talent pool, passes a pre-vetting process, including independent developers' skills verification via HackerRank for Work™. This model and a fast matching process make it possible to hire a remote development team within 48 hours.
Among the most important features that you get with YouTeam should be mentioned: a handpicked talent sourcing, a dedicated manager to facilitate legal and communication questions between the client and the development side, secure payments. One more vital advantage of the platform is reasonable rates based on the engineer's professional level and geo.
Forget about cluttered Excel spreadsheets or a complex onboarding process, Hubspot is the perfect CRM for you. Why? Well, all interactions are automatic, you receive up to 1,000,000 contacts, users, and storage until the end of time and best of all, it's free! Just link the CRM to all locations (website, social media, email service providers, etc.) HubSpot said it best, "Organize your contacts, get deeper insights on every lead, and monitor deals with ease — all for free."

HubSpot makes it easy to streamline all the data for current and future customers so that your team can focus on making money instead of navigating through endless paperwork. On-boarding is super easy as well so it's a small business app your entire team will want to use over and over.
myHQ is one of the fastest-growing networks of coworking spaces for individuals, startups and enterprise teams. In addition to monthly work plans, they also have a novel pay-per-use flexi pass which gives you access to over 300 workspaces at nominal prices. Their spaces are fully-furnished with premium amenities and host a vibrant community of innovators.
As a member, you also get access to free benefits worth $25K on over 100 global business tools & services like AWS, DigitalOcean, Segment, Hotjar, Constant Contract, etc.
If you need a website, mobile application, or complex software system built for your business ⁠— Relevant is a company you should contact. In case you are a tech company, they can provide you with software developers fast to extend your existing engineering team. For 7 years on the market, they have helped more than 200 businesses progress with tech solutions.
The price for services is reasonable as the company is located in Ukraine – the country with an excellent tech skills reputation and quite a low cost of living.
The Bottom Line On Small Business Apps
There is no doubt that the best small business apps help boost productivity (for both you and your employees) and definitely make your life as a small business owner more efficient and easy. We listed our favorite small business apps above and know that when you take on any of these apps, your workday will be better for it! After all, there's basically an app for everything. From organizing ideas to sending invoices to tracking time and creating a job schedule and so much more. Everything you could have dreamed of to lift the weight off your shoulders has been listed in our top small business apps.
Scale your business with Connecteam for FREE
Easily communicate with all your employees, manage payroll, job scheduling, time tracking, move all checklists and forms to digital, build professional skills, and so much more. Everything you need to grow your business is at your fingertips. Get started for free!
Create Free Account