Meet
Connecteam,

The

Trello

Alternative for Deskless Workers
A purpose-built mobile app for frontline workers real-time task management
Free-for-life, no commitment
Designed for mobile teams
No work email needed
Mobile task management & much more
Why is
Connecteam
a better choice than
Trello
for deskless teams?
See the differences for yourself!
Job reports with e-signatures
Surveys and suggestion box
Employee training and quizzes
Customizable app appearance
Easier To Create Tasks
Just a couple of clicks and your task is live and pending completion
Your employees don't need to know what kanban is or be tech-savvy. They simply get assigned to tasks and complete them. Include detailed descriptions, subtasks, attach images & files, to simplify tasks even more!
Get started for FREE
Better Collaborate & Communicate About Tasks
Simplify task related communication
Dedicated work chat, a click away from the task itself
1-on-1 or group chats, organised by the task, team or project
Instant feed-style updates with delivery & opening status
Comments & likes for quick interactions on the go
Built-in searchable employee directory to find anyone in a click
Task updates with push notifications & auto-reminders
Get started for FREE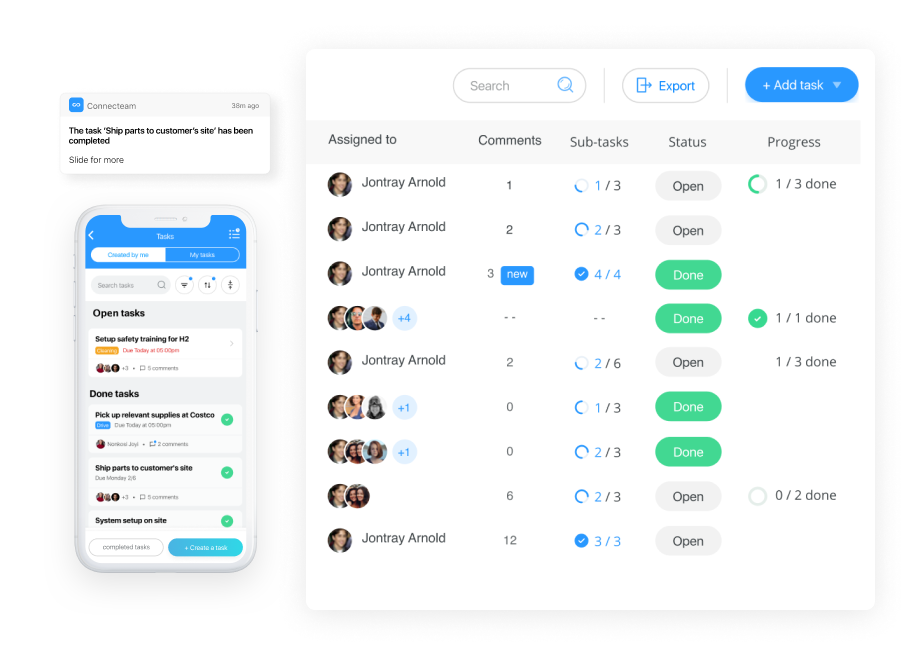 100% Real-Time Tasks Progress Visibility
Stay up to date & have a clear overview of what's happening
Stop chasing after your team and get a clear visibility on all ongoing tasks! Get real-time notifications on status updates and send automated reminders to employees for overdue tasks.
Get started for FREE
Manage Recurring Tasks & Standardize Processes
Easily create and manage recurring tasks, checklists & forms from your phone!
Easily create custom digital forms and checklists and save them to reuse later
Use drag and drop editor to build forms on the go or use one of our templates
Request GPS stamps, e-signatures and/or camera shots to finish the task
Always see the real-time progress updates and act on them, even on the go
Get started for FREE
Easy to Implement & Switch
Built for busy people with a deskless workforce
Quick and credit card free sign up
Easy and intuitive to self-learn and explore for any employee
Move your entire business management to Connecteam in less than a day!
Finally, you don't need a work email to use the app, just your phone number!
Get started for FREE
What Our Customers Say
I tried about 20 different platforms for workforce management before deciding to go with Connecteam. It's everything we needed (plus more), all in a single solution. Not only did we cut our previous costs by 80%, everything is now in a single solution.
Scott W.
Director of Operations
Connecteam is by far the best software I have used for keeping the entire organization on the same page.
Rakesh D.
Chief Travel Geek @ TripDesign.Us
Overall experience is 150% wonderful! Their customer service is the best! The best thing about Connecteam is that it can work with any type of business. It is so customizable!
Join thousands of companies, already enjoying Connecteam.
Connecteams all-in-one employee management app is a Trello alternative, built and designed especially for deskless employees.
Connecteam is the industry-leading Trello alternative app for time tracking and scheduling. Everything your business needs is available on Connecteam's easy-to-use and super affordable platform: GPS time tracking, geofencing, absence request management, shift planning, dispatch assignments and so much more than Trello app is offering.
As the best alternative to the Trello app, Connecteam offers four key strengths we believe are directly related to the success of your business when using an employee app:
 – Better scheduling and time tracking features for your business
– No paying for each user or a monthly basis, pricing starts with a flat fee of just $39 a month  for up to 50 users, or you can stick with the free plan
– Modern user experience with setup taking only 15 minutes
– As a leading Trello alternative, we boost employee management with the only all-in-one app
Try Connecteam, the best Trello app alternative for free!