11 Steps on How to Start a Small Business in 2020
A great entrepreneur doesn't have a fancy college degree or millions in the bank but rather the drive to succeed and a brilliant idea that stands out from the rest of the competition.
And with over 28 million small businesses in the United States, the chances of success might appear slim but when you are driven to succeed, how you act in the very beginning is what sets you up for success.
So are you asking yourself how to start a small business to ensure your success? There are 11 steps you need to follow in order to start a business successfully, take each one a day at a time. Don't rush the process and you're well on your way to small business success.
11 Steps on How to Start a Small Business in 2020
1. It's all starts with YOU.
Before you do anything, ask yourself this: why do you want to start a business? Once you have the answer, you'll know what kind of business you'll start. For example, if you need extra money consider a side project. Or if you want more flexibility, it's time to leave that 9-to-5 job for good.
Now that you have the reason down, ask yourself even more questions so you can determine which business type to start and if you'll succeed.
What are your skills?

What are you passionate about and how will it help?

What is your area of expertise?

How much can you afford to spend?

How much capital will you need?

What kind of lifestyle do you want to live?

Are you sure you're ready to be an entrepreneur?
Make sure you answer the questions truthfully, this isn't the time to sugarcoat anything. The answers will help you create a foundation going forward so it's better to be honest now.
2. Research!
Creating a business plan means being realistic before anything else. The idea for your business, will it succeed? What's the likelihood of its success? Think about this before moving forward. Are you wondering how can you realistically answer this? Ask yourself this:
What is the need for your "new" products/services?

Who needs it?

Who else offers this similar product/service?

Right now, what is the competition like?

Where does your business fit into the market?
Remember that a small business will only succeed if it solves a problem(s), fulfills a need or offers something that the market wants. So, create an idea and a plan that are realistic when asking how to start a small business.
3. Develop a plan.
A business plan is a map that guides your business from startup to establishment to growth – it is key for every new business to develop. It's a description of how your business will evolve from start to finish. And yes, there are numerous types of business plans to choose from.
If you require financial support from an investor or a financial institution then a traditional business plan is crucial. This is typically long, thorough and has sections laid out so investors and banks can quickly review to validate your proposal.
However, if you don't believe you need financial then a simple one-page business plan is enough to lay out how you will achieve success. It is best to have a plan written down then to have nothing at all when starting a small business.
Include the following in your business plan:
Title page.

Write down the name of your business! (Or the proposed name of your business). And it sounds easier said than done,

do research before choosing a name out of a hat

.

Executive summary.

This is the outline of your business plan and is a high-level summary of what the entire plan includes, such as the company description, the problem the business is solving, the solution and why now. This tells the reader what you want and is key.

Business description.

Answer the following in this section: What business are you looking to start? What's the industry look like now and what will it look like in the future?

Market strategies.

Explain what your target market is, and how you plan to best sell to that market?

Competitive analysis.

Include the strengths and weaknesses of your competitors, and how you'll beat them.

Design and development plan.

Describe your product or service and how you plan to develop it. Then outline the budget for that product or service.

Operations and management plan.

On a daily basis, establish how the business will function.

Finance factors.

Where will the money come from? When and how? What projections can you create and what should you take into consideration?
For each question, you need around one to three pages. Remember that a business plan develops, grows and changes as your business grows so you are always updating it to match your current situation.
4. Sort your finances.
When starting a small business, you might need an initial investment to cover ongoing expenses before you turn a profit. Consider the one-time costs, like licences and permits, insurance, trademarking, and so on. And add to that the money you will need to keep your business running for a year, such as rent, utilities, production, and so on.
The numbers combined amount to the initial investment you will need.
The following are options available on funding your small business:
Sometimes a combination of the options above will work best for you. The goal is to review the options and create a plan that sets up the capital needed to get your business up and running.
5. Know which business structure is right for you.
There are a few options of what your small business could be: a sole proprietorship, a partnership, a limited liability company (LLC) or a corporation. Whichever business entity you choose has a direct impact on various factors, such as your business name,  liability, how you file your taxes, etc.
It is fine if you choose an initial business structure but reevaluate and change your structure, this is common as your business grows and requires change.
It might be worth investing in a consultation with an attorney or CPA so you can be sure you are choosing the right structure for your business.
6. Choose and register your business name.
We briefly hinted on this, but the name of your business is a key component in every single aspect of your business. That's why it has to be great. Consider all implications as you examine what your options are and choose your business name.
Once you choose a business name, you need to check if it is trademarked or is currently in use. Then, if all is okay, you need to register it. If you are a sole proprietor, then you must register the business name with the state or county clerk. Corporations, LLCs, or limited partnerships usually register the business name when the formation paperwork is filed.
Be sure to register your domain name once you choose a business name.
7. Get all the licenses and permits required.
When starting a small business, paperwork is a necessary evil.
There are many kinds of small business licenses and permits which may apply to your situation, this depends on the business type you're starting and where you're located. Research what licenses and permits will apply to your business during the start-up process.
8. Pick an accounting system.
There is no doubt that small businesses run effectively when systems are in place, a key component is an accounting system.
An accounting system is vital in creating and managing your budget, setting rates and prices, conducting business, and filing taxes. You can either set the accounting system yourself or hire an accountant.
9. Get your business location ready.
A business location is an important aspect of your setting your business up. Whether it's a home office, a shared space or a retail location, location matters.
Consider the location, equipment, and overall setup, so you can ensure your business location works for the business type you are creating. Consider if it is better to buy or lease your commercial space.
10. Prepare your team.
If you are planning to hire employees, you need to outline which positions are needed to fill and their subsequent responsibilities. If employees don't need to be hired, and instead you need outsourced work then work with an attorney to create an independent contractor agreement. The following tips can help you find the right employees:
From day one, your employees need to know the company vision and goals, and how their job role will affect the company.
Follow the hiring processes.
During the hiring process, you need to ask the right questions and know what qualities make a good employee. Once you know this, it's easier to bring the right people onboard.
Establish a strong company culture.
Creating a great company culture is key to employee productivity, loyalty and engagement. You need to respect, engage and empower employees from day one while also offering amazing incentives (and no, money and promotions aren't all employees care about).
An all-in-one mobile app solution.
Choosing a smart and inexpensive all-in-one mobile app, like Connecteam, can help you take your business forward. Connecteam makes it easier to manage employees, create schedules, time clock, establish employee engagement, create a smooth on-boarding process, and so much more. It is an easy to use software made for small businesses.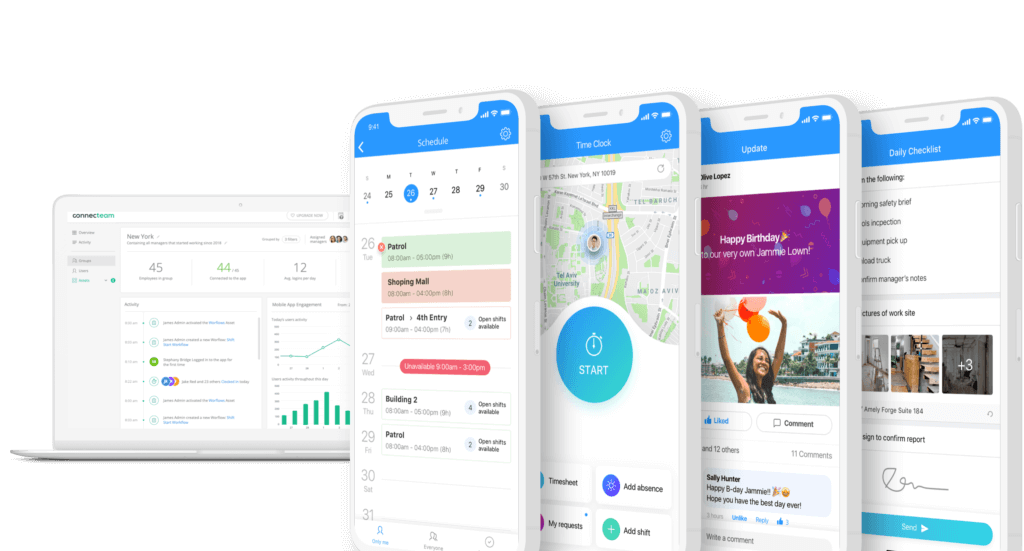 Or maybe you don't require any employees and will be doing it all on your own, you still need a team. Such as a mentor, your friends and family, or a small business coach. These are the people you go to for advice and reassurance if things get dicey.
11. Spread the word about your small business!
Now that your business is officially up and running, it's time to bring in customers. You can start by creating a unique selling proposition that separates you from the competition and creating a marketing plan that promotes your business most effectively.
Once you complete the 11 steps we outlined on starting a small business, you have all your bases covered so you can focus on the big picture and succeed. But be patient, success doesn't happen overnight. Consistently work on your business and you will see success.
Manage your business and employees with Connecteam
Connecteam is your tool to manage employee engagement, development, and relationship. You can streamline communication, give your employees a platform to be heard, boost engagement, strengthen the company culture, align employees with company policies, streamline daily operations, build professional skills and more.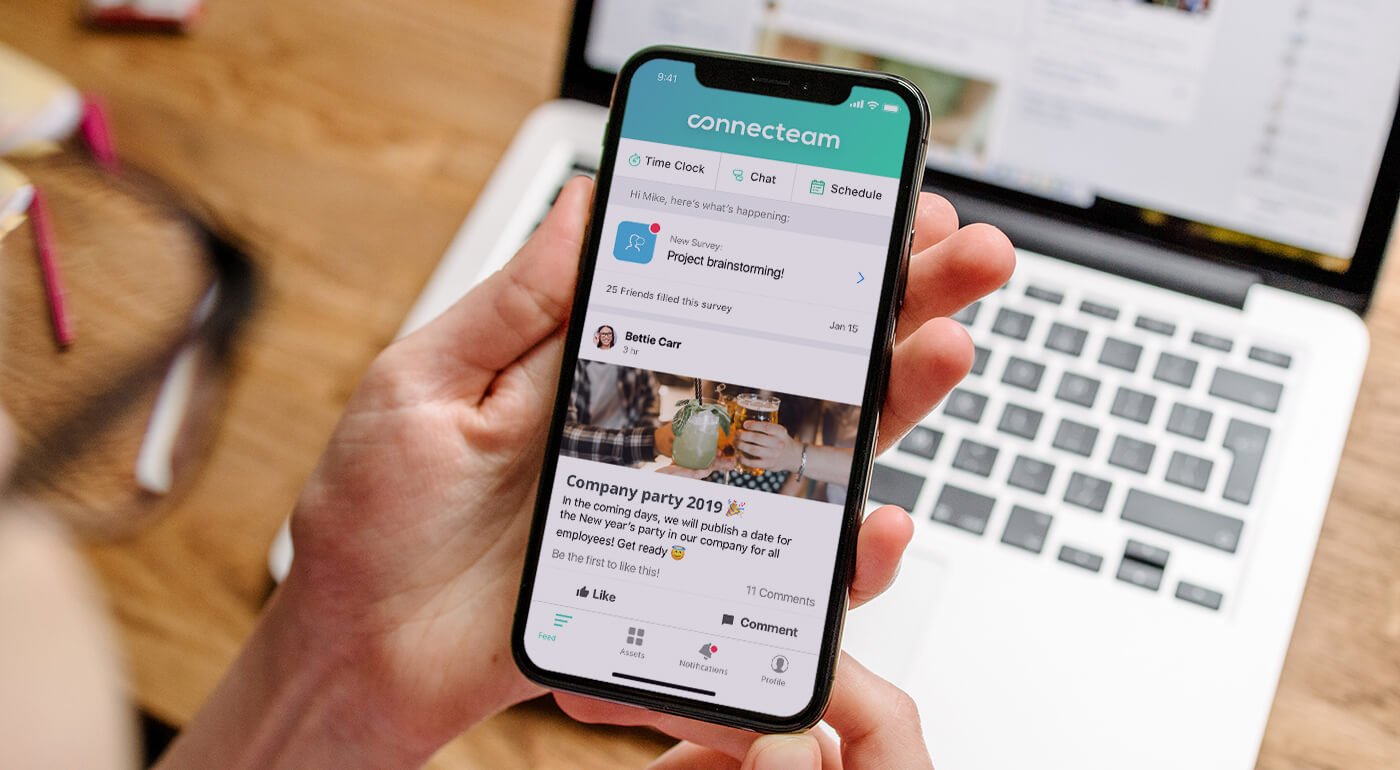 Find out more
Want to get more tips?
Join 20,000+ others who get our weekly newsletter with Business owner tips!