The time is just right if you're looking at starting a staffing agency. There is a projected 3% growth in staffing for 2020 and additionally, staffing is currently one of the fastest-growing industries in B2B services. 
Plus, in May alone, there were a reported 5.4 million job openings and 6.5 million job hirings. Even with the pandemic, businesses are looking for strong candidates to grow their company even if onboarding may be remote.  
If you're only just starting to look into the idea or are already writing down detailed plans, it can be helpful to look at the tips and strategies we outlined below on how to start a staffing agency to ensure everything goes smoothly.
How to Start a Staffing Agency
1. Choose the Right Niche 
Starting a staffing agency can only start off on the right foot if you choose the right niche. Look at market needs and make sure that your company can fulfill them, it's worthwhile to also understand the supply and demand cycles of the industry you choose. 
Supply and demand at a local level

: look into the job types available in your area and what the potential demand for labor supply is as you will need temporary staffing and clients to succeed. 

Look at niches within a field

: if you focus on office and clerical positions, then there's a chance to specialize even more. You might choose to provide midlevel administrative support staff to Fortune 500 companies or that light industrial work is the right path. Find what works for you. 

Background experience

: if you have a background and expertise in a specific field then use this to your advantage. This will allow you to easily assess candidates for jobs in that specific field and even adds more credibility to your company. 

Financially sound

: we're talking about financial practicality, sometimes the background you have isn't enough because of financial reasons. 
Once you choose the right niche, you can get into the real work of starting a staffing agency.
2. Review Initial Costs 
Understanding what the costs are before you even open your doors is a pretty basic step in learning how to start a staffing agency. Once you know which niche you'll target, rounding up the initial costs is easier. 
Typically, costs range from $60,000 to $130,000. Depending on your location, size, and if you need an office, the costs vary. Calculate the following costs: 
If you're looking to keep business costs low, then check out our blog that offers tips on how to do just that. 
3. Legal Logistics
By creating a legal business entity, like a corporation, LLC, or DBA, you can help prevent your new staffing company from being personally liable if your business is sued.
In addition, depending on the business entity that you choose, know that it will have a direct impact on things like your business name, liability, filing taxes, and so on. 
However, know that if you choose a specific business structure, you may change it later on as your business grows. 
Another subsection of the legal logistics is to choose a business name.
Choose A Business Name 
Ensure that you choose smartly as your business name is a critical aspect of your overall business. Double-check that your business name is not trademarked or in use by someone else. Only after this can you register the business name. And finally, register your domain name after selecting the business name.
Next, get all of the licenses and permits that are needed for your business. 
Get All Licenses And Permits
Depending on where you start your business, as in the state and location, then there are various licenses and permits that are required. You must research which applies to your business. 
4. Insurance Is Critical 
Insurance is key for staffing agencies and is a step that cannot be overlooked when starting a staffing agency. However, note that we are only recommending the following as we are experts therefore ensure you consult with an insurance agent who understands the industry to ensure your company is covered. 
These are some popular insurance examples:  
Businessowners policy

Commercial general liability insurance

Employee theft and crime coverage

Employment practices liability insurance

Key employee insurance 

Liability insurance

Workers' compensation

Property coverage

Umbrella policies

Business auto insurance (if you have a company car)
5. Find The Right Software
One of the biggest mistakes you can make from the off is thinking you can manage your entire business and employees efficiently through outdated methods, such as pen and paper, spreadsheets, text messages, phone calls, and emails. This will only lead to chaos and is impossible to track.
However, an all-in-one employee management app allows you total control and helps streamline daily business operations. This is why many staffing companies turn to Connecteam.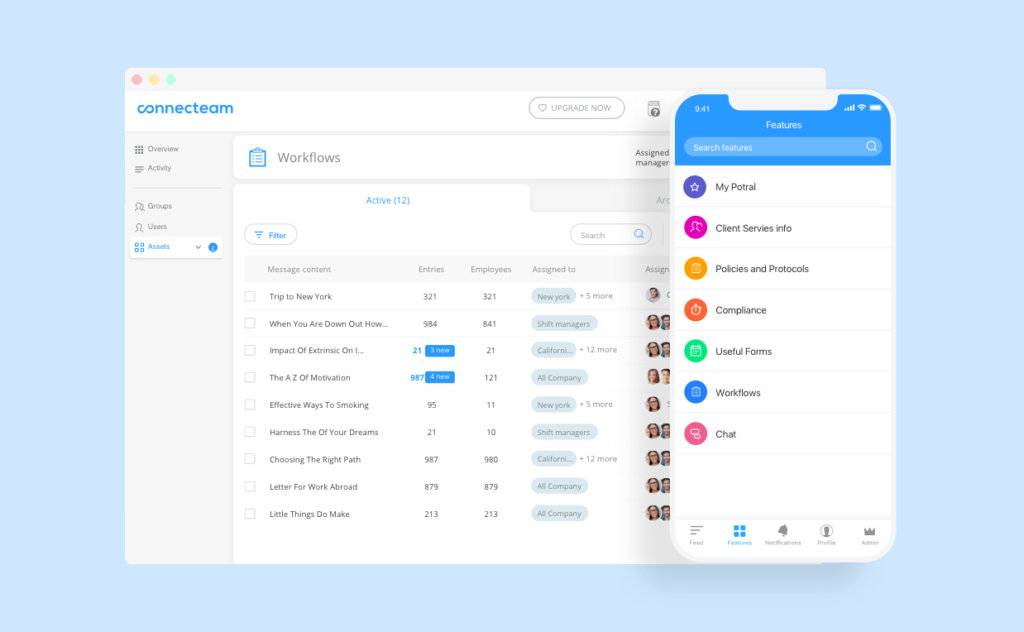 You need efficient job scheduling and real-time availability regarding your employees' schedules so you can assign shifts based on various requirements, provide relevant information including time, address, and special instructions, allow employees to accept and reject shifts, and more. And it helps to receive notifications about shifts so whenever an employee arrives at their shift, rejects the shift, or doesn't show up at all, you receive all notifications to ensure everything is running smoothly.
Additionally, having all client services and information in one place allows you to provide the best experience for your clients. You can maintain a useful information folder for each client in order to equip employees with the information they need.
By automating checklists and forms, you can reduce friction and improve response time by automating reporting processes, expense reimbursement, equipment check, and more. Additionally, you can ensure compliance through digital 'read-and-sign' forms, such as policies and procedures, uniform and dress code, and more.
There are about a dozen more features that staffing companies will find relevant but instead, we want to mention that Connecteam is easy to use, requires no training, and is super affordable. Sign up for the premium plan that starts at just $39/month or join the free for life plan. 
The Leading App For Staffing Agencies
Many staffing companies turn to Connecteam to manage shift scheduling, time tracking, compliance, internal communication, employee engagement, and more. Connecteam is the best employee management app that offers an all-in-one solution so you can effectively manage your company from anywhere.
Start for free
Payroll software cannot be overlooked so be sure to read our blog on the top 10 payroll software solutions.
6. Open A Business Bank Account 
If you mix your personal bank account with your business one, then this can open a whole can of worms. For example, your personal assets such as your home, car, and other valuables are at huge risk if you should even get sued. 
As such, opening a business bank account separates your personal assets from your business assets. Additionally, it makes a lot easier to manage accounting and filing taxes. 
7. Hire The Right People
Finding the right candidates is all about understanding what qualities you are looking for and ensuring you ask the right questions during the interview process. A lot of this can be determined by knowing what separates you from other staffing companies.  
Knowing how to start a staffing agency is one thing but knowing who your company is and what it stands for can make all the difference.
If you aren't getting any referrals from trusted friends and colleagues, then it's time to use social channels to your advantage such as LinkedIn. 
8. Build A Website
Throughout this entire process, especially after you've given your business a name and have secured a domain name, you must build a great website.
Even just a simple and well-designed website can offer you a competitive advantage. 
"Think about your specific user experience and the journey the user will go through as they navigate your site. Whatever the fundamental goal of your website is or whatever the focus may be, users should be easily able to achieve it, and the goal itself should be reinforced as users navigate throughout your site," said Gabriel Shaoolian of Blue Fountain Media
9. Start Marketing
Finding the right employees isn't' easy, but it's likely even harder to find customers. However, if we refer back to point one, it might be easier because you're targeting a specific industry and niche. 
Make it clear what sets you apart from the competition, why you're better, so it's easier to answer questions about what your company has to offer. 
Think outside the box when looking for customers, as traditional methods may be overrun with the competition. Such as networking, cold calling, trade publications, the internet, newspapers, and trade publications. Be creative, have a creative value proposition so you can stand out in your chosen niche.
If you're looking for more tips on how to grow your staffing business, our blog offers 11 strategies on how to do just that. 
The Bottom Line on a
Starting a Staffing Agency
Staffing companies deal with a lot of moving parts but if you have all your ducks in a row from the off, then starting a staffing agency is a piece of cake. 
The steps we outlined above are a great starting point but make sure you do your due diligence to really get ahead of the competition. 
#1 App For Staffing Agencies
Connecteam is the best solution for staffing companies and is an all-in-one app equipped with everything your business needs to run daily operations smoothly. Find out more now on exactly how and why Connecteam is the leading app for staffing agencies.
Learn more