Internal communications managers have one of the most important jobs! You help guarantee that daily operations run smoothly without confusion or frustration. Here are 5 tips to make you, as the internal communications manager, shine!
Table of contents
Internal communications managers have a difficult job, especially in large organizations or businesses. These difficulties and challenges are compounded when these organizations are filled with deskless employees, frontline teams, and remote workers.
Not to mention, the COVID-19 crisis has not made the situation any easier either.
Communication Over Chaos
Easily and efficiently reaching your large and distributed workforce can cause a major headache.
Not properly communicating with employees can result in thousands of unread emails, miscommunication among employees, frustration, a decrease in employee engagement, a decrease in productivity, and an increase in employee turnover.
Below we provide you with an arsenal of tips to help make any internal communications manager shine.
Stop Sending Mass Emails And Using Inefficient Communication Channels
There's one surefire way to annoy and make your employees' life miserable — send them tons of emails. Not to mention, not every employee has a company email account.
Additionally, it's impossible to measure your communication KPIs, goals, and employee engagement through email messaging.
There are few other issues with emails:
They are extremely distracting to employees.
There is absolutely no oversight. Meaning, you, as the internal communications manager, have no way of knowing if the email was read or even opened by the employee.
Emails are a super inefficient way to collaborate on projects.
Forbes notes it makes it really difficult to separate and balance work and life as "email keeps us handcuffed to our phones and computers".
Although emails are a good form of communication in some workplaces and for some forms of correspondence, it doesn't necessarily mean it's a good form of communication for deskless workers, frontline employees, and remote workers. This is especially true because these employees are often rarely behind a desk! 
Weak and inefficient communication channels are nearly as bad as emails.
An internal communications manager must be able to rely heavily on a communication channel. A channel that allows for instant and direct communication, targeted 1:1 and group messaging to reach entire teams, real-time and controlled communication, complete oversight, and reaching employees on a device where they are easily accessible during working hours.
Employee communication software is an amazing solution to help internal communications managers connect and reach all deskless, frontline, and remote employees so they can excel in their position. These apps also provide a solution to all the above-mentioned problems with emails and other communication channels, specifically for deskless, frontline, and remote employees.
Download your FREE guide on "10 Tips for Engaging Your Frontline Teams" ⤵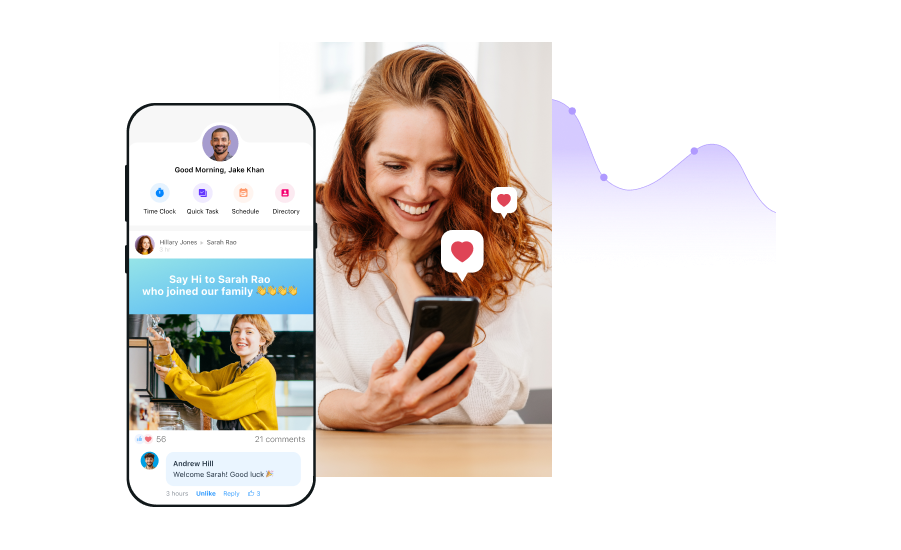 Remember those communication channels we mentioned in the point above? Yeah, here's where it comes full circle.
It's the 21st century and technology is making great advancements to help an internal communications manager's life easier.
While there are several different software varieties and options, with differing features, Connecteam, is the only true all-in-one employee management and communication software that will take your internal communication to the next level.
With Connecteam employee communication software, internal communications managers will be able to streamline their internal communication strategy in the following ways:
All internal communication is easily accessible to deskless employees, frontline workers, and remote employees as everything is located in the app, directly on the employee's personal phone.
An employee directory makes getting in touch with colleagues effortless, instead of saving contact information on their personal phones. Employees can search by name or even filter by department.
Send targeted one-on-one messages or targeted group messages to an entire team or department. Include GIFs, images, videos, links, and more to make internal communication fun and engaging! Additionally, the chat makes collaborating on projects and tasks simple and quick.
As an internal communications manager, you have complete control and oversight of all communication with real-time alerts and notifications. In a tap, know who has read or not read messages and send auto-reminders to ensure everyone is on the same page.
Secure messaging ensures management can delete inappropriate or unprofessional messages.
A digital social feed provides internal communications managers an easy and efficient way to send company updates, news, or announcements. Employees can like and comment to further increase and improve your employee engagement levels.
Digital suggestion boxes, surveys, and live polls make it incredibly painless to gather employee feedback and suggestions.
Measurable and actionable data provides internal communications managers the ability to create fully customizable reports to determine if the internal communication strategy is working effectively. Measure your KPIs and ensure your goals are being met! If not, you'll have the data available to you to make the necessary changes to your plan.
Cultivate a healthy and fun company culture by recognizing star employees on the digital social feed. Even congratulate employees on personal milestones and professional achievements.
Collaborative scheduling allows employees to easily get in touch with one another if shifts need to be covered or an emergency arises. Also, in-shift notes make it clear what employees need to do when arriving at work, no more confusion or miscommunication.
By implementing an employee communication software, you will be able to streamline your daily tasks and operations as an internal communications manager.
Take Internal Communication To The Next Level With Connecteam Today!
Book A Demo
Not all employee communication software is made equal and some are definitely better than others, we encourage you to look into your options and determine which features would benefit your organization the most.
Once you've invested and implemented the proper technology to be able to measure your impact as an internal communications manager, it's time to formulate and create a dynamite internal communication strategy that will engage your entire staff — especially deskless workers, frontline employees, and remote staff.
Build A Communication Strategy To Engage Your Staff
It's crucial, as an internal communications manager, that you create a top-notch communication and content strategy to engage those hard to reach employees. High employee engagement levels have a direct impact on increasing workplace productivity and employee morale.
There are some things to focus on and consider when creating a communication strategy.
Ensure all goals and objectives are measurable.
Implement an employee communication software, like Connecteam, to help collect internal communication data from employees. By doing so, internal communications managers will be able to understand if their strategy is working, and if not, will know exactly where improvements need to be made.
Make sure when communicating with employees or teams, that you understand exactly how to clearly communicate with them. Speak their language, so to say.
Keep internal communication clear and concise.
Create structured and controlled communication channels available to all employees.
Have a healthy blend of informative and operational communication, add a more personal touch and encourage engaging conversations.
Your internal communication should reflect the organization's values and company culture.
Create a dedicated channel for employees to have their voices heard. For example, create an open-door communication policy or use a digital suggestion box that is available to employees 24/7.
Be creative! Use visual tools to enhance the message (images, gifs, video, polls).
The bottom line is that as an internal communications manager, it's necessary that you connect, reach, and engage all employees within the organization.
But here's the kicker, it's one thing to say your strategy is working and another to actually show the data and evidence behind your claim! To make your internal communications manager really shine, you must measure and showcase the impact of your strategy on the organization.
Measure And Showcase The Impact Of Your Communication Strategy
Measuring success as an internal communications manager is not only about optimizing your efforts, but also being able to showcase the data to upper management.
There are few ways to measure your impact from the internal communication strategy you've created and now implemented…
Check in on employee productivity levels.
Check if sales or profits have increased.
Conduct pulse surveys on employee satisfaction and engagement.
Review employee turnover rates.
Collect employee feedback and ACT on it.
This is where the implementation of an employee communication software will, once again, come in handy.
With Connecteam, you can easily create fully customizable data reports on employee productivity levels, sales, profits, and turnover rates. You can also create pulse surveys, or send employee satisfaction and engagement surveys directly to their mobile devices. Collect employee feedback through a digital suggestion box that is available to them 24/7, solidifying your organization's open-door communication policy.
All of these actions are available to users in real-time and provide internal communications managers with complete oversight and control.
As previously mentioned, these examples are strictly based on the user experience with the Connecteam employee communication software and not all softwares have the same features.
Overcome Communication Crises With Ease
Really want to shine like the north star? Then overcome communication crises and obstacles with ease. As the internal communications manager, it's your job to handle these stressful situations and ensure that it doesn't negatively affect the rest of the organization. But that's easier said than done, we know.
For example, during the last year, COVID has had a huge impact on businesses, especially those with deskless workers or frontline employees. Ensuring employees aren't coming to work sick and infecting others became a huge concern, but what can an internal communications manager do to help in a crisis like this?
With the help of technology and employee communication software, internal communications managers can make sure employees aren't coming into work sick by sending employees a health declaration form that must be filled before arriving at work.
When dealing with a communication crisis it's paramount, as an internal communications manager, that you are able to…
At the end of the day, the way in which managers and employees alike deal with stressful situations has a major influence on how upper management views your success. Make sure to invest in the proper tools and technology to guarantee your success.
The Bottom Line On How To Make Any Internal Communications Manager Shine
Let's be clear. We know as an internal communications manager that you have a ton on your plate. That's why we've created these top tips to help guarantee you excel and shine in this position.
Stop sending mass emails to employees or using weak or inefficient channels of communication, use the proper tools and technology to guarantee your success.
Create a top-notch communication and content strategy to help reach your deskless, frontline, and remote employees. Make sure to make communication fun and engaging!
Don't forget to use technology to measure whether or not you are reaching your goals and KPIs. It's one thing to say your strategy is working, and another to show upper management the fruits of your efforts with data and reports.
Lastly, in order to really shine, make sure as the internal communications manager, that you handle all communication crises with ease and professionalism!
Want To Improve Your Organization's Internal Communication With Connecteam?
14-day Free Trial, No Credit Card Required.
Want to Receive More Great Articles Straight to Your Mailbox? Subscribe Here ⤵