what exactly is an Internal Communications Manager, and what does their job involve? In this blog, we go through everything you need to know! 
Table of contents
As with anything in life, communication is one of the most important skills, and in business, that's even more the case.
As such, the position of Internal Communications Manager might sound like it's not the most important or urgent of hires…but that's where you might be wrong.
In fact, hiring an Internal Communications Manager as one of the first hires (even before the recruitment, training, and welfare directors) is one of the smartest moves you can make.
That's because, pandemic or more 'usual times' aside, both employees and management demand quick and immediate solutions, updates and communication.
What Exactly Is an Internal Communications Manager?
So what is an Internal Communication Manager, really?
It's pretty much as it sounds – the Internal Communications Manager manages all internal communication around the company.
Think of the role as a traffic officer. When sudden traffic occurs – or an emergency – the officer will know exactly what to do. New lanes need to suddenly be created out of nowhere? They're on it. An ambulance needs to get through gridlock? They're the person you call, and so on.
The Internal Communications Manager has a similar job. When it comes to organizational communication, they are the person who can decide which issues need immediate response and which can be delayed (which is why most corporate organizations look to recruit one). In this article, we'll look into the roles that the Internal Communications Manager plays when first receiving the position, and later on as a daily routine.
An Internal Communications Manager's First Tasks:
Mapping All Communication
The very first step that a brand new Internal Communications Manager will take is to map out all of the current organizational communication, then relay their findings to management. That means, going through all of the daily communication channels of employees, management, and every department, figuring out the information flowing through those channels, their level of importance, frequency of use, and frequency of use during the day, and which employees/management this information will meet.
Other questions an Internal Communication Manager will be asking themselves are –
Download your FREE guide on "10 Tips for Engaging Your Frontline Teams" ⤵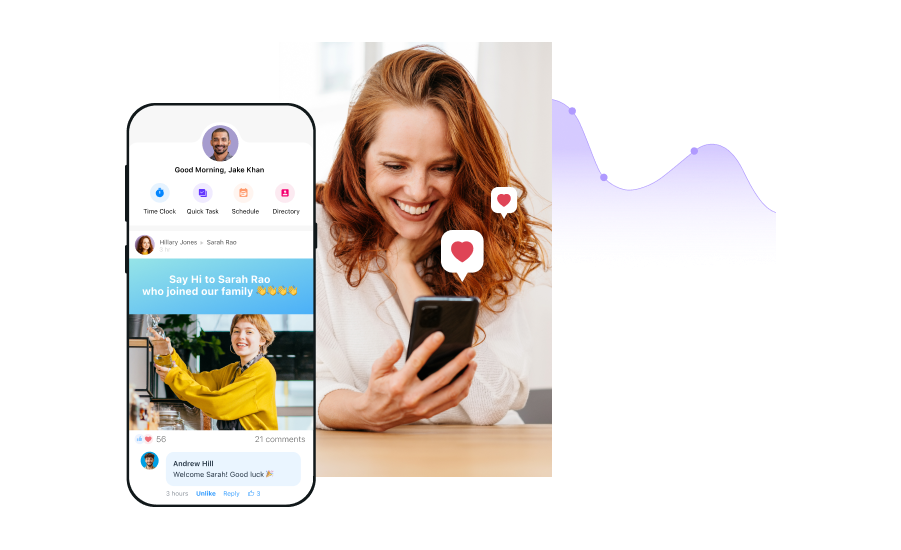 Communications Channels Optimization
After creating the organizational communication map, the next move the Internal Communications Manager will make is to identify communication problems, bottlenecks, and overused (or underused) channels.
At this stage, plans must be made to offer alternatives and solutions, specify the schedule, the new procedures that need to be implemented, and state which new communication platforms are needed.
Using Tech Tools To Support The Internal Communication
In this stage, the Internal Communications Manager needs to map all the tech tools that the organization uses. They will likely ask themselves if the current tools are active and used properly, and whether or not the organization needs to purchase new tools?
This is an absolutely crucial step in the lifecycle of any company. Without the right toolbox and the relevant communication platforms, it will be very hard to get any work done. How do you communicate with the employees that don't work in front of a computer? How do you reach the employees who don't use the organization's email network? If the answer remains bulletin boards, SMS, phones, and faxes – your hands are tied.
But, all is not lost: it's entirely possible to create and implement an internal communications strategy, and even get rid of some of the many tools an organization is using! Using an all-in-one communication app could be the solution that a new Internal Communication Manager needs to solve all of the current issues facing the organization.
Backup Plan For The Communication Channels
In this stage, the Internal Communications Manager has to create a backup plan, for the worst case scenarios, such as knowing where communication traffic should move to incase one of the main channels are blocked.
For a practical example, let's say a bid was received and it must be signed, but the person responsible for signing these documents is often abroad or cannot be reached. Who provides a backup in this case? What is the alternative in case of a blocked or overcrowded channel, and where do we direct the traffic away from it?
Plans For Emergency Communication
An organization rises and falls by its conduct during emergencies. A difficult event such as theft, sexual harassment, or an unflattering piece in the local news, or even a major ongoing pandemic, can create a crisis.
It's important to create an emergency plan, containing information and clear procedures in these situations. How does the organization want to handle this crisis? Which channels will be used to convey information and updates? All these things must be clear and pre-defined.
Internal Communication Supportive Procedures
Procedures help execute the Internal Communications Manager's plans. Who should we report to in case of theft? Where can one file a sexual harassment complaint? It's important to set clear procedures for these kinds of events. A channel explaining exactly how to report an incident is crucial. If no such procedures exist, it's best to create them and make sure all the employees become familiar with them.
Connecteam's Pro Tip 🧠
Internal Communications Managers should easily create and distribute company news, updates, and announcements, as well as collect feedback from employees through surveys and polls. Connecteam offers all that and more – customizable workflows for onboarding new employees, tracking compliance and certifications, and managing payroll and expenses. Start Connecteam's free 14-day trial now!
Employee Engagement
One of the most important roles the Internal Communication Manager has is engaging the employees with the organization's values, essence, goals, and management, making the employees feel like they belong (especially during a pandemic).
Let's say, for example, that an employee is at home with their family after work, unfolds the newspaper he works for, or switches on the TV just to suddenly see something happen in their organization that they had no clue was even in the works.
This kind of situation might cause employees to feel less engaged with the organization. Take another example: If the employee of the month was announced but their teammates didn't even hear about it, the entire point was completely missed.
All of this goes to show that the Internal Communications Manager needs to work on having a unified communications strategy.
An Internal Communications Manager's Daily Routine
Adjusting To The Organization
In order to make the right decisions and adjustments while on-the-go, one has to know the organization through and through. Internal Communications Managers really have their work cut out for them: they need to be on top of all changes that are happening in the company, and be sure to follow up on them accordingly.
For example, we see that everyone has a mobile phone so now it's clear that using faxes is really no longer an option and it's time for an upgrade, with an employee app. Another branch opened in a different location? Rounding up all the employees in the dining hall is probably no longer efficient and a new way to communicate must be found.
Taking Part
The Internal Communications Manager needs to be connected to the organization at any given moment, no matter how large the organization is. That means being in every manager meeting, helping to promote different processes in the organization such as re-branding or acquisitions, and knowing which changes are needed in order to reach every single employee. In other words, no organizational decisions can be made without the Internal Communication Manager's knowledge.
Emergency Response
Let's say the worst happens: the CEO is fired, an unflattering news piece aired, a disgruntled former worker leaks company information to the press or any event that can undermine the organization needs to be treated with a clear and appropriate response from the Internal Communication Manager, who's job is to support the emergency procedures and make sure the decisions made (and communication points around this), reach all the employees.
Looking For Communication Slips and Failures
A difficult employee with a broken computer says it takes them 5 times longer to do the work? A frontline employee can't get a hold of their manager? Apparently, there is a communication failure somewhere in the complaints channel.
It's the Internal Communication Manager's job to identify the slip and the number of channels the employee has to go through to produce a quick singular communication channel in order to fix the problem directly. In fact, of all of our internal communication tips, this is likely the most immediate and important.
How Do We Know If The Internal Communication Manager Did A Good Job?
From The CEO's Point Of View
In case of an emergency, can all employees be reached immediately? Did instructions and decisions made by management make it all the way to the entire staff without getting stuck on the way? Is everything measurable and you can tell who received the information and who didn't? If the answer to these questions is "yes", the Internal Communication Manager did their job properly.
From Management's Point Of View
Management needs to know it can easily reach all the employees to convey guidelines and measure them. If the HR manager can reach the employees quickly and easily, it means the Internal Communication Manager created efficient channels. For example: If you're giving out holiday gifts and the employees need to choose between several options. How simple is it to get to them and make a decision based on their preferences?
From The Employee's Point Of View
It's important to create channels that provide quick solutions to all the service givers in the organization (welfare, HR, the department in charge of company cars, and so on). The employees need to feel like the organization provides them a communications service, just like the one they get from their cable, internet, or cell phone provider, for instance. All the information the employee needs should be accessible and answers to questions should be received quickly and efficiently.
From HR's Point Of View
Employees should be more engaged with the organization and its goals. The HR department can display the work it does to the employees in relevant channels. It can be pictures from the organization team building day, a nice bonus, or a perk they managed to secure for the employees or even publishing the names of the best employees of the month.
From The Marketing Department's Point Of View
Are the employees engaged with the marketing plans? Was there sharing and brainstorming about marketing ideas? All of these can create an even bigger engagement rate between the employees and the organization, because your non-desk employees have to chat, and therefore contribute to the joint efforts of the organization as a whole.
The Bottom Line: An All-in-One Solution Every Internal Communications Manager Swears By
Internal Communications Managers really have so much work to do, no matter how tech savvy the organization.
But, one way to speed up all of the communications processes, and bring any organization into the digital age, is to use one of the top-rated communications app online:
Meet Connecteam. It's an all-in-one business and employee management app, that allows you to master all internal communications. With features including –
1:1 and group chat (all via the smartphone app)
Cross-company social feed-style updates (with measurable tracking, allowing you to see who's read and engaged with an update…and then send automated reminders to those who haven't yet got round to it!).
An in-app employee directory, with easy access to everyone in the organization (no need to scrabble around trying to locate a phone number).
The Internal Communication Manager needs to be the thread connecting all the different parts of the organization. One way to do this is by choosing the right internal communications app; another is by simply downloading Connecteam, trying it out for free for 14-days, and see the wonders it can do for your business.
Manage Your Internal Communications Efficiently, In One Place
14-days free trial, free-forever plan – and no credit card required!
Want to Receive More Great Articles Straight to Your Mailbox? Subscribe Here ⤵