Top 14 Online Rostering Software Solutions in 2021
Let's get right to it – manual rostering is costing your company. And we aren't just talking about the Benjamins. 
Manual rostering leads to

low ROI

14 hours a week

are wasted creating a manual roster

Employees don't have real-time visibility into their roster which leads to low

productivity

and a

disengaged workforce 

Overstaffing and understaffing are common which leads to inflated

payroll

Without access to real data, managers cannot find a suitable and cost-efficient employee to cover the roster

The risk of not complying with

labor laws

is high
All right. We have painted a pretty clear picture here. Manual rostering is causing you and your business far more damage than good. 
So what's the solution, you may be wondering! Ah, that's easy. An online roster app.
What's a rostering app? A staff roster app helps small businesses and managers to organize and manage staff work rosters. In one quick look, you can see who's on the roster for the day, week, or month, which employees are and are not available, manage time-off requests, cover last-minute changes, manage everything on the go, allows for direct access (for you and your team right from your mobile phone), and so much more. 
And let us spell this out for you for a moment, if we may, rostering software gives you real-time access to creating a faster roster, a more accurate roster.  No more errors or time lost. No more last-minute changes without finding a suitable replacement in a speedy manner. No more penalties for not complying with labor laws. No more disgruntled and annoyed employees. 
Now, I know what you're thinking! Sign me up! Gladly. 
However, there are many options for rostering software and we know you can't afford to lose any more of your valuable time. This is why we created our detailed list of the best rostering software solutions in the market today. Take a look for yourself! 
Top 14
Online Rostering
Software Solutions in 2021
With Connecteam's online roster app, it's easy to save time and effort on your roster planning with an easy to use roster app and to oversee execution. Connecteam's robust staff roster app allows you to reduce labor costs, improve staff satisfaction, and avoid the headache of creating rosters and ensuring a shift is covered. Whether you're a small business owner or an Enterprise company, whatever industry you're in, and if you have less than 10 employees or more than a thousand, Connecteam is your best online roster app. 
As a manager, you have the ability to: 
Efficiently manage the roster of many locations & departments, even

when you're on the go

Create rosters by week or month in the click of a button

Quick roster planning & distribution

by easily assigning shifts, duplicate, drag & drop, create templates, rely on bulk actions, and more

Communicate with your team with shift status, comments, and automatic notifications

The planning table highlights when employees are unavailable or sick and if your roster exceeds predefined limitations for the day or week 

Include

detailed shift information

like time and place, tasks to perform, additional notes, attachments, and more
Your employees benefit from:
A robust, mobile-friendly, and

easy to use app

with no training needed

Everything is one place, from the roster and shift information, including images and files, notes, maps, and shift-tasks, and can be accessed on the go 

Receiving automated notifications and reminders when a shift is published, edited, or canceled

Always have direct access to the full itinerary
Price: Pricing is easy on the back pocket as Connecteam doesn't charge per user. The plans start at just $39/month for up to 200 users.
Free trial: There is a free 14-day trial as well, after which you can continue with the free for life plan. 
Sign up now for Connecteam's free plan to save time and money on your rostering process.
#1 Roster App
Save time and money on your rostering processes by signing up for Connecteam's leading rostering app today!
Start for free
Small businesses use Homebase to easily create rosters and share with staff, to track hours, manage breaks, keep an eye on overtime, keep everyone aligned, and take care of labor costs. 
Homebase offers these features to help with rostering: 
Integrates with Clover, Toast, and many more

Employees can access the roster from their smartphone, text messages, and email

Send automatic reminders 

Simply track staff availability, including vacation requests 

Overtime is instantly tracked, breaks are configured in, and get alerted to roster conflicts
Price: Instead of paying per user, with Homebase, you pay per location. The most basic plan will cost $19.95/month. A Free plan exists and only covers a single location. 
Free trial: Homebase offers a free 14-day trial.
If you're in the field service industry then you'll love using mHelpDesk. It's very similar to Google Calendar and Outlook as it allows you to easily see your team's availability, simply roster field technicians, automated assignment notifications, view jobs, and customer details, and eliminate overbooking and underbooking.
The following are rostering features available: 
mHelpDesk can integrate with Google Calendar

Color-coded view

The "assignment view" shows all open jobs and employee availability

Roster recurring jobs and contracts
Price: Contact a mHelpDesk representative to receive a pricing quote. There is a free 14-day trial. 
If you aren't in the restaurant industry then 7shifts is not the solution for you. 7shifts is a cloud-based solution as it allows you to simplify all your labor management needs. In addition, it also offers a time clock, reports, chat, and more.
Your restaurant business benefits from the following features available on 7shifts:
Drag and drop roster

Create templates for easy rostering

Rosters automatically include the availability of your team

Get notified immediately on overtime or labor compliance problems

Notifications of published shifts or shift changes

Chat individually or as a group 

Approve or reject requests for time off or trading rosters

Get instant calculation of labor spending 
Price: 7shifts is offering a free 60-day plan right now during COVID-19. Otherwise, their most basic plan will cost $19.99/month/location and is only available for up to 20 employees. 
WhenIWork is a well-known rostering solution especially as it provides businesses with 75 users a free plan. Plus, it claims to be able to save you up to 15 hours a week when creating a roster.
The following are features available on WhenIWork:
Handle requests for time off easily

Fill a roster with qualified staff only

Trade shifts in a click

Create team tasks

Easily see team availability

Get instant clarity into labor costs

Integrate the roster with the time clock

Auto-scheduling

Roster templates
Price: Pricing ranges from free to $2.25/month/user. Additionally, extra features you need will cost more like time tracking is $1.50/month/user.
Free trial: There isn't a free trial, just a free plan for up to 75 employees.
Check out how WhenIWork stacks up against Connecteam's rostering app in this comparison table.
HotSchedules writes on their site that you can easily roster the right staff member at the right time and can help reduce labor costs by almost two percent. It offers a clean interface and managers have total visibility and control over what employees are doing (shift trades, time off, etc.). And we have to mention that HotSchedules is most ideal for restaurants and the hospitality industry. 
These are some of its helpful rostering features:
Drag and drop interface

Ready-made templates

Access time-off, PTO, and availability in a single place

The Daily Roster Report is quick to read

Real-time updates

Forecasting

Labor management 

Ensure labor compliance 

Actionable insights and reports
Price: There are only two plans available: $2/month/user or $4/month/user. 
Free trial: A free 14-day trial is available.
Whatever your company size, Sling can be an asset to your rostering needs. You can direct visibility into where things stand like overtime or late arrivals. Plus, you don't have to worry about double-booking because you receive a real-time alert if that happens, and even if shifts overlap, so that way you're always on top of things.
Let's mention some of their features: 
Current availability and requests of your team is always visible 

Let your staff choose a roster they prefer working 

Templates are available

Find replacements easily and quickly
Price: Choose from offerings, $2/month/user or $4/month/user. 
Free trial: There isn't a free trial, but Sling offers a free plan for scheduling and communication. 
Small businesses and freelancers often use Google Calendar, which is a cloud creation of Google itself. It's easy to view everything in the format that works best for you, like daily, monthly, or yearly. You can simply add reminders and notifications to ensure a roster is never short-staffed. 
Som feature favorites include:
Shift calendars 

Share with each staff member so they can view from their personal calendar

Events from Gmail are added to your Calendar

Assists with smart suggestions to quickly fill a roster

All stored safely
Price: Free.
Paycor makes it easy to manage labor costs and boost team productivity by creating a better roster that works for everyone. Via Paycor Scheduling and Scheduling Pro, you can optimize rosters, communicate, and work while on the move. 
The basic rostering plan includes: 
Template creation

Breaks can be automated by you

Flexible rostering 

Send reminders

Insightful reporting
While the Scheduling Pro includes: 
Set daily or weekly rules and create minimum rest times

Employees can set their own availability, accept or drop a roster

Ensure a roster is covered based on job, department, and location

Communicate via updates or to a group

Budget planning
Price: For just 1-39 employees, there are 3 pricing plans starting at $99/month, $149/month, and $199/month. From 40+ employees, you need to speak to a representative about pricing as it's based on what features you need. 
Our staff roster includes Deputy, a well-known rostering solution that requires more of a tech-savvy audience. When you sign up, a Deputy representative asks for all your manual timesheets and rostering needs so they can customize the solution based on your organizational needs. 
The following are Deputy's best rostering features:
Build a roster based on different roles or locations

Easily fill a roster based on employee availability, training, and cost

Share the roster via desktop or mobile

Find qualified replacements immediately or employees can do it themselves

Control costs based on data regarding wages and sales

Create AI optimized rosters 

Add breaks in the roster 

Manage roster on the go
Price: Their most recommended plan costs $4.50/month/user. 
Free trial: There is a free 31-day trial. 
Shiftboard offers a ScheduleFlex feature that works best for businesses with fluctuating demand and someone looking for creating a flexible roster. Manufacturing, health care, call centers, staffing agencies, and more are a few examples of the industries Shiftboard targets and services.
The ScheduleFlex feature offers: 
Create a roster based on specific and varying needs of each department, location, etc. 

Include custom information for each team member like certifications, proficiencies, and equipment requirements

One by one employee monitoring of flexibility, their interest in shifts, and overtime

Use flex pools for last-minute changes

Automatically communicate roster updates via SMS, notifications, and emails
Price: Request a demo or speak with a representative to learn more about pricing. Note that a minimum subscription fee applies to all plans and there are also implementation fees.
TSheets is a great solution for service companies as it allows you to create a roster depending on your needs, like per shift or job. You can use different rostering features like drag and drop or copying a previous week's roster so that creating such a roster doesn't eat up time. And if you're worried about overtime or anyone not showing up on time, you can send out automatic notifications to keep everything aligned.
Here are rostering features available on TSheets:
"Who's Working" instantly highlights who is available for urgent jobs

Drag and drop rostering

Add, edit or delete a roster via your own smartphone

Send a message to employees about changes or new rosters available

Roster by job or shift

Integrate with Quickbooks, Google Calendar, and more
Price: The Elite plan costs $10/user/month and there is also a $40 base fee every month.
Free trial: There is a free 14-day trial. 
Click here to learn more about how TSheets stacks up against Connecteam rostering app.
Google Sheets is most ideal for small businesses or freelancers, kind of like Google Calendar. Google offers a free cloud spreadsheet solution so that rostering can be more efficient. There are pre-fixed rows and columns so that you have access to organized options to easily set each employee in their own column within a single spreadsheet. Or you can choose to have one spreadsheet per team member and then just distribute the columns by weekdays.
Additional features we should mention:
Share via email

Automatically saves everything so you won't lose data

Built-in formulas, pivot tables, and conditional formatting options

Pre-made templates for quick rostering

Access, create, and edit from anywhere

Chat and comment directly on the sheet
Price: Free.
If you're a small company or have hourly employees then Humanity might be the one. From one place, you can create, edit, and check rosters and you can even review employee availability.
The following are some features available:
Integrates with HCM platforms like BambooHR, Oracle, Workday, etc.

Automated and forecasted rostering

Create templates and specific rules

Manage rosters while on the go

Control labor costs

Limit overtime and track expenses 

Factor in state and local regulations
Price: If you need basic scheduling, it will cost $3.50/month/user and requires $100/month minimum. Mid-sized companies are looking at $5/month/user with a $100/month minimum. Enterprise companies need to speak with a representative. There is a free trial available as well. 
The Bottom Line On an Online
Work Roster
All of the rostering software solutions we listed above meet the basic requirements when discussing rostering. Calendar management, a worker database with availability, shift swapping, a record showing when your employee clocks in and out, and tracking vacation time. 
However, we also looked at rostering apps that provide you with real-time and detailed reports, have mobile access so you can stay on top of everything while on the move, and allow for real-time communication. 
With that being said, carefully read through the work roster apps we listed above and choose the best fit for you and your team.  
Try Connecteam Rostering App FREE
Try a scheduling app that makes the entire process from planning to distribution to overseeing execution simple, quick, and intuitive for both you and your employees. Simplify your scheduling with advanced features like templates, in-shift tasks, status updates, messaging boards, and more. Start for free now!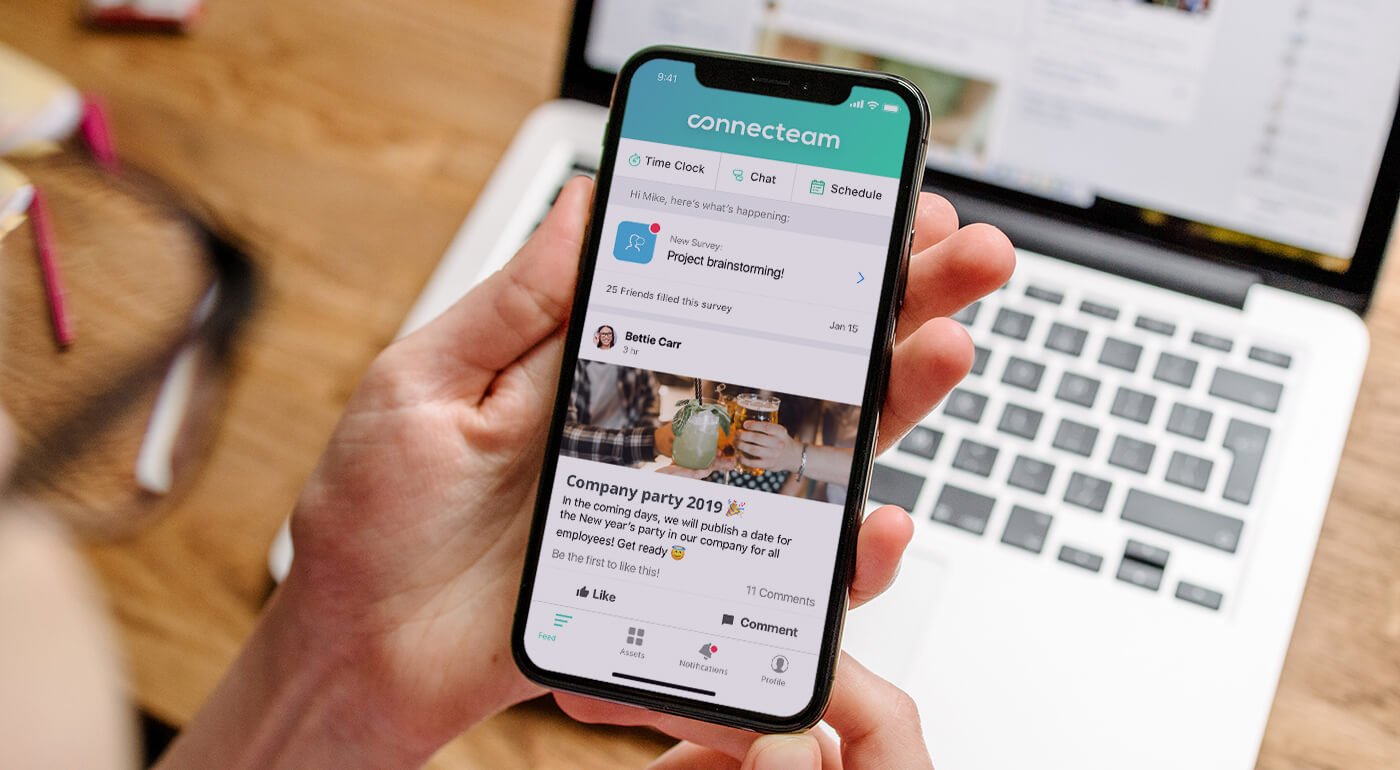 Start for free
Want to get more tips?
Join 20,000+ others who get our weekly newsletter with Business owner tips!