The healthcare industry deals with high turnover rates. Attracting and retaining healthcare employees is difficult! Here are 10 steps to improve retention in healthcare industry that you can implement today!
Table of contents
Improving employee retention in healthcare can be broken down into two key parts:
Hiring correctly
Employee engagement
Without a healthy combination and focus on these two key parts, you will have a hard time attracting and retaining top performing healthcare employees.
Keep in mind, these two key parts can be easily managed through an employee healthcare app. The following tips specifically drill into the leading healthcare app, Connecteam, how it can be used to streamline the hiring process, improve retention, and increase employee engagement.
However, if you're not quite ready to make the switch, the tips can be modified to your current method.
Cost of Employee Turnover
Total cost to onboard new employee
Total cost of lost productivity
How To Improve Employee Retention In Healthcare: Part 1 – Hiring Correctly
Overhaul Your Hiring And Screening Process 
If you're simply unable to attract and retain the type of healthcare employees you really want, then it may be time to completely overhaul your hiring and screening processes.
Healthcare Source provides some specific ways you can overhaul the hiring and screening process; specifically for the healthcare industry:
Automate the screening, hiring, and onboarding process.
Ensure your screening process includes a company culture fit assessment. Do they possess the same values and morals as your organization does?
Interview new healthcare employees as a team. And no, we don't mean that you should overwhelm potential candidates by interviewing them in a room with 5 people. Instead, interview potential candidates with one or two members of the team that they would be working with, because who knows better about what is needed from new employees than those currently working in those departments?
Create a screening and hiring checklist and stay consistent with it so that you can create an objective basis for hiring new employees.
Implement feedback received from previous onboarded and trained employees.
To better retain healthcare employees, Forbes research shows that automating and "implementing more thoughtful onboarding software can have positive impacts on an organization well into the future". By using a healthcare app, like Connecteam, you can do just that and more. In fact, HR and managers can create hiring checklists and candidate assessment forms in a matter of minutes on the app. This ensures that you instantly improve the process quickly and efficiently.
Easily Automate & Digitize Healthcare Employee Training & Onboarding With Connecteam Today!
Competitive Pay
Making sure you offer competitive pay is essential in hiring and retaining healthcare employees.
The U.S. Bureau Of Labor Statistics notes that "employment in healthcare occupations is projected to grow 16 percent from 2020 to 2030, much faster than the average for all occupations, adding about 2.6 million new jobs. Healthcare occupations are projected to add more jobs than any of the other occupational groups". With that being said, attracting and retaining the new influx of healthcare employees with competitive pay will be paramount to the healthcare industry's success.
But what is considered competitive pay? Indeed explains, "competitive pay is a term that refers to an employer offering a salary that is equal to or exceeds the industry standard for similar jobs in the same geographical area. The word "competitive" relates to employers using their salary rates to compete with other companies to secure high-quality employees".
To offer competitive pay, take a look at the healthcare industry standard, the wages paid in your geographical location, and what your budget is.
Offer Ongoing Education And Attractive Benefits 
Another great way to attract and retain healthcare employees is to offer them ongoing education and attractive benefits.
HBR research shows that by providing employees ongoing education, "from choosing a degree program that best fits their goals to mapping out which courses will be most applicable—employers can effectively train or reskill employees to meet their own workforce needs". This provides healthcare employees with the opportunity to grow and attain a higher salary, further increasing your chances of retention.
With Connecteam, you can easily train your healthcare employees for new roles through completely customizable training courses with images, videos, links, PDFs, and more. You can even create customizable quizzes to guarantee that employees are understanding the training material. Connecteam gives managers complete oversight, so you can track employee progress through the training with real-time updates and notifications.
Attractive benefits are another great way to retain your qualified and experienced healthcare employees.
What are some attractive benefits you can offer to help increase employee retention in healthcare?
Offer better insurance coverage.
Fair and flexible scheduling.
Good retirement plans.
Offer paid holidays, sick days, and vacation days.
Student loan assistance programs.
There are definitely other benefits that may be more important to your healthcare employees. A simple way to find out which benefits would be most valuable to them is to collect their feedback (through a digital survey ideally) and make the appropriate changes to your benefits package.
Collect Feedback 
Collecting employee feedback about the hiring process and other processes is a crucial and necessary part of increasing healthcare employee retention. Without collecting feedback about the hiring and onboarding process, you will never be able to know in what ways you can improve it. As previously mentioned, you can also send employee retention surveys to better understand what benefits are most valuable to your healthcare employees. 
As stated by UK care provider, Caremark, providing employees with a platform like Connecteam to give feedback and share ideas with upper management allows you to adapt where relevant and provide your staff with the best possible working environment.
With the Connecteam healthcare app, you can easily and efficiently send employees live polls or surveys to better understand how their onboarding and training process went. Employees can simply fill out the survey directly from their mobile devices, at any time, and managers will receive measurable and actionable data from employee feedback.
Offer A Comprehensive Mentoring Plan 
It's imperative that you provide new hires with an experienced, veteran employee to help mentor them through the process. Not only does this ensure a smooth training and onboarding process, but it creates a feeling of connection between the employee and the company.
Get a few experienced employees from each department to help train and onboard new employees for their specific job role. Judie Smithers, a healthcare safety and business expert, mentions that "having an established source for job information can relieve some of the new employee's anxiety. The new worker is more comfortable while learning the new job. And, you want the trainee to be relaxed and attentive during your safety training sessions". And by doing so, you increase your chances of retaining these new healthcare employees.
Download your FREE guide on "6 Pillars for Improving Frontline Employee Retention" ⤵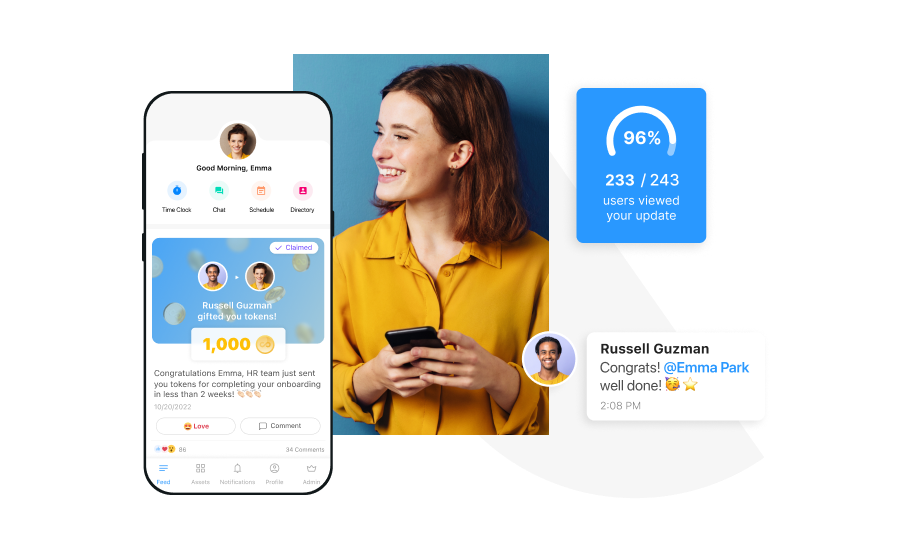 How To Improve Employee Retention In Healthcare: Part 2 – Employee Engagement
Employee engagement is just as vital in retaining healthcare employees. Without employee engagement, employees don't feel connected to their job and the company, leading to high turnover rates.
Medical GPS research shows that "​​… only 29% of the [healthcare] workforce is engaged, 45% are not engaged, and 26% are actively disengaged. Which means nearly 71% of employees are NOT fully engaged. (5) In addition, nearly 11 billion is lost annually due to employee turnover".
And this has a major impact on patient care as well. When healthcare employees are engaged, they go the extra mile with their patients. For example, Medical GPS again notes that "an engaged employee makes eye contact with patients, genuinely smiles, and welcomes them".
So now that you see how crucial healthcare employee engagement is, let's dive into some of the ways you can improve engagement and thereby improve healthcare employee retention.
Ongoing Recognition 
Ongoing employee recognition is another great way to retain great employees. And we don't mean pasting a picture of the employee of the month on a bulletin board in the office.
Once again, you can automate and optimize your employee recognition program with a healthcare app like Connecteam.
With Connecteam, you can create an ongoing employee recognition program by following these easy steps:
Start a live poll and allow employees to vote for different types of recognition awards.
Recognize star employees that go above and beyond with a post on the social feed and let colleagues like, comment, and congratulate the winners. Employees can even include attachments like GIFs, images, and videos to keep employee recognition fun and engaging!
Start an employee of the month program via the app, where peers vote on the month's shining star.
Improve Healthcare Employee Engagement With Connecteam!
14-day free trial, no credit card required!
Start Your Free Trial
Relaxation And Destressing Opportunities 
Keeping a healthy, positive, and stress-free working environment is key to engaging and retaining healthcare employees. This is especially true in the healthcare industry, as it usually high-stress and causes physical and mental pressure.
Some easy relaxation and destressing ideas you can provide your healthcare employees may include…
A company fun-day, where employees can not only get to know each other better, but also gives them a chance to relax and get out of the office.
Inviting a yoga instructor to provide a class once a week to those employees who are interested.
Implement an employee wellness program.
A Supportive Work Environment 
A supportive work environment is essential to retaining healthcare employees. CSU research shows that one of the main reasons healthcare employee turnover rates are so high is due to "strained relationships with managers".
Once again, there are different ways to ensure that you provide your employees with a supportive work environment.
For example, make sure you have an open-door communication policy so that employees feel comfortable to come forward and discuss any issues or concerns freely with management.
Or as previously stated, you can provide new hires with experienced mentors to show them they have the support from the company and endorse success in their new role.
As David Glover, Caremark Joint CEO, puts it when explaining his decision to implement Connecteam's all-in-one employee management app: "Our Care Assistants are the lifeblood of our business and I wanted to ensure they receive the exact support they need, be that training, access to documents, or a place to chat with peers, as well as feeling valued, engaged and part of one big national team."
A Connected Team
Having a connected team is a reliable way to retain healthcare employees. It's also relatively easy to do and achieve, especially if implementing a healthcare app.
Some of the ways you can create and promote a connected team include:
Planning team-building activities and exercises.
Plan a company lunch and hire a caterer to cook for everyone.
Connect employees through a healthcare app, like Connecteam. Connecteam has a robust safe and secure in-app messaging system that allows employees to easily connect and communicate with one another directly on their mobile phones. Messages can be easily monitored and controlled, and anything inappropriate can be deleted.
Make sure all employees are in the loop and up-to-date on important company news, information, and events. This can also be done through a healthcare app. For example, with Connecteam, managers can easily post company news, updates, and events on the social feed and allow employees to engage and communicate through comments and likes.
Columbus Business First notes "leaders of companies, organizations and teams of any size and mission need to set their team(s) up to be connected and successful by implementing the right strategy, structure and systems to foster connectivity." Connecteam, the leading healthcare app, provides the best system to promote and encourage team engagement and connectivity.
Employee Engagement Surveys
Consistent employee engagement surveys are a basic and pretty easy way to measure and understand how engaged your healthcare employees actually are.
But what kind of questions should you be asking to understand where your employees are engaged and connected to their job?
Here's a list of 5 engagement survey questions you can include on your next employee engagement survey:
I feel proud to work for this company? Yes/No
I would recommend or suggest working at this company to a friend. Yes/No
I don't often think about searching for another job. Yes/No
I can see myself still working at this company in the future. Yes/No
I have access to all the tools and information to do my job as best I can. Yes/No
It's imperative that managers understand that you cannot just collect employee surveys and expect employee engagement to increase. On the contrary, these surveys have to be collected and analyzed in order to make the appropriate changes and improvements to boost and increase employee engagement.
Keep in mind, you can automate and digitize the survey process with a healthcare app, like Connecteam. Reduce manual pen and paper processes like survey creation, collection, and data analysis with a healthcare app and create fully customizable surveys in minutes.
Additionally, you can generate and export fully customizable reports based on data collected from these surveys to make actionable changes and elevate employee engagement and retain healthcare employees.
The Bottom Line: How To Retain Healthcare Employees
As you can see, retaining healthcare employees needs to follow a two-part plan; proper hiring techniques and employee engagement.
By making necessary changes to your hiring, training, and onboarding processes and focusing on increasing employee engagement you have a higher chance of retaining those healthcare employees you worked so hard to attract and acquire. Offer them competitive pay, provide them with continuing education opportunities, connect them as a team, collect their feedback and improve your employee retention in healthcare.
Lastly, if you're still doing all of these processes manually, it's time to automate, digitize, and streamline all of the aforementioned tips with a healthcare app like Connecteam.
Streamline & Automate Your Hiring & Engagement Procedures To Improve Employee Retention In Healthcare Today!
Want more great articles straight to your inbox? Subscribe Here ⤵