Home care agencies have a massive turnover rate, mainly due to low pay, weak benefits, little training opportunities, and poor communication. In fact, in 2018, the turnover rate reached an all-time high of 82%, according to Home Care Pulse, a market research and education firm.
However, in 2019 and through to 2021, that all looks to be changing.
Home Care Pulse CEO Erik Madsen said, "Home care owners knew they had this tsunami coming toward them and that they needed to [take steps] to mitigate the challenges of caregiver turnover. About three years ago, that started to happen. As a result, we're starting to see a flattening of the curve with turnover."
Apart from many agencies improving their pay and benefits to lower their turnover rates, many have turned to a caregiver management app to best manage their day-to-day operations.
What is a caregiver management app? Caregiver management software helps non-medical caregivers with record-keeping, inter-agency communication, provides a caregiver scheduling app, billing services, onboarding, training, enforces compliance, and so much more.
Find out how Connecteam's caregiver management app helped one care agency save time on admin tasks and keeps the team connected and engaged.
As such, we list the top caregiver management app solutions in the market to help you effectively manage and execute your caregiver agency duties.
7 Caregiver Management Software Solutions: Our Top Picks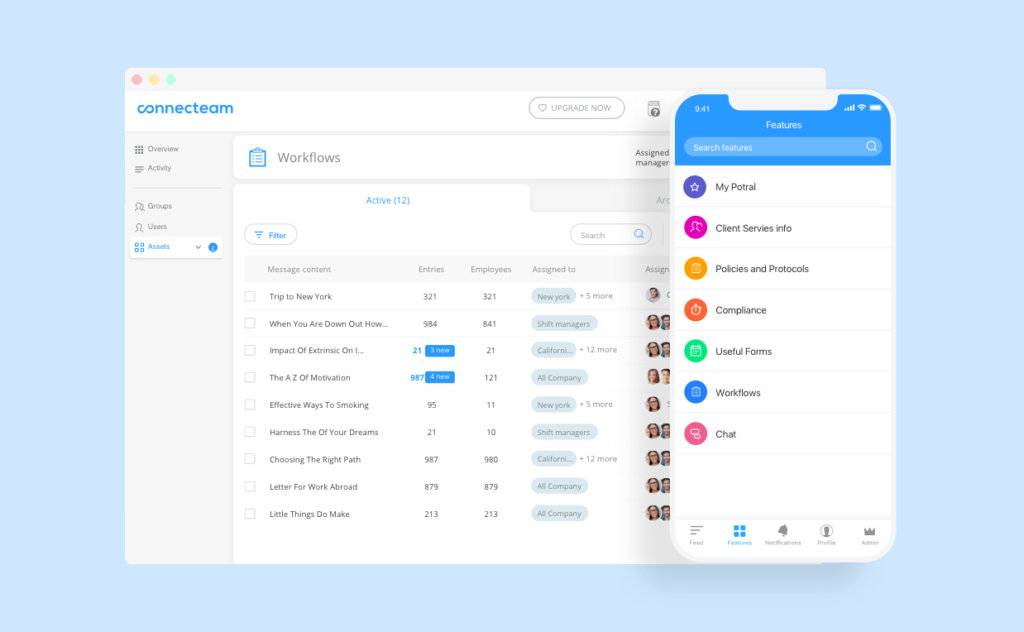 Connecteam is the leading caregiver management software in the market, with an all-in-one mobile-first solution, a sleek design, and little training, it's a no-brainer for your care agency. Connecteam offers all the tools to communicate effectively, manage compliance, schedule shifts, track time, and organize your business in the click of a button.
Care agencies who use Connecteam's caregiver management app on a daily basis told us about the main benefits of Connecteam to their business:
Streamline communication:

easily provide your team with relevant information and differentiate between probation, hourly, interim employee, care service managers, caregivers, or sites. Also,

communicate

via updates, notifications, private chat, and an employee directory.

Boost employee engagement:

send periodical surveys, allow for trainer feedback, send newsletters to keep everyone on the same page, share photos, create a suggestion box, and create an open-door policy.

Compliance through 'read and sign' forms:

keep all your employees compliant through

digital 'read-and-sign' forms

, such as medication policies and procedures, administration of medication policy, controlled drug policy, sexual harassment policy, and more.

Automating checklists and forms:

reduce friction and improve response time by automating reporting processes, such as fall risk assessment, expense reimbursement, equipment visual check, supervisor inspection summary report for a caregiver, and more.

Onboarding new hires and training:

quickly and efficiently

onboard new carers

and get them up to speed. With read and sign forms and training, your team has

a structured onboarding

experience that is simple yet effective.

Client services and information:

provide an ideal experience for your clients & maintain a useful information folder for each client, to equip caregivers with the information they need, such as Information about the venue of the client, including the address and special entry instructions or task lists.

Company protocols and policies available

: from the employee handbook to important company protocols, how-to guides, making all the information available and searchable for the entire team.

Efficient job scheduling:

Connecteam's caregiver scheduling app allows you to

assign caregivers for services

based on different requirements, provide relevant information including time, address, and special instructions, allow employees to accept and reject shifts, and more.

Simplified time tracking and payroll:

Easily track work hours

, send automatic reminders to ensure employees are clocking in and out in and out, vacation and sick day requests, view timesheets, and more.
Price: Connecteam's caregiver management software is easily the most affordable solution. Instead of paying for each user, it offers a fixed monthly fee starting at just $39/month for up to 50 users. Or you can commit to the free plan after your free 14-day trial is up.
Streamline your care agency with Connecteam
SMARTcare offers a solution for agency owners and schedulers to track, manage, and update their caregivers at any moment so the caregivers are able to provide a higher level of care. You can automatically add daily schedule updates at a time of your choosing, ensure your caregivers are always up to date with the information need to know where they are supposed to be for the day.
SMARTcare boasts of the following features:
New mobile application

Automated HR

Supports your hiring process

Caregiver portal

Shift details
Price: Contact a sales representative to receive a price quote.
HHAeXchange offers different tools so that you can empower caregivers to deliver amazing patient care, and it includes scheduling and mobile scheduling. The software ensures agencies have the tools to oversee their teams and ensure that visits and patient services are performed exceptionally.
The following are features you can expect on HHAeXchange:
Clock-In/Clock-Out Dashboard

Exception Dashboard

Overtime Auditor

Billing and payroll

Scheduling needs

Human resources

Track and manage caregiver requirements
Price: Pricing is available upon request.
firstHOMECARE EHR software offers CAREpliance technology, a clinical workflow following standard patient care processes, clinicians have available evidence-based guidance to reinforce decisions at the point of care.
Here are some top features available on firstHOMECARE:
Billing and invoicing

Electronic signature

Patient records management

Scheduling

Time tracking by client
Price: Speak with a representative to receive a pricing quote.
Deputy's software allows you to easily create ideal schedules in minutes, easily manage shift changes, record employee wellness & work hours, onboard staff quickly, communicate effectively, and more. Plus, employees can download the app on their smartphones.
Deputy offers the following features:
Scheduling

Fill last-minute schedule changes

Assign tasks, checklists, and day-to-day procedures

Share important messages, patient progress notes, or new procedures and receive an update when it was viewed

Track employee hours

View real-time employee attendance

Quick onboarding
Price: Deputy recommends its Premium plan which costs $4.50/user/month. There is a free 31-day trial as well.
CareSmartz360 is a Cloud-based, HIPAA compliant Home Care Software Solution that gives you total control over your home care agency. During your first 60 days, you have your own CareSmartz360 success coach so you can best understand how to effectively use the software.
The following are the features CareSmartz360 offers home care agencies:
Scheduling

Caregiver portal

Billing and payroll

HR and training

Reports and analysis

Family portal

Digital library

Time tracking

Payer management
Price: Pricing is available upon request.
offers a fully-integrated system for home healthcare organizations in order to streamline everything from patient intake to documentation to scheduling to billing and more. Industry professionals and clinicians helped design the software so that you have one solution to help with the business, clinical, scheduling, and mobile functionality.
These are the top features available on Netsmart Homecare:
Billing and invoicing

Visit verification

Care plan management

Scheduling
Price: Pricing is available upon request.
Choose the best caregiver management software
There is no doubt that care agencies are a life-saver for individuals who need assistance. However, it does come with a daunting and difficult task for both the patient and their caretaker(s).
And with high turnover rates, many companies have started to further their benefits while turning to a caregiver management app to improve operations, communicate effectively, boost engagement, schedule jobs, ensure compliance, and much more.
Connecteam: Made for Care Agencies
In real-time, easily streamline communication, enhance onboarding and training, easily schedule shifts, boost morale and engagement, keep everyone on the same page, and improve employee productivity with Connecteam's care agency app.
Create Free Account