Healthcare professionals face many challenges but COVID-19 has really brought these to the forefront. From low shortages of PPE (personal protective equipment) to heightened personal safety concerns, lack of effective internal communication, workforce shortages, salary discrepancies, continuous training, and perhaps the most troubling is an almost too slow adaptation to technology. 
When we say technology, we aren't talking about MRI machines or laboratory testing, we are instead focusing on information technology, like apps for healthcare professionals. 
What is information technology? According to Rasmussen, in layman terms, it's "the application of technology to solve business or organizational problems on a broad scale". 
For example, online reporting technology can revolutionize how healthcare professionals manage and track patient records in real-time and allow for direct access at any time (like a patient being treated at a new location). 
Information technology like apps for healthcare professionals also allows healthcare professionals to remain in direct contact with their teams to allow for effective communication. Such as sharing company information, new protocols, safety regulations (like a COVID declaration form), celebrating new hires, and more. Gone are the days of pinning such announcements to bulletin boards or unopened emails. 
We could continue to list many more benefits of apps for healthcare professionals but instead, we are going to list seven of the best apps for healthcare providers that can truly revolutionize their day-to-day processes in this technologically advanced ecosystem. 
7 Must-Have
Apps for Healthcare Professionals
The best
healthcare employee management app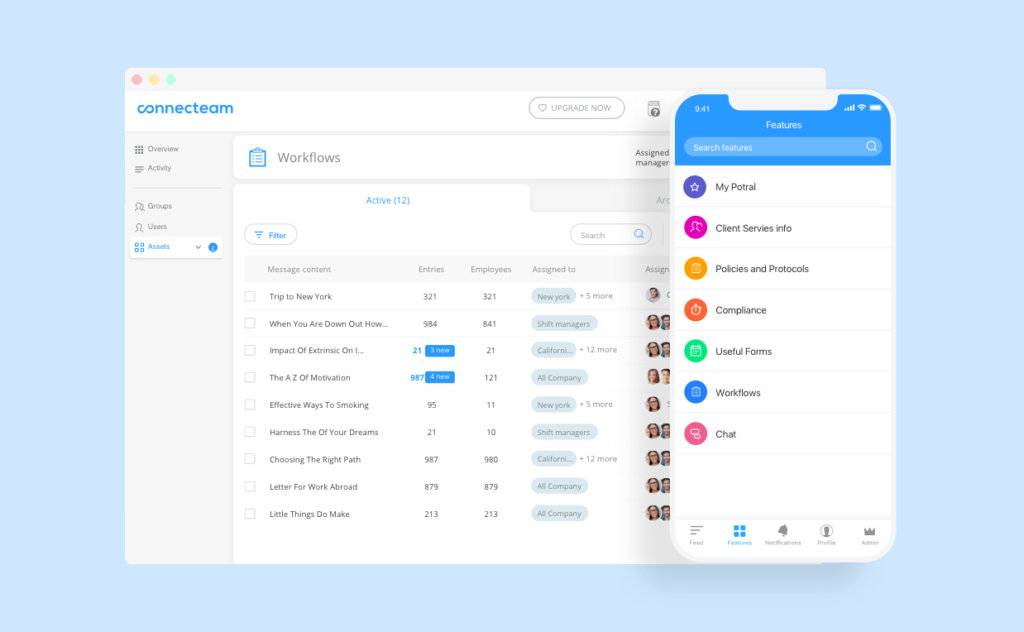 As the leading all-in-one app for healthcare professionals, Connecteam offers a sleek design, easy to use interface with no training needed, and affordable pricing options for your on the go healthcare teams.
Whether it's a robust scheduling system, real-time communication tools, efficient time tracking, managing task management, field reporting, and more, Connecteam is the best app for healthcare professionals hands down. Below is a list of Connecteam's top features for healthcare professionals: 
Simplify time tracking and payroll

as team members can clock in and out from their phone with a tagged GPS location, send automatic reminders to make sure everyone clocks in and out on time, manage vacation requests, view timesheets, and more.

Job scheduling is more efficient

when you can instantly

assign caregivers for services

that are based on many requirements, provide relevant information such as time, address, and special instructions. Employees can

accept and reject shifts

right from their phone to confirm their schedule ahead of time.

Keep employees

accountable through compliance standards

like

digital 'read-and-sign' forms

including medication policies, procedures, medication policy administration, controlled drug policy, etc. Plus, keep

company protocols available

at any time like how-to guides, employee handbook, etc.

Switch to

automated workflows

for checklists, reports, and forms to improve response time such as transition checklists, home safety assessments, client pre-screening forms, contact leads, etc. 

Create an

efficient onboarding and training process

through read-and-sign forms, quizzes, chapters, videos, PDF, and more. All progress is trackable so you can send reminders to employees who haven't completed a required section.

Enhance internal communication

with your teams through one-on-one or group chat, a searchable employee directory, updates segmented by departments or locations (like company news, safety protocols, new clients, etc.) 

Maintain

employee engagement

by sending surveys, company newsletters, share photos, implement a suggestion box, start a live poll, and more so you can keep everyone on the same page and create an open-door policy. 
Price: Connecteam's healthcare employee management app is easily the most affordable solution as it doesn't charge for each user, instead it offers fixed monthly plans starting at just $39/month for up to 50 users. Start with the free 14-day trial or sign up for the free for life plan.
Find out how one home care agency was able to save time on admin tasks and keep their team connected and engaged with Connecteam healthcare employee management app in this case study. 
The best
reference and diagnosis assistance app
The WebMD creators built Medscape to help health professionals get immediate clinical answers. You have access to drug information, disease referencing, patient care tutorials, and clinical tools. Along with the latest healthcare news, CME & education, and even a Medscape consultant. 
Medscape serves as a robust medical resource for medical students and professionals as it provides a real-time, modern tool while on the go. 
Price: This app is free and you can download it both on Android and iOS.
The leading medical network app
Whether it's calling your patients or your colleagues, Doximity allows for simple and secure access. While on the go, you can call your patients with your cell phone, while displaying your office number. There is a Universal Clinician Directory so that you can easily search, find, and reach any healthcare provider of your choice.
You can either make a video or voice call, find experts, stay up to date with personalized news and earn CME, and finally, you can also send, sign, and date HIPAA-secure faxes right from your personal phone. 
Price: Free to use with downloads on iOS, Apple Watch, and Android.
The best app to connect families with caregivers and caring companies
What Care.com can offer not only helps healthcare professionals but family and relatives as well. This app helps you easily find the right care professional for a loved one. A temporary, qualified professional is available within a few clicks of a button. And it allows remote healthcare professionals an efficient and safe way to find new customers and receive jobs.
All a remote worker needs to do is upload their resume and recommendations, accept interviews, and receive payments right through the app so it's that easy to provide service. For example:
Senior care

Professional support for people with disabilities and special needs 

Child care

School support

Pet care

Housekeeping
Price: This app is available for free on iPhone or Android.
The best research app
QxMD offers three separate apps – Read, Calculate, and Learn. Read helps you stay up to date on the latest research. Their website states that Calculate offers ">400 point-of-care tools to educate around prognosis, diagnosis, and optimal patient management". While Learn makes it easy for you to publish quality educational courses for like-minded healthcare professionals.
Price: QxMD is free to download on any device and can be used online as well. 
An easy Electronic Health Records (EHR) software
With Kareo, you have a one-stop-shop for writing notes and prescriptions, utilizing code encounters, and managing patients in a cloud-based EHR. Kareo allows you to go paperless to manage every part of your office – from charting, scheduling, billing and more. Plus it allows you to become more productive and remain compliant. 
A few features available on Kareo include:
Charting

Schedule and appointment reminders

Patient portal

e-Prescribing 

Patient and document management

Secure sharing of information 
Price: Reach out to a representative of Kareo for an exact quote tailored to your organization.
A top
Electronic Visit Verification
(EVV) solution
MEDsys Software Solutions offers a top suite of tools for franchise, private duty, medicaid, medicare, staffing, and consumer direct.
As a totally web-based solution, it offers these features:
Data exchange and reporting in real-time

Billing

Electronic visit verification

Scheduling

Client and staff portals

Customizable forms 

Client and staff communication

Payroll 
Price: Pricing starts at $100/month/user. While no free plan is available, a free trial is available to test out its features.
Bottom Line On
Healthcare Employee Management App
Healthcare professionals will always continue to face challenges but while the work may be grueling, it's also rewarding beyond measure. 
One of the "easiest" challenges healthcare professionals can eliminate now is by implementing one of the apps for healthcare providers we listed above. These apps for healthcare providers can effectively transform healthcare providers' daily grind. Whether it's safety, compliance, scheduling, communication, and more, these apps for healthcare professionals can reduce many of the usual headaches.
Leading All-In-One App for Healthcare Professionals
Start for free and streamline your care service with intuitive scheduling, tracking employee work hours, enhancing communication, assigning shifts and getting signed checklists – all on your mobile phone!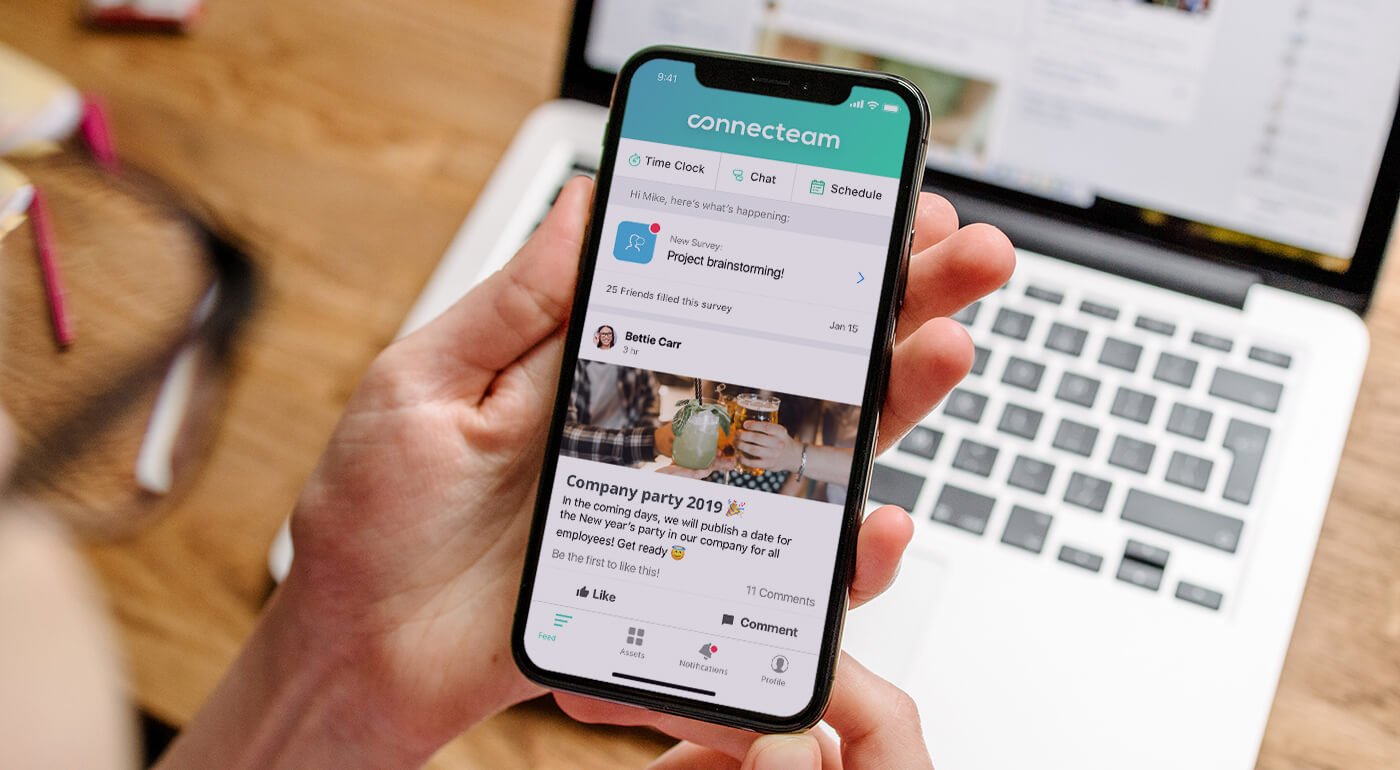 Start for free