The COVID-19 crisis has shed a light on just how critical internal communication is to a company's success. And this is no exception going into 2023. We highlight the main internal communication trends that we think will have the greatest impact in the new year.
Table of contents
In the last decade, the way people communicate has changed dramatically.
Gone are the days of penned letters, dial-up phones, emails, instant messaging, bulletin boards, and so on.
Now, communication is expected to happen at the tap of a button and on the go. But how does that translate to a company's internal communication?
Internal communication is all about how people in a company share information with one another.
And with today's technological advancements, employers can't even begin to measure who read and understood every email or bulletin board pin.
Top-down communication doesn't allow you to reach or hear every single team member when you're using outdated communication methods.
On the bright side, a digital revolution is sweeping the world of internal communication.
But what are all the employee communication trends dominating organizations and verticals in 2023? We rolled up our sleeves to share the hottest internal communication trends 2023 that you have to know about to streamline internal communication at your company. 
Focus On Employee Experience
Anyone working in HR has been slowly implementing "employee experience" into its company and company culture over the last few years.
However, going into 2023 employee experience must be deeply woven into internal communication to experience positive changes to the bottom line. But why does employee experience matter, what is it exactly, and what does it have to do with internal communication? 
Let's start with what is employee experience? It describes the journey an employee has within an organization. From their job interview to their very first day and especially continuing with their job role, physical workspace, manager relationship, and wellbeing.
Jacob Morgan, the author of The Future of Work, said that "Employee Experience is largely determined by three elements: workplace environment, tools and technology, and corporate culture."
Every company should have the goal of creating a comprehensive and positive experience for its employees – and not just because it's an internal communication trend.
As mentioned, this begins during onboarding and carries over into his or her daily interactions and operations. Each employee journey must reflect upon the company culture and values.
Now, the very core of employee experience is effective internal communication. Why? How? Effective internal communication allows employees to integrate, be fully involved, and remain informed about the company they work for and it plays a key part in their success and the company's success.
Your next step: As employee experience is a holistic concept, especially as it's rooted in the need to cover many angles during the employee lifecycle, internal communications and human resources are working even closer together. Including shared topics like hiring and onboarding, and newer areas like vacation requests and continuous training. The departments of internal communications and human resources must work together to create and maintain positive employee experiences during every interaction with the company.
The line between the internal communication and human resources remit is becoming increasingly blurred. Both functions are engaging with the same audience, so it makes sense the two work together.

Andrew Harvey, Director of Internal Communications at the VMA Group
He goes on to say, "And with both departments constantly seeking a stronger voice in the boardroom, collaboration could be a real game-changer."
Download your FREE guide on "10 Tips for Engaging Your Frontline Teams" ⤵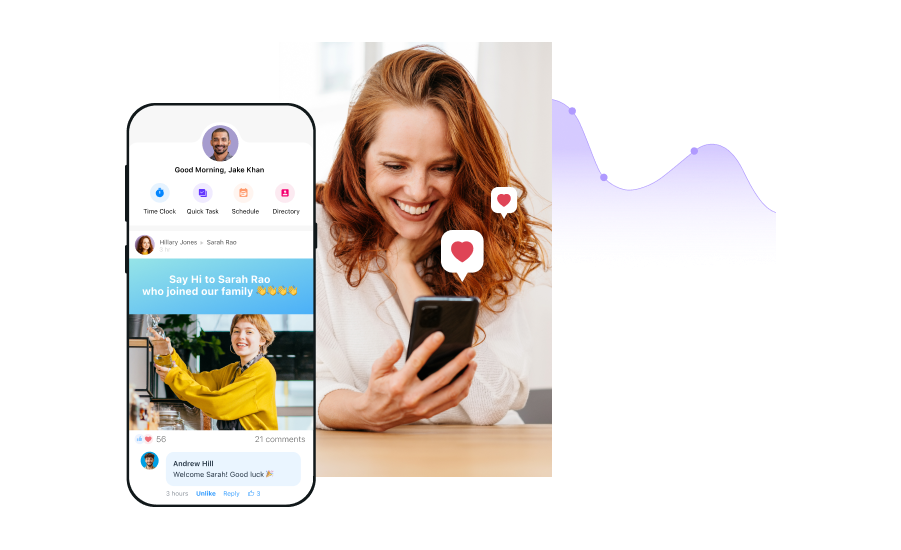 Mobile-First Communication
When it comes to business communications, most organizations are still doing things the good old-fashioned way with emails, intranet, phone calls, or meetings.
However, one of the biggest internal communication trends shows that many businesses are shifting to mobile-first communication with dedicated, communication apps.
This allows organizations to boost productivity, lift engagement, build collaboration, reduce misunderstandings, and more.
A mobile-first communication app offers managers and employees a direct, immediate communication channel to help improve employee communication by making it easier to find the latest company news and materials needed.
And let's remember that currently, Millennials and Gen Z account for slightly over a third of the workforce (38%).
Within the next decade, that number will grow up to 58%, meaning that the younger generations are the most dominant in the workplace. These younger generations are very tech-savvy and mobile-driven which is why many companies have undergone a fundamental shift in regards to their internal communication methods.
"One of the biggest takeaways was the need to provide online tools to help improve access to information. This generation is no stranger to technology, and they're looking for platforms and apps to see their health records, manage costs and easily shop around for different types of care."
Your next step: Communicate with your employees in a fast and engaging way by signing up for your own integrated, mobile-first communication app.
Connecteam allows you to reach every employee with fun, dedicated, and measurable communication. Engage your team, reflect your company's culture, streamline communication, and solidify your employer branding.
1:1 or group chat
Customizable surveys
Live and annonomous polls
Social feed for updates, announcements, events
Real-time oversight and management
Easily attach images, videos, GIFS, links, and more
It's that much easier to reinvent communication and engagement in your organization with Connecteam's complete set of communication tools.
Leading Communication Tool
Connecteam is the collaboration and communication app that moves work forward and keeps your team connected in the tap of a button.
Learn More
More Visual Communication
Visual communication is shaping up to be a big trend in internal communication in 2023.
A lot of our own behavior on our personal social media channels tells us, and advertisers, a lot about our communication preferences.
Research shows that visual posts get far more engagement with likes, comments, and shares than just a standard text post. In fact, Facebook did its own research and found that images play a key role in an ad's performance, by 75 to 95% to be exact.
The same can be said about internal communication.
Employees are far more likely to engage with visual communication than just text. Video messages from the top are perceived as more genuine, authentic, and credible when real people are delivering a message. And no, you don't need to spend thousands on a high-production video.
With the quality of today's mobile phones, everyone has access to a low-cost and high-quality communication tool.
Your next step: If you are really looking to get your employees to interact with your content, then you need to make it fun and engaging! In order to do so, add visuals to your message – video, infographics, GIFs, etc. This helps ensure that your team not only reads your message but interacts with it.
More Focus On Employee Recognition
A huge internal communication trend is prioritizing employee recognition.
In fact, Business Roundtable, a non-profit organization made up of chief executive officers of major companies in the United States, announced that they "prioritize investing in employees over generating long-term value for shareholders."
Human Resources Today also announced that if you want to make employees more motivated and adaptable then you must start with employee recognition. The more you recognize your employees, the more motivated they are to do more for the organization.
This all just goes to show how a more human and connected experience for every member of the team is being reinforced with the cultural and corporate shift. And as far as trends in internal communication go, this is one we can't see going away anytime soon.
The data is clear, employee recognition programs have a clear and positive impact:
Companies with employee recognition programs have a 31% lower voluntary turnover
50% of employees believe being thanked by managers improves the relationship and builds trust
90% of employees who work in organizations with effective rewards programs said that "my work makes a difference"
Your next step: Your employees expect employee recognition, especially the younger generation. By using an all-in-one communication tool, like Connecteam, employee recognition becomes a seamless part of your company culture and experience. By recognizing employees on a regular basis, receiving feedback, giving your managers more control, celebrating an employee's achievements (in-office and out of office), and communicating often, employers can succeed in prioritizing employee recognition.
Through Connecteam's communication app, you can stay in the know and let your team be heard: make decisions based on surveys and live polls, incorporate a suggestion box to gather feedback, and create structured channels to query or approach HR and senior management.
Stay In The Know & Let Your Team Be Heard
Reinvent communication and engagement in your organization with Connecteam's complete set of communication tools.
Look At The Data, Frequently
As far as employee communication trends go, internal communications are ones that happen organically.
Most organizations probably have data on employee email open and click-through rates. In addition, you probably have a checklist on your employee's preferred communication channel. But that's probably it. However, considering internal communication trends 2023, that's not the case anymore.
Considering you already make a lot of decisions based on data, you must do the same with internal communications. Many of the communication platforms, like Connecteam, make gaining data easy, instant, and available in real-time. Metrics could include:
Which channels work best
Percentage of employees who open or interact
Popular days and times employees are accessing communications platforms and from where (mobile or desktop devices)
How many employees open and respond to polls or surveys
The number of interactions (shares, likes, comments, etc.)
Your next step: Don't just collect the data. Regularly review it and take any necessary steps based on the data. Consider this – if you're sending emails with vital information but only around 40% of your employees are opening and reading the message then you need a new internal communication tool.
Also, if you are using a mobile communication tool, like Connecteam, you can instantly see who opened and read a message or update and for anyone who didn't, send them a push notification reminder to ensure everyone is on the same page.
Horizontal Communication
Horizontal communication, or lateral communication, focuses on the exchange of information and communication between people, divisions, departments, or units within the same organizational hierarchy. "Peers" are always there to provide regular feedback and encourage collaboration.
Horizontal communication helps to spread knowledge within an organization and eases a manager's workload. This level of communication promotes knowledge, reduces misunderstandings, spreads insights, empowers employees, and helps people apply their skills.
Your next step: Employers should really focus on peer-to-peer collaboration by rewarding teamwork, encouraging sharing and setting team goals, pushing for collaboration, and more.
Plus, team-building games and activities can help promote a company culture that strengthens feelings of unity.
Employee Wellbeing Is Not An Afterthought
With the chaos of COVID-19, 73% of the American workforce has reported that they feel burnt out and 35% attribute this stress at least partially to COVID-19.
Business owners and managers have to place a greater emphasis on employee wellbeing otherwise, employee burnout will hit hard.
With employee burnout comes disengaged workers. And a disengaged team can cost the company 34% of their annual salary.
Your next step: The best thing you can do right now is tighten up your company messaging to help lower the stress levels of your employees and empower them to feel comfortable reaching out when they need support. Whether you set up an employee assistance program, establish feedback channels like through a social forum or channel, share surveys to gain further insight, or weave in team-building exercises, it's important that you're doing something.
Share Content On-Demand
Pre-recorded video messages, workshops, courses, quizzes, webinars, reading material, seminars, and lectures are all types of on-demand content that have quickly become a sought-after internal communication trend. This is mainly due to the growing strains of COVID-19 life.
Adults have gotten used to absorbing content whenever they want so that it fits their schedule like a glove. People have become used to watching content at a time that suits them and can, therefore, fit more learning and development into their schedules.
Your next step: To begin, you can share pre-recorded video messages to share with employees – whether it's to loop them in on changes or just to spread good vibes. From there, you can start to schedule outgoing communication so that way your employees can attend lectures, webinars, and so on to further develop their skills.
Make Leaders Better At Communication
An important internal communication trend in 2023 is to empower your managers, and even senior leadership, to communicate better. And with more authenticity and empathy.
In 2020, CEOs ranked last in the question of who's doing an outstanding job meeting the demands placed on them by the pandemic.

Edelman Trust Barometer
Given that 2020 really brought up so many challenges, problems, and personal worries, it would be devastating if your senior managers weren't able to calmly speak with team members.
Your next step: Teach managers how to devote time and attention to their teams. They need to be seen as a trustworthy source of information, instead of someone who only rocks the boat. This can be done through classes or just some one-on-one training sessions.
Summarizing Internal Communication Trends 2023
Internal communication has changed so much over the past few years. Gone are the days of manual and tedious communication. Now, communication happens instantly and directly.
Effective internal communication can transform an organization if done correctly.
There is no doubt that internal communication trends will grow and emerge in the next few years, and we for one, can't wait to see them as they unravel.
A Modern Communication Experience
Improve Your Company's Internal Communication With Connecteam Today!
Want more great articles straight to your inbox? Subscribe Here ⤵