Table of contents
If you're a hotel manager, hotelier, or a lodging manager, then you're fully aware of how much work it takes to make sure daily operations run smoothly and efficiently. And kudos to you, because we know how difficult it is to manage several teams, especially when most of your employees are on-the-go and rarely behind a computer or a desk. This is just one of the many struggles the hospitality industry is facing in recent years.
In addition to simply managing the normal day-to-day tasks like employee communication, scheduling, ensuring all daily tasks are completed, onboarding and training new employees, and motivating them to perform at their best; hotel managers are being hit with new challenges.
Some of the new challenges the hotel industry is facing today include:
Complying with the ever-changing COVID-19 regulations
Inefficient hotel staff communication across teams
Difficulty creating working schedules for all employees
Low employee engagement and motivation
Competition with new lodging styles such as Airbnb and Homeaway
Providing the best customer service and experience as possible
An employee communication app will allow management to address all of these issues and provide a solution to overcoming these obstacles.
A powerful employee communication app provides the following solutions for hotels and lodging businesses:
A GPS powered time clock for employees to clock in and out directly from their mobile device
Simplified employee scheduling
Digital forms and automated reporting
Streamlined daily tasks and operations
A more efficient and personalized hiring and onboarding process
A knowledge center where employees can access important information while on-the-go
A digital social feed that promotes employee engagement and collaboration
Seamless payroll and accounting integration with QuickBooks Online
Download your FREE guide on "10 Tips for Engaging Your Frontline Teams" ⤵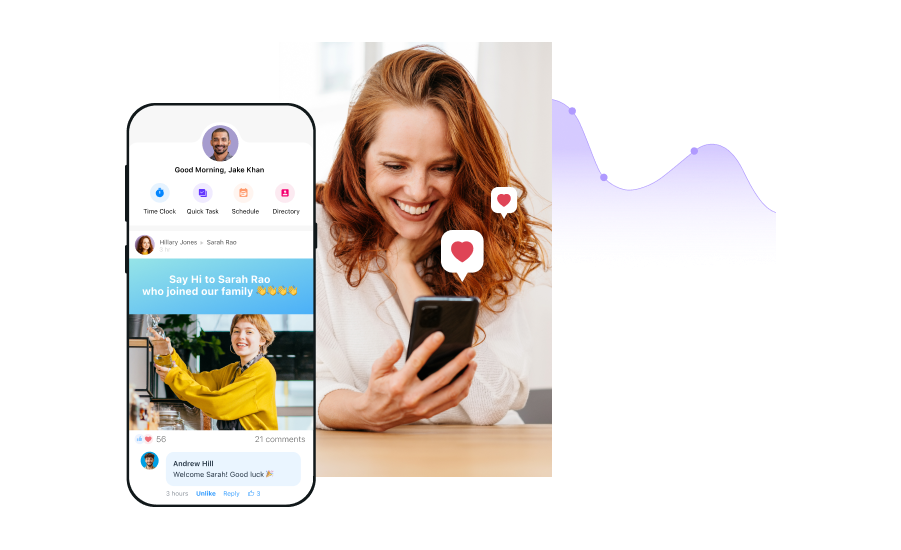 In order for the hotel industry to overcome and persevere through these challenges, it's important to take advantage of the new technologies and tools, such as an employee communication app, available in order to reduce day-to-day friction and surpass the competition.
Oversee and manage all employees directly from a mobile device while on-the-go
Improve the hotel staff communication across multiple teams and departments
Increase employee satisfaction, engagement, and motivation
Streamline all daily tasks and operations
Easily comply with all new COVID restrictions
Keep all employees informed and in the loop with a digital information and knowledge center
Easily onboard, train, and upskill current employees to make sure they are providing the best customer service and guest experience possible
Enjoy an 100% accurate payroll, thanks to the seamless QuickBooks Online integration
If you're still not convinced your business needs an employee communication app, we've done our research and put together a list of the top 7 reasons and benefits that help clarify why a communication app is necessary and paramount to your hotel or lodging business' success in the future. These 7 reasons are based on features provided by the Connecteam employee communication app. While not all employee communication apps provide the same features or benefits, it's important to do your research and determine which software solution is the best fit for your company.
Experience the Power of an All-In-One Employee Communication App with Connecteam
14-day free trial, no credit card required
Learn More
COVID-19 Compliance
COVID-19 has affected the hospitality industry in many ways. EHL Insights notes, "in the 1st half of 2020 as COVID-19 restrictions were enforced we had a drop of 65% international tourist arrivals". But things are slowly changing as "many people across the world are seeing the return of international travel within the short term. 65% of Americans have booked international trips for 2021 rather than domestic".
This is a good sign for the hospitality industry, as it means an increase in business, but it will also come with a new set of challenges and obstacles in regards to COVID-19 compliance and safety. For example, ensuring employees are not sick before arriving at work and providing a safe and healthy working environment for employees and guests alike.
With an employee communication app, you can send a daily automated push notification to all employees to remind them to fill the COVID-19 health declaration form. At the touch of a button, directly from the employees mobile device, they can fill the declaration form and submit it before starting their shift. Managers no longer need to collect paperwork or chase after employees to make sure they have submitted the health declaration, this allows management to focus on other more pressing management issues.
Furthermore, Connecteam offers read and sign forms. After an employee has confirmed that they do not have a cough, fever, shortness of breath, or have been with anyone who has recently tested positive for COVID-19, they can electronically sign the form and digitally submit it to management for approval. As soon as the form is completed, a push notification will be sent directly for approval and securely stored electronically within the app cloud. Imagine the simplicity!
Streamline Communication Across Teams
One of the most important aspects of running a hospitality business is making sure you can communicate with all the separate teams and departments as efficiently as possible.
Whether you need to communicate with the cleaning staff, culinary staff, or even security; an employee communication app can reduce the time spent on back and forth calling, texting, or even worse… emails. Not only are these inefficient forms of communication, but they are impersonal and it's impossible to ensure these messages are actually seen or read by your employees.
Hotel management observes, "hoteliers and leaders need to look for a solution that could enable them to communicate with all their employees in real time. They need tools and technology that allows the hotels to share organizational information with front-line staff like housekeeping, front desk and waiters in real time in a seamless and secure manner". This is where an employee communication app will come in handy!
With an employee communication app, managers can streamline hotel staff communication in the following ways:
Hospitality Technology reports, "effective communication translates to increased efficiency, engagement and retention". With that in mind, the hospitality industry must make the leap towards new technologies like employee communication apps to streamline and improve hotel staff communication.
It's also important to remember that this also affects your guest experience. When hotel staff communication is at its best, employees are more productive and motivated to perform at their best. That translates to better customer service, a better guest experience, and more returning customers.
Sounds like a dream right? Well, it's possible by simply implementing an employee communication app to streamline communication in hotel management.
Digitize All Daily Tasks And Operations
Instead of spending tons of time creating daily tasks, forms, and workflows and then disseminating them in paper form to every single hotel staff member, you can easily digitize and automate all daily tasks, daily operations, and even reporting through an employee communication app.
Automated information flow improves employee response time and provides management with complete real-time oversight of daily operations. These apps are especially designed to reduce the friction of day-to-day activities and streamline daily operations, so why not take advantage of that?
For example, a powerful employee communication app can digitize all daily tasks and processes in the following respects:
Employees can receive checklists and daily task submissions while on-the-go.
Management can attach checklists and daily task list notes, statuses, and files.
Real-time oversight of employee productivity and task progress.
Automated reminders and push notifications when employees forget to submit a daily tasklist submission.
Daily morning checklists for lobby and front desk employees.
Maintenance ticket and customer complaint reporting that can be exported as measurable data.
Hotel uniform order forms for every hotel staff member.
Read & sign forms to ensure compliance.
It's crucial to remember that by digitizing these daily operations and processes you dramatically decrease the amount of time and effort management spends on ensuring these processes are going as smoothly as possible. You also avoid and reduce the amount of human error or misplacement of important information or documents.
In addition, with an employee communication app, it's never been easier for an employee to submit a digital checklist or complete daily tasks. Hotel staff members are able to ditch heavy paperwork and binders and have full access to all daily tasks directly on their mobile device whenever they need it.
Lastly, if there is any confusion or questions, employees can easily contact their team leader through the in-app chat to clarify any misunderstandings.
Keep Teams Up-To-Date And In The Loop
Managers must give all frontline hospitality workers the information needed to make sure they can provide the best possible guest service and experience. Hospitality Technology wisely mentions, "management needs a way to disseminate need-to-know information to all employees or a subset of employees. There may be new policies that are being implemented, and it's crucial that all of the teams are on board so the experience is consistent for customers – regardless of whom they interact". If you're still doing this by disseminating massive amounts of paperwork that can potentially be lost or misplaced, you're putting your hospitality business at a huge disadvantage.
What kind of information can you provide your different teams through an employee communication app? Well, that's what we're here to tell you about.
An employee communication app, easily accessible to all employees at any time, should have the following information stored in the knowledge center:
Company policies
Health and safety protocols (Fire Safety Drill, on-call Doctors, etc.)
Guest activities and information
Room cleaning and setup guide
Information on local sights/restaurants/museums for tourists and guests
With an employee communication app, you can securely store all of this information within the app. Furthermore, you can keep your employees engaged by including videos, images, and links. Even if all your employees are not located in the same place, every employee will be in the loop and on the same page when provided full-time access to relevant information needed.
Not to mention you'll simultaneously improve hotel staff communication while providing the best possible guest service and experience.
Onboard, Train, And Upskill Your Employees
The current reality of staff shortages in the hospitality industry is leading hotels and lodgings to hire new staff and upskill employees that are already currently employed. Because of this current situation, training and onboarding should be considered high priority in order to continue to provide the best guest and customer service possible.
It's important to set your new employees up for success, and this starts with an efficient and effective onboarding and training process. In addition, allowing your staff to upskill on current talents gives them room for growth in the company and improves job satisfaction. Not to mention, continued training gives current employees a chance to brush up on their skills so they can provide the best guest experience possible.
In addition, when current employees are confident in their roles they can easily mentor new hires to assist in the training process. Mentoring increases employee engagement, hotel staff communication, and motivation to perform the best they can.
Harvard Business Review mentions their "research has shown that being systematic in onboarding brings new employees up to speed 50% faster, which means they're more quickly and efficiently able to contribute to achieving desired goals". By implementing an employee communication app, you can speed up the onboarding and training process even more by providing new employees 24/7 access to all training materials directly on their mobile devices.
You can dispense to all new hires and existing employees the following training and continuing education materials:
A formal letter welcoming the new employee to the company.
A "new employee" checklist.
Personal information forms (Contact info, emergency contact information, etc.).
Health and safety training.
Uniform, badge, and equipment sign off.
Quizzes for employees to complete directly on their mobile device with status updates and assessments when completed.
Fun and engaging training materials with videos and text.
Links to external documents and interesting articles for continued education and training for all employees, not just new hires.
HBR remarks, this type of "effective onboarding also dramatically reduces failure rates and increases employee engagement and retention". Due to the foreseeable staff shortages in the near future, employee onboarding and retention should be a major focus for the hospitality industry.
Simplify Scheduling
If you're still using spreadsheets or even worse, pen and paper to create a schedule for all your hotel staff, then stop what you're doing ASAP. Forbes comments, "all of that creates a lot of paperwork for owners and pain for employees too, many of whom face an enormous amount of unpredictability in their lives, because their schedules are changeable and often last minute". It's time to ditch the spreadsheets or the dreaded pen and paper and surf the technological wave of employee communication apps.
Another great benefit of using an employee communication app; you can reduce the time and money spent on creating a working schedule for every employee and drastically simplify the scheduling process. 
With a robust employee communication app, you can more efficiently schedule employees in the following ways:
Assign staff shifts based on job role, availability, or skill.
Use drag and drop, assign shifts in bulk, set recurring shifts, create customizable templates, and even allow employees to claim open shifts available.
Easily resolve scheduling issues with overtime alerts, limitation alerts, or scheduling conflict alerts.
Automated push notifications so employees can immediately accept or reject shifts directly from their mobile devices.
Include shift tasks, notes, and even files within the schedule so employees know exactly what to do upon arrival to work.
Complete oversight over collaborative staff scheduling in real-time all while on-the-go.
Engage And Motivate Employees
It's important to any industry, not just the hospitality industry, that employees are engaged and motivated in their work. HBR remarks, "decades of data have confirmed that higher employee engagement, or the strength of the mental and emotional connection an employee feels toward their workplace, has many positive benefits — including reduced stress, improved health and job satisfaction, as well as increased productivity, job retention, and profitability".
And there are some very easy ways hospitality managers can increase employee engagement and reap the benefits as well. In addition, if we haven't already stressed it enough, it's all easily doable through an employee communication app.
Some of the ways you can increase employee engagement and motivation with Connecteam include:
In the employee app, a digital social feed connects all employees from every department.
Share company-wide announcements, updates, and newsletters through the social feed and allow employees to like or comment to increase social engagement.
Management can engage employees with fun surveys, digital polls, and even a suggestion box.
Make sure to publicly recognize employees who go above and beyond and allow others to comment and congratulate them through the social feed. Employee recognition is a key factor in promoting employee engagement and motivation! When employees feel recognized for their hard work they are more likely to continue this behavior in the future.
Share birthday wishes, anniversaries, organizational achievements, and personal milestones on the social feed to improve your employees sense of belonging.
Plan company-wide or team based fun days to promote team building and employee camaraderie.
According to Gallup research, "engaged employees make it a point to show up to work and do more work — highly engaged business units realize a 41% reduction in absenteeism and a 17% increase in productivity. Engaged workers also are more likely to stay with their employers.
In high-turnover organizations, highly engaged business units achieve 24% less turnover. In low-turnover organizations, the gains are even more dramatic: Highly engaged business units achieve 59% less turnover. High-turnover organizations are those with more than 40% annualized turnover, and low-turnover organizations are those with 40% or lower annualized turnover".
In the hospitality industry, where employee turnover is high, keeping employees engaged and motivated in their role is of utmost importance, especially in the coming years.
The Final Word On Communication In Hotel Management
Hotel staff communication is the catalyst to more productive, engaged, and motivated employees. With the new challenges the hospitality industry is facing; staff shortages, complying with COVID-19 regulations, scheduling, and low employee engagement and morale— why make it harder on yourself by trying to perform all these tasks manually when you have technology available that can help you manage all of these daily tasks and operations for you! Keep in mind, the aforementioned reasons and features discussed are based primarily on features within the Connecteam Communication App. It's important to determine which tool is the best fit for your company before choosing a communication app.
Employee communications apps were especially designed and created to manage and simplify almost every aspect of daily operations and procedures and to increase communication in hotel management. Easily digitize read and sign COVID-19 health declaration forms for your employees to complete before arrival to work. All forms can be exported for measured reporting purposes at the end of the month.
Additionally, streamline all communication across teams and departments by sending targeted 1:1 messages to specific employees or group chats. Simplify the scheduling process with recurring shifts, customizable templates, and drag and drop capabilities. You can even color code separate teams or departments. Automated overtime, limitation, or scheduling conflict alerts make solving schedule conflicts a breeze.
With an employee communication app, you can digitize all daily tasks and operations. Employees no longer need to lug around heavy paperwork and binders to be able to complete their work. Instead, all checklists and daily tasks can be accessed directly from the employees mobile device, all while on-the-go. In addition, keep all employees in the loop and up-to-date with an employee communication app. For example, digitally store the employee handbook, company policies, health and safety protocols, guest activities and information for employees to access at any time and any place.
You can also efficiently and quickly onboard, train, and even upskill existing employees by providing them all training material through the app. This allows employees to be able to complete the training material and external reading at their own time and pace all directly from the palm of their hand. Lastly, engage and motivate employees with surveys, live polls, and a suggestion box.
Want to Receive More Great Articles Straight to Your Mailbox? Subscribe Here ⤵