Asana and Slack are both work management platforms that specialize in different features. In this article, we look at the tools, prices, and benefits provided by both apps. Then, we discuss a third choice: Connecteam, which combines Asana and Slack's features and offers more.
Table of contents
Great work management software can help companies improve productivity, meet deadlines, and produce high-quality work. Asana and Slack are two popular solutions, and they take different approaches to work management.
Asana is a project management tool that offers task management, project boards, calendar integrations, and more. Slack, on the other hand, is a workplace communication tool. It has features that enable instant messages, voice and video calls, and more.
Overall, both apps offer features to run smooth business operations and stay connected with team members. But you may be wondering which is better.
In this guide, we compare Asana vs. Slack—breaking down their features, pricing, and benefits. We then cover another option for work management: Connecteam, which combines Asana and Slack's features and offers even more tools.
What Is Asana?
Asana is a web-based project management software application with features to help companies manage projects and tasks. Managers can use built-in templates to create a project with task lists, workflows, and more. Users can also create their own goals.
Managers can assign tasks to specific team members and set deadlines for each task. They can view this on a shared team calendar. They can also add comments, questions, and updates and attach files and notes to tasks. Progress can be tracked in real time using project boards, timeline views, and list views.
With Asana, managers can also set rules for workflows so tasks are prioritized in the right order. Moreover, the app has a time-tracking tool. However, users can access these features only on Asana's most expensive plan.
Asana is secure and data is encrypted, and it can archive projects in the cloud when users mark them for archiving. Asana is available via web browsers and as a desktop and mobile app.
Asana key features
Task and workflow building: Users can create workflows and task lists using templates or build them from scratch on the app. Tasks can be divided into subtasks and assigned to specific team members. Each task can also have followers who are notified of status changes or updates to task activities. Users can add notes, attach files, and share comments within tasks. Plus, the app lets users set rules for workflows.
Conversation Board: Team members can start discussions, ask questions, and share updates on the task's conversation board. They can also mention or tag their coworkers in the comments.
Forms: Asana has a customizable forms feature that teams can use to create and complete forms for projects. Once a form is created, it automatically lives in the project as a task.
Project views and reporting: Users can track tasks and projects using different views. One of these is Kanban boards that let users track progress and competition statuses. Another is a timeline view that shows the sequence in which tasks are to be completed, their progress, and deadlines.
Third-party integrations: Asana supports third-party integrations with Google Drive, Microsoft One Drive, and more.
Asana pros
Has a mobile app
Supports third-party integrations
Secure encryption
Old projects can be archived
Offers tools for automating workflows
Asana cons
Doesn't offer in-app instant messaging
Doesn't have built-in video and voice call tools
What Is Slack?
Slack is a communication software solution used by businesses for internal comms. It offers features for instant messaging as well as audio and video conferencing. Additionally, Slack supports file sharing, including images, GIFs, audio, video, and more.
On Slack, each organization has its own workspace. This is broken down into channels for things like teams, projects, departments, topics, locations, and so on. The app also provides secure encryption and managers can customize user permissions for different channels. In addition, Slack enables users to communicate with third-party contacts in separate channels.
Slack stores and archives all content automatically, but users can also configure Slack to delete data. The search feature can be used to look up and locate messages and files as needed.
Furthermore, Slack integrates with 2,400+ other platforms. There's a desktop and mobile app, and users can also use Slack in their web browser.
Slack key features
Instant messaging: Teams can have real-time chats in one-to-one settings or group chats. Different chat channels can be created by projects, teams, locations, and more. Slack also creates sub-chats—called "threads"—when a user replies to a specific chat message to discuss it.
Multimedia file sharing: Team members can send audio, videos, images, and even moving images known as GIFs. They can also share files in several formats, including .doc files and PDFs. Slack also integrates with Google Suite.
Huddles: With Slack, users can make voice and video calls—called "huddles." They can "huddle" one-to-one or as a group.
Notifications: Slack notifies users of activity in channels or threads that they're a part of. Plus, team members can set up reminders for future tasks. Workers can switch to DND (do not disturb) mode and even mute notifications when they're off work.
Archiving: Slack is cloud-based. All content is stored and archived in the cloud by default. Messages and files can be retrieved easily with a search feature. On the free version, though, archived messages only show for 90 days after the message was sent. To access the messages again, users will need to upgrade to one of the paid tiers.
Slack pros
User-friendly layout and design
Provides secure encryption and permission controls
Supports external integrations
Has a free plan
Can be accessed through mobile devices
Slack cons
Doesn't offer built-in task management
Limited functionality for project management
Asana vs. Slack: Detailed Features Comparison
With some understanding of these team and project management apps, let's compare Slack vs. Asana on the features they offer.
Ease of set-up
Asana
Asana lets users sign up for an account at an individual level using their email addresses. If they use their work email address, they can be automatically added to a company workspace. Using a personal email address, they can be invited to join a workspace. Any individual can join multiple workspaces from their account.
Slack
On Slack, admins can register for a new account with their work email address which they'll need to verify. They can then set up the company workspace and organize it into chat channels—for example, by teams, departments, projects, and so on. Team members can now be invited to join the workspace with a sign-up link.
User interface and customizations
Asana
Asana's interface has a left sidebar that users can use to navigate across tasks and dashboards. It has a main space in the middle where projects and tasks are assigned, managed, and viewed. Content can be accessed easily using the search bar that sits on the top right-hand side.
Users can customize their Asana account by changing their workspace background. They can access the available themes under "My Profile Settings."
Slack
Slack's interface is similar to Asana's. It also has a main center body where chats are displayed and a left sidebar to navigate across channels and threads. Content can be accessed using the search bar at the top center of the interface. Slack's left sidebar can also be customized from available color themes.
Users are also able to customize the sound of the alerts they receive, what's shown in their sidebar, how the sidebar is sorted, their language and region, and more.
Communication features
Slack
With Slack, users can create one-on-one or group chat channels. These can be labeled by team, project, department names, and so on. Slack also creates discussion "threads," which are sub-messages that sit under a particular message.
Team members can mention coworkers in conversations to notify user(s) of their message. Slack also lets users schedule messages to be sent later on. In addition, teams can create separate channels to communicate with third-party vendors, suppliers, clients, and others related to the business.
Slack supports voice and video calls through a feature called "huddles." Users can huddle in any one-to-one conversation or group channel. They can share screens but can't record conversations for replay. With one of Slack's paid plans, up to 50 people can be in a huddle. This is limited to 2 people on the free plan.
Asana
Compared to Slack, Asana is limited in its communication tools. Users can communicate within specific tasks using the task's conversation board. They can ask questions, add comments, and mention team members to notify them of the message.
Unfortunately, Asana doesn't offer instant messaging, voice calling, or video calling. Companies will need to access these features in other communication apps and integrate them with Asana. Alternatively, they'll need to opt for a more comprehensive work management solution.
Project and task management features
Asana
With Asana, users can create multiple projects within a workspace. Each project has a list of tasks and subtasks that sit under it. Users can assign tasks and subtasks to other team members. Workflows can be customized in a specific order, by automation using rules, and by integrating other tools. Managers can track progress across tasks and projects in real time using calendar views, list views, and Kanban boards.
Slack
Slack is more limited than Asana when it comes to project and task management. It doesn't have features such as task lists, project boards, etc. Users can discuss tasks and projects using chat channels and conference calls. They can also schedule reminders for themselves to complete tasks.
Read our full review of the best free task management software!
Companies looking for task and project tools will either have to subscribe to project management platforms separately and integrate them with Slack or look for an all-in-one solution.
Security
Asana
Asana provides secure encryption for all data shared on the platform. It also offers permission controls so admins can limit users' access to information. Plus, workspaces are visible only to those who've been invited to join them. In addition, Asana's enterprise plan lets admins add two-factor authentication and single-sign-on controls for the app.
Slack
Similar to Asana, Slack encrypts all data and offers two-factor authentication starting from its Pro plan. Also, a company's Slack channels can be accessed only by team members who've been added to it.
Archiving
Asana
With Asana, users can archive completed projects. However, individual tasks within projects can't be archived—though they can be marked as completed. Stored files can be no larger than 100MB.
Slack
Slack is a cloud-based solution that archives all content including texts, shared files, and media by default. With the free version, however, content is archived for only 90 days after it's shared. Users need to upgrade to a paid plan to retrieve historical messages and continue archiving beyond the 90-day mark.
Paid packages support up to 20GB of storage per user. Files up to 1GB can be stored.
Asana vs. Slack: Pricing
When it comes to Slack vs. Asana, both offer different features at different levels of pricing. The best value for money depends on the budget and which features are important to a business.
Asana
Asana offers multiple pricing plans to choose from.
Free
Unlimited projects and tasks
Unlimited file storage (with a 10MB file size limit)
Up to 15 users in a workspace
Board, calendar, and list views
Premium ($10.99/user/month)
Everything available on the free plan
Workflow builder
Forms
Timeline views
Unlimited users
Advanced search
Task templates
Admin console
Business ($24.99/user/month)
Everything available on the Premium plan
Custom automation rules
Forms customization
Advanced reporting
Time tracking
Integrations with Salesforce, Adobe Creative Cloud, Tableau, and Power BI
Enterprise (Contact Asana for pricing)
Everything available on the Business plan
Advanced admin controls and security
Contact Asana for more feature details
Slack
Slack also offers several pricing plans to choose from.
Free
No limit on the number of users or channels
90-day auto-archiving
Huddles (video and voice) with up to 2 users
One-on-one messaging with external parties
Standard customer service
Supports up to 10 third-party integrations
Pro ($7.50/user/month)
No limit on the number of users or channels
No limit on archiving
Huddles (video and voice) with up to 50 users
One-on-one and group messaging with external parties
24/7 customer service
No limit on third-party integrations
Secure two-factor authentication
Business+ ($12.50/user/month)
All features in the Pro package
24/7 customer service with a 4-hour response time
Added compliance features
Option to export content
Enterprise Grid (contact Slack for pricing)
All features in the Business+ package
24/7 priority customer service with a 4-hour response time
Unlimited workspaces (all other price plans include only a single workspace)
📚 This Might Interest You:
Asana vs. Slack: Which Is Right for Your Business?
Asana and Slack each offer work management tools and a secure platform, but in different ways. Asana is more focused on project and task management, while Slack is a communication and collaboration app. The right choice for a business depends on factors like the nature of work, team size, budget, and more.
For teams that have a lot of projects or do shift work with tasks, subtasks, and set deadlines, Asana may be the better fit. For companies that focus more on collaborating and require features such as file sharing, messaging, and conference calling, Slack is more valuable.
Companies looking for a free plan can find one in both apps. However, Asana's free plan is restricted to 15 users, so Slack may be a better fit for teams with more users. Slack is also a cheaper option for companies with a lower budget overall. But there's a trade-off, as Slack lacks built-in project management tools.
Read our in-depth review of the best work management systems
Most industries need to have elements of both task management and collaboration to stay productive and organized. Slack and Asana do support third-party integrations—including with each other. But this can be very expensive as companies have to purchase both apps separately.
Connecteam, however, can offer all these elements in one platform—making it the best work management platform out there.
Why You Should Choose Connecteam Over Asana and Slack
With Connecteam, you don't need to choose between great project management and communication tools. It provides features for both of these, including task management, time tracking, an in-app chat, and more. Plus, it's cheaper than both Slack and Asana.
Moreover, its simple user interface and helpful customer service make it easy to use for all. Connecteam also has its own Android and iOS mobile apps, making it easily accessible from anywhere.
Let's dive deeper into Connecteam's work management features.
Scheduling and task management for complete control and oversight
With Connecteam's scheduling tool, workers can add their availability and preferences for shifts on the app. You can use this to assign shifts efficiently and have visibility of when team members are unavailable. This way, you can plan and reduce instances of understaffing and missed deadlines.
You're also able to create open shifts to offer your entire team. They can claim them with or without your approval.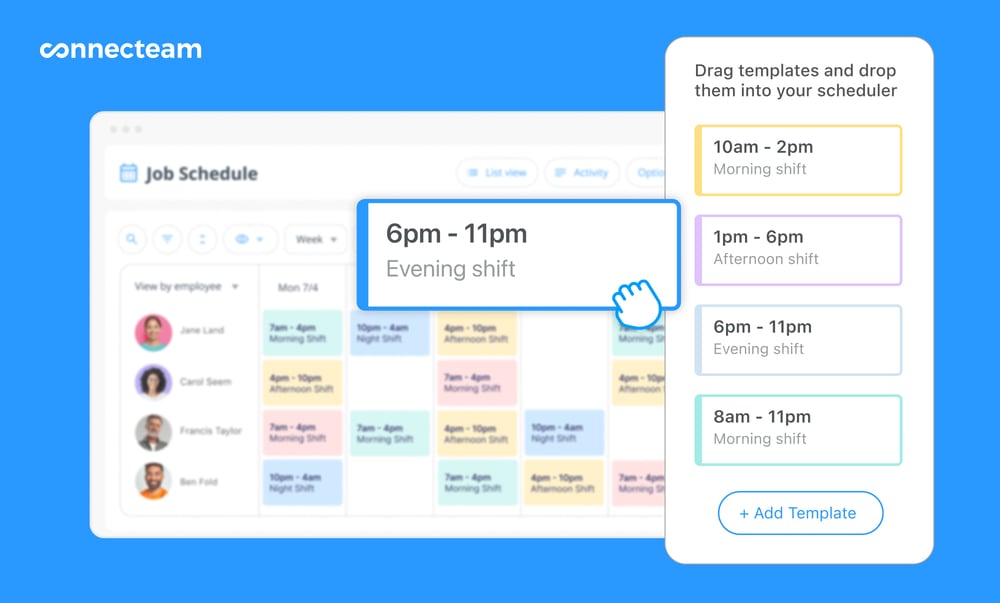 Connecteam also makes it easy to manage employees' day-to-day responsibilities. Its task management tool lets you create and assign tasks and sub-tasks to your workers. You can set due dates, send reminders, and track progress in real time. You're even able to create recurring tasks for regular action items—no need to set them up manually every time.
Team members can add notes and descriptions and attach files and media to tasks. This way, all the relevant information is in one place. Workers can also add comments to tasks, which makes it easier to collaborate on group tasks and projects.
Forms and checklists can be customized and accessed from anywhere
With Connecteam, you can create custom forms and checklists such as customer feedback forms, inspection reports, safety checklists, inventory checklists, and more.
Both forms and checklists can be completed from anywhere using Connecteam's mobile app, and you can track checklist progress in real time. You can also use Connecteam's ready-made form templates to save time and effort creating them on your own.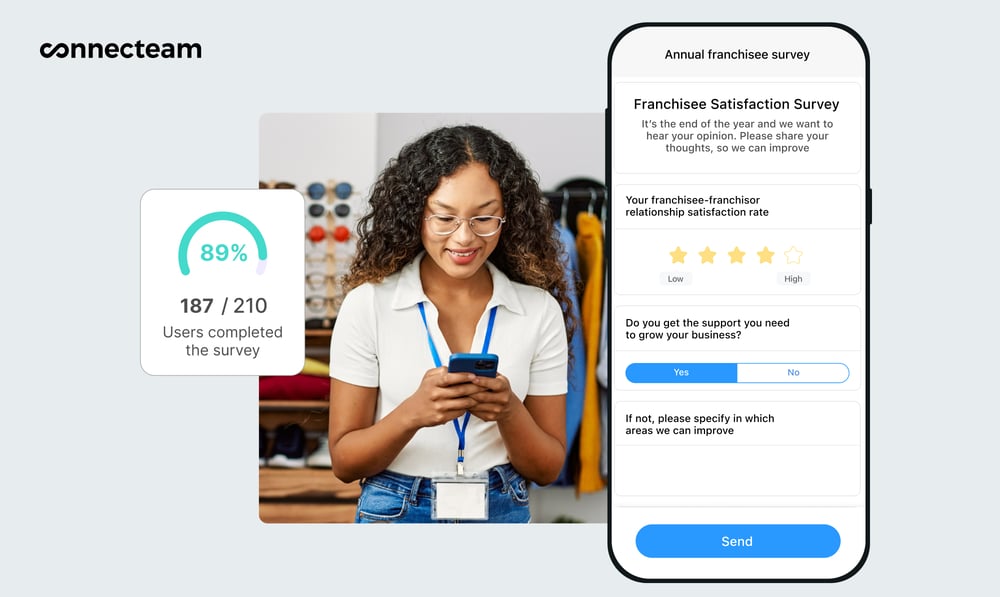 Communicate seamlessly with the in-app chat and updates features
Connecteam's in-app chat lets workers collaborate in both individual and group chats. Messages are sent and received instantly, and Connecteam will send push notifications for all new messages so nothing gets missed. Plus, messages are super secure—they never leave the chat and can't be saved on personal devices.
Managers have full control over chat user permissions and can remove any content they feel is inappropriate. Furthermore, only current employees can access the chat, ensuring sensitive company information remains safe.
Connecteam also has an updates feature for company-wide announcements and news. You're able to schedule posts, toggle comments on or off, and see who has viewed and responded to your updates.
To streamline communication even further, Connecteam's employee directory lets team members look for coworkers and contact them via email, phone call, or a message in the built-in chat.
Efficient collaboration and better decision-making with surveys and polls
Connecteam's surveys and polls features let you gather opinions from workers, which you can use to enhance collaboration and make better business decisions. You can build custom surveys using ready templates or from scratch with your own questions. Feedback can also be kept anonymous to encourage honest responses.
Connecteam's live digital polls feature is great for questions that require instant responses. You can also send your team automated reminders so they don't forget to respond to their polls and surveys.
Track time spent on projects with automated timesheets
Connecteam's time clock tracks workers' time down to the second. They can clock in and out with a single touch from their mobile or desktop devices. They're also able to categorize their time by client, project, task, and more.
Connecteam uses employees' time entries to produce automated timesheets. You can verify these against customer invoices to reduce errors in payments and easily export them for payroll processing.
On top of this, the time clock has built-in GPS location tracking software. You can use this to track workers' real-time location and ensure that everyone is working on their assigned project or shift.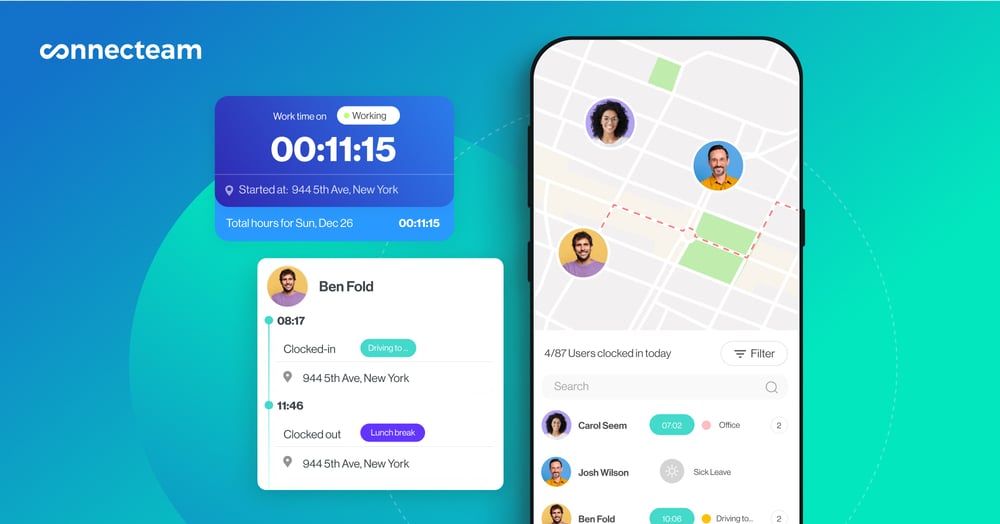 Customized reporting and more—at an affordable price
You can use Connecteam's reporting to view and track time spent on projects, task progress, and so much more. It gives you complete oversight of how work is progressing and helps identify any blockers that could create delays or missed deadlines.
What's more, Connecteam offers tools for employee training and new hire onboarding, rewards and recognition, and team management. It's truly an all-in-one work management solution!
Connecteam offers multiple pricing plans, and they're all very affordable. Small businesses with fewer than 10 users can access Connecteam completely free for life. Paid plans start at $29 per month for up to 30 users, plus just $0.50 per month for each user after that.
Key features
Feature-rich task management: You can create and assign tasks, send reminders, and track progress no matter where your team is located.
Shift or project scheduling: Workers can share their availability and preferences so you can make efficient staffing decisions.
Timesheets and reporting: You can track how and where workers spend their time and how time is spent across projects.
In-app chat: Connecteam has a built-in work chat for seamless, focused communication between team members.
Updates feed: You can share real-time news and important announcements with your entire company.
Custom surveys and polls: Quickly create and send surveys and polls to gather employee feedback and votes.
Connecteam pros
Intuitive interface
Can be customized to suit your needs
Proactive customer support
Mobile app makes it accessible from anywhere
All-in-one work management solution
Connecteam cons
More third-party integrations in development
Asana vs. Slack Comparison: The Bottom Line
There are many work management apps on the market today. Apps like Asana focus on project management, while those like Slack are centered around communication. However, neither app provides a fully comprehensive work management solution.
But Connecteam does. It provides features for effective project management and team communication, plus so much more. In addition to features like task management and an in-app chat, Connecteam offers job scheduling, built-in surveys, and other tools that both Asana and Slack lack.
What's more, Connecteam provides all this at a better price than Asana and Slack. It has a free-forever Small Business plan for up to 10 users, and paid plans start as low as $29 per user, per month.
🆚 Related Comparisons:
Want more great articles straight to your inbox? Subscribe Here ⤵