Slack is a communication platform that helps teams collaborate, while Trello is a project management software that helps teams organize tasks. In this article, we compare the two and explain how Connecteam offers an all-in-one solution that includes many of the best features of both Slack and Trello.
Table of contents
Slack and Trello are two popular platforms for managing projects and streamlining workflows across your organization. The two aren't exactly interchangeable, though. Slack is designed for communication, whereas Trello is built for task management. However, they can work well when used in combination.
In our Slack vs. Trello comparison, we'll explain how these platforms differ and how you can use them together. We'll also help you decide whether Slack and Trello are right for your business and explain the advantages of using an all-in-one solution instead.
What Is Slack?
Slack is an employee communication platform owned by Salesforce. It enables anyone in a business to communicate through instant messaging and audio and video conferencing.
Slack supports both one-on-one and group messaging. Users can share files, create dedicated channels for specific projects or topics, and tag others to notify them about a message.
Slack also supports threaded conversations to keep messages organized. Users are even able to set up workspaces that are shared with employees from another company.
Slack includes more than 2,400 integrations with other popular platforms. These include cloud storage platforms, productivity suites, customer support software, and more.
In addition, Slack's API enables users to integrate any custom apps their business relies on. They can also create custom workflows, such as automatically routing requests for time off to managers and HR specialists.
Slack offers a free plan with up to 90 days of message history and limited integrations. Paid plans start at $7.25 per user, per month.
Slack key features
Slack pros
Flexible options for organizing groups and conversations
Supports text, audio, and video messaging
Huge range of integrations
Workflow builder is very customizable
Free plan available
Slack cons
Can be distracting while trying to work
Easy for messages to become disorganized
What Is Trello?
Trello is a task management software owned by Atlassian. It enables managers to break down large projects into smaller tasks and assign them to employees.
Trello provides several different ways of organizing tasks. Boards let users organize projects or tasks into different columns, such as "not yet started," "in progress," and "completed."
Timeline and calendar views let users manage deadlines and prioritize work. Lists allow them to visualize their entire team's tasks.
All of these views are fully customizable so users can organize projects in whatever way makes the most sense for them.
Trello also supports automated workflows. Users can set projects to automatically advance in a board when all tasks are completed, for example.
Additionally, Trello can be integrated with other software to automatically create tasks or generate notifications. Trello offers more than 200 integrations as well as an API.
Trello has a free plan for up to 10 boards. Paid plans start at $5 per user, per month.
Trello key features
Trello pros
Highly customizable project and task organization
Add notes, attachments, and comments to any task
Flexible builder for creating automated workflows
200+ integrations
Free plan available
Trello cons
No direct or group messaging tools
Doesn't support time or expense tracking
Trello vs. Slack: Which Is Better?
Trello and Slack are different but related platforms that work best in combination. Trello enables managers to break down projects into tasks and get a birds-eye view of how their team is progressing through work. Slack is a team collaboration tool that makes it easy to communicate in real time about how ‌work is going.
Let's take a closer look at Slack vs. Trello and how a business can use these platforms.
Trello is a project management software
Trello's focus is on helping teams organize and visualize work. Within a workspace—which often corresponds to a department or team—managers can create a series of boards. Each board often represents a project in progress.
Within each project, managers can create tasks and assign them to employees. As employees complete tasks and projects progress, managers can move them around and color-code them to keep track of their status. This makes it easy to see everything a team is working on and how work is progressing.
Trello's automated workflows can also help keep teams on track. Managers can set up automated notifications so that employees are reminded when they have tasks with upcoming deadlines. If completed work needs to be handed off to another team member for approval, Trello can automatically generate a new task each time work is finished.
Trello enables managers and employees to comment on tasks, but that's about where this platform's communication features end. There's no way for Trello users to send messages or host a conference about a task.
Slack is a team communication software
Slack's focus is on helping teams communicate. For example, a manager with a small team working on a project can set up a dedicated channel for that project. Then, they can put all messages related to the project in that channel.
The benefit of this is that everyone on the project will know what's going on whenever there's an update. If a team member asks a question and someone responds, everyone can see the answer.
If, after a few back-and-forth messages, the manager realizes it would be easier to have a call, they can instantly launch an audio or video conference. Managers can also record the meeting and share it afterwards in the channel as a voice note or video.
One noteworthy feature of Slack is that users can set up shared workspaces with collaborators from outside the organization. This way, a team can discuss projects with a client without leaving Slack.
While Slack can work well for communicating about work, it doesn't offer any tools for organizing a team's work. Slack's organizational structure centers around discussion channels. It usually makes more sense to build channels around projects or departments rather than around individual tasks.
Using Slack and Trello Together
Using Slack and Trello in combination offers a way to get both communication and task management tools. The good news is that both platforms are designed to integrate with each other.
The Trello integration in Slack
Slack's Trello integration lets users create or alter Trello tasks from within Slack. Users can create a new Trello task within Slack just by typing up the name of the task and assigning it to a team member. Plus, users can attach Slack conversations to any task within Trello.
When an action happens in Trello—such as a task being modified or marked as complete—users can get a notification in Slack.
The Slack integration in Trello
The Slack integration in Trello essentially works in reverse. When a task is created or modified in Trello, the software can automatically send an update to a selected Slack channel. Comments on tasks are also copied into Slack and any tagged team members are notified.
📚 This Might Interest You:
Trello vs. Slack: Pricing
While Trello and Slack work well together, using them alongside each other typically means paying for both to get all the most useful features.
Here's how much Slack and Trello cost.
Slack pricing
Slack offers a free plan as well as 2 subscription options that are priced per user.
Free plan: Limited to 90 days of message history, 10 popular integrations, and one-on-one audio and video conferencing.
Pro plan: $7.25 per user, per month. Includes unlimited message history, unlimited integrations, conferencing for up to 50 participants, and 24/7 customer support.
Business+ plan: $12.50 per user, per month. Includes all Pro plan features as well as message exporting, priority support, and single sign-on.
Slack also offers a customizable plan for enterprises.
Trello pricing
Trello offers a free plan and 3 subscription options that are priced per user.
Free plan: Includes unlimited users, tasks, and integrations. Limited to 10 boards per workspace and tasks cannot be assigned.
Standard plan: $5 per user, per month. Includes unlimited boards, custom fields, and full-featured tasks.
Premium plan: $10 per user, per month. Includes all Standard plan features as well as calendar and timeline views, data export, and 24/5 customer support.
Enterprise plan: From $7.38 per user, per month for up to 5,000 users. Includes all Premium plan features as well as user access permissions and administrative controls over integrations and attachments.
Trello offers a 14-day free trial of its Premium plan.
Why You Should Choose Connecteam over Slack vs. Trello
While Slack and Trello combined can help teams stay on top of projects, using two different software platforms can be a hassle. Even with integrations, messages and tasks can get lost in the back and forth between tools. Using both can also become quite expensive.
When it comes to features, easy of use, and affordability, Connecteam beats Slack and Trello. It offers an all-in-one work management system that includes all of the best features of both Slack and Trello together.
Let's take a closer look at Connecteam's best features.
Message your team and share files, photos, and more
Connecteam offers a user-friendly chat feature for individual and group messaging. You can share files, photos, videos, and voice notes. Plus, Connecteam lets you create channels around projects, departments, or teams to keep your conversations organized.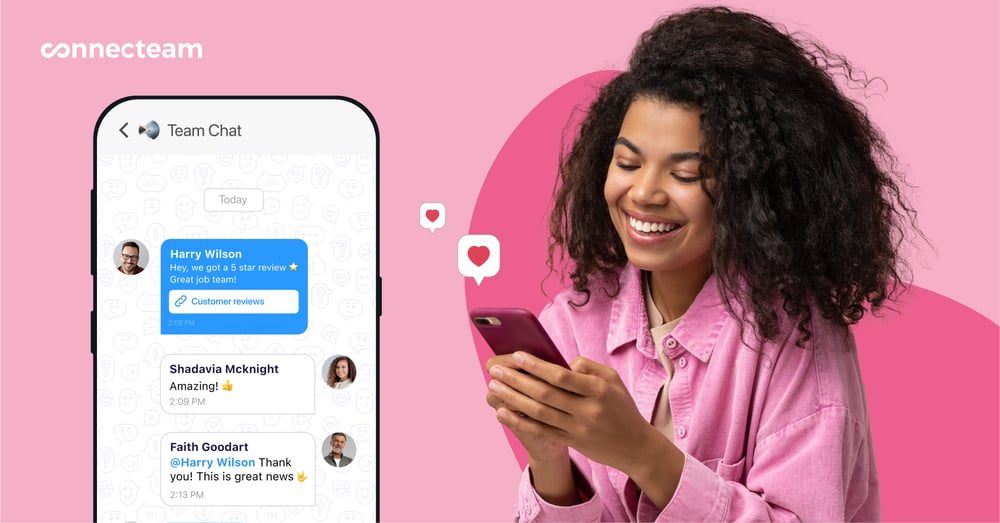 You and your team can get chat notifications sent straight to your devices so nothing urgent gets missed. And you can favorite important conversations and mute certain chats as needed.
One major advantage of Connecteam's chat tool over Slack is that work and personal conversations are completely separate. Managers can require employees to move personal discussions off Connecteam and onto another messaging app. This makes Connecteam less distracting and enables employees to focus on work.
Another benefit to Connecteam's chat is that it's fully secure. Employees can't export messages or files without authorization. You also have full control over user permissions and the ability to moderate content across channels.
Share announcements with an engaging updates feed
In addition to team messaging, Connecteam also offers a social media-style updates feed. This is an easy way to share major news and announcements with large groups, such as a whole department or even your entire company.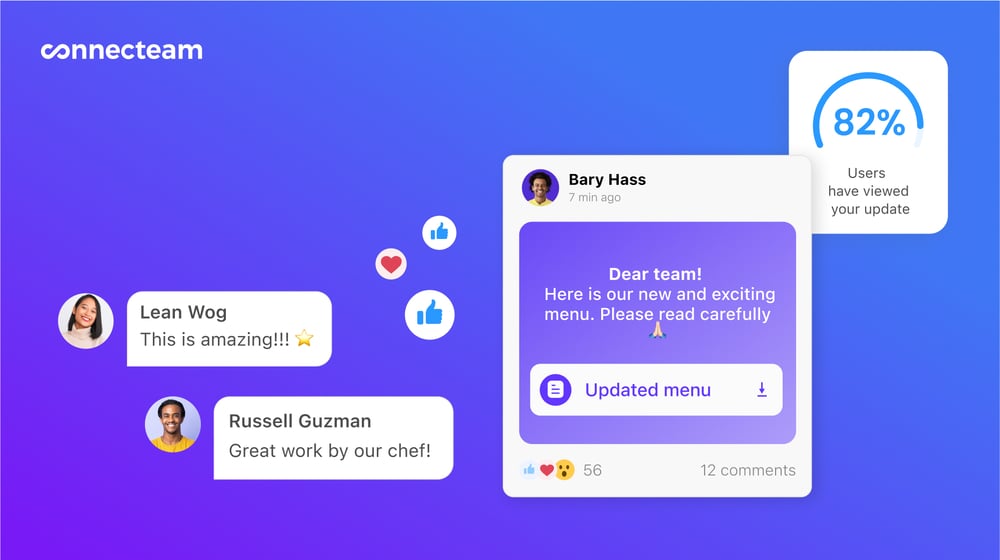 You can publish updates right away or schedule posts ahead of time. Connecteam lets you add GIFs, images, and videos to help your announcements stand out. You can also enable or disable comments and likes for each post.
Connecteam shows you which employees have viewed your posts, too. For important announcements, you can send push notifications to anyone who hasn't yet seen your update.
Assign tasks in seconds and attach all the details employees need
Connecteam makes it simple to create tasks and assign them to employees on your team. You can attach files, photos, checklists, notes, and any other information employees need to accomplish the task. You can also set a due date and time for every task to help keep your employees on track.
Managers can see all open tasks in a streamlined dashboard. You can filter tasks based on ‌due date, status, which employee they're assigned to, or ‌project tag. If you want an update on how a task is going, you can send a push notification to the assigned team member or reach out through Connecteam's built-in chat.
Keep track of work with dynamic, customizable checklists
Connecteam offers customizable checklists that you can attach to any task. These are a terrific way to keep employees on track and ensure that no elements of a task are missed.
You can build checklists from scratch or modify dozens of built-in checklist templates. You can also add dynamic lines to checklists that adjust based on employees' responses. For example, if an employee indicates that they encountered a problem during their work, the next question in the checklist can be adapted to ask them for more details.
All checklist entries are saved automatically so you can return to them in the future. Connecteam's management dashboard also aggregates the data so you can get deeper insights into how your team is performing.
GPS-enabled time clock and intuitive scheduling for better oversight and easier planning
In addition, Connecteam has a GPS-enabled time clock that's accurate down to the second. Employees can punch in and out of work from their mobile devices and you can verify their locations as they clock in and while they're working.
Additionally, workers can log their time by project, job, client, or job site. This makes it easy to see at a glance how much time employees are spending on specific tasks.
You're also able to set up geofences to prevent workers from tracking their time when they aren't in the right locations. Plus, Connecteam automatically generates accurate digital timesheets from workers' time recordings.
Connecteam also makes it easy to create and publish employee schedules. Use the drag-and-drop tool to schedule workers to specific shifts, or set open shifts that anyone can sign up for. Employees can be scheduled based on qualifications, preferences, locations, and more.
Connecteam will send notifications to your team when a new schedule is published or there are any changes to their shifts. They're also allowed to request to swap shifts with their coworkers, You can review and approve these requests instantly.
Surveys, polls, and more
You can greatly simplify the employee feedback process by using Connecteam's surveys and polls tool. Use survey templates or create fully customized ones, filling them out with ratings, multiple-choice, and open-ended questions. Survey responses can be anonymous, too.
With live digital polls, you can view results in real time. And for both surveys and polls, you're able to send notifications to employees to encourage completion.
Beyond these features, Connecteam has tools for training and onboarding, event planning, recognition and rewards, time off management, and much more.
Completely free for small businesses
Connecteam offers a free-forever plan for businesses with up to 10 employees. For larger businesses, subscriptions start at only $29 per month for up to 30 users, plus just $0.50 per month for each additional user.
To put that in perspective, consider a business with 50 employees. Connecteam costs only $39 per month. For that same business, Slack costs $362.50 per month and Trello costs $250 per month. So, Connecteam offers all the communication and project management tools you need at a fraction of the cost of Slack and Trello.
Connecteam key features
Connecteam pros
Separates work and personal chats to reduce distraction
Send push notifications about updates, tasks, and more
Comprehensive manager dashboard for insights into your team
Fully secure to keep your business's data safe
Mobile apps for iOS and Android so you can use Connecteam anywhere
Free for businesses with up to 10 employees
Connecteam cons
Doesn't yet offer video conferencing
Summary
Connecteam is the best work management platform in 2023. It combines the communication features of Slack with the task management features of Trello.
Connecteam also offers unique tools like an engaging updates feed and dynamic checklists. Additionally, it offers features for HR and people management and business operations.
Even better, Connecteam is significantly more affordable than Slack and Trello. Businesses with up to 10 employees can use the full functionality of Connecteam completely free. Premium plans start at only $29 per month for up to 30 users.
Want to Receive More Great Articles Straight to Your Mailbox? Subscribe Here ⤵