Table of contents
Great work chat apps enable instant communication between team members, even across different locations, so they can be more productive and make decisions together.
They also let managers discuss important work-related items and send updates to their team in real time. And with all data stored in the cloud, workers can access files, information, and everything they need directly within the chat app.
When choosing a team chat app, comparing Slack vs. WhatsApp is tough. Both are popular communication apps that offer instant messaging, multimedia file sharing, and voice and video calling. But how do they differ—and which one is better?
In this article, we compare WhatsApp vs. Slack, diving into their features and benefits so you can see which option is most suitable for your team.
What Is Slack?
Slack is a team chat app typically used for internal team communication and collaboration. Its key features include instant messages and voice and video calls. It also offers multi-media file sharing. Users can share audio, video, images, GIFs, and more.
The company workspace can be divided into different channels based on teams, projects, or departments. The platform is secure and private, with the ability to customize permissions for chat channels. It also allows for public channels for communicating with external parties such as vendors and suppliers.
Slack archives all messages and files by default, but it can be set to delete information after a certain time period. These messages can be accessed using the system's search feature. Slack also has third-party integrations with project management, bookkeeping, and other tools. But signing up for all these solutions individually can be expensive.
Slack offers secure encryption for all content on the platform. It can be accessed using a web browser, or through an app on their desktop or mobile device.
Slack key features
Real-time chat: Team members can chat in one-on-one or group chats in real time. Managers can create channels for different projects, teams, tasks, and more to keep communications organized and efficient.
Sharing documents and media: Slack lets users share media such as videos, audio clips, images, and GIFs. They can also send files in multiple formats including PDF and Microsoft Word, Excel, and Powerpoint. In addition, Slack integrates with Google Suite, including Google Docs, Sheets, and Slides.
Huddles: The app allows for voice or video conferencing—called "huddles." Teams of 2 or more can communicate in huddles with a single click. There's no need to send meeting links.
Alerts and notifications: Users receive notifications for any new messages on channels they follow. Or, they can set themselves to DND (do not disturb) or mute notifications when they want—for example, while they're on leave. Additionally, they can set up reminders for future tasks.
Search and archiving: Slack automatically archives all messages and files in the cloud. Users can locate files or messages in a specific channel or across all channels using the search function. However, archiving is limited in the free plan. Messages start getting deleted if users don't upgrade to a paid plan.
Slack pros
Has a mobile app
User-friendly interface
Secure encryption
Third-party integrations
Easy to set up
Slack cons
Can be expensive compared to some other solutions
Can't record video calls
What Is WhatsApp?
WhatsApp is a popular instant messaging app. It's commonly used as a communication tool to connect with family and friends, but can also be used at work.
Users can send and receive text and audio messages and make voice and video calls. They can also share documents, images, videos, GIFs, and more. In addition to private chats, users can create group chats and name them based on projects, teams, departments, and more.
WhatsApp also has a separate business app suitable for medium and small businesses. Users can set up business profiles, automatic replies, and more. Plus, multiple users can access the same WhatsApp business profile. (The regular app is limited to a single user.)
The business app can also be used to run marketing campaigns and track analytics, such as response times. However, these features are more suitable for customer relationship management rather than an internal work chat app.
WhatsApp offers end-to-end encryption for all content on its platform. It can be accessed as a web version and has desktop and mobile apps.
WhatsApp key features
Instant messaging: Team members can communicate instantly in one-on-one and group chats. The WhatsApp business app enables workers to communicate directly with customers and set up auto-replies, product catalogs, and more.
Group chats and broadcast lists: Managers and workers can send updates to all relevant team members using group chats. Users can also create a broadcast list that can be used to send mass direct messages to individuals on the list, rather than sending updates one by one.
Sharing files and media: Users can share images, videos, GIFs, and audio files on their chats. They can also send documents in PDF and Microsoft Word, Excel, and Powerpoint formats.
Voice and video calling: WhatsApp can be used to make video calls, including group calls. Users can make calls easily without having to share a link or dial-in details to join the call.
Storage and archiving: All messages, shared files, and media are automatically archived on WhatsApp. Users can also choose to auto-save media files to their phone gallery. However, chats and media need to be backed up regularly. Otherwise, they could disappear when users set up WhatsApp on a new phone.
WhatsApp pros
Users can track messages' delivery and read statuses
Easy to use
Completely free
End-to-end encryption ensures privacy and security
Reporting and analytics in WhatsApp business app
WhatsApp cons
Limited third-party integrations
Desktop and web versions aren't very user-friendly
Slack vs. WhatsApp: Detailed Features Comparison
Now that you know a little more about both messaging apps, let's dive into a detailed feature comparison of Slack vs. WhatsApp for business needs.
Ease of setup
Slack
Setting up a Slack workspace is simple. Administrators create a new account using their company email address and verify it. They then need to create a workspace for the company, set up team and project channels, and send invites to all team members.
Team members receive an email with a sign-up link that takes them through a straightforward setup process. All members can then customize their profiles on Slack by adding a username, photo, bio, and contact details. They can also add their job title and role description.
Once set up, users can sign into Slack from their web browsers, desktop, or mobile devices by entering their username and password.
WhatsApp
WhatsApp is linked to an individual's phone number. Users can sign up by adding and verifying their phone numbers. They can then set up an individual profile with their name, display photo, and status.
However, when users need to access WhatsApp from their desktop or web browsers, they can't simply use their phone number to log in. They have to scan a QR code from their computer or laptop screens to their phone to log in.
WhatsApp's business app lets multiple users access the same profile so they don't have to set it up individually. But signing in on desktop and web still requires a QR code.
One-on-one messaging and group chat features
Slack
Slack lets users send direct messages to each other. With the channels feature, different groups can be created for different teams, topics, and projects. Users can also create sub-messages under a specific message—this is called a "thread." Discussions are organized and sent only to relevant workers. There's no limit to the number of individuals who can be added to a channel.
People can also "mention," or tag, each other in messages. This notifies the individuals who've been mentioned to bring the message to their attention. But users can't see if a message has been delivered or read by the recipient. Slack also allows users to schedule messages in advance to be sent at a later date.
Messages can be formatted easily on Slack with options such as bullet points, bold, underlining, italics, and strikethrough. Messages can also be edited even after being sent—a useful tool to correct mistakes and typos.
Finally, Slack allows users to send messages anonymously, which is useful for gathering honest feedback. It also offers voice messages when typing just doesn't cut it.
WhatsApp
WhatsApp allows users to send each other direct messages via one-on-one and group chats. Teams communicate through group chats that can be created for different departments, projects, and more. Although group chats can hold up to 1,024 participants, these are time-consuming to set up and unfeasible to control. Therefore, they're not an ideal solution for company-wide messages for large businesses.
The broadcast list feature lets workers or managers send mass direct messages easily to an entire list of people at once. This is useful when the message needs to be privately shared but with many people.
WhatsApp also provides the ability to see who a message has been delivered to and who has read the message—unless the recipient has switched off this setting from their device.
WhatsApp allows for bold or italics when formatting messages, but not underlining. It also doesn't have the ability to add bullet points. Also, messages can't be edited after sending them on the app.
In addition, WhatsApp doesn't allow users to send messages anonymously. It does, however, offer voice messaging.
Business communication
Slack
Slack offers plenty of features for effective team collaboration. It integrates with task management, project management, and many other third-party tools, including several customer management platforms.
It also lets users create separate public channels where they can communicate with external business partners such as vendors and suppliers. Plus, workers can set their statuses from their profile—e.g., setting themselves as "away" or "out of office."
WhatsApp
WhatsApp has no restrictions on who can be messaged, meaning that users can easily communicate with internal and external parties by contacting their phone numbers.
WhatsApp also enables workers to share their live locations with each other and managers in real time from within the app. It also has a built-in polls feature that can be used to gather votes from groups on any topic or business decision.
The business app lets workers set up product catalogs, track analytics, and send auto-replies to customers. However, it has limited integrations with third-party project management and task management tools. 
File and media sharing
Slack
Files in almost any format can be shared on Slack, as long as the size is 1GB or less. This includes Microsoft Word, Excel, and PowerPoint documents, PDFs, and more. Users can also import files from Office365, Google Drive, OneDrive, Dropbox, or Box. Slack also allows users to share images, videos, GIFs, and audio files with each other.
WhatsApp
WhatsApp supports multiple formats such as Microsoft Office documents, PDFs, JPEGs, PNGs, and more.
However, unlike Slack, it doesn't support Google Suite files. It does enable users to share media such as photos, videos, GIFs, and more. The maximum file size for any format is 16MB.
Video and voice calling
Slack
Slack offers voice and video calling through its "huddles" feature. Users can go to any channel or direct message and click the headphones icon to start a "huddle" with everyone in that channel. People can also share their desktop or mobile screens in huddles for easier collaboration. However, huddles can't be recorded for future replaying. There's also a limit of 50 people per huddle.
WhatsApp
Users can click the phone or video camera icon to instantly start a WhatsApp voice or video call. They can also have group voice and video calls from within group chats. However, group voice calls are limited to 32 participants, and group video calls are limited to only 8 participants. There are no recording or screen-sharing features available.
Security
Slack
Slack offers end-to-end data encryption. Slack workspaces are exclusive to those who are invited to join. This makes users less susceptible to fraud, such as people pretending to be someone else and asking for sensitive information.
WhatsApp
WhatsApp also provides end-to-end encryption. However, since accounts are linked to phone numbers, users need to share their personal phone numbers to communicate with someone. Plus, since Whatsapp is an open platform, people can receive messages from anyone. This makes it more prone to fraud. It does, however, let users block certain numbers if they suspect them of fraud—or for any other reason.
Storing and archiving
Slack
Slack automatically stores and archives messages, files, and media in the cloud. However, there is a storage limit. The free plan allows storing and archiving for the past 90 days. The paid plans allow for 10GB or 20GB of data storage per member.
WhatsApp
WhatsApp stores messages, files, and media on mobile devices. This means it takes up the storage limit on the user's mobile device. Users need to back these up manually or opt for auto-backup to retain the stored information. They can restore all their content when switching to a new device, but there is a risk that a failed backup will lead to a loss of all historical information.
Notifications settings
Slack
Users receive notifications for channels or threads they're following, or in any messages that they're mentioned in. They can also customize notifications to suit their preferences. Plus, they can set a DND (do not disturb) time when they'll receive no push notifications. Or, they can choose to pause notifications for a customized amount of time.
WhatsApp
Users receive notifications for all messages and groups they're a part of. They can mute notifications for a period of 8 hours, 1 week, or always.
User interface and customizations
Slack
Slack can be customized by choosing from available themes or by creating a custom theme using colors. It also offers emojis and emoji reactions for messages. Users can create their own emojis using any image.
All direct messages and group channels are neatly listed on one side of the interface, making them easy to find.
WhatsApp
The background in WhatsApp chats can be customized. However, users can only pick from set color options, making this less suitable for company branding. It does offer emojis and emoji reactions but doesn't let users create custom emojis.
Chats and group chats appear in chronological order of the last activity. This can make it harder to find specific conversations without using the search tool.
Slack vs. WhatsApp: Pricing
When it comes to Slack vs. WhatsApp for business use, comparing pricing reveals which app provides better value for money.
Slack
Slack offers multiple pricing plans.
Free plan
Allows for unlimited channels and unlimited users
Archiving for 90 days
Only one-on-one voice and video huddles
Only one-on-one messages to external individuals
Standard customer support
10 third-party integrations allowed
Pro plan at $7.50/user/month
Allows for unlimited channels and unlimited users
Unlimited archiving
Group voice and video huddles of up to 50 users
Can add external parties to channels and groups
24/7 customer support
Unlimited third-party integrations
Two-factor authentication
Business+ plan at $12.50/user/month
Everything on the Pro plan
24/7 customer support with 4-hour response time
Additional compliance tools
Data export for all messages
Enterprise grid plan (contact Slack for pricing)
Everything on Business+ plan
24/7 priority customer support with 4-hour response time
Can add unlimited workspaces compared to the single workspace available with other plans
WhatsApp
Regular app
WhatsApp's regular app is completely free.
Business app
The first 1,000 conversations each month are free—where one conversation includes all messages in a 24-hour period from when the chat was initiated. The remaining cost varies based on which countries the sender and receiver are based in and who initiated the conversation—the customer, or the business. Rate cards with customer and business-initiated prices across countries can be found on the website.
📚 This Might Interest You:
Slack vs. WhatsApp: Which Is Right for Your Business?
Both platforms offer instant messaging, voice and video calling, archiving, and secure encryption. Either app could work for your company. The decision depends on factors such as your budget, team size, security needs, and more.
If you have a low budget, WhatsApp may be a better solution as it offers chat features completely free of cost when you use its regular app. Alternatively, you could consider Slack's free plan. However, both of these options are limited in their features compared to their paid versions.
For smaller teams, WhatsApp can work well. It provides unlimited messaging and group chats that hold up to 1,024 participants. However, WhatsApp's video calls are limited to 8 users. For larger teams, Slack is probably a better solution as a huddle can have up to 50 participants.
Although both platforms offer end-to-end encryption, Slack is a more secure choice. This is because its members are limited to those who've been invited to a workspace. Plus, the regular WhatsApp app shows all of an individual's groups and messages on the same interface, including personal messages. This increases the likelihood that a worker will mistakenly send confidential company data to the wrong group or person.
A major downside to both messaging apps is that they're limited to communication features. This means a company will need to pay for additional software for team and project management. This can get expensive, especially for businesses with a low to moderate budget.
This is where Connecteam comes in as the perfect all-in-one work management solution.
Why You Should Choose Connecteam Over Slack and WhatsApp
With Connecteam, there's no trade-off between affordability, features, and security. You can have all three and so much more. In addition to its built-in work chat app, Connecteam also offers powerful tools for employee time tracking, job scheduling, improving employee engagement, and more.
Its simple interface can be used by companies of all sizes. It's also highly customizable, comes with great customer support, and is available as a mobile app for iOS and Android devices.
Let's take a closer look at Connecteam's communication features.
Secure in-app chat that integrates with Connecteam's other tools
Online team chat lets you and your workers communicate instantly in one-on-one or group chats. You can share files, videos, images, and audio notes within messages. The chat also allows for emojis, GIFs, and chat reactions to increase engagement levels. Plus, you can track which messages have been delivered and read. 
In addition, the work chat can be embedded in Connecteam's employee task management app so you and your employees can communicate directly on the tasks themselves. It also integrates with some of Connecteam's other operations features. For instance, within chats, you can send shortcuts to job schedules, employee time tracking reminders, and digital forms. 
Connecteam's chat feature has great security. Admins can monitor and moderate information shared within chats, removing any potentially inappropriate content. They can also manage user permissions, and chats can only be accessed by company employees. 
Media is never saved and conversations can't be exported, meaning information is always secure. Admins can even prevent users from sharing or forwarding messages. Plus, they can stop users from starting chats with certain other users—for example, the company owner.
The app also allows users to post anonymously. This is a great way to gather anonymous feedback and suggestions from workers.
Updates feature for company-wide announcements
Connecteam's updates feature acts as a company newsfeed. You can share important updates with the entire team at once and schedule posts to go live at specific times.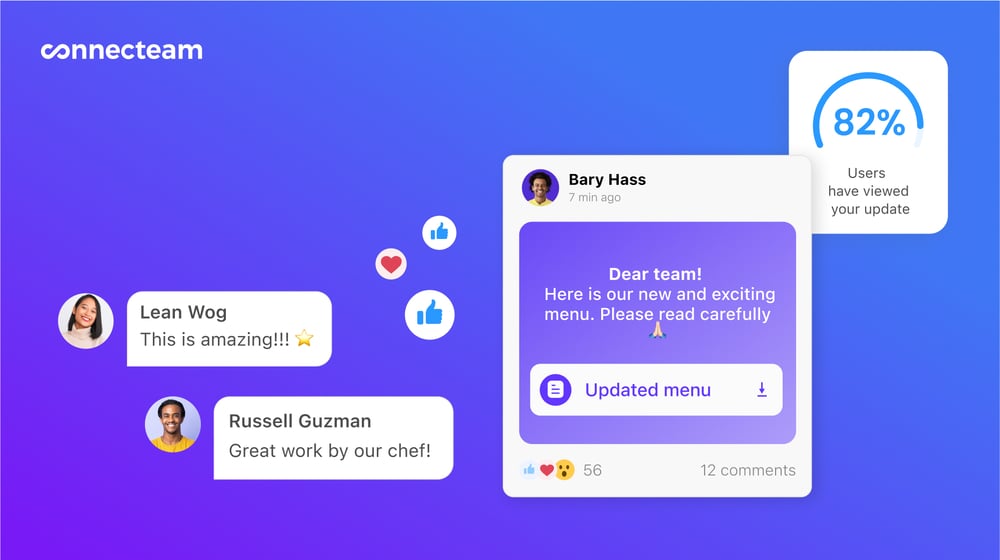 You can also share multimedia files such as images, videos, GIFs, and more to make your announcements pop. Workers can like, comment on, and react to updates, and you can track how they're engaging with your posts.
Built-in polls to make faster, better decisions
Connecteam also has a built-in surveys and polls feature you can use to gather opinions and votes from team members in real time.
Create surveys using ready-to-use templates or customize them with your own open-ended, multiple-choice, and yes/no questions. You can also choose to keep surveys anonymous so people can share their feedback honestly.
Polls let you get instant responses, and you're able to send automated reminders and push notifications so your team doesn't forget to fill anything out.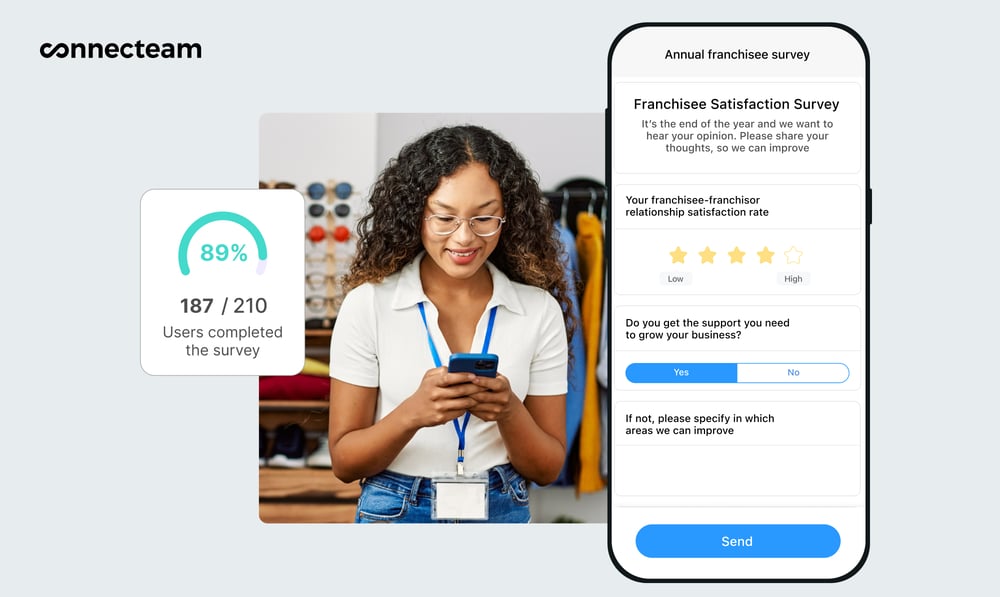 A knowledge base, company directory, and excellent value for money
With Connecteam, you can also create a knowledge base and employee directory for your company.
The knowledge base provides a centralized location to securely store and manage all the documents your company needs. Meanwhile, the company directory makes it easy for your team to find and contact coworkers—and even clients or other people relevant to your business.
Best of all, Connecteam is very affordable and offers many pricing plans to suit your needs. 
Paid plans begin at just $29 per month for up to 30 users. You pay just $0.50 per user per month after that. For comparison, the cost for 50 users on Connecteam is $39 per month, while Slack Pro is $375 per month.
In addition, Connecteam offers a free-forever Small Business Plan that supports up to 10 users.
Sign up for a free trial to explore all of Connecteam's communications, operations, and HR features.
Key features
Built-in chat: Connecteam provides a dedicated work chat, meaning that users can't be distracted by personal chats in the same app.
Push notifications: You and your employees can send push notifications to make sure that unread messages are seen.
Company newsfeed: Share information with your entire team and ensure the right messages get out at the right time.
Custom surveys and polls: You can send surveys to gather employee feedback. Or, you can use built-in polls to capture votes for quick decisions.
Knowledge center: Securely store as much information as your company needs.
Employee directory: The directory offers extra security, as work contacts don't need to be saved to mobile devices. Users can access details directly within the directory as and when they need them.
Connecteam pros
Anonymous chat messages
User-friendly interface
Highly customizable
Can be accessed from anywhere through the mobile app
Lots of features for an affordable price
Connecteam cons
No video conferencing yet
WhatsApp vs. Slack Comparison: The Bottom Line
There are several work chat apps out there, and while Slack and WhatsApp are used by many people, they aren't your only—or best—options. Connecteam is the best communications and team management app available today. In addition to its chat tools, it offers features such as job scheduling, time tracking, and task management that both Slack and WhatsApp lack. 
With so many features at an affordable price, Connecteam provides better value for money than Slack and WhatsApp. It offers a 100%-free plan for small businesses that supports up to 10 users. Paid plans start as low as just $29 per user, per month.
🆚 Related Comparisons:
Want more great articles straight to your inbox? Subscribe Here ⤵