Amusement parks and theme parks are literally all about moving parts. It starts with ticket sales and admission control, the visitors' traffic management, roller coaster maintenance, safety procedures, and event planning — all the way to the POS and inventory management.
So many difficult, interconnected processes that have to work well together, and run smoothly to provide your guests and visitors with the experience they will appreciate and remember. And when it comes to the family recreation and hospitality industry in general, safety and security compliance is another crucial aspect to keep in mind.
The great news is: it is so much easier to flawlessly run and operate an amusement park or theme park today, than it was ever before, thanks to the many advancements in modern technology and smart software solutions of 2021. You don't need to be a Disneyland or 6Flags owner to afford these solutions these days either. In fact, there are multiple solutions affordable for any business or non-profit organization, or even free to start, and many can make your operation work much smoother and more efficiently. All that results in higher spend per-head, reduced manpower expenditure, and above all, a more enjoyable overall guest experience. 
Theme and amusement park management software solutions are not all the same though: some of them are multifunctional, while others are more specific, so let's have a look at the different types of theme park management software that might be beneficial for you.
The Ultimate All-In-One Hospitality App
Learn more
Common Types Of Amusement Park Management Software
Ticketing Software
Ticketing software is where it all starts for any amusement or theme park. Apart from issuing and accepting manual and electronic tickets, the ticketing management system can also integrate well into other amusement park management modules, such as admission control or POS payment system.
Point-of-Sale Software
A smart & robust POS system is a must-have for theme parks, as the Food-&-Beverage and merchandise stores might collectively a great chunk of your income, in addition to the ticket sales. It's the central hub for all the park's operations. Along with printable e-tickets, theme park software should be able to allow guests to book their tickets online. 
Admission Control
Managing admissions is another crucial part of running a successful amusement park. Some parks would just have a single all-inclusive ticket entry for the whole property, while others offer a credit system with credits or tokens guests can purchase for money and spend cashless for different attractions within the amusement park. 
In both cases though, people will come in with either printed tickets, season passes, wristbands, RFID tags, or unique codes to verify their purchase — you have to have a software management system in place to issue and process those tickets, whether you want to use classic turnstiles, speed gates, or other types of admission control, like barcode scanning and biometric validation.
Visitor Management
Theme park visitor management software solutions usually provide some way to measure the visitors and track the way guests progress to explore a theme park, or in other words, how visitor flow is moving. Visitor management software for theme parks is also used for collecting important data about the customers, such as:
Visits frequency logs

Time people spend in different park zones

Rides and attractions/events preference

F&B & merchandise shops customers flow and purchase analysis.
A good theme park should include visitor management software or those features, to collect and process information about the guests and use it to optimize costs and grow the business.
HR Management Software
Theme parks are large organizations with many people on staff. More importantly, most amusement park employees don't sit in an office, but rather are scattered all across the venue, or are likely moving all the time. 
Cashiers

Gardeners

Supplies

Attractions & roller-coaster operators

Animators and artists

Safety and

emergency crews

Drivers

Storage 
Those are just a few examples, the list of different roles can go on and on, but all of the staff are deskless, mobile employees that need to communicate with each other and managers, and get all the latest updates remotely, as well as coordinate their working hours. 
If your employees work by hours, you also have to track their working hours and breaks, and sometimes calculate overtime too. 
Maintenance Management Software
Maintenance is important for any business, but it's one of the basics of amusement park management. Roller coasters, vehicles, restaurant equipment, and other attractions must be regularly inspected and maintained to comply with health regulations and keep all the equipment safe and sound. With automated maintenance management software, amusement parks can keep track of the maintenance schedule, repair manuals, and service requests, as well as collect signed maintenance reports with pictures from technicians, gardeners, janitors, and other personnel, and hold them accountable for the work.
Different types of parks demand different software solutions, we have narrowed down a list to the Top 5 to address and streamline your most pressing daily business needs.
Top 5 Amusement Park Software Solutions
Best all-in-one tool for amusement park employee management, daily operations, internal communications, scheduling, training, and task management
Amusement parks and theme parks may differ in concepts and outline, but most of them have one thing in common: many employees, and a multitude of different roles, jobs, shifts, and locations to cover.
Connecteam was built particularly for such mobile, or deskless employees, and this all-in-one, customizable app checks most of the theme park personnel management daily needs, such as:
Shift Management & Scheduling 
Connecteam is an excellent software for theme parks and other hospitality venues that helps managers build effective job schedules:
Create shifts using templates and drag-n-drop in a matter of clicks

Publish them for all employees to see immediately

 Add shift attachments and notes for additional information

Allow employees to accept or reject shifts
Time & Location Tracking 
Connecteam theme park management app turns time tracking into a couple of mobile app clicks for employees to clock in and out of shifts, take breaks, or request absences. Managers get a full overview through the admin dashboard with exportable timesheets for the payroll needs. 
GPS time tracking will also show you the exact location of your team in real-time, and will never let them try to fool you again with "buddy-punching" and time theft.
Inventory Management For POS
Connecteam's all-in-one theme park software library feature allows for creating a customizable, and accessible mobile knowledge base that can accommodate any kind of information you may need for your amusement park. 
Restaurants and cafes can organize their menus and recipes, information and guidelines, videos, regulations, hygiene control, and food storage regulations for anyone to access from their smartphones. Similarly, the retail stores and gift shops may digitize their inventory, and store all the needed documentation and product information.
Maintenance & Repairs Management
Connecteam management app is used by hundreds of handyman professionals and other technicians for daily operational needs, that involve a lot of checklists and reports to automate information flow and gain oversight. Handyman professionals use Connecteam to create: 
Service summary forms

Stock order requests

Chemical/pesticide materials usage reports

Incident or accident reports

Service quality inspection report (done by supervisors)

Expense reimbursement

Employee performance review
All submitted entries are digitally logged, are automatically sent to a predefined email address as a PDF copy, and can also be exported in an Excel sheet.
Safety & Security Compliance
Lots of customers on the property and a lot of high-risk zones, so it's crucial for the amusement park staff to remain compliant at all times with safety checklists, and protocols.
Company protocols are instantly available for any staff member through a shared library and can contain things like:
Safety and emergency protocols

Uniform policy
Whatever your operation might need — you can securely store it in the app, and make sure it's accessible anytime, anywhere.
Training & Onboarding
Connecteam's Library data storing and organizing feature also allows you to have an easy, flexible, and highly customizable company knowledge base and to create great training and onboarding courses on it. With Connecteam, you can deliver training materials to everyone's phone by having the option of using existing documents, PDF files, media of any kind, and even web-services like YouTube, Dropbox, Google Drive, or your company website.
Price: $39/month for up to 50 employees or you can go with a "free for life" plan, which allows you to try and use the app in real life, to see how your business can benefit from this caregiver's management app.
Top Point of Sale (POS) Software
Dexpos is a comprehensive mobile POS system designed for amusement parks to help them manage all business operations including billing, expenses, inventory, and customer relationships. 
Dexpos is a capable amusement park pos software for efficient theme park management, that supports various features, such as:
Multi-card Counters to have smart card counters at the amusement park to issue, recharge or refund cards for cashless transactions

Real-time monitoring to get updates about sales, occupancy, and profitability of your amusement park in real-time

Cloud-based POS syncs all your data to the cloud in real-time, and keeps working offline in case internet connection is lost
This amusement park management software also provides you a choice of QR Code based Wristbands or NFC Card based system to allow seamless entry for your guests without paper-based tickets.
Price:  Not disclosed by the vendor, please contact the vendor's representative for a quote. DexPOS does not offer a free trial.
Top guest experience /visitors management system
SmarTag platform is designed to fit any leisure and entertainment venue and can be easily configurable for your needs and controlled directly from the browser.
This theme park management system offers a complete software package for a frictionless guest experience.
Ticketing

Payments

Access control

Self-service kiosk & mobile ordering

Photo activation

RFID wristbands
Price:  Not disclosed by the vendor, please contact the vendor's representative for a quote.
Top software for amusement parks event management
Korona is an amusement park software for integrated event management. This software is designed to manage events and sell tickets on numerous platforms. Event operations can use a call center, eCommerce store, or in-person POS ticket sales. 
This theme park management software functionality includes:
Group visits and rates management

eCommerce sales platform

KORONA inventory integration

Invoicing and receipts

Resource management

Customizable calendars

Integrated payment options

Real-time updates
Korona event app offers a simple calendar to give you a broad overview. You can create recurring events with the option to add size and time constraints. Event tickets and products can all be sold online with real-time inventory updates.
Price: Korona amusement park management software starts from the flat $49/ month rate, and doesn't offer a free trial.
Top amusement park inventory & maintenance management software
Fiix theme park management software is an efficient tool in managing preventive and predictive maintenance, work orders, and tracking inventory. 
This theme park maintenance software is designed to:
Identify high-volume and high-risk rides and attractions

Run preventive and scheduled maintenance on your properties

Use inventory tracking to ensure spare parts are always available

Track work order completion and work order history in a central database

Allow guest users to place work requests for free
Price:  Starts with a free trial plan limited by 3 users. The basic plan costs $40/month per person, the professional plan is $60/month per person. The enterprise solution is possible with custom pricing.
Bottom Line On Leisure Park Management Software
Theme parks and other amusement and leisure parks are very different in their operations, but all of them are not easy to manage, with so many moving parts.
On top of that, theme park employee management operations are extremely important, because employees are the face of the business and should be a part of the whole "amusement" experience for the guests. That's why it's extremely important to constantly keep a hand abreast and have employee management on the tips of your fingers, even on the go, something that only a mobile staff management app can provide. 
Being able to organize and track schedules, create and store notes, fill-in forms, and checklists, as well as quickly communicate with important people —  and doing all that from your mobile phone, even on the go, will make your work much easier, and both your employees and guests happier.
Best All-In-One Employee Management App
Created for deskless employees, for quick scheduling, accurate time clock, simple communication & remote paperwork, even on the go.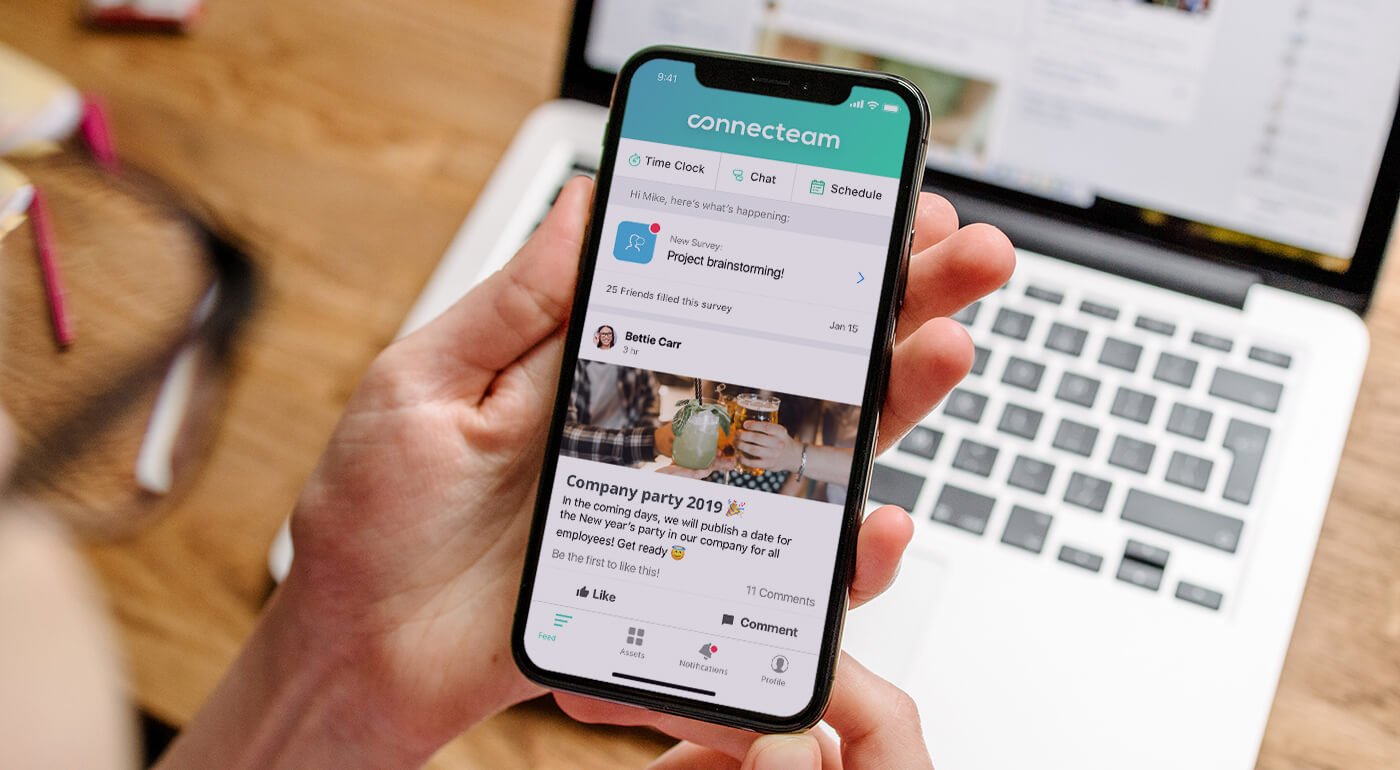 Learn more