Find out what work ethic really is and read how to improve your work ethic in your business in 8 easy steps. You will learn all the tips and tricks that you can implement today!
Table of contents
When we think of work ethic, we all assume it's just plain hard work and working a zillion hours, but is that enough?
It's known that a good work ethic will most likely lead to a successful career. So, if you put in the hard work and the hours, you can climb up the career ladder and achieve your goals.
Nevertheless, when it comes to managing a team, we have to ask again – is that sufficient?
Every company wants to employ the hardest workers. And, your aim should be to find a hard worker that seeks ways to improve their productivity.
So, when you ask yourself how can I develop and build a work ethic among my team – it's vital that you know that hard work and a good work ethic go hand in hand. However, they aren't the same thing!
As a business owner or manager, your target is to have consistent employees who possess a good work ethic. But how?
To get to the bottom of good work ethics, we sat down with the experts from renowned companies to find out what work ethic is and how to improve work ethic.
What Is a Good Work Ethic?
A good work ethic is defined by the employee as the following:
Being a hard worker
Staying motivated
Helping others on the team
Wanting to do more than the set role
And so much more.
As an employer, you are constantly thinking about how to develop work ethics among your team. If you hit the nail on the head, you have an employee that requires less guidance, and you can offer them more responsibilities as a result.
More importantly, you reduce turnover, team members get on well, increase morale, and so on. There is a lot of good to a strong work ethic, not just for the individual employee but the company as a whole.
Unleash the Full Potential of Your Business with Connecteam's All-in-One Management Software
Why Is Work Ethic Important?
If you're considering how to develop a work ethic in your company, you first need to understand why it's important. Not only can the business succeed, but the employee also has a better attitude and genuinely wants to do well.
From the business side, work ethics play a role in morale, employee satisfaction, and retaining your staff. In turn, you reduce costs, as you are not spending time hiring and training employees on a constant basis. When you are able to keep people for longer, productivity also increases.
If your business is client-based, your employees will also provide a better service, so it's a win-win situation!
When you are able to achieve a good work ethic, you will notice that employees are dedicated to the business and do their best. That's why we put together our top tips so that you can start building your dream team.
Connecteam – No.1 Employee App
Engage with your team like never before. Create the perfect schedules, track time, allocate tasks, engage easily, and so much more. Be the team who has it all!
Learn More!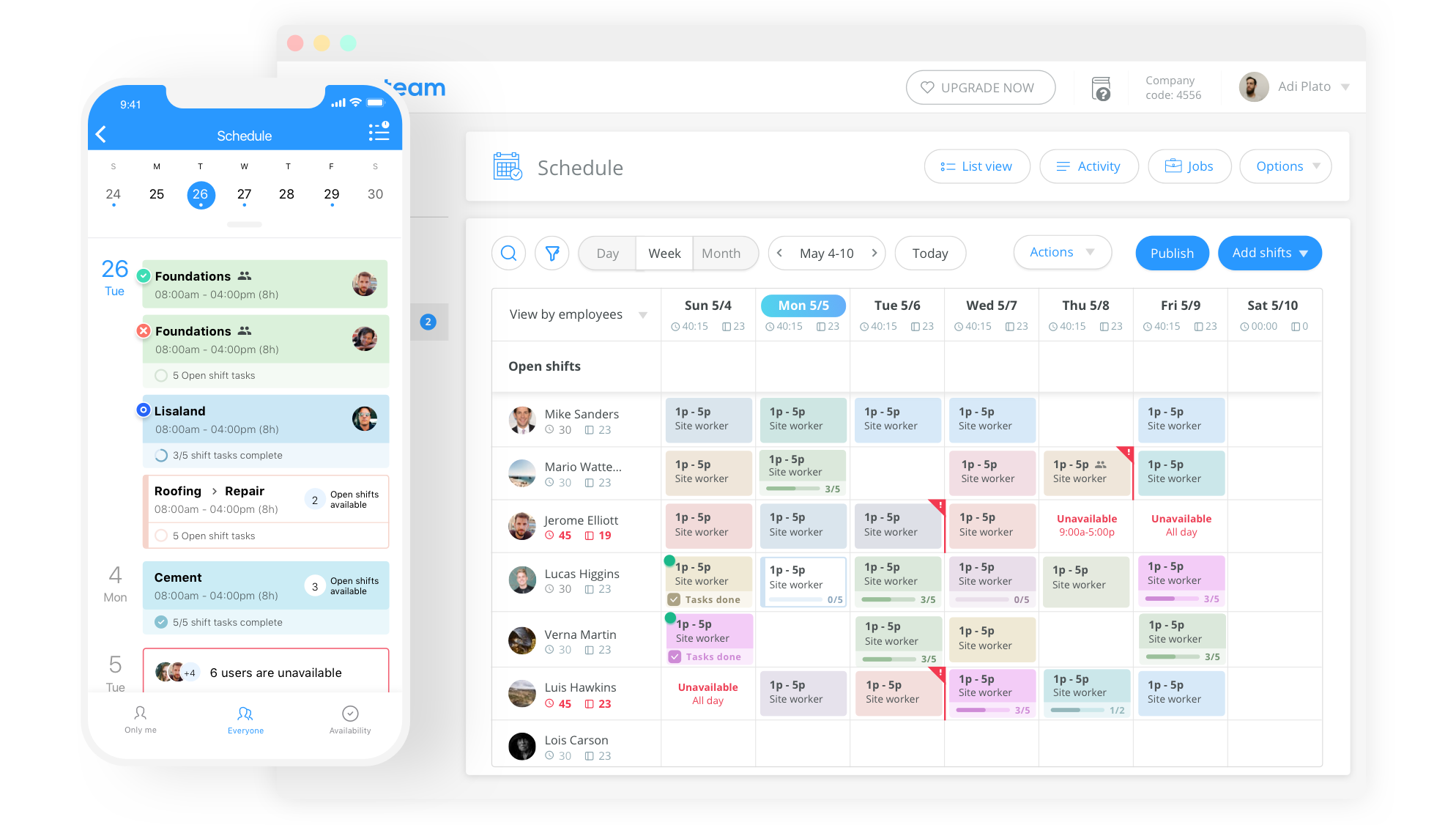 How to Develop Your Work Ethic
The first step to answering how to improve work ethic in your team is to sit down with upper management and decide together what makes a good work ethic. This will allow all of you to come up with a unanimous decision.
It's important to remember that every business and industry has a different concept of work ethic. So, build a scope on a work ethic that works for you, your business, and your employees.
Lead by Example
When you hear the words lead by example, you may think it goes without saying! However, many managers miss the mark and wonder why their employees have no respect for their workplace.
As a manager, if you expect employees to be on time every day, you need to be on time as well. When you stick to the rules in place, your employees can only follow suit.
Set Targets That Meet the Company's Mission
According to Gallup, research shows that employees are more likely to engage by 3.5 times more when their targets meet the company's mission. Sadly, only 44% of employees asked felt they were able to do so.
To ensure that your company doesn't fall into that trap, managers should meet regularly with their employees. You can decide how often that occurs, per month, bi-monthly, etc. By doing so, you can address any concerns and advise the team of how their contribution meets the end goal. You also encourage engagement and keep employees motivated.
Follow Up With Employees
Your employees should understand their expectations for each workday. Therefore, clarifying their role from the beginning ensures that they know what to anticipate, and there is no guesswork!
Be sure to follow up with employees and check how they are getting on. Provide feedback and advice on how to meet the goals. It's another way to answer how to develop work ethic.
Communicate Often
If you're questioning how to improve your work ethic? Having open lines of communication is key. When a team collaborates well, it naturally builds the work ethic.
Therefore, if your employee reaches out for help, make sure your response is in a timely manner. This lets your employees know you are rooting for them.
Additionally, ensure employees are aware of their importance. Once workers understand how their role fits the bigger picture, they will want to work harder, achieve more, and have an increased work ethic.
Listen to Your Employees
It's vital that you provide your customers with the right products and services. However, your employees also require your attention. Skipping this step is not an option! Extra training or even having a cup of coffee can make a difference to their work ethic. If your employee wants to work on a project or have a goal for their work career, you can push them in the right direction. As their manager, you have the knowledge and contacts in the company to provide them with the skills to reach their full potential.
Encourage Improvement
When you ask yourself how to develop a work ethic, your company needs to promote improvement. Not only does it keep the job interesting, but it also allows employees to feel that there is more to their role. Once an employee has been with the company for a while, their role can become mundane. With the chance to improve on their skills and training, it can encourage retention.
Add Technology to the Mix
When you are working on how to improve work ethic within your company, adding technology to your game can take your company's work ethic to the next level. Apps such as Connecteam are an all-in-one tool that can build work ethic, retain employees, and provide the tools to make you the best manager.
With a robust set of features and customizability, you can build a work ethic and encourage collaboration. You can do the following:
Use the update feature to congratulate a team or employee on meeting their goals. Keep the communication flowing by announcing company news on the company's news feed. By recognizing employees, they feel excited and motivated to keep achieving more.
The time clock feature goes far beyond just clocking in every day. Geofencing provides you with a full overview of where your employees are clocking in from. Wave goodbye to time theft and buddy punching as employees can sign in via their mobile devices. Encourage your team to take frequent breaks by inputting reminders for your staff to take a short break. View overtime to ensure your employees are not overworking and are sticking to the rules set for them. Also, easily export timesheets to QuickBooks Online or Gusto for 100% accurate payroll.
Task management provides your team with their tasks in bite-size chunks, so they aren't overwhelmed by their to-do list. Add notes, images, videos to the task to provide employees with all the tools they need to succeed. You can build up employees' work ethic by communicating on the task via the built-in chat. You can assist your employee by customizing the task to include urgency or job role per task. If tasks are incomplete and the due date is coming up, send a reminder or give a little push.
Training through the app becomes second nature. Forget the big binder or printing out the latest materials. Add all your employee handbooks, courses, policies, procedures, and so much more directly onto the app. The new hire or current employee can access all they need even while on the job. You can see how the employee is getting on and how far they've progressed. You can reward their efforts by sending a message through the built-in chat.
Find out what employees like and dislike by sending a poll company-wide. You have the inside information without having to go undercover. Then you are able to answer how to improve work ethic in your company.
Digitally schedule in minutes, copy and paste previous weeks so employees can know what to expect. This allows employees to plan their vacations and submit requests directly on the app. Add notes to the schedule along with any equipment needed. Hence, they arrive to work with the instructions at hand.
Join Thousands of Companies Using Connecteam!
Build work ethic from effective scheduling, track time, engage with your team and so much more!
Discover more!
Bottom Line on Work Ethic
Creating a team with a good work ethic goes far beyond just hard work. Collaboration, reliability, time management, and so much more are involved. Remember, you can improve your work ethic, and once mastered, you strengthen your team to reach their full potential.
By using the best resources, such as an all-in-one app, you can drive excellence. You also save money in the long run, as you won't need to hire constantly. You also won't have ineffective employees hanging around.
Today's the day you look around your company and see which employees require extra attention. Often your hard workers can achieve more with a little extra effort and motivation. Note that you should always lead by example and be professional. You won't be asking yourself how to develop work ethic? You'll have your competitors asking you that!
Connecteam – Take Your Team to the Next Level!
Build your work ethic with Connecteam's engaging updates, efficient time clock, flexible scheduling, and so much more!
Want to Receive More Great Articles Straight to Your Mailbox? Subscribe Here ⤵