Check out the five most fundamental steps for how to get your construction business off the ground and set yourself up for success.
Table of contents
Whether you grew up loving to build things or knock them down to start from scratch, you likely have a construction bone in your body.
And that's probably why you're looking at how to start a construction business in 2023.
Starting a construction business can be a lucrative and rewarding way to make a living.
But getting to that point isn't easy. It takes a lot of perseverance and good fortune, not to mention a lot of knowledge. Even those who are business savvy and have experience in other industries don't always know what they're getting into when they try starting a construction business.
Naturally, there are steps that any prospective business owner needs to take to launch a new business. However, things are always a little different in the construction industry, where things tend to get a little more complicated than in other industries.
That's why we wanted to share the five most fundamental steps for how to get your construction business off the ground and set yourself up for success.
Do Your Research
Nobody should jump into business blindly, and that's particularly true when starting a construction business. It's not necessarily an industry where it's easy for people on the outside to break into it.
Typically, it takes experience and expertise to be successful in the construction industry. If you don't have that experience and you don't know how to start a construction business, you'll need to do a lot of research to get started.
You'll need to understand the proper procedures for running a construction business, the competition you'll face, the needs of your area, and the right pricing points, among many other aspects of the business.
If you don't conduct this type of research, you won't know what you're getting yourself into before you launch your construction business. Fortunately, even if you don't have a lot of contacts within the industry who can help you learn, there are plenty of other places to do research.
For instance, the Bureau of Labor Statistics has data about job openings, hours, and salaries within the industry.
The local Chamber of Commerce in your area can also provide important information about the need and the market for construction companies.
On top of that, there are both local and national publications about the construction industry that can help you to familiarize yourself with what's going on within the industry.
Put Together a Business Plan
The biggest reason why research is necessary before starting a construction business is that it'll be invaluable when you're writing a business plan. This is a prerequisite in any industry but will be critical for the success of your business.
In a business plan you create an outline for how you're going to launch your business, including:
the services that you'll offer
the customers that you'll target
the prices that you'll charge
how you project the business will develop over the next several years
a market analysis that proves there is a need in the market for your company's services.
You'll also need to show that you understand your competition and how you can differentiate yourself from similar companies.
Ultimately, your business plan will become a guide for the early years of your business. It covers the basics of how you'll get your business off the ground. Your business plan will also be critical when it comes to getting financing for your new business.
Whether you pursue a business loan or seek independent financing, it'll be hard to get the capital you need without a strong business plan. This is how you prove to others that you have a viable business idea.
Take Care of Legal and Insurance Needs
After you have your business plan and a better idea of how you'll finance your business in the beginning, the next step is taking care of your legal and insurance needs. This is probably the most boring part of starting a construction business, but it's a necessary evil.
Of course, construction work is inherently dangerous, and even if your business is going to emphasize employee safety, accidents and injuries are almost inevitable. Thus, you need to have a good insurance policy so that your business is covered if something goes wrong.
Try talking with multiple insurers to make sure you get a good deal but also have the right type of coverage.
You need to keep your business protected from injuries and liability but also any property damage that might occur.
Likewise, there is an almost endless string of licenses, permits, and certifications you'll need to acquire before starting a construction company.
The exact permits and licenses you'll need to make your business legal will depend on your city and state laws, which is another reason why it's a good idea to perform research with help from your local Chamber of Commerce. Don't forget that the regulations for construction companies might be a little different than they would be for other businesses because construction is an inherently hazardous industry. This makes it all the more important that you have all of your legal boxes checked before officially launching your construction business.
Assemble Your Team
In construction, your business is only as strong as the work you perform. Of course, the work you perform is only as good as the people who are performing it for you.
Even if you have experience working in the construction industry, starting a construction business means finding other people who can produce the same quality of work.
Perhaps the biggest decision you'll make is whether you hire full-time employees or you'd rather work with independent contractors on a case-by-case basis. There are pros and cons to each option, so that decision comes down to how you want to construct your business.
But whether it's full-time employees or contractors, the most important thing is hiring the right people to join your business.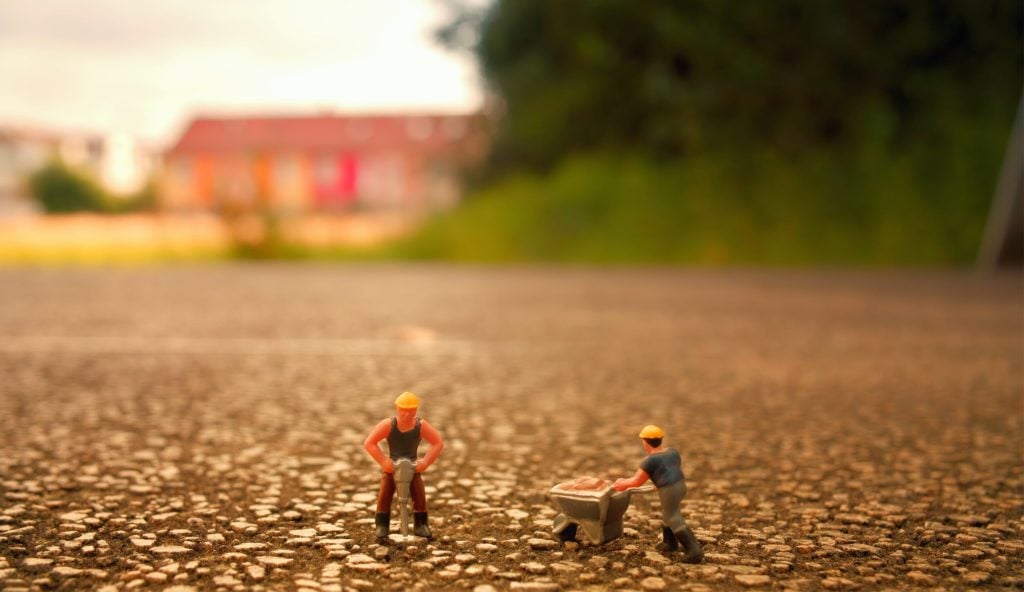 Being a business owner means establishing a culture for your business. It means finding people who will go about their work the way you want them to and fall in line with what you want your company to represent. After all, you probably have a vision for how you want your business to operate and how you want to be different from other businesses. That means assembling a team that can help you carry out that vision.
Plus, you don't want to contend with high turnover.
Market and Advertise Your Business
Putting together a team and getting your first few jobs is always a good feeling after starting a construction business. It gives you validation that you made the right choice in starting the business and that you'll be able to succeed.
Plus, if you perform quality work, word will quickly spread that you're among the best options available in the industry. But word of mouth can only go so far. At a certain point, marketing and advertising become the next step in growing your business.
For what it's worth, marketing and advertising in the construction industry don't have to be overly complicated or elaborate. However, you will need to find some way to get the attention of potential customers with TV or radio ads. You will also need to develop an online and social media presence if you wish to keep up with the competition as 75% of construction firms now promote themselves through social media.
Even if you do quality work that's better than your competitors, it doesn't matter if nobody knows about your business.
In a way, marketing and advertising become another necessary evil for how to start a construction business and how to develop a reputation that can help make your new business a success.
Most Importantly, Go Digital
There is no doubt that your construction business will grow at the drop of a hat. As such, you must be sure that you have all the digital tools at your disposal to ensure success as you scale.
For example:
An invoicing tool, like QuickBooks, for client projects
A video tool, like Zoom, for these COVID-crazy times when you can't always meet face-to-face
A cost estimating tool, check out our list of the best estimating tools here
And a tool for day-to-day tasks, business operations, and employee management like Connecteam

Automate daily processes and operational procedures
Checklists and digital forms like safety and hazard workflows, tool and site inspections, etc.
Receive live updates from the field in a click
Schedule individual or team shifts
Dispatch jobs for your on-site employees
GPS time tracking and timesheets (exportable to QuickBooks Online) with tracking on costs for different jobs and projects
1:1 or group chat, even operational chat
Social feed for company updates
One spot for all HR documentation, employee handbook, etc.
#1 App for Construction Companies
Connecteam is an all-in-one app equipped with everything your construction business needs to run smoothly.
Wrapping Up How To Start A Construction Business
Above we have shared five steps on starting a construction business, along with a bonus tip!
So, whether you're new to the game or are already deep in the research phase, these tips on how to start a construction business can fill in the blanks.
Remember to keep researching to ensure that your construction business succeeds from day one.
Scale Your Construction Business With The #1 App
Learn More
Want to Receive More Great Articles Straight to Your Mailbox? Subscribe Here ⤵