Contingent workers bring expertise and flexibility to businesses, helping them ‌meet evolving organizational needs. Learn how to best manage contingent labor and maximize their contribution to company goals.
Table of contents
Contingent workers, also known as gig workers, are contracted by companies as freelancers rather than permanent employees. This makes it easy to hire or let them go as needed. Plus, they're not entitled to company benefits.
On the flip side, contingent workers feel less connected to the company and its mission. They're also often spread out across locations, making it tricky to manage them.
But managing contingent workers well is imperative if you want them to stay engaged and go above and beyond for your company. In this guide, we tell you everything there is to know about contingent workforce management. We also share the best software for hiring, engaging, and managing your temporary teams.
Key Takeaways
Contingent workers bridge skills gaps and meet goals without permanent employment or benefits.
You need to manage your contingent workforce to stay compliant and keep them engaged and productive.
Managing contingent workers involves organizing documents, tracking tasks, training and onboarding, and more.
Workforce management apps like Connecteam simplify the hiring and managing of gig workers.
What Is a Contingent Workforce?
A contingent workforce refers to workers who are hired by a company on a temporary basis. They're typically hired for a specific amount of time to work on specialized projects, cover seasonal demands, or fill in staffing gaps.
Contingent workers are often referred to as the following:
Independent contractors
Statement of Work (SoW) consultants
Gig workers
Freelancers
Temporary workers, or "temps"—though these may still be classified as employees
Contingent workers aren't given the same perks and benefits as long-term employees. They often feel socially isolated from their peers and the company's mission and goals as well.
The use of contingent workers varies depending on the nature of the work, demand, company budgets, and available talent pools. They're usually hired by companies directly, through online job listing platforms, or through staffing agencies, recruiters, or other talent vendors.
Some contingent workers convert to permanent employees, but most will end their contract with the company once they've met their goals.
The rise of digital platforms and the gig economy has resulted in a growth in contingent work over the past few years. People want to work flexibly, and companies want the fluidity and cost-effectiveness that comes with gig workers.
Examples of Industries That Use Contingent Workers
Today, when you think of freelancers, you may think of graphic designers, content writers, video editors, or IT or legal consultants. But contingent working arrangements extend to so many other industries.
Here are some examples of industries that use temporary staffing:
Retail: Seasonal workers are often hired in shops to handle increasing demands—for instance, during the holidays.
Events and hospitality: Event management or hospitality firms often hire gig workers such as servers and bartenders. They can help meet goals for specific events or during peak seasons.
Healthcare: It's common to hire contingent workers in hospitals and clinics to address staffing shortages. For example, 96% of healthcare facilities hired contingent workers during the pandemic.
Manufacturing: Contingent workers are often hired to help with assembly lines, quality checks, and other logistics during high production demand.
Construction: Many contractors are hired for certain projects that require specialized skills. In addition to construction workers, projects need electricians, plumbers, carpenters, and more.
Transportation and delivery: Couriers, food delivery services, and rideshare services often use gig work as their main form of employment. With constant changes in demand across time, locations, and more, these companies need staff who can work flexibly.
The Benefits of Using Contingent Employees
Contingent workers bring many benefits.
Firstly, they help with fluctuating workloads so your business can manage changing market conditions. For example, when the markets are flourishing and customers are spending more, you may need additional workers to help meet rising demands. Conversely, when the economy is declining and demand is low, you may need to cut back on resources. With contingent workers, you can scale up or down as required.
You can also hire contingent workers to bridge skills gaps. For instance, you may need specific skills for a particular project or for a limited duration. Hire a contingent worker, and you won't need to pay for a permanent employee and can still benefit from innovation and continue to grow.
Moreover, you aren't obliged to offer contingent workers health insurance, retirement plans, paid time off (PTO), or other benefits. This makes them cost-effective, particularly during difficult times.
Best Practices for Managing a Contingent Workforce
Assess your staffing needs
First, consider why you might need contingent workers and where they would fit in at your business. For instance, you may require an expert for a particular project for which you lack the skills in your existing workforce. Or, you may be experiencing a temporary surge in demand for your products and services and need additional staff to meet business needs.
Whatever the reason is, assess whether you need a temporary or permanent worker for a specific job. You may find that for certain roles, a permanent hire may be a better fit than a contingent worker. This is common when the role is likely to become a long-term fixture in the company. In this case, it would be better suited to a permanent team member who can stay committed to it in the long run.
Invest time in good talent acquisition and vendor management
Hiring contingent workers is often done directly, or with the help of agencies or other freelancing platforms. However you source them, ensure that you're making the right hiring choices.
Ensure your contingent workers have the necessary skills for the particular project you're assigning them to. You also need to check that they have any licenses and certifications required for the job.
Moreover, even if you're hiring through an agency, interview them yourself to make sure they'll be a good culture fit and integrate with your existing workforce.
Finally, when you're managing a contingent workforce, you're dealing with multiple parties, such as agencies or recruiters. You must select the right talent vendors for the right job profiles. For example, you might opt for a recruiter specializing in seasonal hospitality worker hiring if you need extra coverage during the holidays.
You also need to manage multiple vendor contracts, have visibility of when they need renewing, and ensure that terms are being met.
You can stay organized with your vendor communication and relationships by splitting the work between different HR managers.
However, the best way to manage these ongoing relationships is by using specialized vendor management systems. These simplify the process of selecting, managing, and assess effectiveness of vendors and agencies.
Clearly outline the scope of work and terms
Set SMART (specific, measurable, achievable, relevant, and time-bound) goals for your contingent worker during the hiring stage. Add these into the Statement of Work (SoW) in their contractor agreement where they can sign it.. 
This ensures the contingent worker fully understands their scope of work and what's expected of them. In this way, it also prevents your company from making costly hiring mistakes—for instance, hiring someone who wasn't ready for the tasks.
Further, it's useful to have this signed document as proof that the contingent worker understands what they're getting paid for. Somtimes, companies end up in legal battles with workers who didn't complete their assignments but demanded to be paid for it.
Finally, it's critical to outline the contingent worker's legal responsibilities toward the company in the agreement. Include non-disclosure agreements, confidentiality, and other important clauses upfront so there's less room for future disputes.
Classify and onboard contingent workers to the right systems
Misclassification of a worker can result in legal penalties due to non-compliance. You could be fined by the Department of Labor or the IRS if you classify a 1099 contractor as a W2 employee but don't meet the W2 employment laws.
For instance, companies deduct W2 workers' taxes at the time of payroll and are legally obliged to ensure these taxes are paid by the employee. However, contractors receive their pay in full—without any deductions—and are expected to handle their own taxes.
Contingent workers won't be enrolled in company benefits or payroll. They also have different payment terms than W2 employees. For example, they're more likely to be paid by the hour or have a fixed project rate. They typically raise a monthly invoice for their services and are paid by the finance team. It's important to provide these details to your finance team, so they can make the right payments each month.
In some cases, you'll be paying an agency instead of the worker directly. Ensure that your finance team has accurate information on who to pay and when, as well as how the pay should be calculated. For instance, depending on the agreement, you may be being a retainer fee to the agency in addition to the workers' pay.
Once classified, you need to give your contingent worker access to any systems your business uses. You may also need to give them a company email and ID card.
Keep them engaged and track progress on projects
Check in with your contingent workforce regularly to see how they're progressing and whether they need any support. Although they're not permanent employees, they're still adding value to your business.
Start by using a time clock to track how they spend their time across tasks. This will help you ensure that they're meeting deadlines and working as required. Some time clocks are even GPS-enabled so you can verify that your contingent workers are in the right places, preventing challenges like time theft that are common in gig working.
In addition, provide workers with regular feedback on their performance so they know what's working and what isn't.
Lastly, contingent workers can often feel isolated from the company and their peers. We recommend adding them to the company chat and inviting them to social events to help them develop a sense of belonging within your organization. This way, they're more likely to stay engaged and committed to the company's goals.
Educate and train them properly
Training is an investment, and some companies may be tempted to cut corners when training contingent workers who won't be around in the long term. But it's essential to properly educate them, or else you can face issues like poor performance, negative customer experience, lower quality products, and more.
Ensure you get them up to speed on role-specific skills, company values, and working practices. It's important that they follow the code of conduct and meet customer expectations in the same way as permanent employees. You can do this through classroom training, online learning, and on-the-job shadowing.
💡 Pro Tip:
Training doesn't have to be time-consuming or expensive. Use dedicated employee training software to create and assign online training courses to your contingent workers in minutes. It's much quicker than in-person training sessions, and you can track workers' progress in real time.
Get started with Connecteam for free today!
Make an effort to connect with them
When contingent workers leave, they take their skills and knowledge with them. Build good working relationships with them. This way, they're more likely to help with transferring at least part of this knowledge to your team members. For instance, they could create a handover guide to help your employees continue a specific project or task after they've left.
There's another key advantage to connecting with contingent workers: You may be able to rehire them for future projects or even add them to your talent pipeline for permanent hires. They'll be more inclined to come on board full-time if they feel connected to the rest of your team and the company as a whole.
Consider external help or automate the process in-house
Managing a contingent workforce takes time and effort. They're hired and paid in different ways than your permanent employees, and there's a different set of laws and regulations you need to adhere to for contingent workers. (For instance, in addition to payments and taxes that we've previously outlined, W2 employees are entitled to unemployment benefits that don't typically apply to 1099 contractors.)
Many companies don't have the capacity to manage all this internally. You could seek external help through a specialized agency that manages your contingent workers. However, this can be expensive compared to managing them yourself.
The best solution is to use a workforce management system and manage them internally. These software systems help you manage your permanent employees and gig workers all from one platform. They offer several tools to help you hire and engage workers, organize paperwork, stay compliant, and so on.
To help you get started, we discuss the 3 best contingent workforce management software below.
3 Best Contingent Workforce Management Software
Best all-in-one contingent workforce management software
Connecteam tops the list of the best contingent workforce management solutions. You can solve all your scheduling challenges with one app, and Connecteam provides every tool you need to manage and engage your contingent workers.
Connecteam is simple to use, comes with hands-on customer support, and can be used on the go via the mobile app.
Let's take a closer look at Connecteam's key features.
Drag-and-drop scheduling lets you allocate resources quickly and flexibly
With the drag-and-drop scheduling tool, you can create and assign shifts to your workers in minutes. You can create schedules using templates, copy previous schedules, or even export them from Excel.
Your workers can state their location, availability, and preferences so you can assign jobs efficiently. Plus, you can see their qualifications to ensure you're putting them on the right shifts and making the most of their skills.
As soon you publish a schedule, your workers instantly receive a notification on their phones letting them know their schedules are available. This allows them to view the schedule immediately and plan their time accordingly. It also means they can accept or reject shifts faster and find replacements if needed.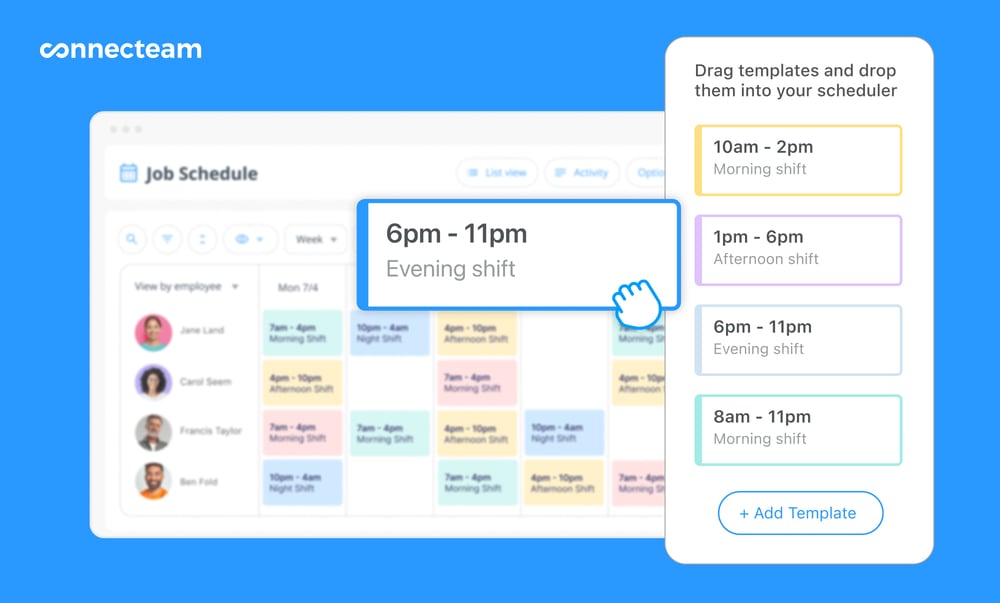 Connecteam allows for flexible shift swapping, so you can assign contingent workers to any shifts that your employees can't make anymore, or they can pick from open shifts—with or without approval. All your workers are sent smart alerts for any changes to their shifts.
As a manager, this contingent workforce management app keeps you updated on real-time shift tasks. Check-in with your employees with in-app chat during their shifts and monitor their progress, if needed. You can also send updates and reminders with the company newsfeed feature before, during, or after shifts.
With these features, you're always staffed but can also offer flexibility to your permanent employees. You can pull reports to help maximize your resources, avoid unnecessary labor costs by avoiding no-shows and scheduling errors, and create automated time sheets to simplify the payroll process.
GPS time clock lets you monitor your contingent workforce
Connecteam's time clock enables your workers to clock in and out of shifts using any desktop or mobile device. You can also use Connecteam as a kiosk app, letting workers clock in and out of a shared device in a central location.
No matter which you choose, the time clock tracks workers' time down to the second. This is especially useful when you calculate their billable time, as many contingent workers are paid on an hourly basis.
Connecteam also has built-in GPS functionality. You can track your workers' locations in real-time to ensure they're where they need to be.
Finally, Connecteam lets you set up geofences—virtual boundaries around work sites. Workers are restricted from punching in if they're outside a geofence. They'll be reminded to punch out when they're leaving their work zone. This can save you huge amounts of money in unnecessary overtime expenses.
Full-feature task management so you can track progress on projects
With Connecteam, you can create and assign tasks and subtasks to your workers quickly and easily. Further, you can attach notes, images, and files to each task so workers can access all the information they need in one place.
Connecteam sends auto-reminders to all workers to complete their tasks. Moreover, you can track progress in real-time and send push notifications to those who are lagging in their work. You're able to see completion statuses across workers and projects at any time, from anywhere.
Customizable forms and checklists help contractors with onboarding and compliance
Connecteam offers fully customizable forms your workers can use for a number of tasks. You can create and assign onboarding and offboarding forms to collect important information, and workers can use forms for important compliance tasks such as incident reporting.
In addition to forms, you can also create custom checklists for your workers. This way, you can ensure they complete important tasks such as safety inspections, inventory checks, and end-of-day protocols at work.
You can track both forms and checklists in real time to guarantee all workers are completing what they need to.
Training and knowledge base brings contingent workers up to speed
Connecteam's training feature lets you create and assign custom training courses to your workforce. You can provide job-specific training, compliance training, and more so they can start contributing to company goals quickly. Plus, customizable quizzes make learning fun and engaging and let you test their knowledge of key concepts.
Connecteam's training is mobile-friendly, so workers can complete courses from anywhere.
The knowledge base is also a great place for workers to access important training materials. You can upload images, PDFs, video, and audio clips so training can be in the medium of your choice. Workers can view standard operating procedures (SOPs), company policies, and more. This enables them to get a better grasp of the company's culture and working practices.
Centralized document management helps you stay organized and compliant
Use Connecteam's document management tool to securely stores contractor agreements and compliance documents such as 1099 tax forms. It can also store W-9, workers' licenses, certifications, and other employee records.
Keeping documents organized here helps prevent errors such as missing and duplicate records. You can also set expiry dates on documents to ensure that they're being reviewed and updated regularly.
Stay connected with your gig workers using the in-app chat, surveys, and more
Connecteam's in-app chat is a great way to stay in touch with your workforce. You can message them instantly and securely in one-to-one or group conversations.
There's also the updates feature, which you can use to share important information and announcements with your entire workforce at once.
Finally, surveys and polls can help you gather feedback from your workers—including contingent workers—and make them feel valued and involved.
Multiple plans at affordable prices
Connecteam offers all these features and more at very affordable prices. Paid plans start as low as $29 per month for up to 30 users. Small businesses with fewer than 10 users can use the app completely free forever.
Key Features
Drag-and-drop scheduling
GPS location tracking
Accurate time clock
Feature-rich task management
Powerful training and onboarding tools
Centralized and secure document management
Pros
Mobile app
User-friendly interface
Supportive customer care
Smart alerts and push notifications
Cons
More third-party integrations in development
Avature
Good for talent pool management
Avature is a talent acquisition and management solution. Companies can use its customer relationship management (CRM) tool to manage their contractor pool. Avature also links with other vendor management systems.
It has features such as email, SMS, social media, and WhatsApp to reach out to the talent pool. There's also a reporting and analytics dashboard so agencies and companies can track progress and gain insights.
Avature helps engage gig workers from the talent pool, but it lacks features such as a work chat, surveys, and more that keep them engaged at work. It also doesn't have project management tools like time tracking and scheduling.
Key Features
CRM capabilities
Applicant tracking system
Social media advertising
Reporting and analytics
Pros
Mobile-optimized
Links with other vendor management systems
Con
No work chat or surveys
No time clock or shift scheduling
Price
Contact vendor for pricing
Free plan available: No
Free trial available: No
SAP Fieldglass
Good for onboarding and offboarding
SAP Fieldglass is the final entry on our list of the best contingent workforce management solutions. Managers or HR teams can use job templates or create a new job requisition by collaborating with stakeholders through the app. Job requisitions can be sent to vendor platforms for publishing.
With SAP Fieldglass, managers can view candidate profiles by status, such as active workers or active job seekers. Interviews can be held using integration with Microsoft Outlook.
SAP Fieldglass also offers features for managing contingent workers while on assignment. This includes onboarding, timesheet management, and tracking invoices.
Lastly, managers can use the app to offboard contingent workers and give them a rating or rehire/don't rehire tag. However, SAP Fieldglass lacks a centralized document center to store and manage paperwork for gig workers.
Key Features
Job requisition templates
Candidate profile views, including availability status
Timesheet management
Invoice and payment tracking
Pros
Workers can be given a star rating at the end of the assignment
Supports third-party integrations
Cons
No in-app chat
No document center
The Bottom Line on Contingent Workforce Management
With rising labor costs and fluctuating demand, more companies are using gig workers to meet business needs. They bring flexibility and special skills to your business, but you're not obliged to offer company benefits to them—making them a cost-effective hiring solution.
Though they're not permanent employees, it's critical to manage contingent workers correctly. You need to ensure you're complying with the relevant laws, and you have to keep them engaged in their work without the use of employee perks and benefits.
Managing a contingent workforce can be tricky, but with the best practices we've outlined above, the job should be much less stressful.
To further streamline the management of your contingent workers, we recommend using a workforce management solution for your contingent workforce. The best one is Connecteam, which offers plenty of features to manage and engage your contingent workers.
Get started with Connecteam for free today!
FAQs
How do I find a contingent worker?
Contingent workers can be sourced directly by companies. You can list jobs on job boards such as LinkedIn or special freelancer platforms. Many companies also use external agencies and recruiters that specialize in contingent workers. They support you through the sourcing, hiring, and onboarding process.
How should I manage my independent contractors?
Use workforce management software to manage your independent contractors. Connecteam is the best workforce management solution. It offers features such as time tracking, scheduling, document management, training, and more. It also has a mobile app that you can use to stay connected with and engage your contingent workers from anywhere.
Want to Receive More Great Articles Straight to Your Mailbox? Subscribe Here ⤵