Business owners constantly overlook how much communication factors into their daily operations. If your workers don't have the tools to communicate with managers and peers, they're less safe and productive. Let's break down 9 key ways to improve communication in construction and the software you and your workers can use to implement them.
Table of contents
Construction is a complex and dangerous industry packed with safety hazards for your workers.
On a construction site, miscommunication comes at a high price. In the most devastating cases, it could even lead to the death of your workers.
However, there are communication methods in construction you can adopt to run your projects smoother, safer, and more productive, saving not only lives but also money. And with the right software solution, you can implement these methods with ease and minimal technological know-how.
Why Good Communication in Construction is Essential
The construction industry accounted for nearly half (47.4%) of all work-related deaths in the United States in 2020, according to the 2020 Census of Fatal Occupational Injuries.
On top of that, bad communication and data management are costing the US's construction sector over $177 billion anually, according to a new report from PlanGrid and consultancy FMI Corp. This includes:
dealing with mistakes that require costly and time-consuming rework
looking up project data and information
resolving conflicts
According to the report, over 14 hours are wasted per person every week, dealing with the tasks above instead of focussing on moving your construction project forward.
Miscommunication can happen at any point in the construction process and for many reasons, such as delays in the transfer of information, unclearly defined workflows, and the lack of easy access to instructions.
This is all made worse when you still rely on dated means of communication, such as pen and paper.
With the right tools and protocols in place, good communication is a valuable skill that can be taught, encouraged, and maintained on any job site.
Unleash the Full Potential of Your Business with Connecteam's All-in-One Management Software
Ensuring that you have effective communication for your construction company is just as crucial to getting the job done as having the right equipment.
With the right construction management software, you can:
Say goodbye to dated and inefficient communication methods in construction
Save yourself the headache of needless back and forth when trying to reach your employees
No longer have the issue of not knowing whether an update was seen
No more time wasted on looking up forms that is costing you precious time and money on the job site
Connecteam is an award-winning mobile app specifically designed to help you efficiently manage your no-desk workforce, with over 36,000 companies from 90 different industries using the software.
This all-in-one digital solution enables you to manage your construction workers' day-to-day and keep your entire workforce connected with complete ease, even while on the go.
Connecteam enables your team to stay connected through the work chat and live updates, fill out digital forms and checklists, share hazard and field reports, and access important documents, all from one app.
It also includes countless other features, such as a time clock and shift scheduling.
And the best part? Connecteam is free to use for the first 10 users!
Boost Communication in Your Construction Site With Connecteam
Keep Your Construction Workers Safe, Engaged & Productive With Communication Features That Make the Real Difference
Discover More
Now that you understand that effective communication in construction industry settings is of the essence and that the right software can be the secret formula to optimize it, let's dive deeper and look at 9 practical ways for you to boost good communication on the job site.
9 Ways to Improve Communication on Construction Sites
Establish a Clear Chain of Communication
By establishing a clear line of communication and chain of command within your company and for your projects, your workers will know who to turn to for all the information to perform their tasks safely and efficiently.
To create accountability and eliminate confusion, make it clear who is in charge of what and who answers to whom.
A clear communication chain also enables you to effectively communicate top-level information to your workers on the ground.
Connecteam tip: In the Connecteam app, you can simply set up a fully-searchable Employee Directory listing the contact information and expertise of all of your employees, as well as important outside contacts.
With this feature, your workers can quickly look up work contacts to make a phone call, send an email, or start a private chat conversation without having to save the contacts on their personal cell phones.
Encourage Open Communication
Open communication amongst your workforce is crucial for your projects to run smoothly and safely.
Instead of just communicating project information from the top down, your workers should be able to update one another to remain on target, instantly communicate any issues they encounter to their managers, and have these dealt with as soon as they arise.
Take care to create an environment where your employees feel comfortable asking their managers questions when they don't understand something.
Showing that you are open to dialogue boosts morale and trust amongst your workers and helps them feel satisfied, valued, and heard.
Connecteam tip: The Connecteam Chat feature enables you and your employees to easily communicate with selected employees through private and team chats per location, project, or department.
Workers can easily and instantly share their status and send pictures or videos of completed work straight from the construction site.
Download your FREE guide on "10 Tips for Engaging Your Frontline Teams" ⤵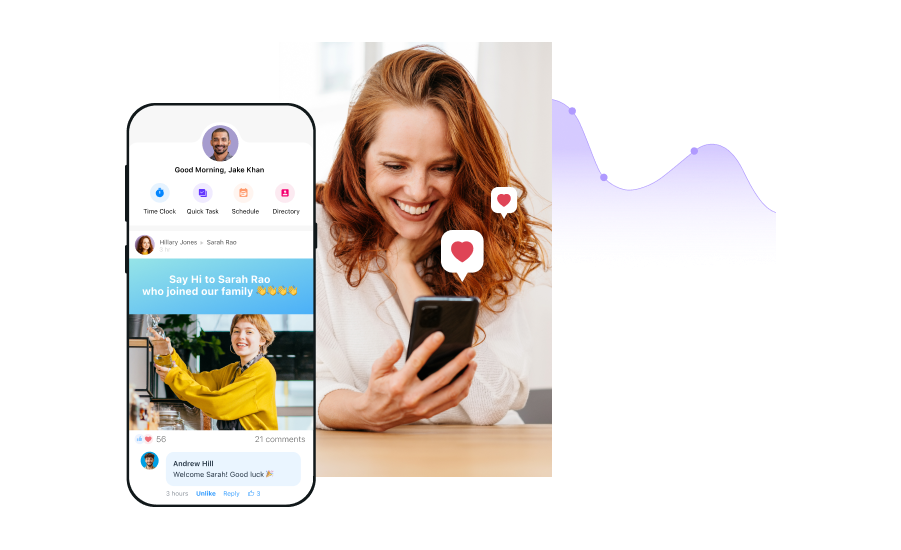 Avoid Unnecessary Jargon
Miscommunication is likely to happen when workers don't clearly understand each other. Even when speaking the same language, the use of jargon can lead to major misunderstandings. Avoid this by seriously cutting back on jargon.
This is especially important when you have many different kinds of professionals working on the same projects, which all have their own set of jargon.
If you feel that certain jargon terms are absolutely necessary and should not be left out, you should have it written down for your employees to look up if they are not certain about it. This will ensure that your employees will stay on the same page.
Connecteam tip: Create a document listing important job-specific terms and jargon and their meaning to upload to the Connecteam customizable Knowledge Base.
Hold Regular Meetings
Weekly team and pre-construction meetings make sure your workers stay on the same page regarding planned and ongoing projects, expectations, and courses of action, and help everyone clearly understand their roles and responsibilities.
Take notes of the main points discussed during your meetings and share these with your team members for them to refer back to.
Connecteam tip: Schedule all your meetings and create events with the click of a button on the Connecteam app. Easily share or upload material discussed in your meetings straight to the app.
Provide Employees with Regular Training
Want your employees to be pros at their jobs and deliver timely and quality results?
Enable your employees to continually refresh their knowledge of existing rules and procedures and stay updated with new information, such as job site safety regulations and equipment training.
By investing in training for your employees, you boost employee satisfaction and make them feel valued and more invested in their job, as it becomes a place for them to develop professionally.
Connecteam tip: Connecteam's employee training app lets you create custom digital training and courses for your employees and even upload existing training material, such as PDF files, videos, and links.
You can also track your employees' progress and create a quiz to test their knowledge and ensure that they understand the training material.
The #1 Internal Communication App for Your Construction Workers
Grant Easy Access to Important Information
Research shows that construction workers spend 35% of their time on non-efficient activities, including a weekly average of 5.5 hours looking up product data and information and 3.9 hours dealing with mistakes and rework.
For your workers to safely and efficiently deliver quality tasks, they need to always be up to date on:
The latest set of company policies
Safety and health regulations
Process instructions
Equipment manuals
Instead of having to carry around folders full of papers or going around asking where they can find a specific manual, your employees should always have easy access to all the essential information and documents that they need for their job.
Digitalize all work-critical documents and keep them in a centralized place to ensure everyone on your construction site, from workers to managers, always know how and where to find everything. This will save your workers lots of frustration and valuable time and money for your business.
Connecteam tip: With Connecteam's customizable Knowledge Base, you can create an information hub for your field teams. Simply upload and update all the needed materials straight onto the app so that your employees can find and access all the required data from their phones.
Ask for Feedback
It's time to hear back from your employees!
Regularly collecting feedback from all your workers will give you important insights regarding which aspects of your company are running smoothly and which ones could use some extra love. This will enable you to make better decisions for your company and team.
At the same time, it is vital to show your employees that you value their thoughts and that their voices are heard.
And by allowing them to share their ideas, you might just find that creative solution you were looking for.
You can collect feedback in various ways, such as one-on-one or group meetings, employee surveys, or by setting up a suggestion box or poll.
Connecteam tip: You can easily gather your employees' feedback by creating organizational surveys, live polls, and a suggestion box in the Connecteam app.
Recognize Employees for Their Efforts
Research shows that happy employees equal a productive company. When workers feel valued, and their contribution is recognized and appreciated by the company, they are 87% more likely to stay in their job.
So give your employees some well-deserved recognition and acknowledgment for their efforts and hard work. After all, they are the ones literally "putting their back into it" to get the job done. Why not give them some time to shine so that they will want to put their heart into it as well?
Celebrate birthdays, work anniversaries, and personal milestones, and give a shout-out for a job well done. Elect exceptional employees as "employee of the month" and have team members nominate co-workers for awards. Also, be sure to give a warm welcome to new employees.
Connecteam tip: Share and allow your coworkers to comment on employees' birthdays, milestones, exceptional work, and anything they deserve recognition for on the social feed on the Connecteam app.
Promote Compliance
It is essential for all of your employees to comply with set protocols and safety measures.
Consequently, checklists, forms, and reports are a big part of your teams' daily operations. Think of:
Construction safety checklists
Field reports
Hazard, incident, and accident reports
Risk assessment forms
Equipment inspection forms
PPE inspection forms
When you rely on outdated communication methods in construction, the whole process from one end to the other of filling in, processing, and reviewing important paperwork is a timely and stressful matter.
With the right software, you can boost employee compliance by automating the process of filling out forms and checklists and get responses straight from the field for the relevant officer or supervisor to go over and respond to in real-time.
Connecteam tip: Connecteam's Forms feature allows you to select available templates or create your own custom digital checklists and forms for your workers to fill out, sign, and send back straight from the field without having to wait for paperwork.
The Bottom Line on Good Communication on the Job Site
With these tips on how to improve communication on the job site, you have all the know-how to keep your employees safe, productive, and engaged at all times, from anywhere.
With smart software solutions, such as Connecteam, you can take some significant weight off your shoulders and simplify your operations—all while maximizing effective and efficient communication for your company.
To learn more about how to boost work communication in general, check out our guide on how to overcome communication problems in the workplace.
Keep Your Construction Workers Safe, Productive & Engaged
Everything you need in one place to boost communication across the board
Learn More
Want to Receive More Great Articles Straight to Your Mailbox? Subscribe Here ⤵