This blog highlights all the reasons why Google Calendar isn't the best tool for scheduling. We dig deep to show you the flaws that aren't obvious to the naked eye. And, we offer a solution to provide you with an accurate schedule in minutes!
First, let's make it clear. We're not saying that using Google Calendar for shift planning and employee scheduling is impossible — it's not.
What we're trying to say is that Google Calendar wasn't designed for building work schedules. So, you're going to face unnecessary challenges and waste valuable time when it comes to scheduling.
"One of our biggest challenges was creating an efficient schedule. It's laughable that we were using Google Calendar to create and distribute schedules.", says Kathy from BNB Clean Services, who struggled with scheduling their workforce via Google Schedule before moving to Connecteam.
If you're currently using Google Calendar for staff scheduling, you probably already know the reasons why it's far from optimal. But, if you're still considering using the solution because it's doing the job — think again! Below we go into the 7 biggest pain points of using Google Calendar.
Access
Let's start with the basics. Google Calendar is a Google product, meaning to use it you MUST HAVE a Google account and an email at gmail.com.
You may think to yourself: "Yeah, but everyone has one, right?" Well…no.
When you look at the statistics, Gmail only serves 35.6% of the market. This means that even though they are in the top ten, they are not the dominant player.
So, while you may have originally thought that a Gmail account is the obvious choice, it might be if you are sitting behind a desk! But as more of us move towards deskless, a Gmail account might not even be needed!
The main industries that involve deskless workers are:
Many of these industries don't have a company email for work, and some don't have a Gmail account at all!
See How Many Businesses Are Benefiting From Connecteam's Scheduling App!
Common Issues When Using Google Calendar
Let's take a closer look at the challenges of using Google Calendar for scheduling:
Every employee needs to create a Gmail account
The Calendar isn't always compatible with everyone's phone or email
No way to track employees' time – this means you are unsure if they are actually working and how long things take.
Too many emails and text messages to communicate around the schedule
And when you need to do it on mobile, it gets even messier.
While it appears that using Google Calendar will make life simpler is actually inefficient and time-consuming!
If you're running a business then you're always looking for processes that free up time. Well…Google Calendar for scheduling might actually be slowing you down!
Shift Planning
Shift planning using Google Calendar can feel like a strenuous workout.
However, if you do decide to continue using it or maybe you're new to Google Calendar, this checklist will guide you through the necessary steps of creating a schedule:
Set your employee up with their own account on Google Apps. This is to avoid calendar sharing and seeing content that isn't relevant to them. Once it's up and running, they can view it on both mobile and desktop.
If you don't want to pay for each employee on Google Apps, you have the option to manually create calendars. To do so, click "Add new calendar" inside your Google Calendar.
To create a shift, first choose the day and block the amount of time you would like your employee to work. You can then add a description of the work and add users by adding their emails to the participant's list. Each shift (known as an event) will only show the title on the calendar view.
Those steps sound pretty easy, right?
Although, when put into practice it can become quite complicated!
That's why more people are turning to scheduling apps that are designed for what you're looking for. Apps such as Connecteam are designed with deskless workers in mind, and scheduling is a doddle!
Shift Distribution
When you think about going digital for scheduling, you expect it to work the first time and be simple right? Think again before using Google Calendar!
Google Calendar was meant for events. So, if you need to distribute shifts, you need to first add the employees' Gmail address and it will send them an email.
Scheduling staff with Google Calendar does not provide this visibility or any control over the schedule distribution. That's why using a dedicated mobile app for scheduling shifts makes it not just faster. It's way simpler, and transparent. After all, that is the reason you are going digital!
Connecteam – No.1 Scheduling App!
Create the perfect schedule with drag and drop, repeat shifts, approve sick & vacation days, and so much more, all while on the go!
Discover more!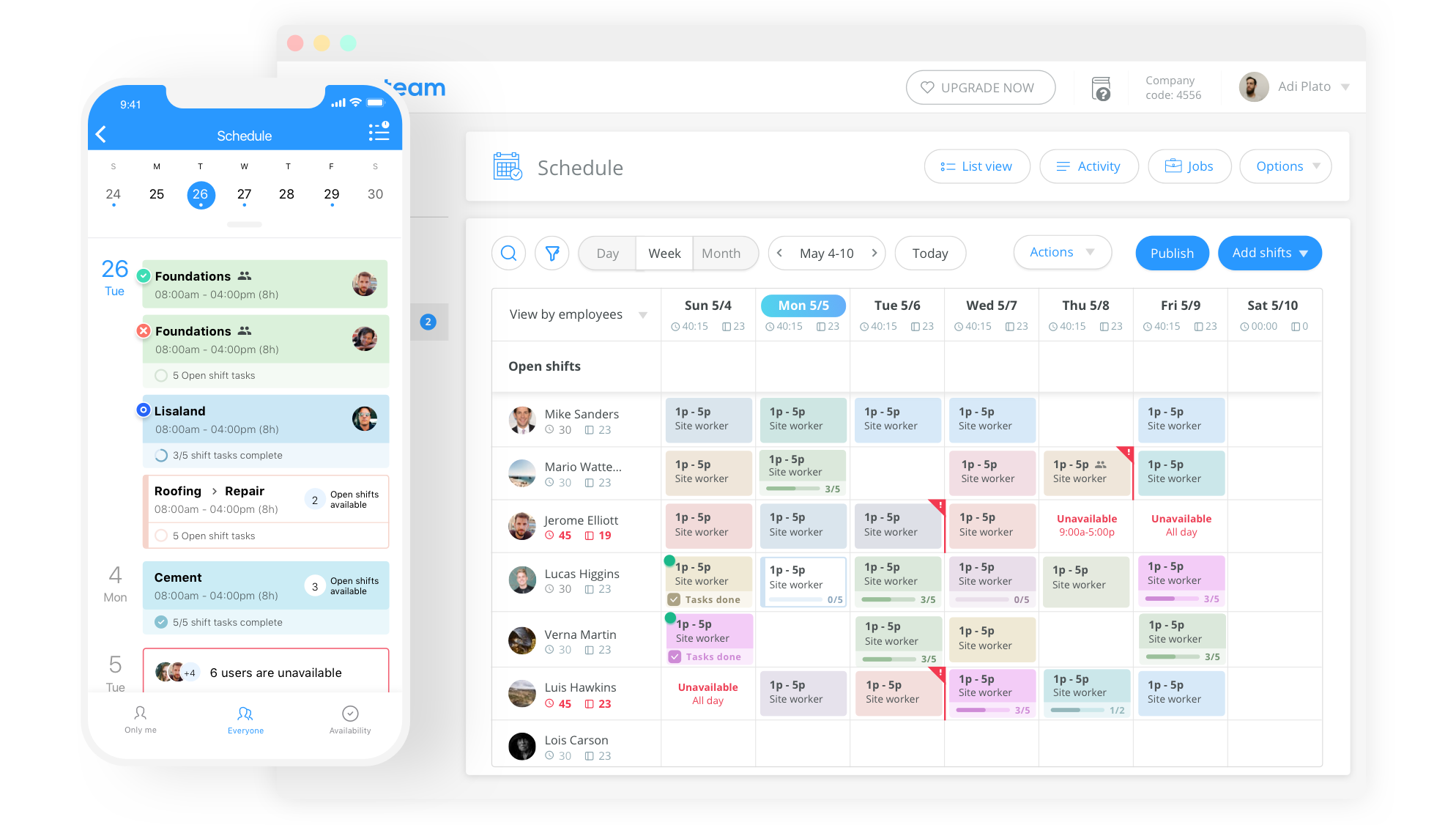 Group/Bulk Scheduling
Google Calendar comes with a built-in, side-by-side scheduling view, which allows you to display up to 5 calendars at once.
To enable this view select "Day" on the top right Google Calendar toolbar and choose up to 5 of your calendars from the calendar list.
However, If you are scheduling more than 5 people, or you are planning teams regularly — Google Calendar might not be the best solution.
Shift Notes & Shift Tasks
Once you've set up shifts, you may also want to include shift notes and tasks. However, with Google Calendar doing so it's not so straightforward!
You can add a note inside the description section which is actually meant for an event or meeting. I suppose that's better than nothing!
But, if you're looking for a tool to add shift tasks and clear notes, automation is the way forward!
Schedule-Related Communication
When you set up tasks or add a quick note, you may still want to further communicate with your employees to explain some matters about the shift or project.
If you thought that Google includes some form of communication tool within the calendar, it actually doesn't.
Therefore, you will still have to rely on old communication methods to discuss anything related to the shift. This includes emails, phone calls, or other external messengers.
Work-Life Separation
As we already know, Google Calendar access is possible only with a Google account and is synced with a Gmail mailbox. This can mean a couple of things:
If your employees never had a Gmail account before, they will need to specifically get one for work purposes. Then, to get all the latest updates about their schedule and get access to it on the go, they will need to install the app on their phone. Since it's a shared company schedule, they will then start constantly getting work-related emails and Calendar notifications on their phone, not necessarily relevant to them, even when they're on vacation or enjoying their free time.
If they already have a private Gmail account, they will need to be logged into both of those email accounts from their personal device. Plus, they will need to constantly juggle back and forth between personal and work calendars, which is not convenient. And, it might lead to errors and confusion.
All of this constant noise doesn't allow for a neat work-life balance.
Apart from that, it is important to cover the predictive shift scheduling concept, which is legally required in many states. Predictive scheduling is when the employer provides their employees with their work schedule well in advance. This in turn helps the employee better plan their time and ensure a clear balance between work, free time, and other social responsibilities.
Manual scheduling in Google Calendar just isn't sufficient for such a concept, so using an online rostering software helps ease the burden of implementing a predictive schedule policy.
If you want to go the extra mile and provide your people with even more flexibility to balance between work and life errands, you may consider switching to a flexible work schedule, but that system does not fit every company.
Bottom Line, Use A Digital Scheduling App
If you've stayed with us up to this point then it should be clearer why Google Calendar isn't the best option for building a work schedule.
Our solution? Using automated scheduling software!
Through an automated, digital scheduling app, like Connecteam, you easily eliminate all the pain points of using Google Calendar. Even though you're used to using it day in and day out, it's time to move away from your comfort zone. Connecteam eases scheduling so that you can get back to what's really important, growing your business!
As a manager, you have a thousand tasks and the last thing you want is to be sitting for hours scheduling. In a single click on Connecteam's app, managers can:
create bulk shifts, group shifts, repeat shifts, drag and drop, copy and paste previous weeks in minutes!
Save time and use pre-made week and shift templates. In addition, import schedules from Excel.
Nothing slips through the cracks as you receive auto-reminders and push notifications. If you decide to publish open shifts for employees to grab as soon as an employee chooses a slot, you are notified in real-time.
The app's smart technology prevents scheduling errors by showing unavailabilities & conflicts. For example, overlapping shifts, weekly overtime exceeded, etc.
Communicating regarding tasks has never been simpler with a built-in messenger. Speak via team or direct chat. The chat feature is available across the platform, so you can chat via the shift added.
Assign tasks to employees along with notes, pictures, videos, GIFS, and more directly on the shift.
Filter by work schedule, role, location, qualifications, etc. So that you have the right person for the shift.
Ensure they only clock into the actual relevant shift saving tons of money!
Full access from desktop and mobile, meaning you can schedule even while on the go!
We've only touched the surface of the benefits Connecteam provides managers. There is a lot of value for employees too. This includes:
Employees can share their work availability. This cuts out the back and forth communication regarding scheduling.
Employees have all information of the shift including notes, location, files, images, etc. in their back pocket.
Employees can clock in straight from the shift through the synced time clock.
Based on the scheduling features Connecteam has to offer, it's crystal clear that scheduling doesn't have to be complicated. It's the 21st century after all!
If you aren't bothered by the pain points we listed, then it's important to note that Connecteam is fully integrated with Google Calendar. So, you have nothing to lose by signing up for a free trial and seeing firsthand how much more efficient your schedule can be!
Try Connecteam free and see the difference it can make to your scheduling!
Wrapping Up Shift Scheduling With Google Calendar
When you're running or managing a business, you need everything to be scheduled correctly so you can complete tasks. So, choosing the right tool can make all the difference.
Google Calendar does seem like the obvious choice, but when we look closer we can see that it can do more harm than good! If your staff is expected to set up an email and have a work profile on their phones, it can be quite confusing.
In addition, Google doesn't offer the capabilities that real businesses require for scheduling. It's great if you sit at a desk and you want to set up a quick meeting. However, if you're relying on the tool to schedule your staff, it just doesn't work!
When you're looking for the right piece to complete your puzzle, we don't recommend choosing Google Calendar. An all-in-one scheduling app that is easy to install and set up can happen in less than 15 minutes! Once you get started, you won't be worried about Google Calendar, you'll be asking yourself how didn't we find this sooner!
Scheduling Should Be Pain-Free!
With Connecteam, scheduling is easy – sign up for a free trial to learn more.