First, let's make it clear. We're not saying that using Google Calendar for shift planning and employee scheduling is impossible — it's not. 
In fact, we were inspired to write this blog after one of our customers showed us the lengthy process they went through to create their employee schedule in Google Calendar and how messy it looks on mobile. So it's definitely possible. What we're trying to say is that Google Calendar wasn't designed for building work schedules, so if you're using this specific solution for that purpose, you're facing a lot of unnecessary challenges and wasting a lot of valuable time. 
 "One of our biggest challenges was creating an efficient schedule. It's laughable that we were using Google Calendar to create and distribute schedules.", says Kathy from BNB Clean Services, who struggled with scheduling their workforce via Google Schedule before moving to Connecteam.
If you're currently using Google Calendar for staff scheduling, you probably already know all the reasons why it's far from optimal. If you're still considering using the solution because it's doing the job — think again, because we are confident there is a much better solution for you. 
You can take our word for it, save time and click the button below to start saving time on planning and creating your job schedule with the Connecteam employee shift scheduling app – voted by hundreds of users like you on top review platforms as one of the best scheduling apps in 2021! But if you're interested in diving deeper into the challenges of using Google Calendar and an alternative solution to save time and money, then read on. This is the blog for you.
1. Access
Let's start with the basics. Google Calendar is a Google product, meaning to use it you MUST HAVE a Google account and an email at gmail.com. 
You may think to yourself: "Yeah, but everyone has one, right?" Well…no. 
It is indeed one of the most dominant online email services, but according to the latest analytics, Gmail currently serves just 26% of the global email clients market share in 2021.
So a Gmail account might be an obvious thing for managers and an office crowd, but less so for your deskless, field employees, who make up the majority of the world's workforce today. From construction, manufacturing, cleaning, security, to home care, logistics, hospitality, retail, non-profit, and the list goes on. Many of them don't have a company email for work, and some don't have a Gmail account at all.  
Our customers, who used to use Google Calendar for shift scheduling before, shared their most common issues with it:
Every employee need to create a Gmail account

The Calendar isn't always compatible with everyone's phone or email

No way to track employees' time

Too many emails and text messages to communicate around the schedule
And when you need to do it on mobile, it gets even messier.
Overall, doesn't look like an incredibly inefficient process for someone, running a growing company daily operations, and multitasking on the go, does it?
2. Shift Planning
Planning shift work with Google Calendar is also not the easiest thing to do, but if you decide to it, make sure you follow this checklist:
To begin, you need to make sure that each employee has his or her own calendar and that no calendar is shared between multiple people. This has many benefits like making it easy to hide the events of selected employees or displaying color-coded events per person.

The best way to do the above is to give each employee a personal user profile in your GoogleApps account. With that, each individual can keep their own calendar and access it on their mobile device or computer.

If you do not want to create and pay for a user on Google Apps for each employee then you can manually create calendars. To manually create a calendar, click "Add new calendar" inside your Google Calendar.

To create shifts, you need to choose a day, and block relevant time frames as separate "events", add a description, and select the relevant users by adding their emails to the "participants" list. Each "event" will only show the title on the calendar view, so you will need to 
However, even if you follow all those tips, you will still miss some very handy features that are included in an automated shift scheduling app that's dedicated to serving field teams, like the Connecteam employee scheduling app. 
Since Connecteam was tailored for field employees shift scheduling, it offers simplicity and accessibility that is hard to beat:
The ability to easily view and manage even dozens of users' schedules in a single calendar
Shift creation in a single click and simple drag & drop editor canvas
Duplicating single shifts, copy a day or a complete week schedule
Shift notes with rich media attachments
The ability to manage your employee schedule from anywhere, even on the go
3. Shift Distribution
Quick and effortless shift distribution is another key factor of effective staff scheduling. Google Calendar was meant for events, so if you need to populate the shift schedule that you created for your employees in Google Calendar, the only built-in option is just to add employees' emails to the recipient list and it will send them an email. 
Scheduling staff with Google Calendar does not provide this visibility or any control over the schedule distribution.
Using a dedicated mobile app for shift schedules allows making this process much faster, easier, and more transparent.
For example, Connecteam employee schedule distribution features include:
Quick schedule creation and the ability to make it live for all employees in a  single click

All scheduled users get notified in real-time, while the manager gets full visibility on the status of the shift — if it was accepted or rejected by users, note that the accept/reject feature is optional

Auto-reminders and notifications help managers to never miss important stuff again and rest assured that all shifts are covered, there is no overlapping or conflicts, and no shift is left without people assigned to it

Filtering options allow to filter out only the relevant employees: morning shift, only specific roles, locations, qualifications.

You can decide to publish a schedule open for shift claims or grabs or offer particular options to choose from and get notified when people accept or decline shifts 

Let your employees share their availability and/or preferred shifts and be sure they will show up to the shift
Creating an effective employee schedule with the Connecteam app takes minutes and the video below clearly shows how sleek and user-friendly it is!
4. Group/Bulk Scheduling
Google Calendar comes with a built-in, side-by-side scheduling view, which allows you to display up to 5 calendars at once. To enable this view select "Day" on the top right Google Calendar toolbar and choose up to 5 of your calendars from the calendar list. However, If you are scheduling more than 5 people, or you are planning teams regularly — Google Calendar might not be the proper solution.
With Connecteam staff scheduling software, you can benefit from the built-in editor features and build custom one-off schedules or recurring calendar templates, and schedule as many people as you wish. For example, if all or most of your shifts repeat weekly, you are also able to create weekly templates. The templates can be loaded onto an empty week and from there you can make the adjustments needed instead of having to create the week from scratch.
You can also save time and effort on employee shift scheduling by using the bulk scheduling features:
The possibility to create recurring shifts once and auto-repeat them,  build and reuse templates, or just import excel. For 

The flexibility to duplicate shifts or copy the whole previous week, drag & drop shifts on the  calendar "canvas", and more

The system auto preventing from scheduling errors by showing unavailabilities & conflicts (overlapping shifts, weekly overtime exceeded)
5. Shift Notes & Shift Tasks
Google Calendar shift scheduling is usually done by creating events for shifts, so naturally, it doesn't include things like shift tasks and shift-specific notes. What it offers is a description section, meant for the event or meeting agenda — that's the place for you to leave some notes for your team. That's better than nothing but still leaves some room for optimizing your employee shift scheduling.
For example, our customers quickly fall in love with the "Shift Notes" and "Shift Tasks" features on Connecteam's staff scheduling app.
Shift notes allow managers to enrich schedules with all the information employees may need: shift-specific notes, and various media attachments such as images, videos, maps, day, location, special instructions, and so on.
With shift-tasks you can not only distribute the schedule but also oversee the execution of tasks employees need to perform. Every time something is checked – you will know and see the progress step by step: task completed, status changed. It can even be a check-in in a required location, and a real-time picture shot during the shift. 
Shift tasks are ideal to have when a task or several tasks are related to a specific shift. Since the shift can be assigned to one or several users they can also work to complete them together. 
Main benefits of shift tasks:
They are directly associated with a specific shift

They can be assigned to multiple users that are associated with a shift

You can easily view their completion rate from the job schedule

Settings are modifiable so that you are notified upon completion

For tasks that are repeating, they can also be saved within a shift template
6. Schedule-Related Communication 
Google Calendar doesn't let you and your team communicate about a specific shift/job. As we learned before, the communication between you and your team members about the shift schedule you created will have to happen over emails, phone calls, or other external messengers. 
Connecteam's award-winning online scheduling software provides a built-in dedicated work chat, that can be opened directly from the shift schedule: choose the employees assigned to the shift, click on the list and open a one-on-one or a group chat with all the shift team members together, and the shift notes thread that any shift user can add.
7. Work-Life Separation
As we already know, Google Calendar access is possible only with a Google account and is synced with a Gmail mailbox. This can mean a couple of things:
If your employees never had a Gmail account before, they will need to specifically get one for work purposes. Then, to get all the latest updates about their schedule and get access to it on the go, they will need to install the app on their phone. Since it's a shared company schedule, they will then start constantly getting work-related emails and Calendar notifications on their phone, not necessarily relevant to them, even when they're on vacation or in their free time.

If they already had a private Gmail account, they will need to be logged into both of those emails from their personal device, and constantly juggle between personal and work calendars, which is not convenient and might lead to errors and confusion.
Apart from that, it is important to cover the predictive shift scheduling concept, which became a legal obligation in many states. Predictive scheduling is when the employer provides their employees with their work schedule well in advance, which is supposed to help people better plan their time and have a clear balance between work, free time, and other social responsibilities. 
Manual scheduling in Google Calendar just isn't going to suffice for that, so using an online rostering software helps ease the burden of implementing a predictive schedule policy. 
If you want to go the extra mile and provide your people with even more flexibility to balance between work and life errands, you can consider switching to the flexible work schedule, but that system does not fit every company.
The Bottom Line On Shift Scheduling With Google Calendar
Managing your schedule should be simple and easy, from planning to distribution and accessibility from your employees. Online shift scheduling platforms provide managers with a much easier and quicker scheduling process, while also boosting the accessibility and ease of use for the employees.  
 On the manager's side:
Easily oversee & control multiple schedules for different teams or locations

Create schedules for weeks & months to come in a matter of minutes

Assign shifts in bulk, duplicate, drag & drop, use templates — all in a click

Get feedback from employees with shift status, comments, and automatic notifications 

See in a glance when employees are unavailable, shifts are overlapping, or daily/weekly hours limits are exceeded

Manage the scheduling even on the go
On the employees' side:
A simple, mobile-friendly, and easy to use app (no training needed)

Clocking-in to a selected shift from their phone

All the schedule and shift information is in one place, including images and files, notes, maps and shift-tasks

Automated notifications and reminders when a shift is published, edited or canceled

Option to claim a shift or grab what's available
The benefits of an online shift scheduling platform are clear, both from a manager's perspective and the employee's, so it's a win-win that will move your business forward, improve internal communication and help avoid errors and delays.
Top Employee Scheduling App
Try shift scheduling with the Connecteam app, and you would never go back to using Google Calendar for employee scheduling!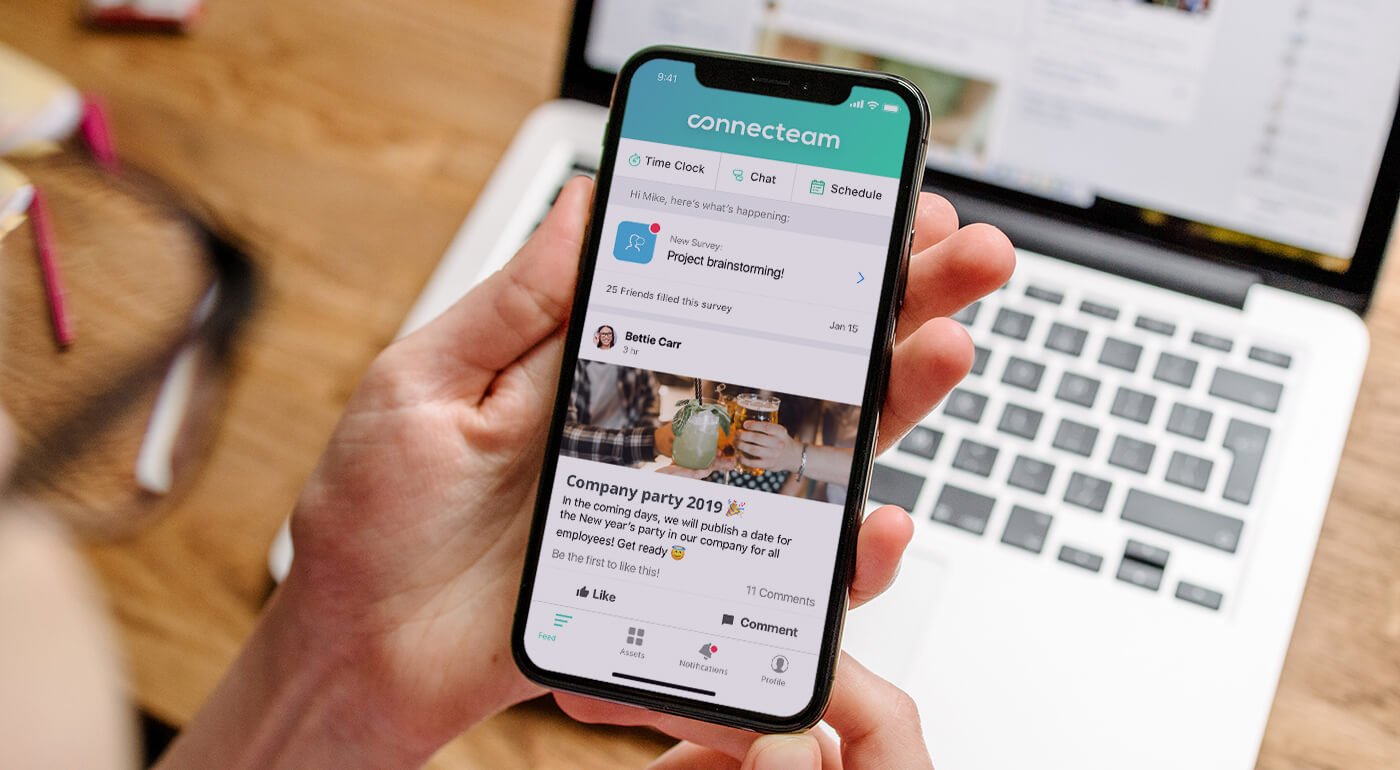 Start for free