Running a small business is tough! Here are the top 15 challenges small businesses face in 2022, and some handy action items and solutions for you! 
As rewarding as it can be, nobody ever said that running a small business was easy.
As you likely experience on an almost daily basis, the challenges businesses face are almost never-ending, and that's not going to change in 2023 amidst the continuation of a pandemic – not to mention the changing landscape of the business world.
However, that doesn't mean that you can't prepare for the small business challenges that are bound to pop up, no matter your business' industry. In fact, the best way to face all business challenges is to anticipate them and be ready!
Without further ado, here are the most common small business challenges that we've seen our customers facing time and again. Because being prepared is half the battle!
Financial Management
Managing the finances of a small business is one of the biggest challenges for anyone, no matter how skilled they are in other business areas.
That's because, for small businesses, you might be a master of your craft rather than a master of finance. Not everyone can be an expert at profit margins and cash flow, because these are learned skills. But short of hiring an accountant or financial expert, there are automation programs that can help you as a small business owner keep your books in order.
Action item:
Check out some free (or paid!) courses about business finances. The Open University has a fantastic set of free courses that you can work through at your leisure!
Setting a Vision for the Future
With small businesses, sometimes you're so busy putting out fires and trying to take care of your day-to-day tasks that you don't always have time to think about future plans. Without that long-term vision, small businesses don't always have a direction for how they perform their day-to-day tasks. The best thing you as a business owner can do in these situations is to use technology and automation to make your jobs easier in hopes of freeing up some time that can be dedicated to thinking about the future.
Action item:
'Setting a vision' might sound scary: instead start small with a business plan! Check out our business plan template, which will guide you through the most basic aspects of your business, and help you to focus on setting up your future business vision!
Monitoring Employee Performance
Any successful small business owner knows that having the right team in place is critical.
Be warned: you're not going to get this right from the start. And that's completely fine!
Of course, one of the most common business challenges is developing and measuring the right metrics for monitoring and judging employee performance. However, with the right technology that can track and monitor all employee tasks, it's easier to determine which employees are getting the most done and providing high-quality work.
Action items:
This is really a set of two small business challenges:
Training employees correctly, and setting your expectations right from the get-go-
Retaining and monitoring employees –
Creating a Diverse Team
The world is becoming more diverse, and many companies are following suit. Even small businesses need to get on board with creating a more diverse team. That can help companies see things differently and get ideas that they wouldn't without a diverse workforce. Of course, this is one of the small business challenges that can be fixed by simply making diversity a priority and improving communication within the company.
Action item:
Read our guide on successfully managing a multigenerational workforce.
Check out our tips on managing generation Z in the workplace.
Understand how diversity in the workplace goes far beyond just hiring correctly. Check out McKinsey's fascinating read on it here.
Customer Service
Needless to say, customer service is one of the challenges that businesses face all of the time. Virtually no business can survive without strong customer service skills. That means businesses of all sizes need to find a way to make this a priority regardless of all of the other challenges they might be facing.
Action item:
Learn from the pros – we're regularly told our customer service is the best around! Check out some of https://connecteam.com/customers/
Read up on how to offer excellent customer service in general.
Finding New Customers
For small businesses to survive, you need to keep growing and looking for new customers. In other words, one of the constant small business challenges is trying to acquire new business. Of course, it's not always easy to find new customers because the costs of customer acquisition tend to be high. Fortunately, there are more channels nowadays to find new customers. It's just a matter of using the right channels and being efficient with the sometimes limited budget that small businesses have to spend on marketing and advertising.
Action item:
Buffer has got this for you: check out it's 37 free social media digital marketing courses, covering absolutely everything you need to know about marketing through social media channels.
Lead Generation
Along the same lines of customer acquisition is the challenge of lead generation. This is one of the more common small business challenges because of how difficult it can be to find high-quality leads that convert.
While there are a lot of factors that contribute to lead generation and sales, one potential solution is to streamline operations and improve the company's website and social media channels. This is usually an area where small businesses need to be on top of their game so that you can stand out and build your brand.
Action items:
…then check out their free online branding courses.
Recruiting Top Talent
As mentioned, small businesses often succeed or fail based on the quality of their team. Naturally, one of the challenges businesses face is finding the right team members and recruiting the best talent. Without much name recognition or the ability to pay high salaries, small businesses often struggle to convince high-end talent to come aboard. But they can do that by showing them that the business offers a great work situation and an enjoyable environment to do their job.
Action item:
Know what makes a good employee before you start the hiring process.
Check out these 51 great questions to ask a candidate in an interview – just remember, it's an interview, not an interrogation!
Changing Regulations
Granted, not every business deals with this issue, but in certain industries, it's common for regulations to change, forcing small businesses to adjust on the fly. Adjusting and pivoting isn't always easy for a small business that's gotten accustomed to doing things a certain way. However, depending on the industry, there are technological tools that can help them stay updated on changing regulations so that the right adjustments can be made.
Action items:
Google your local small business regulations.
See how other companies ensure they automatically keep compliant via employee time tracking.
Knowing How to Use Data
With the technology available today, small businesses have more data than ever. Of course, there are significant business challenges that go along with that data because small businesses don't always know how to take full advantage of that data. Companies should have a system in place to organize and analyze all of the data they have, making it easier to figure out a way to use it.
Action item:
Start by monitoring your online presence, with Google Analytics' free courses in data analysis.
Building and Maintaining a Good Reputation
More than ever before, reputation is everything for small businesses. One of the challenges businesses face is remaining in good standing with the public and maintaining a good image. Even small mistakes can have serious consequences if a business isn't worried about its reputation. This is why every task and every interaction should be closely monitored to make sure that nothing the business does could threaten the company's image.
Action item:
Learn about relationship management with these free online courses.
Scaling Operations
There comes a time for every small business when they wonder if it makes sense to start scaling operations. Does it make sense to grow? And what needs to happen to make that possible? This is where small businesses need to get some outside help and guidance to make sure that they are ready to take such a big step.
Action item:
Check out a way to use business tools to help your business grow.
Employee Communication
This has always been one of the more critical small business challenges, but especially nowadays when more employees have to work remotely or remain socially distanced. There is also strong evidence that poor communication within companies can lead to mistakes that cost the business money.
Obviously, small businesses can't afford to throw away money like that, so they need to make sure employee communication is worry-free. With a program like Connecteam, small businesses can keep all communication with employees on one platform so that nothing gets lost in translation and there are no preventable mishaps created by poor in-company communication.
Action item:
Check out our internal communications strategy guide.
Check out your options for employee communications apps.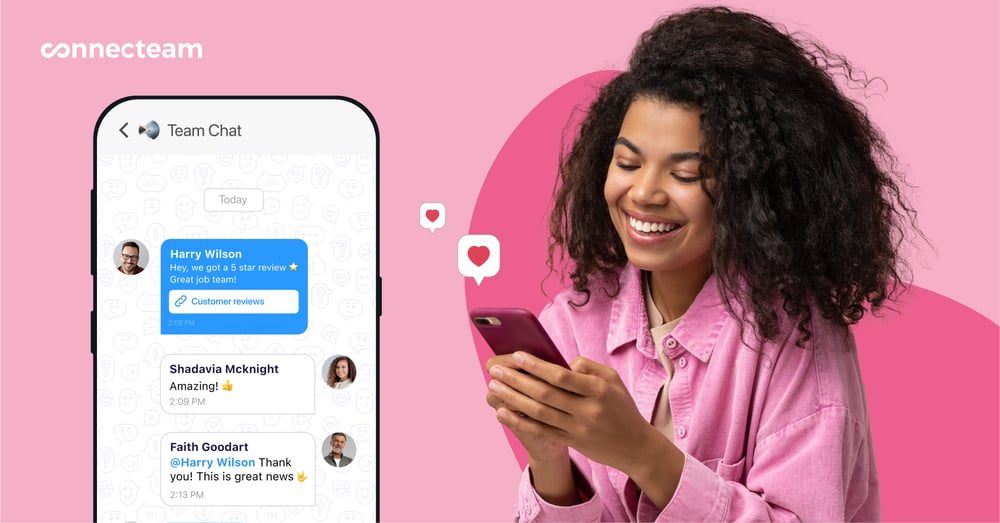 Managing Workflow
Along with communication, managing employee workflow is another part of managing a small business that's become more difficult. The good news is that technology and automation have been able to make this easier. Programs like Connecteam can help to streamline all employee operations by managing their tasks to make sure everything gets done and gets done in the right time frame.
Action item:
Check out our list of the top online checklists and workflow automation apps.
Employee Motivation
Last but not least, one of the biggest small business challenges is making sure employees are motivated to work hard in service of the business. Naturally, this starts with hiring the right people, that is, people who are looking for more than just a job. But employees also need incentives, and they need to know why the work they're doing is so important to the business. It's all about keeping employees in the loop and making them feel like they're part of a team. This will make them feel like what they do matters and keep them motivated to work hard and help the business grow.
Action items:
Check out our following guides:
Keep one eye firmly trained on your employee motivation, so that they're more likely to stick around for the long-term.
Make sure to show your employees some appreciation (here are a few appreciation day ideas to get your creativity going).
Understand that employees need incentives to work hard.
The Bottom Line: Set Your Business Up For Success
Prevention, as 'they' say, is far better than the cure: set your business up for success by hitting the ground running.
Almost all of the above small business challenges can be quickly and easily fixed (or not even happen in the first place!) by using a solid business and employee management tool, like Connecteam.
With every feature under the sun you could need to run your business, Connecteam is loved and used daily by 36,000+ companies just like yours!
Focus on your business' bigger challenges
Let's help you run your business more efficiently, so you can focus on scaling! 14-day free trial of all paid plans, no credit card required! What are you waiting for?
Want to Receive More Great Articles Straight to Your Mailbox? Subscribe Here ⤵