Employee wellness programs help employees stay healthy and productive. As a result, companies are more productive and see increased profits.
Table of contents
52% of US companies offer employee wellness programs and with good reason.
These programs not only create happier and healthier employees but can actually increase your bottom line. When your staff are physically and mentally healthy, they work harder and take fewer sick days–which has a direct effect on business growth and success.
In this article, you'll learn why employee wellbeing programs are so important and 10 program ideas for implementing a program at your own company.
What is an Employee Wellness Program?
A wellness program promotes and supports the mental and physical health, safety, and well-being of employees. These programs can vary widely in what they offer, but the overarching goal is to create a healthier, more engaged, and more productive workforce.
🧠 Did You Know?
87% of employees in the United States consider health and wellness offerings when choosing an employer.
Benefits of Employee Wellness Programs
According to the International Labour Organization, "well-being is a key factor in determining an organization's long-term effectiveness."
Why? Because employee wellness programs don't just benefit employees but they're good for business, too. Wellness programs boost employee engagement, morale, motivation, and productivity, resulting in an average six-to-one return on investment (ROI)! This comes from a combination of reduced healthcare costs, fewer absences, and harder-working employees.
Let's take a look at Johnson and Johnson as an example. The mega corporation estimates that wellness programs actually saved the company $250 million on healthcare costs between 2010 and 2020. The number of employees who have high blood pressure or who are physically inactive has also declined by more than half!
That's huge.
But why was Johnson and Johnson able to achieve this? It's because health and wellness programs have direct benefits on employee well-being, including:
Improved health: Wellness programs often focus on preventive health measures, which can lead to early detection and management of health issues.
Reduced absenteeism: Healthy, happy employees result in fewer sick days and a reduction in absenteeism by 14-19%.
Improved mental health: Many employee wellness programs address mental health and offer resources and support for issues like depression, anxiety, and stress.
Improved employee retention: Show your employees you prioritize their health and well-being and they'll be much more likely to stay with the company for longer.
Attracting talent: Wellness programs can be a selling point when recruiting new employees. It shows off a positive company culture and that your business encourages employees to lead healthy lifestyles.
Reduced workers' compensation and disability costs: Healthier employees are less likely to get injured on the job or require long-term disability.
Opportunities for team building: Group wellness activities, such as fitness challenges or group classes, can foster team bonding and improve workplace relationships.
Wellness programs for non-desk employees
It's no surprise that companies with remote or non-desk employees have higher rates of employee unhappiness. According to an 85-year-long Harvard study, it's because these employees also tend to be the loneliest.
Therefore, it's even more important to create positive and rewarding employee wellness programs if you have non-desk workers. Making employees feel a part of the team and connected to each other even if they're not physically in the same location can be exceptionally beneficial to their wellbeing–and to your bottom line.
"[Human interaction] a critical social need that should be met in all aspects of our lives," explains Harvard psychiatry professor, Robert Waldinger. "Plus, if you are more connected to people, you feel more satisfied with your job, and do better work."
💡 Pro Tip:
If you have remote or non-desk employees, mental health programs, remote fitness challenges, free access to wellness apps, and virtual fitness classes are great ideas for your wellness program.
You may also be interested in these 7 proven employee recognition ideas for happier staff.
How to Create an Employee Wellness Program
Before creating your own employee wellness program, it's important to understand everything it involves.
The best employee wellness programs have six primary pillars:
Multilevel leadership: Managers at all levels should promote, support, and participate in the program. There should be a clear understanding of the benefits of supporting employees and providing health benefits.
Alignment: The program should align with the company's identity and culture.
Scope, relevance, and quality: If the program isn't comprehensive and engaging, employees won't participate.
Accessibility: Employees should be able to access services easily and at a low or no cost.
Partnerships: Maintain positive and ongoing relationships with internal and external partners, including vendors.
Communication: Make sure to have a good internal marketing program in place to let employees know about the program.
Now, let's go over our short and sweet guide to getting your wellness program off the ground:
Determine your budget: A well-structured budget outlines how much money you have to spend on the program but also serves as a decision-making roadmap down the line. Costs to consider include: program design and implementation, partnerships with wellness vendors, wellness activities, incentives, and fitness and wellness app subscriptions.

Also, don't forget that you should anticipate returns on your investment, such as reduced healthcare costs, fewer sick days, and increased productivity.
Evaluate employee needs: Your employees' physical and emotional needs can vary based on your industry. For example, if you have a physically demanding business, like construction, you should make employee safety and injury prevention a central component of the program.

A great way to gauge what employees actually want in a program is to ask them directly. Conduct company-wide surveys to find out what benefits your team actually wants and will use. That way, you can make sure to create a wellness program that's specific to their needs.

Partner with wellness vendors: Once you've identified your employee needs and preferences, find wellness vendors to partner with to get the best deals. You may want to look for fitness apps, therapists, massage therapists, spas, and gyms that contract with companies.

Publicize the program to your staff: Make sure that all your workers are aware of the company's new wellness program. Use an employee communication app to easily reach all of your team at once, no matter where they're located.

Create written materials explaining what's included in the program and how employees can participate. Then, store the information in a digital knowledge base so staff can access it whenever they want.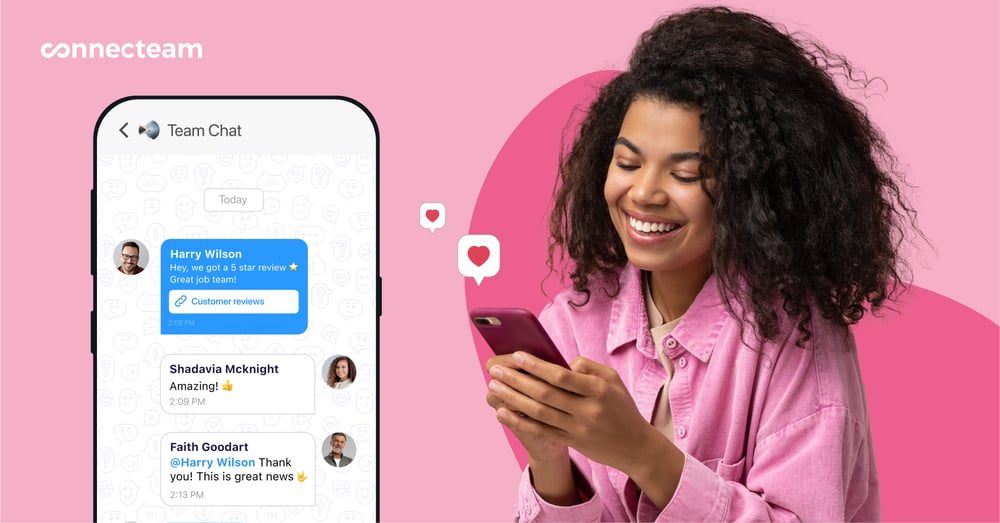 10 Employee Wellness Program Ideas
Once you know what to prioritize in your employee health and wellness program, you can decide what types of benefits to offer.
Just remember: the program should allow employees of all abilities and physical fitness levels to participate.
Keep in mind that we didn't include a good health insurance plan on our list, but this should be a central component of your program. In addition, here are some of our 10 ideas:
Gym memberships
Encourage your employees to exercise by providing them with free or discounted gym memberships. If you have employees in different locations, consider partnering with a chain with multiple gym locations.
💡 Industry Insights:
Home Grounds, a coffee company with employees all over the US, offers employees monthly credits to Classpass. Employees can redeem credits for yoga, massages, coaching, and fitness classes at partnering gyms and studios no matter where they're located.
Yoga classes
More than 50% of workers are not engaged at work due to stress. Offering yoga classes is great for the mind and body, and can be an effective way for your staff to alleviate some of this stress. You might want to offer different types of yoga at different levels to ensure there's something for everyone.
Massage therapy
Speaking of stress, there's nothing quite like a massage to calm the mind and ease painful muscles. While everyone can benefit from massage therapy, it can be particularly beneficial for employees who are on their feet all day or who do physical labor.
Wellness challenges
Wellness challenges in the workplace encourage team bonding and healthier lifestyle behaviors. Some great examples include:
Step challenge: Employees track their daily steps using pedometers or fitness trackers. The goal can be to reach a certain number of steps daily or compete to see who gets the most steps in a month.
Other types of fitness challenges: Every week, challenge your team to do a certain number of exercises daily. For example, one week you could focus on squats, and the next week you could focus on lunges.
Hydration challenge: Encourage employees to drink a certain amount of water daily.
Alcohol-free month: Challenge employees to go a month without alcohol, supporting each other in the process.
Gratitude journaling: Encourage employees to write down three things they're grateful for every day for a month.
Promote healthy eating
You can encourage your staff to eat healthy food and make better eating choices in a number of ways:
Offer nutrition counseling services
Create a platform to exchange healthy recipes, like an employee chat app
Cater a healthy lunch once a week
Have a fruit and veggie challenge where you challenge employees to eat a certain number of fruits and vegetables each day or week.
Celebrate World Health Day (April 7) or World Nutrition Day (May 28) by organizing related activities.
Offer health coaching
Paid time off (PTO)
All employees deserve time off, and offering PTO is a great way to let them know you value their work-life balance. PTO allows employees to take a break from their professional responsibilities and recharge so they can attend to personal matters, rest, or go on vacation without the financial stress of unpaid leave.
This time away from work can lead to reduced burnout, decreased stress levels, and a refreshed mindset upon return.
Mental health services
Mental health services like individual therapy, couples counseling, stress management workshops, and rehab can be costly and difficult to find. Offering these services at a discounted rate not only makes them cheaper, but it takes the hassle out of workers needing to find these services themselves.
By providing such support, businesses not only foster a healthier and more productive environment but also demonstrate empathy and understanding.
Smoking prevention programs
Most people who smoke already want to quit, so why not offer the help they need?
Helping employees quit smoking is a win for everyone: fewer smoke breaks means improved productivity, reduced health insurance costs, and fewer absences due to smoking-related illnesses.
And to go back to our Johnson and Johnson example: since 1995, employee smoking has been reduced by more than two-thirds as a result of the corporation's health and wellness program.
Financial aid
Consider creating a fund for employees who need a bit of extra financial support. Whether it's for housing, food, continuing education, or childcare, offering financial support creates a strong and personal connection between employers and employees.
Outdoor adventures
Treat your employees to a day outdoors. This is a great way to get everyone physically moving, promote team bonding, and encourage mindfulness through connection with nature.
Some ideas include:
Hiking (make sure it's suitable for all fitness levels)
Apple picking
Farm visit
Gardening or tree planting
Go to a local lake
Employee Wellbeing Programs: Good for Employees and Your Bottom Line
Investing in employee wellness programs is not just a matter of promoting health but also a strategic move for business growth. Healthy employees are more productive, take fewer sick days, and contribute positively to the workplace environment.
Company wellness initiatives can lead to reduced healthcare costs and increased employee retention, too. Embracing employee wellness is not just good for your team; it's a smart business decision that directly impacts the company's bottom line.
Want more great articles straight to your inbox? Subscribe Here ⤵