Time is money. And don't we know it. Mistakes can cost you, big time. What you need is a solution that helps reduce errors and automate your work. So what's the answer? Workforce management software!
What is Workforce Management Software (WFMS)?
Workforce management software deals with job scheduling and tracking your workforce. The end game with using a workforce management software is to assign your workers in the most effective and efficient way. And when you have shift workers or deskless employees, that might sound easier said than done. However, that's the beauty of installing workforce management software, it makes all of the above a reality.
Why do you need a workforce management software?
Digitize and streamline processes.
Making your manual processes automated reduces time spent on manually inputting data, eliminates the need for duplicate work, and makes it easier to efficiently communicate information to relevant departments, like your payroll and HR departments. All of which can help you lower on costs: administrative, labor and operational.
Cost reduction.
Sticking with the theme of lowering costs, by switching to an automated system, you can significantly lower your chances of human error. Incorrect classification, payments regarding unnecessary overtime or leave, or time off that isn't accumulated, adds up and drastically affects the bottom line.
Boost morale.
When employees are managed and paid correctly and on time, you in turn boost morale, which only leads to better productivity, commitment, and loyalty. When employees are managed incorrectly and they see mistakes on their paychecks, it will only damage morale, increase the turnover rate and also damages you and your company's reputation.
Boost compliance.
A workforce management software helps increase compliance because all your work statements, employment contracts, and other documents are located in one central place so they're easier to keep track of. In addition, you have increased visibility into any compliance risks and liabilities that could harm your business.
Efficient job scheduling.
Through increased visibility and better data, managers can improve their job scheduling quickly. Workforce management software provides timely access to budget and productivity requirements. Plus, it provides a clear overview of employee availability, skills, training, and certifications so that you know you're scheduling the right employee for the job at hand. Additionally, workforce management software helps you avoid over scheduling or understaffing.
Key factors to consider when choosing a workforce management software because you know your staff better than anyone, so ask yourself these important questions before choosing a solution:
Consider implementation time: are your employees mobile or in front of a desk?

Are your employees tech-savvy? Look for the easy-to-use solution.

How much time and effort are you willing to put into the setup of such a system?

What is your budget?

Does this solution allow you to scale and add more to it when and if needed?
Once you've answered the above questions, you can then focus on what features the workforce management software should include. Such as the following:
Time and attendance tracking

Job scheduling

Time-off requests

Optimization for staffing
Based on all the criteria we outlined above, we rolled up our sleeves to bring you the 10 best workforce management software solutions for your business. We even added some helpful tips to highlight each solution (from the ease of use to pricing). Check it out!
Top 10 Workforce Management Software Solutions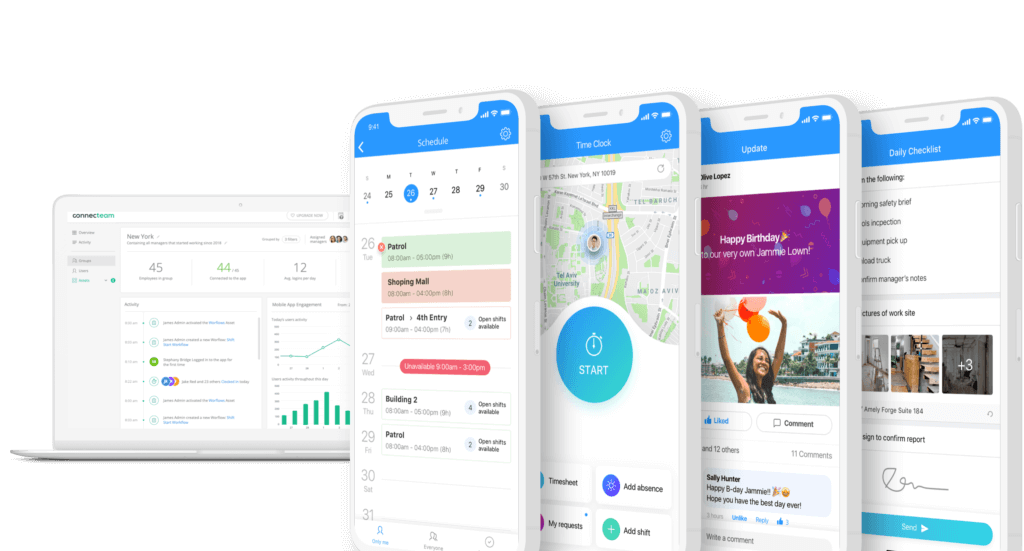 Connecteam doesn't believe a workforce management software solution should be complicated, hard to implement, difficult to use, or expensive. Instead, Connecteam offers the best all-in-one employee management app in the market so you can easily manage all your employees from one place.
Operational features include an employee time clock to track work hours, checklists and forms to take workflows and procedures digital, and employee scheduling.
Internal communication features such as private or group chat, an employee directory, updates through channels, surveys, a suggestion box and more.
Training features like creating professional courses for a smooth training process, add policies with a read & sign option, create a searchable library, build quizzes and more.
Connecteam has all the features you need to run your business, that's why it's trusted by over 8,000 companies worldwide. Sign up for your free trial now to see just what it can do for you!
Ease of use: 5/5
Best for: Deskless employees, small and medium businesses, Enterprise
Budget: Get started for just $39/month for up to 50 users. If you need more than 200 users, there's an Enterprise plan available. Or you can get started with the free plan!
Connecteam is a perfect Workforce Management Software
Connecteam doesn't believe a workforce management software solution should be complicated, hard to implement, difficult to use, or expensive. We have the best all-in-one employee management app in the market so you can easily manage all your employees from one place.
Start for free
BambooHR allows you to create custom workflows so you can eliminate bottlenecks. How so? It's easier to approve requests, get e-signatures, employees can edit their personal info and you can onboard new hires easily. Plus, you can track job benefits, bonuses, raises, and other job-related information directly on BambooHR.
Note that integration can be limited and this isn't an all-in-one solution.
Ease of use: 3/5
Best for: Small and large businesses with less than 100 employees
Budget: Starts at $4.00/month/user.
With NICE IEX Workforce Management, you can create and track schedules, breaks, shift switches and can make instant schedule changes. Through the monitor, you can quickly adapt schedules to fit demands, offer time off, and make employees aware of extra overtime when available.
If you need a platform to help your call center to forecast, plan better and schedule more effectively, NICE IEX is the answer for you.
Ease of use: 4/5
Best for: Call center
Budget: Request a demo to learn more about their pricing options.
Branch Messenger calls itself "an enterprise-wide self-service scheduling tool for hourly employees." As a result, it is used by owners at the enterprise level in categories such as retail, restaurant, hospitality, banking, and airlines.
It features a mobile app for iOS and Android which allows employees to view their schedules, swap shifts, request time off and set their availability. Additionally, managers and admins can track and manage employee scheduling in real-time from either their smartphone or web dashboards.
Ease of use: 5/5
Best for: Hourly employees
Budget: Fill out a demo request to contact a sales representative to learn more about pricing options.
If you're in law enforcement, public safety or other complex organizations then look no further than InTime Solutions for all your scheduling, timekeeping and workforce management software needs. Easily track hours and sick time, get alerted if someone is abusing their hours, track overtime, allow for shift changes and so much more.
Tailor the look and feel for your company as employees are more likely to use the app if they feel it was built for them.
Ease of use: 4/5
Best for: Law enforcement, public, and private security, such as police, security companies, dispatch, airports, etc.
Budget: Talk with a customer service representative to learn more about pricing.
From the second an employee clocks in, you are able to track virtually everything. On their website, they highlight their strategic workforce planning by saying, "Create demand and internal supply forecasts, identify and analyze risks, develop strategies, and model projected impact and costs." You might need more training to understand how to use the product but the customer service department is bar none.
Ease of use: 3.5/5
Best for: Small to large businesses
Budget: Contact a customer service representative to learn more about their pricing options.
Through Oracle's workforce management cloud, you are able to control labor costs, reduce manual work, and simplify compliance. With numerous features, including social capabilities, you can focus on time and labor such as track hours, manage shifts, absences, payroll, and more. As this is an Oracle product, the customer service team is amazing to work with.
Ease of use: 3/5
Best for: Midsize and Enterprise
Budget: $13.00/employee/month and for an additional $3.00/employee/month, you have access to all of its features.
Retain Resource Planning makes it easier to handle budgeting and forecasting, labor projection, scheduling, time tracking, skills tracking, and employee lifecycle management. View the data in a traditional wallchart, so it's easy to move or duplicate schedules, and through colors and shapes, you can see all the finer details more clearly. Build reports that are tailored to what you need so you can focus on what you need to.
Ease of use: 4/5
Best for: industries like legal, IT, and professional services
Budget: Contact a customer service representative to learn more about pricing.
Bitrix24 allows for collaborative task management for any sized team so you can work on time tracking, reporting, and more. Via the task time management, you can allow for start and end dates, automatic task time tracking, manual time entry, calendar task display, and a task planner. As an admin, you can send reminders, add ratings, task reports and more.
It allows for integration with many products, such as Slack, Mailchimp, Skype, and more. Or you can create your own apps with its REST API.
Ease of use: 3.5/5
Best for: Small and large businesses
Budget: Free for 12 users if you're just starting out, otherwise pricing starts at $69/month for all users.
You can easily view and manage your team's timesheets, run custom reports or even export data for detailed analysis, receive custom, either daily or weekly, notifications for your team performance, and you can track employee statistics for performance reviews and productivity improvement. Plus, you can download timesheets to an XLS file for payroll or additional analysis.
Jibble also offers time tracking through the web, mobile, or the smart bot available in Slack and Microsoft Teams.
Ease of use: 5/5
Best for: Teams
Budget: Jibble has a 14-day free trial you can sign up for. Otherwise, contact a representative to learn more about pricing.
Make the best choice for your business
From the list above, it's that much easier to find the workforce management software solution that's right for your employees and your business. When you understand what needs to focus on, what features will be most beneficial, and more, it becomes easier to make the best choice. After all, time is money so why waste another minute without the perfect workforce management software solution.
Choose Connecteam's workforce management software
Connecteam's workforce management software solution is easy to use, easy to implement and affordable. Manage all your employees from one place!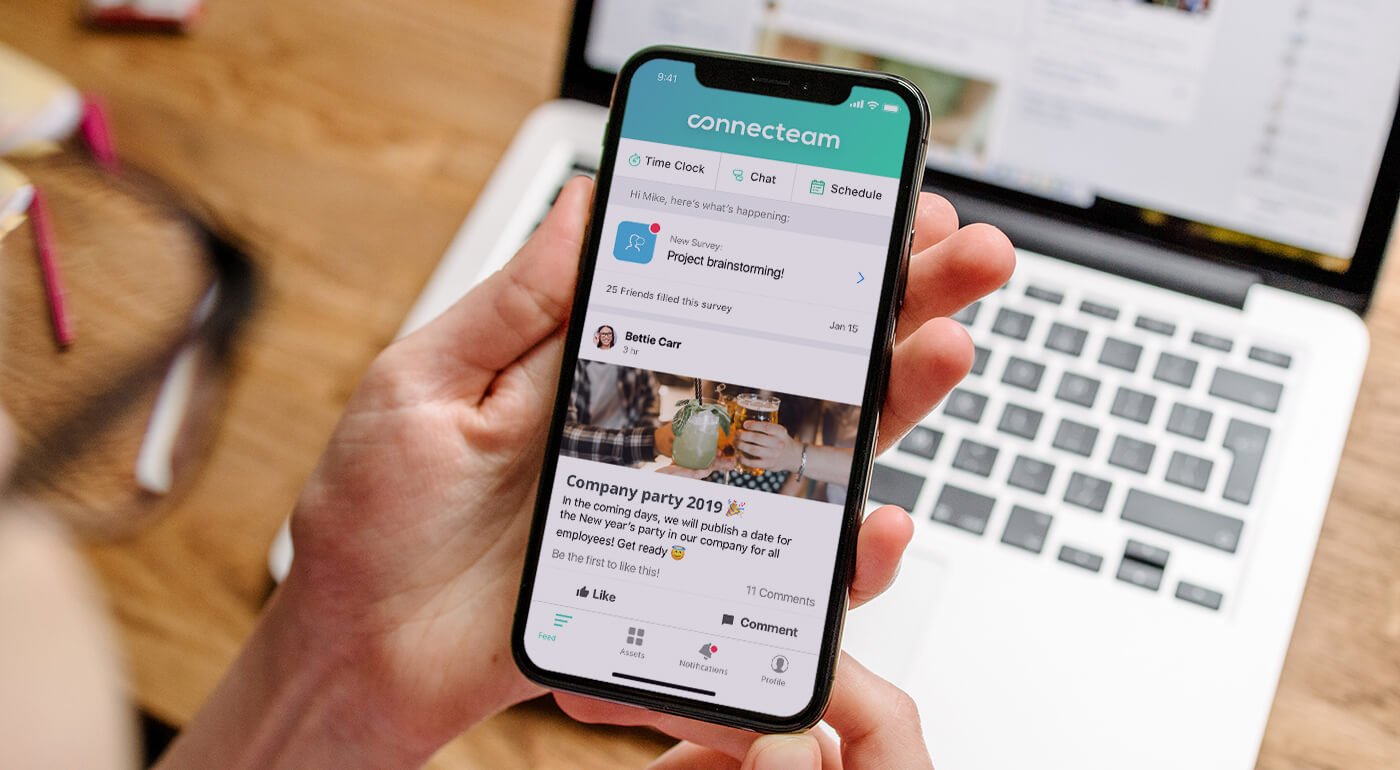 Start for free