If you want to tackle your employee turnover rate, make it easy for workers to stay. These 24 effective retention strategies will help you retain your top talent.
If you want to tackle your employee turnover rate, make it easy for workers to stay. These 24 effective retention
When workers leave your organization, it's not just the loss of a team member. It can be expensive to replace them and can hurt the morale of your employees. A high turnover can also impact productivity as you work to replace an extra set of hands.
So let's take a look at some field-tested employee retention strategies. These ideas address the most common reasons workers leave. They help you create a work environment where people want to stay.
24 Employee Retention Ideas to Keep Your Top Talent Around for the Long Run
If you want to help your staff stay, try these creative ways to retain employees. Mix and match ideas or work your way down the list, trying each idea. We do recommend starting with the first two suggestions, as you can use the data from these to shape the rest of your strategy.
Send out surveys
If you're not sure where to start, begin with metrics. Find out what is making your workers consider leaving. You can use a platform like Connecteam to send out anonymous employee retention surveys. Ask what workers are struggling with in the workplace and what would make them stay.
Surveys are only the first step. Once you've gotten feedback, create an action list. If you're hearing that workers are frustrated by one part of your organization, work on changing that. If employees are overworked—for example—you may need to hire more staff or even temps to give your team a break.
Follow up to make sure the change happens. You might want to make surveys a regular part of your operations, as they can help you address problems before they cause someone to quit. They also let you evaluate any initiatives you launch to encourage workers to stay.
Conduct exit interviews
An often-overlooked employee retention strategy is to ask each departing employee why they're leaving. Once they've made up their mind, they may not have much to lose. They may be willing to be honest with you about the problems they've faced.
Chances are, others may have some of the same challenges. Fixing the problems you hear about can keep other workers from leaving.
Ask workers who are leaving to explain their decisions. You may find that employees are leaving to pursue better opportunities. They may be leaving because work no longer fits their current circumstances. Either way, you can get a sense of what you may need to change.
Update your onboarding process
Set your workers up for success from their first day. A strong onboarding and training process helps make your team members feel part of the organization right away. It also gives them the information they need to jump into work.
When creating an onboarding process, here are some things you may want to focus on.
Training. Use video training to help workers understand their jobs. You can also use them to explain the expectations of your company and even what your workplace culture is like. Make sure the training is in a logical order so that new hires get the information they need most first.
Partnership. Partner your new hires with an established worker. A "buddy system" means new employees have someone to talk to at work and someone to turn to when they have questions. They may also feel more included if they're paired with a welcoming team member.
Inclusion. Remember the cultural element of onboarding. Explain company traditions or any inside jokes. Include a new team member in projects and casual conversation.
Providing lots of information. A welcome packet or a series of resources can help prevent information overload. New workers can refer to this to look up information as they need it. Use an onboarding checklist to make sure you cover everything—from payroll to benefits to scheduling—with a new hire.
Pay attention to the entire employee lifecycle
New workers may get a lot of attention because they need extra support. Employees who are leaving may also get a lot of focus. Make sure you're paying attention to workers at every stage of their employee lifecycle.
After the onboarding process, continue to check in with your employee to build your relationship with them. Offer challenging new projects and listen to their ideas. You want your workers to feel as important to your organization as they did during your warm onboarding process.
Make sure your compensation is competitive
Life is expensive. Workers have financial goals, too. They may want to buy a house or start a family. And unfortunately, leaving their job is a way to gain more money.
A study by the Pew Research Center found that workers who changed jobs between April 2021 and March 2022 saw their salary increase 9.7% year over year, even when accounting for inflation. The same study found that workers who stayed at their jobs saw their real wages drop 1.7% due to inflation.
Your employees may take a financial hit when they stay at your organization. This can make an employee feel unhappy. Worse, competitors may be luring away top talent from companies by promising higher wages and even signing bonuses.
Make sure your compensation meets the living wage of your location. Check the competition and verify that your pay is competitive. Don't forget about benefits either. Quality health care, a generous retirement contribution program, and a strong employee benefits package are also important for retaining talented workers.
Set up mentorship programs
Mentorship programs pair workers with more experienced managers, professionals, or leaders. The more experienced mentor can help a worker make connections, grow their skills, and advance in their career.
A mentorship program gives workers something arguably more important than money. It gives them time and attention from someone who can help them. Mentorship can support your workers' growth at your organization. It also shows you're willing to invest the valuable time of a more experienced team member.
Create perks
In Silicon Valley, tech giants are known for offering amazing perks to employees. These include free catered gourmet meals, yoga classes, work "play" rooms and video arcades, concert tickets, and more.
You don't have to offer furniture allowances or rides on private jets. Perks can include permission to dress casually on certain days, access to a great parking space, or an extra hour of paid time off. You could even offer free lunches or snacks.
Sabbaticals that allow workers to pursue passion projects can also be a great perk. The goal is to offer something that makes staying at your company attractive.
Talk often
Communication is important in every relationship, and that includes work relationships. You can use online chat groups for regular communication. Platforms like Connecteam chat allow you to set up chat groups to talk about work and connect.
You could try something like setting up "lunch and learns" to develop your skills together. Lunch and learn are casual, voluntary learning sessions. They're usually about an hour long and can include sharing snacks or a meal together too.
And don't forget regular problem-solving sessions or just casual chats about non-work topics. We're all social. When workers feel like part of a team, they may be more likely to stay.
There's another reason to connect with workers, especially one on one. You want to get to know your employees and what their life and work goals are. This can help you to shape roles to the needs of your staff members. For example, if many workers are starting families, your workplace may be more attractive if you offer daycare or maternity leave.
If a worker's life is changing, they may be willing to stay if you offer more flexible work arrangements. Knowing what is happening with each employee lets you adapt work—where you can—so that your employees can continue to grow and stay at your company.
Increase Productivity, Retention and Performance with the #1 All-In-One Employee App
Drive employee engagement through surveys, live polls, a suggestion box, work chat, targeted announcements, real-time insights, and collaboration with Connecteam.
Don't overlook your "deskless" and remote workers
If you have employees who work remotely or away from the main office location, make sure they feel connected to the wider team and seen. Include them in social activities in chats and invite them into the office, if possible. If not, make sure to set aside time to meet as a team outside of your main work location.
All-hands company meetings and events can be one way to get everyone together—including remote teams. If you're holding hybrid meetings—with in-person and remote attendees—make sure all icebreakers and events are equally accessible. You don't want remote workers to watch in-person participants get served a meal or play games while they're excluded.
Make your employees feel appreciated
79% of employees leave because they feel unappreciated. If you want to retain employees, show them that you notice their efforts.
There are many ways to encourage employee engagement through recognition.
Offer rewards for work well done
Create a formal employee recognition program to make sure appreciation happens regularly
Be quick to offer verbal praise and thanks as soon as you notice a job well done
Create an "employee of the month" system
Encourage workers to share the great things their coworkers have done over chat
Send thank-you notes to workers when they go above and beyond
Share positive feedback from clients and customers with your teams
When showing appreciation, remember to make it timely, specific, and genuine. As soon as possible after you notice an employee doing something well, speak up. Mention exactly what you appreciated and be authentic in expressing your feelings. This can take some practice, but after a few tries it will feel natural.
When offering employee recognition, get into the habit of rewarding efforts instead of just results. There may be some members of your team who always get the highest customer ratings, close more sales, or are otherwise known as "superstars."
But workers who are making improvements also need encouragement. In fact, they may need it more. If you see someone making an effort or getting better at a skill or work task, speak up.
Download your FREE guide on "6 Pillars for Improving Frontline Employee Retention" ⤵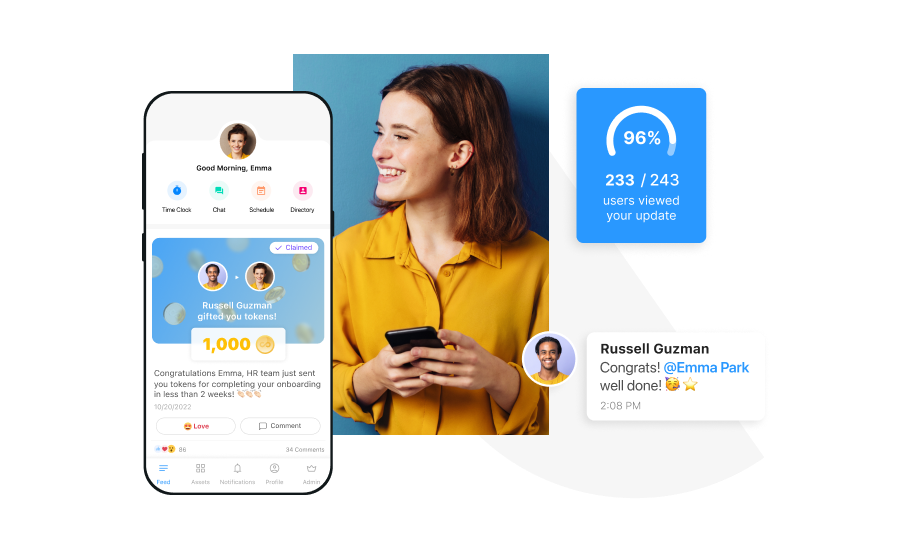 Stay flexible
If you can, offer flexibility at work. In one study published in the Harvard Business Review, 59% of the workers polled said that they prized flexibility above salary and benefits.
This can mean offering open shifts that anyone can claim, or being flexible in allowing workers to swap shifts. At some workplaces, flexibility means hybrid or remote work arrangements. It can mean setting deadlines and goals and allowing workers to complete tasks on their own time—as long as the work gets done.
How flexible you can be will depend on your industry and the work that needs to be completed. Not everyone can do remote work. Make an effort to offer as much wiggle room as you can.
Let workers live their lives
A healthy work-life balance can make employees happier. It can also prevent burnout. Of course, work needs to get done. But make sure work is evenly distributed among workers and that there are enough employees to tackle the workload.
Offer breaks from work. When workers have time to recharge, they can be more productive. They can take care of their health and personal lives. A good balance between work life and personal life can keep your employees productive and enthusiastic.
Consider if you can have staff working from home to allow people to save time and money on commuting or workers with small children to strike a balance between their work and family life. Ensure you set expectations for hours where everybody must be available and what mission-critical work must get done during regular working hours.
Socialize together
Humans are social creatures. Research shows that we need cooperation to thrive. Collaborating on work projects may not always meet this emotional need. Getting to know coworkers socially can.
Spending time at social events lets your teams get to know each other as people. It builds trust and creates bonds.
You can socialize together during casual time—such as during breaks or after-work meals. Holding workplace celebrations or throwing office parties can also create opportunities for socializing. Even casual chatter before online meetings lets teams find common ground. If your workers aren't naturally socializing, find ways to add casual time together to your work days.
Train your managers and leaders
There's a saying in business that "workers don't leave companies, they leave bad bosses." Anyone who is a supervisor or manager at your business has a big influence on your workers' daily lives. Even leaders who work directly with employees can have an impact on workers' desire to stay at your organization—or not.
The problem is often because of a power imbalance. If a manager is exerting too much control or is too critical, a worker may not always feel like they can speak up. It may be easier for the employee to leave than it is to address a problem with a manager.
Managers, supervisors, and others should develop their interpersonal and emotional skills. They need to be able to support workers and make them feel they can do their best.
You could provide training for more senior staff members on how to develop positive relationships with their teams. You could also offer mentorship or coaching to these senior employees.
Invest in your employees
When workers see that you're willing to invest in their development, they know they're appreciated. They may feel more optimistic about their chances of promotion and advancement.
Investing doesn't have to involve a lot of money, either. You can invest in your workers in a few ways.
Company retreats
Professional development opportunities and classes
Scholarships
Personal development opportunities and resources
Wellness programs
Create a DEI strategy
A diversity, equity, and inclusion (DEI) strategy is an action plan to make your workplace more welcoming and representative of the broader community. This can mean making sure your place of work is inclusive in hiring employees of different races, gender identities, and disabilities. It's important to make sure you're bringing as many different voices to the table as possible.
When you create a more welcoming and inclusive workplace, you're less likely to drive away prospective employees. When you show that you are inclusive and diverse, you encourage people from different backgrounds to see themselves at your company long-term.
Create a compelling "why"
Workers are hungry for a purpose. During the "Great Resignation" of 2020-2021, many workers left their jobs. Research firm Gartner conducted a survey and found that 52% of workers felt the pandemic changed their perspective on the purpose of their job.
Another 56% of workers wanted to make a greater contribution. The message was clear: workers didn't want to just punch a clock, they wanted meaning.
You can encourage workers to stay by crafting a compelling company purpose. Create a vision that goes beyond what your company does to explore why you do what you do. Make sure each worker understands how their efforts contribute to a greater purpose.
For example, if your company offers at-home nursing services, you may want to share client stories about how your services help them to live a better life. Or you could speak to family members about what your service means to them. This lets your workers see their efforts as contributing to real lives and communities.
Celebrate milestones together
If it's the one-year anniversary of a worker's time at your company, that's something to recognize. If it's the 20th year your organization has been in business, that's a big achievement to commemorate. You can also celebrate the personal milestones of your employees— such as if someone on your team gets married, has a baby, or graduates.
Get into the practice of celebrating together—no matter whether it's large or small, personal or professional. Ask workers to share milestones they want to celebrate with the company. You can then share important dates internally so that employees get a chance to congratulate their coworkers.
Add some fun to the workplace
Even serious work can leave some room for fun. Team building games, sharing memes, or just having a laugh together makes work more pleasant. Employees are more likely to stay with your organization if you build a warm culture where fun is allowed.
It's easy to think the fun will naturally show up at your workplace. But unless you have someone who is naturally good at breaking the ice, this won't always be the case. You may need to create a silly challenge—such as asking people to show up in costumes—to bring out people's lighthearted sides.
Help employees navigate change
Whether it's company mergers, evolving products and services, or a shift in the economy, change is guaranteed to happen in business. When big changes occur, teams may change and some workers may leave or be terminated. Even employees who stay may feel unsure about their future at your company.
Since you know change is likely to happen, plan for it. Decide now how you will communicate changes that will affect your employees and what you can do to support them through it. Being transparent and working with your teams to adjust is important. It lets workers see a future for themselves at your organization—even if the organization starts to look different.
Make it easy to do work
One of the more innovative employee retention strategies has to do with friction. For online e-commerce businesses, reducing friction—or any obstacles that keep a customer from buying—is a crucial goal of theirs. You can use the same idea of reducing friction to encourage workers to stay at your company.
Consider how your employees do their work. Do they have everything they need? Look for ways to remove friction to make work easier and less frustrating. For example, consider bringing in tech that can make job tasks easier.
Ensure workers have a knowledge base with all the forms, documents, and how-to instructions they need. Find out what slows down work and remove as many of those obstacles as you can.
Be clear about expectations
It's frustrating for workers when they don't know what is expected of them. For example, a worker may be told they didn't fill out a form correctly on the job, but no one told the employee the right way to do it. This can make an employee feel like they're not being set up for success.
When you are clear about what is expected, it's easier for workers to deliver. In turn, they get positive feedback which can help them to feel motivated. This can make employees feel like they're on the right track—which might make them more willing to stay and keep making progress.
Create a learning culture through feedback
About 65% of workers report wanting more feedback. Feedback lets employees know what they need to change. It helps them grow and learn.
The challenge with feedback is that it can be difficult to process. Research by the firm Reflektive found that 85% of workers would consider leaving their job after one unfair performance review.
In many cases, feedback in the form of performance evaluations is top-down. Workers are given suggestions and maybe a plan to implement the requests. This can feel unfair if there's a reason employees haven't been able to do their job better. It can feel especially unjust if employees see poor behavior among managers or leadership.
The best way to handle feedback is to do it together. Consider 360 reviews, which gather information from multiple sources. Encourage workers to give reviews of each other and management and leadership.
It's also important to Embrace a company culture of learning. This can allow leaders and managers to work on their own development and performance alongside their employees. Managers and leaders can discuss their challenges and work on improvement. This type of culture ensures that progression and improvement are seen as something for everyone, not just for less senior staff.
Make it easy for workers to grow with you
American psychologist Abraham Maslow created a hierarchy of needs. This hierarchy describes the emotional needs that humans must meet to feel fulfilled. Right at the very top of this hierarchy of needs is growth.
Employees don't just see tasks when they're at work. They'll often have career progression in mind and it's unlikely they will want to stay in their current role or position forever. Workers want new challenges and the ability to grow. If they don't see a path for progression at your company, they may move to another organization.
Look at your company roles and positions. Is there a clear path from one position to the next? Define where people may hit a career ceiling and identify areas where there are no longer any new opportunities or challenges. This may be when workers seek new opportunities elsewhere.
To hold onto new talent, you need to find ways to help workers advance in your organization. This may mean creating new roles. It can also mean giving employees the chance to shape or define their own roles. Doing so might mean an employee takes on new challenges or allows them to innovate.
By giving workers the opportunity for progression within your company, you're not just encouraging them to stay. You're also growing your own company. You never know when an ambitious worker will suggest a new idea that could mean innovation and growth for your company as a whole.
Reduce Employee Turnover With a Strong Retention Strategy
If you want to tackle your employee turnover rate, make it easy for workers to stay. Consider what strategies will boost employee retention for you. Start by gathering information about staff engagement, worker challenges, and anything that is preventing team members from staying with you long-term. Based on your findings, start implementing changes to help employees work with you for years to come.
Develop a strong retention strategy with the top platform for communicating, onboarding, and rewarding your team.
Try Now
Want more great articles straight to your inbox? Subscribe Here ⤵