Managing time takes too much time. That's the ironic case for many companies. Especially, those that manage hourly workers and run weekly or bi-weekly payroll runs. That explains why so many of us let time management slip between the productivity cracks and succumb to inaccuracy or worse. In fact, it's not even a case of mismanagement of time as it is a case of no time management at all.
According to a recent study by AffinityLife, firms can lose a whopping $50,000 annually per employee due to insufficient tracking of time spent answering client communications. In total, almost 40% of respondents report they never track the time spent reading and answering client emails. If your business model requires running timesheets to determine billable hours – then, Houston, we have a serious problem.
Timesheets are important for more than accurate billings. They also act as a legal document offering protection from litigation by an employee or vendor. And let's not forget that the Fair Labor Standards Act (FLSA) imposes strict rules regarding your employees' wages, overtime, and hours.
It's evident that you can't properly run a business without having a timesheet as one of your company's pillar documents.
Below you'll find timesheet templates for weekly, bi-weekly, and monthly payroll runs
Weekly
Overtime after 8 daily hours [Excel (xls) | PDF]
Overtime after 40 weekly hours [Excel | PDF]
With lunch breaks [Excel| PDF]
Night shift (no paid breaks) [Excel | PDF]
Bi-weekly
Standard bi-weekly [Excel (xls)| PDF]
Monthly
Standard (no paid breaks) [Excel (xls)| PDF]
With sick leave & PTO [Excel | PDF]
Obviously, having great timesheet templates is a good start to bringing accuracy to your payroll. But, the thing with timesheets is not that they don't work but that your employees don't comply. Nobody likes doing timesheets, that's why many will not do their timesheets every day, even though that tends to increase timesheet accuracy. When using pen and paper timesheets, there is no good way to make sure everybody fills in their timesheets on-time, in a clear manner, free of errors, and "misunderstandings".
Why don't people do their timesheets?
Timesheets aren't part of the job description

Obviously, timesheets aren't fun but neither are most aspects of a job description. We still do them anyway. The timesheet is perceived as something outside the actual job description. Since it's both a pain and a perceived elective – many procrastinate on it.

Because, math, that's why

Beyond being just a pain in the you know what, timesheets can trigger cold sweats of the kind you haven't felt since 10th grade algebra.
As today's society and world is quickly changing, using the traditional paper timesheet just isn't going to cut it anymore. A manager can't keep making changes on paper when he or she must focus on the business, processes, priorities and tasks. As most managers also know, using paper timesheets causes hours to get mixed up, there are delays with submissions and questions about what was actually done.
Hit the easy button on your timesheets
Connecteam automates the timesheet process using a time tracking app with a built in time clock. All employees need to do is clock in and out and their shifts, overtime, vacation, sick leave will automatically be calculated and exported to your payroll software. The app also lets employees request shifts and absences. Then, managers can approve those shifts and absences straight from the easy to use dashboard and they auto-populate the user's timesheets – plus, employees receive an instant notification if their request was approved or rejected.

Time to run payroll?
Excellent! With Connecteam running payroll is easy. Employees can fill out a timesheet confirmation form confirming their timesheets. The forms live in the Launch Pad (manager's dashboard) and are always available for reference.
Changes are also done in a quick and easy way with full transparency throughout the entire process. Through the dashboard, you can instantly see overtime, double time, auto-clock out and more, so spotting what needs consideration is automatic – you can tackle these issues right away instead of later down the road when things may escalate.
Bring peace of mind to your payroll and timesheets. With Connecteam, time tracking compliance and invoicing will always be accurate, quick, and easy. Our timesheets are colorful and easy to read, plus the export options save you valuable time with full timesheet exports, shift report, and payroll totals. Connecteam can also integrate with Quickbooks Online in a mere click.
Connecteam's time tracking app is insanely affordable as it's the only app to offer fixed monthly plans: starting at $39 a month for up to 50 users. Start with a free plan now!
Connecteam is the best time tracking app
Connecteam's time clock app has all the right tools for your employees. Clock in and out, request absences, view current and past timesheets, and add notes can all be done while on-the-go. With an intuitive, mobile-first user experience, your team will find it easy to use with no training at all. Start tracking time today with Connecteam's employee time clock app.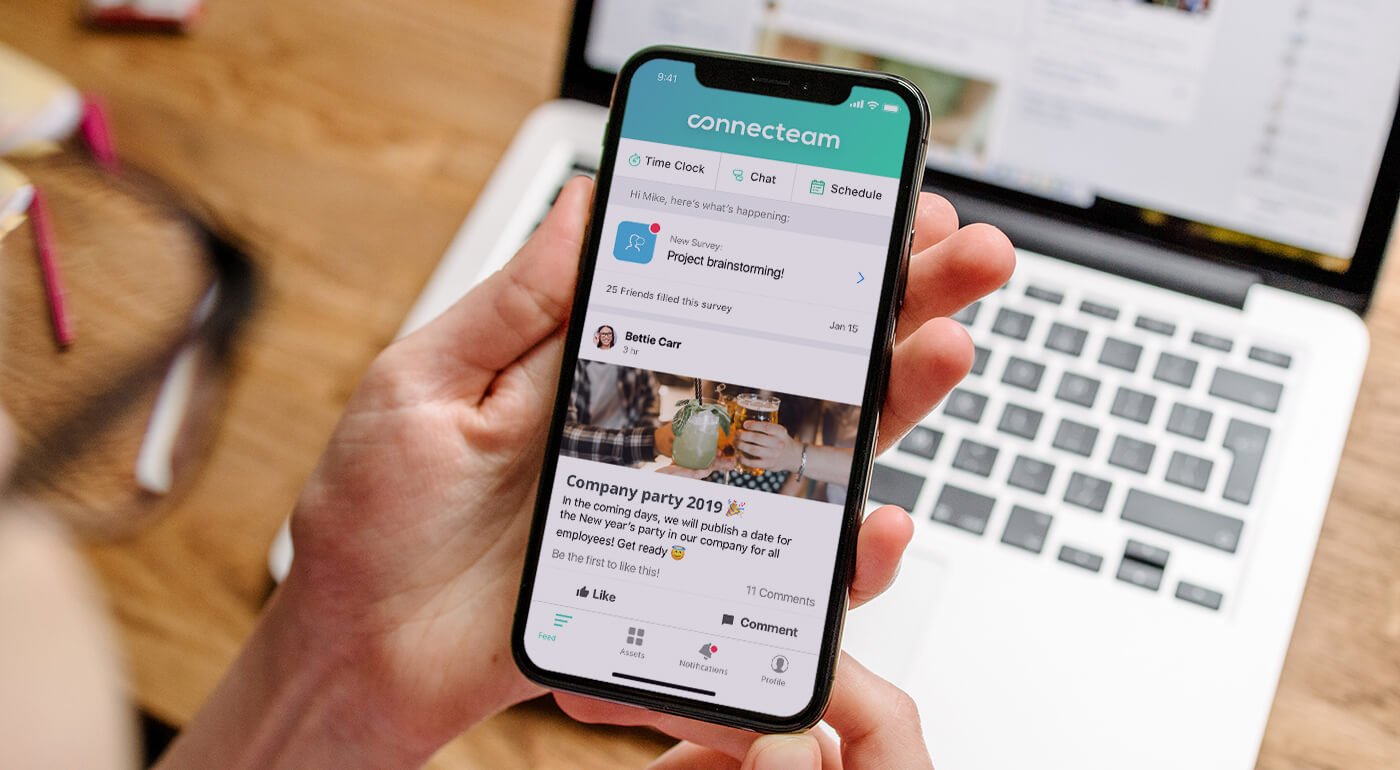 Find out more