10 Best Mobile Apps for Plumbing Business in 2020
The Bureau of Labor Statistics reported that, "Employment of plumbers, pipefitters, and steamfitters is projected to grow 16 percent from 2016 to 2026." Knowing that business is projected to continue booming means you need to tackle your most common problems, whether you work in residential or commercial plumbing, the issues management faces are the same.
What are the most common issues facing the plumbing business?
Hiring and training high quality, skilled employees.

Finding new clients and retaining them.

Collecting payments on time.

Creating a schedule that works for everyone. 

Tracking employee's working hours. 

Maintaining constant and updated communication with all mobile employees.
With all of the above in mind, tackling these issues is a must if you want happy clients, happy employees and a bank account that makes you happy too. What's the best way to achieve all this and more? In our opinion, apps for plumbing contractors are best.
What are the benefits of using mobile apps for plumbing business?
Easily enhance professional skills. 
Everything is available on your employee's smartphone, that includes all training materials, procedures, protocols, videos and so on. This allows employees to build their professional skills at a pace that works for them so they can provide amazing customer satisfaction. 
A mobile app allows you to dispatch jobs or set recurring shifts, plus all employees have direct access to their upcoming schedule via their smartphone.
Tracking working hours is simple. 
Almost all plumbing business software keeps clocking in and out simple, and there's the added benefit that the employees' GPS location is stamped so you can avoid buddy punching and time abuse. 
Keep everyone on the same page by starting a chat or group chat so your employees are aware of updates and important announcements. 
Day-to-day processes are automated. 
Transform all checklists, forms and reports to digital so that your employees can fill them at anytime from anywhere. In the click of a button, you can gain feedback from summary reports, daily logs, incident reports, equipment checklists, and much more.
Time is money in the plumbing business so you don't have time to waste with complicated mobile apps for plumbers. That just defeats the purpose, find a solution that doesn't require you to be tech-savvy, instead it's as simple as download and go. 
We decided to look at what apps for plumbing contractors can benefit you most. It's all about working smart, efficiently and effectively but with so many options in the market, it can be a little hard to know where to start. So just take a look at the list we compiled, your work day is about to get a whole lot easier.
10 Best Mobile Apps for Plumbing Business
The best software for invoicing 
Whether you're in the field or office, you can send invoices, estimates and handle customer management. With Invoice ASAP, you can also accept credit card payments and can charge clients a service fee. Customers can also digitally sign invoices and estimates from any location. 
To improve customer satisfaction, you can add photos before, during or after a job. Additionally, view the full customer summary on one screen, such as the balance due, invoices and customer notes.
Price: Free.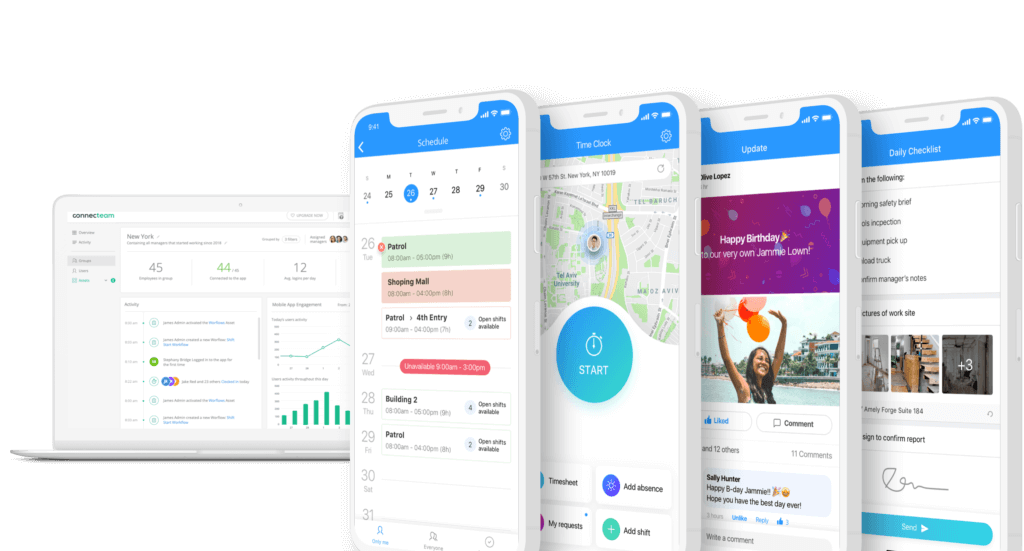 The best all-in-one plumbing management app
Connecteam is the best plumbing business software because it was designed and built for the deskless employee. The app is easy to use so you don't need to be tech-savvy and is super intuitive. In just 15 minutes, you can create a single platform to communicate and engage employees, schedule jobs, track time, streamline operations with digital checklists and forms, and build professional skills. 
The built-in communication tools allow you to send updates and announcements in a group chat, start a private chat, find the right contact through the employee directory, boost engagement with surveys, a suggestion box and more. Manage your everyday tasks with the GPS time clock, intuitive timesheets, schedule shifts or dispatch jobs so you always know where your employees are and what they're working on. On top of that, you can build professional skills and train employees right from the app.
Price: Pricing starts at just $29/month for up to 200 users. There is also a free plan available! 
Streamline your plumbing business with Connecteam
Connecteam's plumbing software is the perfect solution for your plumbing business. Schedule recurring shifts, dispatch jobs, track working hours, enhance communication, make forms and reports digital, build professional skills and so much more.
Try for free
The best task management software
GoogleKeep keeps you on track with its online checklist capabilities. Create a list and share it with your employees, friends or family. It's easy to add notes, lists, photos, and voice memos.
Color coordinate tasks and create unique labels that are topic specific. GoogleKeep has location-based and time based reminders so you and your team never miss a task. Access the checklists from your smartphone, tablet or computer.
Price: Free with a Gmail account. 
The best measuring app
ImageMeter was created to help you define your photos with measures and notes, instead of those messy sketches that are way too difficult to understand. This measuring app puts the measurements straight into the photos you take. You can measure lengths, area, angles, circles, rectangles, and height points. It's easy to export images as JPEG or PNG, or you can export an entire folder as PDFs or ZIPs. 
Price:  There is a limited version that is free or you can pay $4.99 one time to enjoy all features like unlimited measures. 
The best "working at night" solution 
Working in cramped and dark spaces can be brutal and even worse when you have to balance a bulky flashlight as you're working. Instead, download the Flashlight app on your phone for super-bright lightning to make working in tricky areas an easier task. 
Price: Free.
The best route finding solution
When you're constantly on the move, aimlessly driving to your next job could hurt you as you're wasting time just to get to the next location. All you need to do is type in, copy-and-paste, or upload your customer list. Then, choose how many drivers you have and click "optimize". That's all it takes to get the best, optimized route for you and your team. Route4Me saves you time and money so it's a no-brainer to add this app for plumbing business to your daily operations. 
Price:  Pricing starts at $149/month and there is a free 7 day trial. 
The best plumbing and heating BTU calculator 
When you need to estimate the cooling needs of a room or house, the BTU Calculator does it all for you. So if you're wondering exactly what size radiator  you need for that room, this plumbing business software tells you just that. 
All you need to do is plug in the room dimensions, fill in the "Assumptions" category (such as wall type, flooring type, and which direction the room faces) and you will know exactly how many BTUs and watts it takes to heat the room.
Price: Free.
The best software to manage finances 
Quickbooks is an easy to use finance management software for all business sizes. It's simple to track expenses, create and send forms (like quotes, invoices, accounting reports, etc.), know your cash flow status and more – the user-friendly dashboard makes it easy to understand your financial situation so you can focus on the big picture. 
Price: Start a free 30 day trial and after, choose from a pricing plan: Simple Start ($15/month), Essentials ($23/month), or Plus ($31/month).
The best app to track productivity 
In the background of your smartphone or desktop, RescueTime tracks how long you spend on applications and websites. At the end of the day, you receive a detailed report of your activity so you know exactly how long each task took you – from answering emails to meetings to creating invoices to scrolling social media and so on. You know exactly how much time was wasted and how productive you actually were. 
Price: RescueTime has a free for life plan for time management or the Premium plan costs $9/month (includes a 14 day free trial) and provides an in-depth review of your time.
The best app for discovering measurements
Do you know the dimensions of the piping and accessories when you're on the job? It can be a little difficult to calculate off the top of your head. That's where Pipe and Fitting comes in. Set measurements in metric or U.S. on the app and you can easily find the measurements related to pipe size, pipe clamp, fitting, flange, pipe hanger and gaskets. 
Price:  Free
Choose the right plumbing business software
There are numerous tools in the market that plumbers can benefit from, I mean when you can make your daily work grind easier to handle then isn't it worth investigating which plumbing business software is best for you. We think so! Like we mentioned in our introduction, the job outlook for the plumbing business is only set to rise so choose a software that keeps you ahead of the competition. 
Want to get more tips?
Join 20,000+ others who get our weekly newsletter with Business owner tips!