Table of contents
It is not an exaggeration to say that the current COVID-19 crisis has brought the entire world to its knees. Even the most powerful economies have been brought to a standstill as governments scramble to implement strict measures to slow down the spread of this novel coronavirus. As of this writing, there is no approved medicine yet for COVID-19 and the only way to prevent its spread is to maintain proper hygiene and practice social distancing.
Most countries have already imposed stay-at-home orders to limit the movement of their constituents and facilitate social distancing. Only those industries and organizations that support COVID-19 efforts and very few others are allowed to continue operations. As a consequence, companies worldwide are left with no choice but to adopt flexible work operations to continue their business operations.
Download your FREE guide on "10 Tips for Engaging Your Frontline Teams" ⤵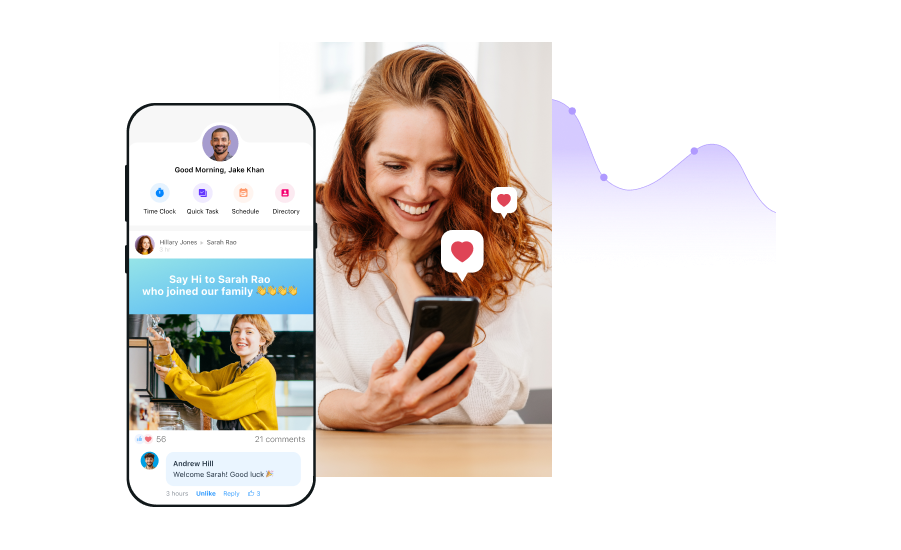 Remote work arrangements are not a new thing. Thanks to remote work management tools, it is now easier to perform work duties even if employees are far away from their office workstations. However, not all work can be done remotely, such as those in construction and manufacturing. In addition, not all companies are ready to adopt work-from-home arrangements. Not every employee has the right equipment to continue to work at home. There is also the concern of how long remote work should continue. It is one thing to ask employees to work from home, but another to expect them to be as productive as before given the crisis.
Employee Engagement During the COVID-19 Crisis
Employee engagement is most likely not on the list of priorities that business owners have right now. After all, there are plenty of challenges that they need to tackle to ensure their companies stay afloat, from the delays and disruptions in the supply chain to cash flow issues and hurdles in filing a proper notice to owner forms and pre-liens that lead to revenue problems that threaten business continuity. However, employee engagement is actually one of the most important things that business owners need to keep in mind as they go through the COVID-19 crisis.
The current pandemic has been emotionally taxing for everyone. With literal lives on the line, fear and anxiety can certainly affect you and your employees, making it a challenge to stay focused on work. In addition, working from home is different from working in an office. While there are a lot of studies that point out an increase in productivity in work-from-home setups, the current situation is not conducive to work. Losing motivation and morale is normal during a crisis.
Your role as an employer is especially important in this situation. In the face of uncertainty, business leaders need to demonstrate a high level of understanding and empathy towards their employees. Here are some tips for maintaining employee engagement during the COVID-19 crisis.
Tips for Maintaining Employee Engagement
Build a solid communication system
Maintaining a good communication system is one of your top priorities. Since most of your employees will be working from home, you need to provide the right tools to reach out to them. Depending on your needs, you may choose to use instant messaging apps such as Slack or video conferencing software like Google Hangouts and Zoom.
Additionally, a communication app, like Connecteam, helps keep you and your team engaged in real-time. Connecteam is an all-in-one employee management app with robust, effective communication tools for businesses and teams. Streamlining communication with Connecteam is easy, no matter what industry you're from – retail, construction, cleaning, healthcare, and much more are just some of the industries that benefit from Connecteam's communication tools.
Here are a few advantages of using the Connecteam app for team collaboration and internal communication needs.
Publish company news, updates, and documents and get feedback with comments and likes
Real-time collaboration with group chat or private dialogue
Add content, share files, videos, GIFS, & pictures
Facilitate two-way communication & boost employee engagement, morale & productivity
In-app suggestion box
Send push notifications to ensure everyone gets the message
Communicate in real-time with Connecteam
Connecteam is the collaboration app that moves work forward and keeps your team connected in the click of a button
You should also establish a consistent schedule for meetings where you can talk about work progress and concerns. Working from home can mess up a work schedule, so as much as possible, create a semblance of routine by scheduling a daily stand-up meeting when everyone is available.
Leverage technology to keep employees on track
It can be easy to lose track of tasks in a non-office environment. The presence of numerous distractions at home can steer employees away from a productive work routine. In order to keep your employees on track, leverage numerous software solutions available in the market to schedule meetings, manage employee timesheets and assign project tasks. Connecteam's construction employee app, for instance, lets you do all of these crucial management tasks and more.
Listen to how a field service company with 200+ employees utilizes Connecteam for daily internal communication & engagement!
Want to take your daily internal Communication & Engagement to the next step?
With remote work management tools, it is now easier to perform work duties even if employees are far away from their office workstations.
Create a space where employees can talk freely
Some of the things that employees working from home will surely miss are those workplace banters and coffee break conversations. Especially now that we are dealing with a crisis that is unprecedented in many ways, everyone will want to talk about things that are not work-related.
Keep the conversation flowing by creating a channel dedicated to non-work-related matters in your instant messaging app of choice. More importantly, participate in the channel and show that even if you are working in different places, conversations stay the same.
Be flexible with work schedules
While it is recommended to have a consistent schedule, especially for catch-up meetings, you need to understand that your employees working from may not be as focused as in the office. There may be household chores to do or even kids to take care of. It is actually a good idea to allow your employees to focus on some of their personal tasks, especially if it will help refresh their minds for their work duties. As long as they provide the needed output for the day, they can do work in their own time.
Improving employee engagement has always been one of the most important initiatives in business, especially in today's competitive environment. Amid the COVID-19 crisis, addressing employee engagement is even more challenging. But the current situation only makes it crucial more than ever.
Managing Staff Remotely: The Complete Guide (eBook)
In this free eBook, we highlight everything you need to effectively manage your remote employees. From communication tips to engagement ideas and more, this guide is filled with all the information needed to make remote work a success.
Download eBook for free
Want to Receive More Great Articles Straight to Your Mailbox? Subscribe Here ⤵