Diversity workplace events are activities designed to foster an inclusive working environment through educating employees on diversity, equity, and inclusion (DEI). Along with other practices such as training and an EEO statement, diversity workplace events contribute to an organization's broader DEI strategy. They educate employees on topics such as anti-discrimination, cultural sensitivity and empathy, and inclusive workplace practices. 
Why are diversity workplace events important?
Creating a diverse and inclusive workplace requires a robust DEI strategy. Diversity workplace events are a good way to raise awareness around and educate employees on DEI issues, leading to:
Increased collaboration and creativity. These events allow employees to connect outside of formal workplace structures and interact with colleagues they may not see day-to-day. Encouraging employees to share ideas and develop a common understanding of other perspectives leads to more creative problem-solving. Supporting diversity overall also leads to greater innovation. 
Increased productivity. Aside from the obvious issue of fairness, a diverse workforce has a direct effect on employee productivity and an organization's bottom line. For example, a McKinsey study found that companies with gender diversity are 25% more likely to financially outperform their peers. 
Increased positive workplace experience. Diversity and inclusion initiatives recognize the value of employees' unique contributions while also creating a sense of belonging. This contributes to positive workplace culture and helps to retain diverse talent. 
Improved reputation. Diversity events publicly demonstrate an organization's commitment to DEI in its workforce. This can help an organization build a reputation as a good place to work, attracting higher quality talent. 
Refine Your Company Events with Connecteam
Your next company Diversity Workplace Event will be a hit with Connecteam. Our Events feature lets you easily plan, provide information, invite, manage attendance, and send reminders & updates that reach each and every employee, all from your phone in seconds. Learn More about Connecteam!
Tips for organizing a diversity workplace event
Here are some tips to help you organize a successful diversity workplace event:
Set clear goals. What are you trying to achieve with the event? This will guide what activity you choose to do and how you run it. 
Approach with sensitivity. Diversity workplace events should be respectful and encourage employees to celebrate differences. Involve employees in the planning to ensure the event approaches the issues sensitively and thoughtfully.
Approach diversity broadly. A diverse and inclusive workforce recognizes the contributions of all its employees, regardless of race, ethnicity, sex, sexual orientation, gender identity, disability, religion, and age. 
Allocate a budget. Setting aside a dedicated budget ensures you can organize a quality event and that there are sufficient resources for the activity to go ahead. 
Create a calendar. A one-off diversity day may be seen as tokenistic and is ultimately ineffective. Instead, plan regular events throughout the year involving a variety of activities that appeal to all employees. Knowing about an event in advance also helps employees to plan around it so they can attend.  
Promote the event to employees. For a successful diversity event, you want to encourage as many employees as possible to take part. Think about the best way to promote it and do so well in advance. You can let employees know about upcoming events by sending an organization-wide email, sharing a calendar invite, displaying posters in break rooms, or mentioning it in a company newsletter. 
Follow up. To gauge the success of your diversity workplace event, seek feedback from your employees. Did the experience change anything about the way they work? Their responses can help you develop and refine future events. 
Download your FREE guide on "10 Tips for Engaging Your Frontline Teams" ⤵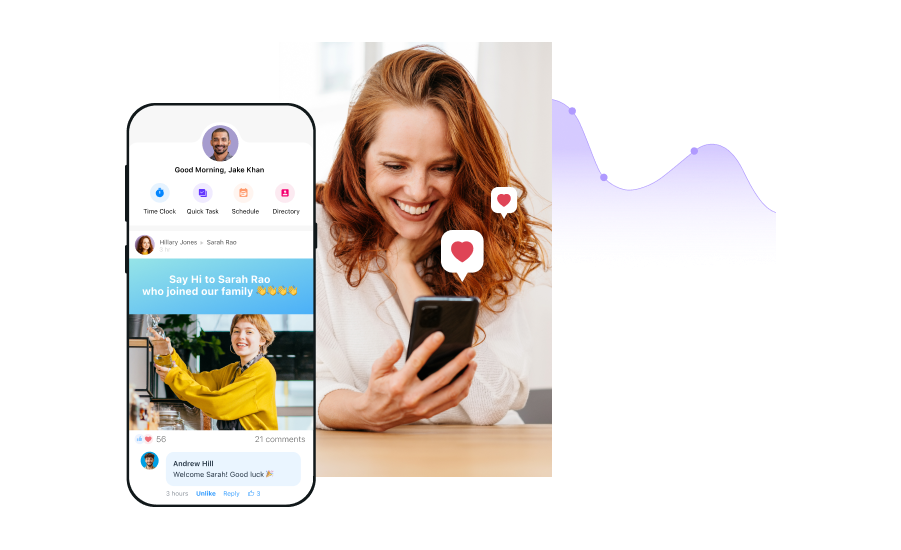 7 diversity workplace event ideas
When designing a series of diversity workplace events, choose a mix to suit your organization and employees. Here are some ideas to get you started:
Organize a book club. Book clubs are a popular way for members to explore DEI topics by nominating books from authors of different backgrounds and then discussing the main themes of the book. 
Share a meal. Sharing a meal naturally facilitates conversation. Go out to a local restaurant that specializes in a particular cuisine or organize a day where employees bring in a dish from their culture or country of origin to share. 
Arrange a diversity talk. Diversity talks present an opportunity for employees to hear lived experiences and expert advice on DEI topics. You can bring in external speakers or you may have employees who are comfortable presenting on a topic of their choice relating to their background, culture, food, history, language, or an important day or event. 
Field trips. Getting out of the office helps teambuilding in a more casual setting while exploring different cultural topics. This could be arranging a museum visit, gallery tour, or cooking class for employees. 
Host a film night. Choose a film that represents a specific culture, country, or experience and moderate a conversation about the film's themes after your employees have watched it. 
Maintain a diversity calendar. Celebrate or acknowledge different cultural, religious, or awareness days such as Eid, Pride Month, Hanukkah, Juneteenth, and International Day of People with Disabilities. A comprehensive list of dates is available here. 
Play a game. Ice breaker games can be a useful way to identify and celebrate the unique contributions of team members. They can be played in person during a company games day or team bonding session, or during an online event. 
Conclusion
Diversity workplace events contribute to an organization's broader DEI strategy by educating employees on topics such as anti-discrimination, cultural sensitivity and empathy, and inclusive workplace practices.  Organizing an activity like a games day, film night, diversity talk, or shared meal can help facilitate discussions around diversity in the workplace and contribute to inclusive workplace culture. 
Make Diversity Workplace One to Remember!
Try Connecteams Events feature and enjoy different occasions with your team!
Try Connecteam Here