Company events, also known as corporate events, are activities that are designed to engage employees, build internal relationships, network with others in your field, and/or develop an awareness of your business and the services you offer. They range from simple meals to team-building events and parties. 
Why should you run company events? 
Corporate events can be targeted at both employees and members of the general public. There are numerous reasons why they can be useful, including the following:  Developing employee morale Fun intracompany events are an excellent way to motivate employees and reward them for good performance. They can also help build relationships between your employees, leading to a more positive all-around work environment.  Team-building Many companies run team-building focused events that are designed to help employees network and get to know each other better. Generally, employees who are more familiar with each other work better as part of a team.  Building brand awareness Public customer experience events are excellent for advertising your products/services and building brand awareness. For example, you could sponsor a local charity event or even create your own event, such as a concert or sporting tournament.  Launching a new product or service Product launches are another great way to build brand awareness and gain interest in your company. By making these fun and coupling them with events like a dinner or a cocktail party, you can boost their success.  Celebrating a milestone or significant company event Last, but certainly not least, many companies host events to celebrate significant milestones, such as the signing of a major client or the opening of a new office. These can be used to thank stakeholders for their trust, reward workers, and build employee engagement and internal relationships. 
Refine Your Company Events with Connecteam
Make your next company event a hit with Connecteam. Our Events product lets you easily provide information, invite, manage attendance, and send reminders & updates that will reach each and every employee for certain. Learn More about Connecteam!
How to plan a company event
Following a few simple steps will help you plan the perfect company event:  Step 1: Identify the purpose of your event All company events should have a clear purpose. For example, this could be rewarding your employees for their hard work, gaining more customers, or building internal working relationships. Spending some time on this step will make the rest of the planning process much easier.  Step 2: Identify your audience Once you've identified the purpose of your company event, this step should be quite straightforward. For example, you should be targeting potential customers if you want to build brand awareness, or employees if you want to raise workplace morale.  Step 3: Set a budget Setting a clear budget will help you plan a successful event. It's a good idea to overestimate the cost of your event rather than to underestimate it to avoid potential financial issues.  Step 4: Create a clear event plan Planning an event can be a complicated process. Just a few of the tasks that may be involved include: 
Booking a venue
Organizing food and drinks
Sending invites
Arranging activities
Simple events, such as a company afternoon tea or a lunchtime birthday celebration, won't need much planning, but something like a product launch will. A good practice is to create a timeline that details individual tasks and when they need to be completed. Make sure you give yourself ample time, and don't leave things to the last minute.  Step 5: Select a venue The most appropriate venue will be largely determined by the type of event you're planning. For example, simple company events can often be hosted at the office, while larger public events may require you to hire a conference center or other venue. You should also think carefuly about what supplies (decorations, food & drinks, furniture, etc.) you need and what comes with the venue hire. Step 6: Settle on a theme You don't have to run a themed event, but adding a theme can boost engagement and help people enjoy themselves more. Holiday parties, such as company Christmas and Easter parties, offer great opportunities for themed events. Think about how professional the event needs to be and decide whether to add a fun theme or not.  Step 7: Develop the finer details Different events require different amounts of planning, but you will always want to have a basic schedule for how an event—big or small—is going to run.  For example, a conference will need clear planning to ensure people know what's happening and when, and you may want to publish an informational brochure that details this. Something like an employee holiday party can be more relaxed, but you should still have an idea of what's going to happen. Do you have activities that need to take place at a certain time, such as speeches, or the handing out of awards? Make sure you know when these will occur.  Step 8: Ensure people know about it There's no point in planning and running a big company event if people don't know about it. Public events usually require significant advertising. You could use social media, newspaper ads, or other media streams such as TV and radio based on the people you're targeting.  Advertising for an intracompany event is usually simpler and often takes the form of an email invitation and follow-up reminders. Platforms like Connecteam include powerful event management features that you can use to do this. 
Download your FREE guide on "10 Tips for Engaging Your Frontline Teams" ⤵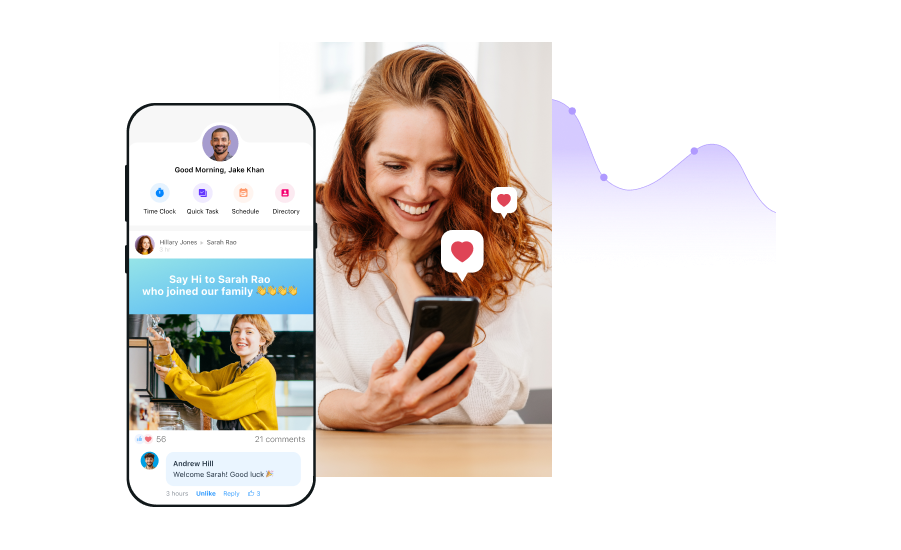 What corporate events could your company run? 
The events you can run are really only limited by your imagination and your budget. Here are a few examples of popular company event formats.  Holiday parties The most popular type of company event is undoubtedly the holiday party. There are numerous holidays throughout the year, presenting ample opportunities for team-building and rewarding your employees for their hard work. Some examples include Christmas parties, Easter parties, Independence Day parties, and so on.  However, you do need to make sure that you're sensitive to your employees' cultural and religious values when planning these. If you have a majority Christian workforce, then you should be able to celebrate things like Christmas without any problems. However, non-religious events, such as April Fool's Day parties, are often more inclusive and better for companies with diverse workforces.  Team-building activities Running team-building activities can do more than just help your employees work better together. They can also help build employee engagement and, if you choose a fun event, boost happiness and company loyalty. For example, you could run a trivia night that pits different departments against each other to encourage employees to work together. Appreciation events Some companies run appreciation events for either employees or important clients. These are a way of saying thank you, and they can take a variety of forms. Some examples of appreciation events include a company party, free tickets to a sporting or music event, or a short cruise.  Charitable and Sporting Events  By running or sponsoring a charity or sporting event, you can build brand awareness and show appreciation for clients and employees. For example, you could host a charity auction to raise funds for an important cause and boost your reputation.  Ceremonies By holding a company ceremony, you can formally recognise the contribution and performance of employees and other relevant parties. For example, you might decide to hold an annual awards dinner, where high-performing employees can take home bonuses and rewards for their work.  Milestone celebrations Milestone celebrations are a great way to show appreciation for your employees and their hard work. Events such as retirements, birthdays, promotions, and employee milestones should be acknowledged and, if possible, celebrated.  Conferences Larger companies can host or attend conferences and seminars to network with other industry professionals and build brand awareness. Conferences are usually held at an external location, such as a hotel or conference center.  Product launches Holding a product launch event is a great way to advertise a new product or service. By informing the media and potential clients of product launches, you may see a boost in sales and company income.  The main goal of a product launch should be to reach as many people as possible, including people who don't physically attend. Sharing information about your event on social media and elsewhere online is a great way to do this.  Trade shows At a trade show, numerous companies in the same industry come together to advertise their services and gain new clients. Attending a trade show can help position you as an industry leader, and provide you with excellent opportunities for building brand awareness.  Company meetings Internal company meetings (including board and shareholder meetings) offer a way to present information and/or discuss the direction of your corporation. These are usually held periodically and can be customized to fit your industry and company image. 
Conclusion
Running company events can deliver numerous benefits, including team-building, raising employee satisfaction, and boosting awareness of your products and services. They can be targeted at either employees or members of the general public, and they can range from fun holiday parties and birthday celebrations to conferences and seminars.  The bottom line: if you're not already running some company events, you definitely should be.
Easily Manage Company Events
Streamline event planning with Connecteam's employee communication app.
Learn More