Halloween is a popular holiday in the US and beyond, commonly celebrated by telling scary stories, wearing costumes, and trick-or-treating.  A company Halloween party is a social event organized around the time of Halloween, which falls annually on October 31. Spooky decorations are displayed, such as carved pumpkins and fake cobwebs, and attendees often wear costumes to celebrate the annual holiday. 
Why throw a company Halloween party?
Halloween parties are fun and relaxing for staff, especially when they involve costumes and themed decorations. While organizing a company Halloween party is optional, it's a great opportunity to boost team morale and engagement and allow coworkers to build relationships. This will make employees feel appreciated, leading to lower turnover and higher productivity for the business.
How do you throw a company Halloween party?
Throwing a company Halloween party requires some planning in advance, particularly if you're managing a large deskless workforce. You need to schedule it at a time that's convenient for most employees, select a suitable venue, and get creative with decorations and activities.  Here are the main things to consider when throwing a Halloween party for your team.
Appointing an organizer: Designate a person or committee that is responsible for planning the company Halloween party. Make sure they are able to organize this within their working hours, as the event is an investment in the happiness and productivity of your workforce.
Budgeting: Depending on company size and industry pressures, each company's Halloween party budget will be different. The important thing is to have one set up before starting to spend, so that you and your Finance colleagues avoid bill shock. Include catering, venue, and decorations costs, and estimate attendee numbers.
Finding a time: You don't have to have the party on Halloween night, especially if it falls on a weeknight. Decide well in advance what day works best for your workforce by consulting the team schedule or using the poll function on communication apps such as Connecteam.
Booking a venue: You should have a rough attendee estimate before getting quotes from venues, so ask employees to RSVP to the Halloween party in advance. The venue should be easily accessible by private vehicle and public transport and cover any access needs required by your staff, such as a wheelchair ramp.
Catering: Firstly, decide whether the food menu consists of finger food or a larger 3-course meal. Then, ask attendees about allergies and intolerances to substances like gluten and dairy, as well as dietary preferences, including vegetarian, vegan, halal, and kosher meals. Finally, if you decide to serve alcohol at your party, make sure there are appealing alternatives for those who don't drink alcohol due to personal or religious reasons.
Decorating: Halloween decorations are the fun part of organizing your company party. Online and physical shops have plenty of options to choose from at this time of year, so get creative with fake cobwebs, plastic skeletons, carved pumpkins, and more. You can also provide your guests with wearable props like witches' hats and scary masks.
Download your FREE guide on "10 Tips for Engaging Your Frontline Teams" ⤵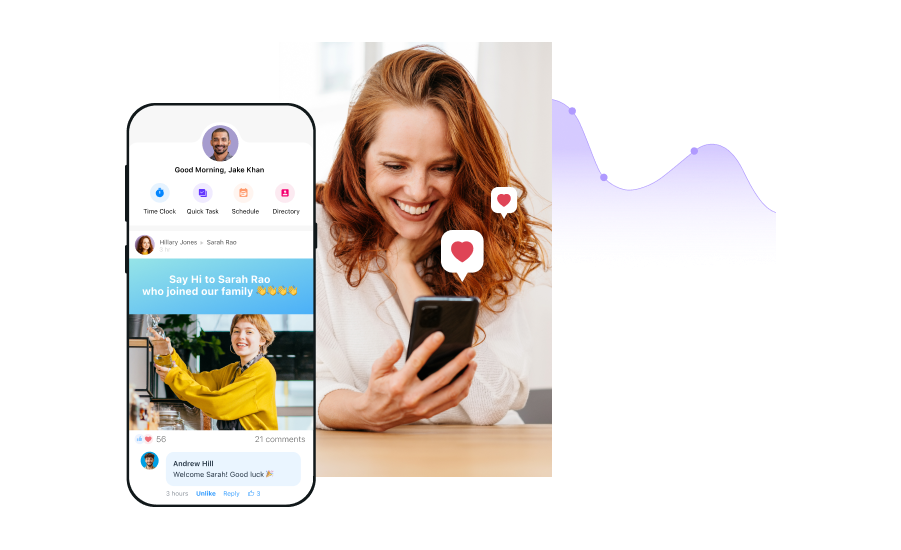 Ideas for a company Halloween party
Halloween parties can be entertaining and memorable if you fill them with interactive activities. With many options to choose from, here are some of the best ideas that are quick and easy to implement.
Costume competition: Giving guests the option to attend in fancy dress allows them to be creative and interact with each other informally. You could even hold a competition and award prizes to the first, second, and third best costumes.
Pumpkin-carving contest: Carving pumpkins creatively is a traditional, albeit difficult task, so offer a winning prize to incentivize attendees. Carved pumpkins can contribute to food waste, with just under half being discarded unsustainably, so make sure the pumpkin flesh is used to make food and drinks, or composted.
Halloween-themed music: Distinguish your Halloween party apart from other yearly events by curating a spooky music playlist, including songs such as Michael Jackson's Thriller and Monster Mash by Bobby Pickett. Make sure there is a dance floor where guests can show their enthusiasm for your playlist.
Make-up booth: Give attendees an opportunity to turn into their preferred character by installing a make-up booth at the venue. Hire an artist experienced in Halloween make-up and make sure there is an adequate supply of cosmetics for different skin tones and types.
Hiring actors: At larger parties, you can hire professional actors dressed as scary characters to interact with guests. Find an events company that hires party characters and give them instructions on what costumes to wear and how to interact with guests. 
Scary stories: For smaller gatherings, telling scary stories in a circle can help create bonds between coworkers and encourage creativity. Tell attendees about the activity in advance so they can prepare stories if they wish.
Budget-friendly office party: You don't need a huge budget to show your team a good time on Halloween. If you're hosting your party at your central office, there's less pressure on employees to dress in costumes or prepare for activities. So, simply order some finger food, light refreshments, and a few decorations, and allow your staff to socialize.
Conclusion
A company Halloween party is an opportunity for your staff to relax, have fun, and build relationships. Appoint an internal party organizer or committee to cover logistics such as venue hiring and catering, keeping in mind that some employees may have dietary or access requirements. Showing appreciation for your employees by hosting events like this increases both employee satisfaction and retention. Halloween-themed activities such as costume competitions, scary storytelling, and make-up booths engage attendees' creativity and will make your party memorable for years to come.