A company Christmas party is a workplace celebration at the end of the year, held around Christmas, to commemorate the season. It can be mostly a social event for your employees, but it can also be combined with a year-end company review, bonuses, gifts, and other forms of company reflection or employee recognition.  This type of fun event can be held at the workplace or off-site at another venue. It can involve the whole company or just specific teams or departments. Sometimes, different departments or teams have their own celebrations.
Why Have a Company Christmas Party?
Company Christmas parties have drawbacks and advantages. They do cost money and take time to plan and host, but they also have benefits like the following. 
Building employee morale: Since they occur at one of the busiest times of year for most companies, company Christmas parties can be a welcome time to take a break and enjoy time together as a team.
Fostering company culture: Parties allow team members to get to know each other in a more relaxed setting and create company memories and traditions.
Showing appreciation for employees: Whether gifts or bonuses are handed out at a Christmas party or not, the act of holding a party for workers shows your appreciation for them.
Reflecting as a business: A Christmas party can be a chance for leadership to reflect on the past year with employees and to share goals for the upcoming year, ensuring everyone is pulling together and is aware of where the company is heading.
Refine Your Company Events with Connecteam
Your next company Christmas party will be a hit with Connecteam. Events lets you easily plan, provide information, invite, manage attendance, and send reminders & updates that reach each and every employee, all from your phone in seconds. Learn More about Connecteam!
How to Plan a Successful Workplace Christmas Party
Whether you're planning a workplace Christmas party for the first time or for the twentieth, this task comes with some unique challenges. Here are some steps you can take to plan a smooth, successful, enjoyable event. 
Consider whether a Christmas party is appropriate. One of the biggest challenges of hosting a party around Christmastime is that not everyone celebrates Christmas, and such a party can make team members feel excluded. On the other hand, for a Christian company or a company consisting of workers who celebrate Christmas, it can be very appropriate. It is up to leadership to determine whether a Christmas party or a more general holiday/end-of-year party is appropriate.
Survey your team: Use a solution like Connecteam surveys and polls to anonymously survey your employees. Do they like the idea of a Christmas party? What events and venues would they enjoy most? What are good times and dates for everyone to attend? Do your employees have another year-end holiday they would also like to see celebrated, such as Hanukkah or Kwanzaa? A great tip is to ask employees what they liked or disliked about previous holiday parties. While you can't please everyone, you can learn a lot about what can help employees enjoy themselves by simply asking them.
Plan a budget: Determine how much you can spend on decorations, food, venue, and potentially gifts, and plan accordingly. Do you want to offer bonuses or make the party a paid work event? Do you want team members to bring family members? If so, you will need to budget for additional guests.
Think about team availability: You can use Connecteam scheduling to see when your employees are available. Or, schedule your end-of-year workweek so everyone is off work for the party, should they choose to attend.
Consider location: Your workplace is one option, but you can also host a party at a local restaurant, ice skating rink, or another location. Or, you can choose a virtual or even asynchronous holiday event, using the secure Connecteam chat app, for instance. If you choose an external location, make sure to make reservations and confirm your party with the venue in advance.
Make it easy for people to attend: You don't want employees to feel like they have to go to a party. However, more will attend if it's easier to do so. If you choose a venue outside of work, arrange carpooling or make sure it's easy to get to the party. It can also be simpler for team members to attend if the party takes place over several hours, so people can drop in and out of the festivities. Or, you can keep things simple with an employee lunch, which is short and contained.
Consider alcohol: Alcohol can lower inhibitions and does require the additional step of making sure every guest can get home safely. Alcohol can also be a challenge if anyone on your team is in recovery. Many businesses today have alcohol-free parties for these reasons. Consider your company culture and your employees' preferences to determine how to best address this issue. 
Let team members know ahead of time: Give team members lots of advance notice for the party so they can fit it into the many social demands of the holiday season. Plus, give them a chance to let you know whether they will attend so that you can adjust catering needs.
Have fun! No matter what you choose for your party, the most important thing to be able to do is connect with employees and make them feel appreciated. Stiff parties that everyone feels like they must attend can become a drag, so try to approach the event with genuine warmth and excitement, and make sure participation isn't obligatory. 
Download your FREE guide on "10 Tips for Engaging Your Frontline Teams" ⤵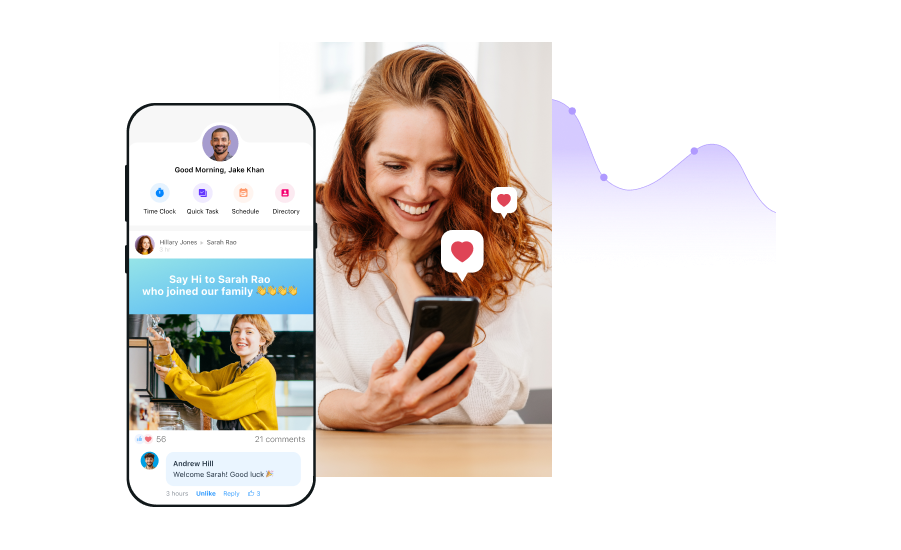 What Are Some Good Company Christmas Party Ideas?
Sick of the same old white elephant exchange? There are a plethora of opportunities to make a company Christmas party fun, memorable, and fresh. Here are some ideas you might want to consider.
Themed events: A theme for the party or for a series of events can engage employees and keep your party high-energy high and prevent the celebration from lagging. Fun themes for a Christmas party might include "ugly Christmas sweaters," "giving back," or "celebrating the year." If your team is more religious, you could choose a theme like "the Nativity." 
Gift exchanges: Have team members who want to take part put their names in a hat and have each person draw a name. This is the person they will buy a gift for. Set a limit on spending and set some rules for what makes a good gift, and make sure employees can opt out if they want to. Another option is for leadership to hand out gift cards or other gifts to everyone at the company.
Volunteering: Volunteering at a soup kitchen, shelter, children's hospital, or another place that provides for those in need helps your company give back and builds camaraderie. You could also choose to collect money for charity, toys for a toy drive, or food for a food bank together.
Scavenger hunt: Hide holiday-themed items around the workplace and set up a series of clues for employees to find the items.
Karaoke and singing: Caroling or singing holiday classics together can be a fun way to celebrate, and it's something you can do virtually, too.
Quiz or trivia games: Whether holiday-themed or not, board games or even arcade games can be fun. You can rent a large screen and gaming system for your party, too, to allow workers to compete against each other.
Local holiday events: Your team can go snowshoeing, dog sledding, ice skating, head to an outdoor Christmas market, or take part in another local holiday event together. Make sure to keep your team's physical abilities in mind for outdoor activities, however, so as not to exclude those who have mobility challenges, for instance.
Contests: You can give out prizes for all sorts of things: ugliest holiday sweater, most festive outfit, silliest holiday photo posted online, cutest holiday-themed pet photo, best photo of a holiday display, and more. Encourage employees to post photos and holiday jokes or stories online to share with the team.
Virtual classes: You can give workers access to virtual classes in holiday cooking or other Christmas-themed or holiday-themed fun. Have your employees post pictures of their creations after the class.
Holiday movies: You can rent a big screen for your office to watch movies together or you can pay for virtual access to movies so your employees can watch together and even use a chat feature to comment or review the film.
Prepackaged holiday events: Some venues offer pre-planned Christmas event packages that workplaces can purchase. These might be worth looking into if you have a large company or your management team doesn't have a lot of time to plan.
Conclusion
Whether you host a Christmas workplace party or a non-religious, end-of-year celebration, marking the end of the year helps workers unwind after a busy season and prepares them for success in the year ahead. While the focus is on fun, holiday parties do have real workplace benefits, including boosting morale and building company culture.
Easily Manage Events
Streamline event planning with Connecteam's employee communication app.
Learn More