A company Valentine's Day party is a celebration on or around February 14 marking Valentine's Day, a non-religious holiday all about romance and love. Many companies hold parties to celebrate the day with a focus on appreciation, friendship, and self-care rather than romantic love, often sharing a meal, exchanging cards, and participating in other forms of celebration.
Why Hold a Company Valentine's Day Party?
If you're not sure whether to hold a Valentine's Day party at your business, you might want to consider these benefits to celebrating the day:
A celebration can bring your team closer by letting your employees socialize casually.
A party can be fun and can be a way for hard-working team members to relax and reduce stress.
A Valentine's Day event is a way to show your appreciation and care for your employees, which in turn can encourage engagement by making team members feel valued.
Festivities can help build your company culture by creating traditions, memories, and photos you can share.
Refine Your Company Events with Connecteam
Your next company Valentine's Day party will be a hit with Connecteam. Our
Events
feature lets you easily plan, provide information, invite, manage attendance, and send reminders & updates that reach each and every employee, all from your phone in seconds.
Learn More about Connecteam!
How Can You Hold a Successful Valentine's Day Party?
HR managers and company leaders may shy away from business Valentine's Day parties because the holiday is associated with romantic love, but one of the benefits of this celebration is that it is flexible. Since it's a cultural and not a religious holiday, you can adjust your needs by creating your own traditions that steer the holiday away from romance and towards team-building and workplace camaraderie. You can start by:
Finding out where your team stands:
Before planning an event, think about whether a Valentine's Day celebration fits into your company's culture. If you celebrate every holiday, it makes sense to observe Valentine's Day. On the other hand,
close to half of Americans
describe Valentine's Day as "overrated" and some actively dislike the holiday, so it can be helpful to use a feature like
Connecteam surveys and polls
to find out whether your employees are open to the idea of a party and how they might want to celebrate.
Review your harassment policy:
This is a great time to make sure everyone understands the policy in place at your company to prevent harassment. Valentine's Day is also a good time to discuss inclusion with your employees. Since singling out anyone on Valentine's Day can create discomfort, make sure all team members are included in all Valentine's messages and plans. For example, it could be awkward if one employee received flowers from a manager or co-worker. Such a gesture might not be welcome, especially if the manager or co-worker were using Valentine's Day to declare a romantic interest. Instead, it would be more comfortable if everyone received cards or if everyone received a small gift.  
Creating a budget and plan:
Decide who will oversee the party's decision-making and planning, and determine how much you can spend. Set deadlines for when you need to have specific stages of party planning, such as sending invitations, complete.
Making it inclusive:
Sometimes, Valentine's Day can seem very much about romance and couples, which can be a challenge for anyone who is single, who has recently experienced a loss or the end of a relationship, and for anyone who is aromantic. To prevent any discomfort in the workplace, companies often choose to make Valentine's Day events about team appreciation, self-care, kindness, or another more neutral theme rather than about traditional Valentine's Day romance.
Making it easy to attend:
Use a resource like
Connecteam scheduling
to find a time in your company calendar when everyone can take part in some group celebrations. If you have a deskless or remote team, you might also want to make your party asynchronous. If you have shift workers, consider making your party last for several hours, so all employees have a chance to pop in and out of the event as their shifts start and end.
Letting team members know ahead of time:
Send out invitations well ahead of time so that your team members can work the event into their schedule. In the invitations, include information about the events you'll be holding, any theme you've chosen, and any other details that'll get guests enthusiastic and ready to participate. Make it clear that attendance is not mandatory so that anyone who doesn't want to take part has permission to avoid the festivities.  
Download your FREE guide on "10 Tips for Engaging Your Frontline Teams" ⤵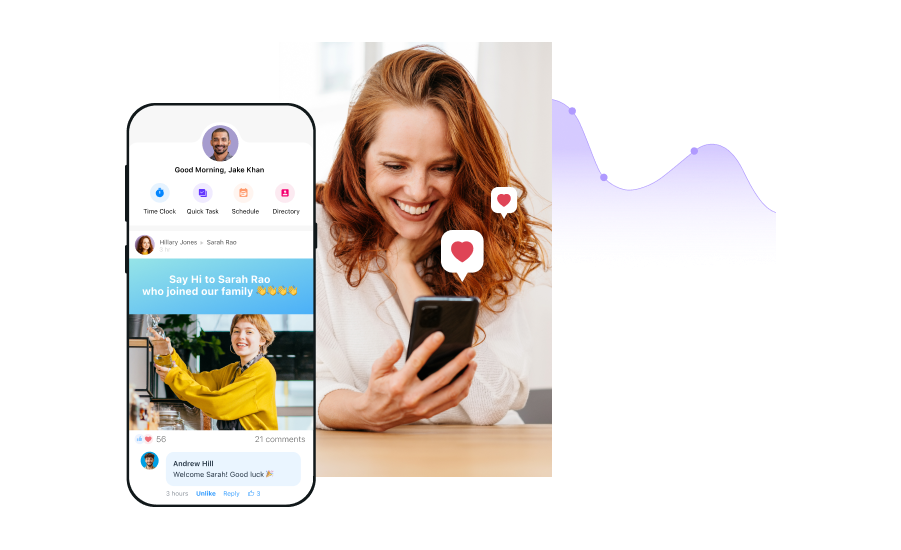 What Are Some Good Ideas for a Company Valentine's Day Party?
If you're looking for party ideas that fit your company's culture and your budget, you might want to consider one or a combination of these ideas:
A card exchange:
In schools, students sometimes exchange small Valentine's cards and giving your employees a chance to do the same can be a fun and nostalgic activity. You can set up a card exchange where each team member sends another participating employee a note of appreciation, explaining how they enjoy working together. Equally, company and team leaders could write notes of appreciation to every team member. Handwritten notes are rare today, and receiving them can emphasize to your employees how much you value them. However, emails can also be meaningful if they contain specific ideas of what leaders appreciate about their workers.
Have your team dress up:
Have your team members dress up in pink and red to celebrate the day. Encourage employees to come covered in hearts and Valentine-themed outfits. This can create some fun company photos you can post online or share internally.  
Share sweet treats:
Chocolates and cakes are traditional on Valentine's Day, so if you're having a party consider heart-shaped cookies, chocolate kisses, a chocolate tasting, and other sweets. If you try this, be sure to include some fruit and healthy options as well as sugar-free desserts so there's something for everyone to eat.
Have a Valentine vs. anti-Valentine event:
This can be a fun idea if some of your team love the holiday and some don't like it very much. At your Valentine's Day party, play some love songs and some break-up songs. Include some Valentine's Day decorations such as full hearts and broken hearts. Consider having a competition such as an old-fashioned taffy pull or a tug-of-war contest, with one side "for" Valentine's Day and one "against" to see who wins.
A wall Valentine:
Create one giant Valentine for your whole company. Place a very large paper heart on a wall or set up a special online space where team members can leave notes of appreciation and kindness to one another and to the team as a whole.
Have a self-care day:
Treat your team by hosting your Valentine's Day event at a spa or local resort where everyone can get a few spa treatments. Alternatively, bring in a meditation coach, yoga instructor, or another trainer to run sessions where your team can relax and enjoy some healthy self-care.
Give to charity:
During Valentine's Day, cut-out hearts are everywhere, but did you know February is also Heart Health Month? This is a great time to raise money for a heart-related charity.
Share a meal:
If the budget allows it, take your team out for a meal at a local restaurant. This can be a low-key way to celebrate that can be comfortable for everyone. If you have a deskless team, you can send everyone gift cards for food delivery and share your meal virtually over video or chat.
Hold a bad poetry contest:
Have your team write rhyming Valentine's verses. Ask everyone to get creative by penning the worst lines possible. Award prizes for the best bad poetry and host a live reading of the employees' creations.
Put up decorations:
Decorating your workplace with hearts, pink and red paper streamers, and other decorations can make your space more festive. If you have deskless workers or remote teams, "decorate" your online spaces by sharing Valentine's Day images and memes online.
Play games:
You can quiz employees on Valentine's Day trivia or play a fun game of charades, either in person or online. Award prizes to celebrate the winners or create a Valentine's Day winners board online or in your physical workspace. You can use
Connecteam recognition and rewards
to send prizes.
Celebrate St. Valentine's Day With Your Team
Valentine's Day is usually celebrated with flowers, chocolate, and cards. However, at your company Valentine's Day party, you can choose fun, silly, or serious ways of expressing appreciation for each other, boosting employee morale. 
Celebrate With Us!
Make Valentine's Day party one to remember. Try Connecteams Events feature and enjoy the festivities with your team!
Try Connecteam Here