An Easter company party is a celebration or event associated with the Easter weekend. Hosting one is a great way to show your appreciation for your employees and their hard work. However, it's important to keep company parties inclusive and avoid any religious affiliations with the celebration. 
Is it a good idea to host an Easter party? 
Celebrating religious events at work is always something that should be approached cautiously, but as long as it's well-planned and hosted appropriately, a company Easter party is nothing to be afraid of. 
Refine Your Company Events with Connecteam
Your next company Easter Company party will be a hit with Connecteam. Our
Events
feature lets you easily plan, provide information, invite, manage attendance, and send reminders & updates that reach each and every employee, all from your phone in seconds.
Learn More about Connecteam!
How to ensure your company party is inclusive
To ensure you're not alienating any of your employees from the celebration you should avoid any religious affiliation and instead focus on the underlying themes such as renewal and growth. Steer clear of decorating with things like crucifixes, angels, or religious imagery and celebrate instead with more widespread Easter traditions such as the Easter bunny, chocolates, and Easter eggs. 
Pros of hosting an Easter company party
There are loads of reasons why you should think about hosting an Easter party at your workplace. We've outlined a few of the most compelling below. 
Show your appreciation
Hosting a party or company event of any description is a great way to show your employees that you care about their efforts. Rather than focusing on the religious aspects of Easter, you can also use the holiday as an excuse to celebrate company achievements and to give your staff a break. 
Bring employees closer
There's nothing like a little bit of an informal party to allow employees to bond. Hosting events like Easter company parties enables employees to build stronger workplace relationships—which generally lead to a more productive workplace and a more cohesive team. 
Boost employee morale
By hosting an Easter company party, you're showing your employees that you understand that it's a holiday period and that things are likely going to be a little more relaxed. This can boost employee morale and help your team to be more enthusiastic and focused on their work. 
It's fun! 
Sometimes it's just time to throw a little party and break things up a bit for your employees. Why not embrace the arrival of spring and use it as the perfect excuse to host an Easter party for your company? 
Cons of hosting an Easter company party
As with all religious holidays, you need to tread carefully around Easter. There are a few potential disadvantages to hosting an Easter celebration, including the following. 
It could expose you to criticism
If you're part of a large, multicultural company, events like Easter parties can attract strong internal criticism. On the one hand, you may have employees who feel that you're focusing too much on a "religious" holiday, even if you've avoided the religious aspects. Others may feel that you haven't placed enough emphasis on it, which could divide opinion within the workplace. 
It can get expensive
As with all company events and parties, the costs associated with hosting an event can soon add up. It's worth thinking about whether an Easter party is the best use of your funds. 
Our top tips for the perfect easter company party
Still not sure how to host an Easter party that's appropriate? Here are a few tips to help you plan the perfect company party that your employees will love. 
Don't force people to come – Not everyone enjoys attending company events, regardless of what they're celebrating. Others may not want to attend an Easter party because of religious or personal reasons. Because of this, you shouldn't ever make attendance compulsory. 
Create a planning committee – It's a good idea to put together a diverse planning committee that represents your workforce as a whole. This will help ensure all your employees are catered to in the best way possible. 
Add food and drink – Events are always better with something to eat and drink, and Easter parties are no exception. To really get in the swing of things go for Easter-themed snacks such as bunny cookies or chocolates. Or, you could ask your employees to bring a plate to share if they're comfortable doing so. 
Keep it casual – Hosting a company Easter party can be fun, but it's usually a good idea to keep it as casual as possible. This will ensure your employees feel comfortable and that the party doesn't feel forced. 
Take feedback onboard – Nobody gets things perfect. The chances are that your Easter company party will have aspects that could be improved. Invite your employees to provide feedback and use their responses to help you plan future events. 
Download your FREE guide on "10 Tips for Engaging Your Frontline Teams" ⤵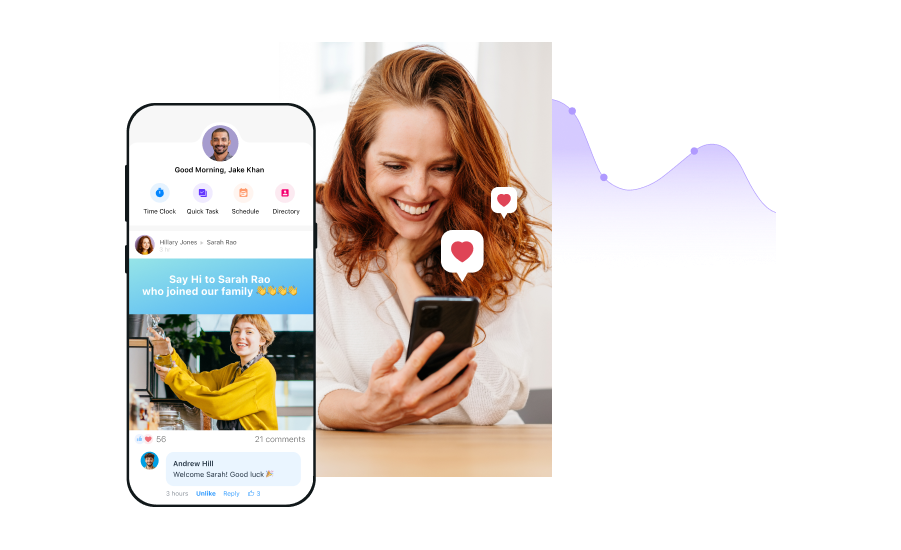 Top ideas for hosting an easter work party
If you want to keep things low-key, you might just decide to have a quiet event at your workplace with a few snacks. However, there are plenty of activities that you can incorporate into your Easter party to encourage team-building and keep things fun. Here are a few ideas. 
Plan an Easter egg hunt
Planning an Easter egg hunt during the day is a great way to keep things fun and lighthearted. You could spice things up by offering prizes for certain eggs or by hiding other prizes as part of the hunt.  This can also be turned into a fun team-building activity. Simply separate your employees into teams and have them compete against each other to see which team can find the most eggs. 
Give your employees a gift
Nothing tells your employees that you appreciate them more than an unexpected gift. As part of your Easter party, you could give each employee an Easter hamper—but don't be tempted to just stick with chocolates! It could be worth adding some other goodies. You could even personalize them if you know your employees well enough. 
Decorate the workplace 
Even the most motivated employees can get bored of the same old office. Adding a few seasonal decorations can help change things up. Remember to avoid religious decorations. Instead, go for things like Easter bunnies, eggs, and other bright, colorful decorations. 
Get out and help out
More and more organizations are using events like Easter company parties to help out in the community. Consider arranging an employee volunteering day for a community project, busy bee, or cleanup. 
Conclusion
Not all companies will want to host an Easter company party, and that's fine. Weigh up the pros and cons and decide whether or not it's a good idea for your organization. If you do decide to host an Easter company party, it can be a great way to reward employees, show your appreciation for their work, and boost office morale a little. Just remember to avoid religious aspects of the holiday to ensure all your employees can benefit from the celebration.
Celebrate With Us!
Make Easter Company party one to remember. Try Connecteams Events feature and enjoy the festivities with your team!
Try Connecteam Here