A company Independence Day celebration is an event or activity that's held on Independence Day. Hosting one is a good way to boost employee satisfaction and show appreciation—as well as simply being a great excuse to have a little fun in the office. 
Why should you hold a company Independence Day celebration? 
There are quite a few reasons why you should hold a company Independence Day celebration.  Patriotism Independence day is about celebrating our history as a nation, and what better way to do that than to hold a company event? Celebrating our country can bring your employees closer and help develop working relationships, even if they have cultural or religious differences.  Employee satisfaction When Independence Day comes around, many of your employees will be celebrating with friends and family after work or at the weekend. It's a happy time for most, and you can make it even better by introducing a light, jovial atmosphere at work.  Showing appreciation For some employers, Independence Day is simply an excuse to host a company event and show a little appreciation for their employees. Running a fun event can change things up in the office, even if it's only for a day, and this can show your employees that you're thinking about them and trying to maintain a fun, enjoyable workplace.  Retaining employees It's a well-known fact that satisfied employees are more likely to continue working for a company for extended periods of time. Holding events like a company Independence Day party will help maintain energy and excitement among your employees. They will want to come to work, and there will be much less chance of team members quitting unexpectedly. 
Ideas for your company Independence Day party
Company Independence Day celebrations are usually quite simple, lighthearted affairs, and planning them can be a rather fun process. There are countless things you could do, but we've listed a few of our favorite ideas below.  Fancy dress Independence Day offers a great opportunity to relax your dress code for a day and ask your employees to dress up. You could even offer a prize or prizes for the best July 4th costume to encourage more creativity.  However, it's usually worth implementing some form of dress code to ensure that employees still meet professional standards.  Food and drink July 4 is a holiday that the majority of Americans celebrate, and ample food and drink are a must. Plan ahead of time to ensure you have enough supplies, and consider employing a professional caterer if required. You could send out a survey to your employees to find out about any dietary requirements and allergies—platforms like Connecteam come with excellent tools to help you do this.    Some companies even ask employees to bring a plate to share, which can help if you have a tight budget for your celebration. If your budget is a little looser, you might even like to host a special employee lunch or dinner.  Fun activities  Any company celebration or event presents an opportunity for team-building and other fun activities. Plan some Independence Day-themed activities, and encourage all of your employees to get involved. For example, you might like to organize a scavenger hunt, an in-office competition, or even a sporting tournament—depending on your office demographics, of course.  Decorations Whatever you do, DO NOT go easy on the decorations. Even if you don't throw a specific Independence Day party, putting up some decorations is a great idea. Turn your office into a sea of red, white, and blue using balloons, streamers, and flags, and watch your employees enjoy themselves that little bit more.  Patriotic trivia  Last but not least is patriotic trivia. This has become increasingly popular in recent years, and it's a great way to build a strong team in a slightly competitive way. Since July 4 is a celebration of US history, you could quiz employees on American history and/or other patriotic topics.   You might like to provide questions via email, by handing them to employees on paper when they arrive at work, or even by including them in another activity, such as a scavenger hunt. 
Refine Your Company Events with Connecteam
Your next company Independence Day party will be a hit with Connecteam. Our Events feature lets you easily plan, provide information, invite, manage attendance, and send reminders & updates that reach each and every employee, all from your phone in seconds. Learn More about Connecteam!
What about remote workers? 
As the global remote workforce grows, more and more companies have employees who work from home. If this is the case for your organization, you need to ensure that they are included in any Independence Day celebrations.  For example, you could set up a conference call that lets them participate in the office festivities from afar. Team-building activities can be adapted to incorporate remote workers, and you can easily include them in events like trivia and dress-up competitions by using a video conferencing platform.  It can also be a nice gesture to send remote employees a gift card or a small bonus if you're providing food and drinks for your in-house employees. This will ensure they don't feel left out or separate from the rest of the team. 
Download your FREE guide on "10 Tips for Engaging Your Frontline Teams" ⤵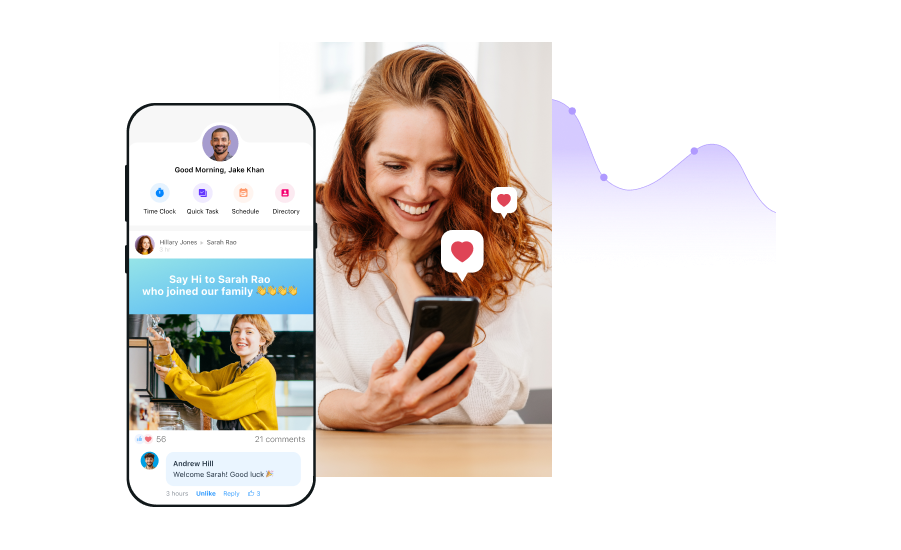 Tips for holding a successful Independence Day celebration
Independence Day is fun, but you do need to be a little careful with how you plan your celebration to ensure it goes off without a hitch. 
Get outside 
July 4 sits bang in the middle of summer, and it usually comes with sunshine and great weather. Use the occasion to get outside and host an Independence Day celebration in your local park, at the beach, or anywhere else that lets you take advantage of the conditions. 
Make sure people know they can say no
Not everyone is comfortable participating in certain celebrations or socializing generally, and you should never force employees to attend company events. Make sure people know that they don't have to take part in either in-house or external Independence Day celebrations, and let them go about their work in a normal manner if they wish.  Employees who don't wish to attend external events such as dinners or team-building activities are sometimes given the time off, but this isn't always necessary. 
Keep safety at the front of your mind
Workplace health and safety is an important consideration when planning a company event. Poor safety practices could lead to an injury, or worse, which will spoil everyone's Independence Day celebration.  For example, you should check that none of your employees have serious food allergies if you're planning to cater or offer a meal. Activities should be safe and low-risk, and external events should be carefully planned. 
Conclusion
Independence Day presents a great excuse for a company celebration. A company Independence Day celebration can help boost employee morale, show your appreciation for their work, and encourage working relationships. Ensure you plan an event that fits with your office demographics and values. Think carefully about making it fun, and ensure you keep health and safety considerations at the front of your mind.  But above all, ensure you cater to all employees, including remote workers, and never make company events compulsory to attend. 
Celebrate With Us!
Make Independence Day party one to remember. Try Connecteams Events feature and enjoy the festivities with your team!
Try Connecteam Here