NDIS rostering software streamlines the scheduling process within the disability service sector. This guide covers key features of NDIS rostering software, how it can support your scheduling efforts and the 3 best NDIS scheduling platforms on the market.
Table of contents
Scheduling shifts as an operator in the National Disability Insurance Scheme (NDIS) industry involves coordinating many moving parts.
From managing complex client needs, staff availability and last-minute changes to complying with NDIS regulations, you have a lot on your plate—and it's easy for things to fall through the cracks.
This can lead to inefficient schedules that leave clients not getting the proper care and staff feeling tired, stressed and burned out.
Thankfully, with NDIS rostering software, you can avoid these challenges. This article covers how the right NDIS rostering software can help you simplify scheduling and explores 3 of the best platforms available today.
Key Takeaways
NDIS rostering software simplifies creating, assigning and managing workers' schedules based on client requirements, staff availability and compliance regulations. 
Key features of NDIS rostering software include advanced scheduling, customisable rosters, time tracking, real-time updates, reporting, communication and integration with popular payroll software, like Xero. 
In addition to simplifying scheduling, NDIS rostering software can help you increase productivity, enhance compliance, improve communication, provide quality care and ensure client and staff satisfaction.
Connecteam, Brevity and Skedulo are the 3 best NDIS software options available today.
What Is NDIS Scheduling Software?
NDIS stands for National Disability Insurance Scheme, a social welfare program in Australia that provides support and services to people with disabilities, their families and carers.
NDIS scheduling software is specialised employee scheduling app designed to meet the unique needs and challenges of NDIS providers.
It helps providers manage dynamic rosters, comply with the NDIS Quality and Safeguards Commission standards and deliver high-quality, person-centred care. Some platforms also include time tracking, reporting and communication features to simplify operations further.
Key Features of NDIS Rostering Software
The tools each NDIS rostering platform offers can vary, but most include the following features to help with scheduling and more. 
Accurate reporting and analytics
The best NDIS rostering tools have reporting and analytics tools that provide insights into labour costs, productivity, client outcomes and more. This data can help you make data-backed business decisions to improve your operations and quality of service.
Time and attendance tracking
Many NDIS management software has time and attendance tracking tools built in. Workers can use these to clock in and out and record their hours. As a manager, you can monitor actual hours worked and verify that staff members have showed up for their assigned shifts.
Communication tools
The best NDIS scheduling systems have in-app messaging features or can integrate with third-party communication platforms. These help workers and administrators stay in touch on the go.
Seamless integration with other platforms
Finally, NDIS rostering software will often integrate with payroll software, electronic health records (EHR) management and customer relationship management (CRM) systems to help automate these processes—saving time and effort.
Advanced scheduling capabilities
The best platforms feature a drag-and-drop interface and include shift templates to let you easily create, edit and manage schedules. The software can also handle more complex schedule elements like split shifts, recurring appointments and ad hoc shift requests.
Customisable rosters
NDIS scheduling solutions allow you to easily adjust schedules whenever needed—for instance, when workers call out sick or a client cancels an appointment. Plus, it enables you to create different rosters— such as group, individual or on-call rosters—and assign staff based on their availability, skills and preferences.
Employee self-service options
The software empowers employees to access and request changes to their rosters—such as submitting time off requests, picking up available shifts or updating their availability.
Real-time notifications
NDIS scheduling solutions provide instant alerts about shift changes or worker availability through push notifications to staff. This can significantly improve efficiency and quality of care and reduce the risk of errors or miscommunication.
How NDIS Rostering Software Simplifies Scheduling
NDIS rostering software can streamline many aspects of your scheduling process. It can help in:
Speeding up roster creation and management
NDIS rostering software simplifies creating and managing staff schedules by automating various tasks and making others much quicker to complete.
For starters, the software lets you quickly generate rosters based on predefined templates and rules. Plus, it allows you to create single or multiple shifts, set one-time or recurring shifts and use customisable templates for a week, fortnight or month.
NDIS rostering software also considers staff availability, skills and qualifications, ensuring the right staff members are assigned to the appropriate shifts. Many platforms even let you create and publish open shifts, which qualified employees can claim based on their availability and qualifications.
But the software doesn't just help with initial roster creation. It also makes it easier to manage last-minute changes like shift cancellations or sudden scheduling adjustments. This flexibility enables you to react promptly to unforeseen events, ensuring uninterrupted care service delivery.
Optimising staff allocation for personalised client care
In the NDIS industry, you face various compliance challenges in staff scheduling. A major one is considering clients' care needs and personal background and matching staff skills and qualifications to those needs.
This task can be challenging, but NDIS scheduling software makes it simple with customisable matching algorithms that prioritise client-centred care.
You can tailor matching criteria based on individual client preferences, needs and cultural considerations. This customisation ensures you always schedule the right caregivers who can provide the most suitable care and support.
By optimising staff allocation in this way, you help distribute workload evenly among your caregivers and support workers, too. Not only does this ensure you don't run into scheduling issues like double bookings or too much overtime, but it also helps prevent staff burnout and promotes NDIS compliance—giving you peace of mind in your scheduling process.
Minimising scheduling conflicts and errors
Scheduling conflicts and errors can significantly impact the efficiency and quality of the care you provide. They can often lead to employee frustration, burnout, dissatisfaction and even turnover. NDIS rostering software helps minimise these issues by providing features that identify and prevent conflicts.
It monitors caregivers' hours to prevent scheduling them beyond regulatory or organisational limits, which would result in overtime. Plus, it can detect overlapping shifts, double bookings and times when staff members are unavailable. By alerting you to these conflicts in real time, the software allows for prompt resolution and adjustments to the schedule.
Minimising scheduling conflicts also enhances staff satisfaction and patient care continuity. This means NDIS participants are more likely to see the same provider (or a small, consistent group of providers) at each visit. Continuity allows the caregiver and provider to build a better understanding of the patient's health history, needs and preferences.
It also promotes trust between the patient and the provider. When appointments proceed as scheduled, without frequent changes or cancellations, patients are more likely to feel the healthcare system is reliable.
🧠 Did You Know?
Connecteam will instantly notify you when an employee accepts or rejects a shift, arrives late, exceeds overtime or books the wrong shift.
Tracking attendance and location to streamline schedule updates and redeployments
Most NDIS rostering software lets caregivers and support workers digitally clock in and out through their mobile devices, providing you with real-time visibility into worker attendance. You can monitor who's on duty and instantly identify missed shifts. This insight prompts you to quickly find coverage for absent staff and update the schedule to prevent disruptions in your operations.
Other platforms include GPS tracking tools that let you verify caregivers' locations when they punch in and out and when they're on the clock. This information can make it much easier to re-schedule staff in emergencies. You can quickly locate the nearest caregiver or support worker and redeploy them to assist with the situation.
Keeping everyone updated on schedules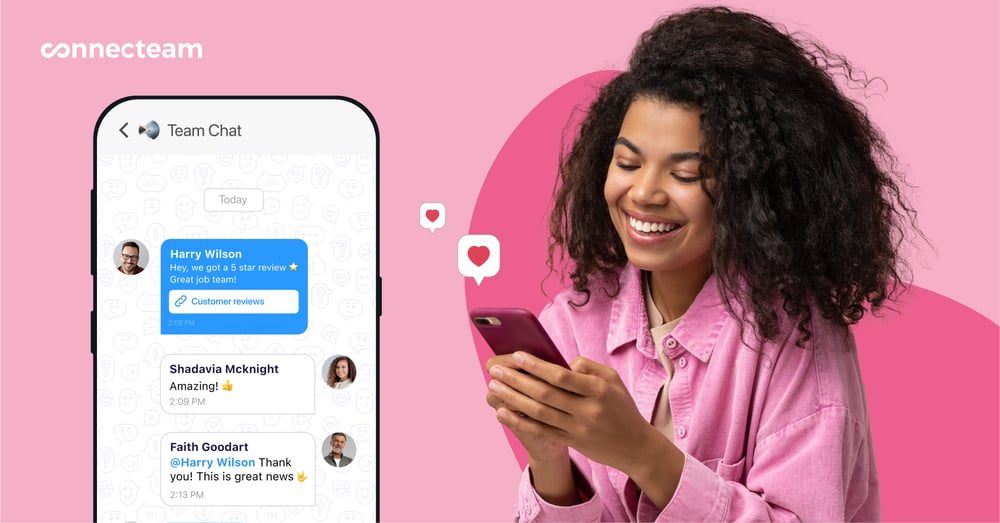 NDIS rostering systems will instantly alert your team members when you post a new schedule or when there's a change to the roster. Caregivers won't need to check their schedules constantly—they can simply rely on these notifications to keep them informed. Similarly, they'll always be alerted of last-minute changes so they can adjust their plans accordingly.
The software typically includes communication tools like a messaging feature. With this, you can stay connected with your staff and communicate real-time updates about rosters, upcoming shifts, caregiver availability and more. This makes updating schedules easier for you and helps caregivers stay prepared for shift changes, new patient requirements, future appointments and cancellations.
Ensuring compliance with NDIS regulations and guidelines
Non-compliance with NDIS regulations can result in penalties, fines or even the suspension of funding. Helpfully, NDIS rostering software can make it easier to adhere to required standards for schedules.
Using the software, you can enforce rules related to staff qualifications, certifications and working hours when creating schedules and allowing staff to pick up shifts. These rules ensure that only properly qualified workers are assigned to certain shifts and prevent caregivers from working too much overtime.
In addition, NDIS rostering platforms will digitally store important records like staff schedules, working hours and overtime details in a secure, central location. It also keeps track of staff qualifications and certifications, patient assignments, care plans and any changes or adjustments made to these schedules for future reference. This ensures you comply with the NDIS's requirements around recordkeeping.
The 3 Best NDIS Scheduling Software Platforms
Connecteam
Connecteam is an all-in-one work management platform that's my top recommendation for NDIS rostering software.
Why I picked Connecteam: It's simple to use, affordable and equipped with powerful features that take the stress out of scheduling.
With the sleek drag-and-drop scheduler, you can quickly and easily assign shifts to your caregivers. Build them from scratch or use one of Connecteam's handy templates.
I especially appreciate the scheduler's colour-coded visuals, which help you create balanced schedules. You can easily identify any gaps or overlaps in the schedule and then make appropriate adjustments in a snap.
Connecteam also lets you assign shifts based on qualifications, ensuring you always assign the right employees with the necessary skills to specific shifts. Plus, you can set common shifts to recur, such as for weekly or monthly rotations, and create open shifts that anyone can sign up for.
Another feature I found useful is Connecteam's shift-swapping functionality. Your workers can exchange shifts among themselves to provide coverage for unavailable team members or simply ensure the roster works for them.
In addition, Connecteam automatically includes breaks, overtime and approved time off directly into schedules. You can create custom policies around each of these, which will sync with the scheduler to inform your rostering.
The software will flag potential scheduling conflicts before schedules go live. Once you've published your roster, Connecteam will send automated push notifications to your staff's mobile devices. And whenever you update a schedule, workers will receive instant alerts.
Moreover, Connecteam has an employee time clock built right in. Your workers can track their time to the second with just a touch of their device. From the manager dashboard, you can accurately track their attendance and stay on top of absences.
Plus, whenever a worker forgets to take a break or approaches unscheduled overtime, Connecteam will notify you so you can take appropriate action. Employees can also request time off directly within the Connecteam app, and you can review requests at your convenience.
I was also pleased to see that Connecteam includes real time GPS tracker. You can verify workers' on-the-lock locations, making it quick and easy to redeploy them as needed when unexpected situations arise.
Connecteam also excels in communication with its in-app online team chat for group and one-on-one messaging. No matter where or when they're working, your staff can quickly contact you or other team members. The chat is ideal for communicating real-time updates to rosters and asking your staff for updates on their availability while you create or modify a schedule.
Additionally, you can generate custom reports, securely store staff and NDIS participant records with Connecteam's document management tools, generate digital timesheets, integrate with payroll software and more.
Moreover, Connecteam is very affordable—which is a significant advantage, in my opinion. It's free for teams of up to 10 and starts from only $29 per month for up to 30 people.
Brevity
Starts from $69.90 per month
Brevity is a cloud-based NDIS management system designed to help Australian disability service providers manage their operations more efficiently.
Why I picked Brevity: It offers many tools, including client record management, employee record administration, funding tracking and reporting, rostering and scheduling, timesheet and leave management and secure program access.
Among Brevity's rostering and scheduling features is a Schedule Board, which provides a calendar view of organisation's services, either by the week, fortnight or month. The quick actions feature within the Schedule Board enables you to make bulk scheduling changes, simplifying day-to-day operations efficiently.
One feature I find especially useful is Brevity's advanced capability for creating Group Schedules. This allows you to create and manage rosters for groups of clients and individual clients. Plus, it lets you track caregivers' availability. You can then use this information to create the perfect roster.
On the downside, I noticed that Brevity has a learning curve and offers limited customisation and reporting options.
Skedulo
Contact vendor for pricing
Skedulo is a scheduling system for NDIS and consumer-directed care (CDC) providers.
Why I picked Skedulo: It uses artificial intelligence to automatically schedule staff based on availability, skills and location. It allows you to roster multiple staff members to the same client or group of clients, too.
Plus, Skedulo offers native Salesforce integration and robust APIs. In addition, it allows you to manage employee leave and unavailability through the mobile app.
To ensure onsite care delivery, Skedulo provides workers access to customer history, custom forms and data views explicitly designed for NDIS/CDC and in-home health. In addition, Skedulo helps you track compliance with NDIS regulations, such as ensuring that staff have the required qualifications and clients receive the services they're entitled to.
However, I found the platform—particularly its mobile app—can sometimes be slow. I was also disappointed that Skedulo doesn't offer a free plan.
Conclusion
NDIS rostering software enables you to create schedules that meet client requirements, work well for your caregivers, enhance client satisfaction and ensure compliance with NDIS guidelines.
There are various NDIS software platforms available, but I recommend Connecteam as the best option. It helps simplify scheduling with features like advanced scheduling, time and attendance tracking, communication tools, compliance management, reporting and more.
Get started with Connecteam for free today!
Want more great articles straight to your inbox? Subscribe Here ⤵