A good employee document management system is essential for securely handling your employees' sensitive records and staying compliant. In this article, we take you through records management best practices and give you a list of the best tools for the job.
Table of contents
Key Takeaways
Employee records management involves managing employee documents from creation through to destruction.
A records management tool is the best way to handle your employee documents.
It helps you securely store records and access documents easily while ensuring you remain compliant with relevant laws and regulations.
Connecteam's document management features make it the ideal tool for handling all types of employee documents.
Between timesheets, payroll records, and performance reviews, managing employees' records can be an overwhelming task for most HR departments. And it's not always easy to get it right.
At its best, poor records management is an inconvenience, making it difficult to find documents when you need them. At its worst, it becomes a liability with serious legal consequences. That's why it's essential to use an effective employee record management system.
HR document management software is ideal for this. It saves you time and effort by automating the record-keeping and finding processes. It gives you access to HR documents from anywhere while storing them in accordance with your compliance obligations. Plus, it makes it easier to keep employee documents up-to-date and accurate.
In this article, we explain how to set up an employee record management system and the best digital tools to help you do it.
What Is Employee Records Management?
Employee records management refers to the management of the employee records' lifecycle according to relevant laws and regulations. Also referred to as HR document management, it includes the storage, access, handling, and destruction of employee documents.
The best way to handle employee records is with a document management system. Typically software-based, a document management system stores, organizes, and tracks documents electronically.
Types of Employee Records
Employee records include:
Personal information, like full names, addresses, bank account details, and emergency contacts.
Medical information, including healthcare records, doctors' letters, disability information, and requests for accommodations.
Recruitment records, like job descriptions, applications, résumés, interview notes, offer letters, and reference checks.
Employment histories, like hiring records, onboarding information, and I-9 forms.
Payroll and benefits, including timesheets, attendance records, tax documents, healthcare benefit plans, and benefit enrollment forms.
Personnel records, including warnings or other disciplinary actions, awards, and separation documents like exit interviews.
Professional development records, including performance reviews, promotion, and transfer documents.
Leave records, including requested and approved time off.
Contracts and agreements, such as employment contracts, confidentiality agreements, and signed employee handbooks
HR documents, such as written policies.
Safety and security records, including safety training materials, incident reports, and workers' compensation documents.
Training materials, professional licenses, and certifications.
Why Is Effective Records Management Important?
It's necessary for compliance purposes
An employee record management system is often required by law. A suite of record-keeping laws apply to businesses. These require employers to maintain accurate employee records for a certain time—known as a "retention period."
In the US, there are several federal laws obligating employers to maintain employee records. These include the:
Age Discrimination Act
Equal Pay Act
Fair Labor Standards Act (FLSA)
Family and Medical Leave Act (FMLA)
Occupational Safety and Health Act (OSH Act)
Title VII of the Civil Rights Act
For example, under the FLSA employers must keep any records used to calculate pay, including timesheets and schedules, for two years.
There are also record-keeping laws and regulations at the state and local levels. These set out different retention periods and storage requirements.
It's essential you understand your legal obligations around employee records to avoid penalties. This can involve a complex legal framework, so you should seek professional advice on the laws that apply to your business.
It securely stores sensitive information
Employee document management involves handling employees' personal information. This includes their bank account details, tax information, and medical documents. These sensitive documents are often governed by personal data protection laws. So, it's essential that you store them securely and ensure they can only be accessed by the appropriate people.
A good records management system is ideal for protecting confidential documents. Digital document management systems in particular offer a range of security features. These include password protection, encryption, permission controls, and access history.
Features like these ensure documents can only be accessed by ‌approved people. They also create a digital map of the document's history, showing when it was created, who has accessed it, and when.
Security measures like access controls and encryption help reduce the risk of cyber attacks or data breaches. Version controls may also detect attempts to hack your document management system, allowing you to respond quickly.
It improves efficiency and keeps your business compliant
Manual record management can be time-consuming. It involves searching through filing cabinets or storage units containing hundreds or thousands of documents to find the one you're looking for. In a Wakefield Research survey, 54% of respondents said they spend more time looking for documents they need than responding to emails or messages.
Record management software digitizes the document storage and retrieval process. With digital files stored and organized in a central location, you can find the documents you need quickly and easily. This way, your time is freed up for more important work.
Having quick access to documents is also essential for producing documents for audit reports or other regulatory purposes. It's also relevant to responding to complaints or lawsuits. There are often deadlines involved in these situations, so quick document retrieval is crucial.
Digital records management also lets you automate some stages of the records management process—for example, the categorizing and filing of documents. This gets the job done faster than manually handling paperwork. It also reduces the risks of human error, including documents being accidently destroyed.
It improves information sharing
Well-organized and accessible documents make it easier to share information with the right people in your organization.
With documents stored in a centralized location, employees always have access to the documents they need to do their jobs. It also avoids work duplication. Employees can check if a document exists before creating it.
In addition, an effective document management system makes it easy for workers to collaborate. They can share and update documents in real time.
It also helps your team make better business decisions more quickly. Everyone has the most up-to-date information at their fingertips to make informed decisions.
How to Set up a Digital Document Management System
Categorize your HR documents
The first step when setting up your document management system is to identify what types of HR files it needs to store. To help with filing, break these down according to categories. For example, personnel records, safety records, training records, and complaints.
Organizing documents like this helps you file them easily, especially if your records management software has an auto-filing feature. It also ensures documents are stored separately, making it straightforward to assign access rights to them.
Set access permissions
You can then decide who needs access to each type of document. As a general rule, the more sensitive records are, the fewer people there are who need access to them.
HR managers typically have access to a wide range of employee records. For example, they should be able to see pay records, as well as employees' personal and medical information.
A shift worker, on the other hand, doesn't need access to this information. Instead, they need to access forms, safety reports, and HR policies.
By setting permissions, you can control who has access to which document. So while everyone from the HR department can see pay and employee records, you can prevent all other employees from opening them.
It's important to check the relevant legislation regarding document permissions. Some laws specify who can access certain documents or information contained in employee records.
Define retention periods and trigger events
Next, identify how long you will keep types of documents for and when the clock starts running on that time (i.e., the trigger event). For example, trigger events can include the creation of a record, the date of a performance review, or the termination of an employee.
Retention periods and trigger events are often defined by law. For example, in the US at a federal level, employers are required to keep:
Job applications and résumés for 1 year.
Payroll records for 3 years after they are created.
Occupational Safety and Health Administration (OSHA) records for 5 years after the year the records relate to.
Check the laws and regulations at both the federal and state level that apply to your business.
While you can choose to keep records beyond their legal retention period, it's best to regularly clear out expired records. Unnecessarily holding onto records can make document management more difficult. They can increase document storage costs and make it slower to retrieve documents, especially hard copies.
You also need to decide how to dispose of documents at the end of your retention period. Digital record management solutions typically automate this process. They securely destroy electronic records on their expiry date so that they can't be reconstructed.
If you also have physical records, consider whether you can simply throw away the documents or whether they need to be securely disposed of. You may need to engage a document destruction company with strict chain-of-custody procedures to collect, shred, and destroy sensitive documents, like those containing personal employee data.
Add extra security measures
Finally, consider ways to add extra security to your document management system.
With a digital records management system, you can set access permissions according to the type of document. But you should also check that employee records are encrypted. This means that they're protected from being read or edited if a third party accesses them while your employees are using, sharing, or uploading them.
As a further layer of security, you may also want to add passwords or two-factor authentication for users accessing certain documents.
Regularly backing up your employee records is also important in the event your system goes down. Use encrypted files to store digital backups on secure on-premises or cloud-based servers. Hard-copy backups should be kept in locked filing cabinets or a locked storage area.
Another way to protect your employee document management system is to educate your employees about data security—for example, via online training courses. This helps them understand the risks and how to identify potential cyber threats that could compromise employee records.
Other Best Practices To Keep In Mind
Understand your employees' rights
Besides the laws around document storage and retention periods, it's important to understand employees' rights in relation to their records.
Personal data protection laws give employees the right to know how their personal information is collected, handled, and shared. Make sure both your HR department and your employees receive training on this. For example, conduct a series of webinars on personal data protection and ensure you address this topic in your employee handbook. This helps everyone in your organization understand their personal data protection rights and obligations.
It's also important to set up processes for employees to request access or changes to their personal information, for example, via an online form. In your policies and procedures manual, identify which person or department is responsible for this so employees know who to ask.
Develop clear, written document management policies and processes
Your document management plan should be supported by written policies and processes. These guide your HR department on how to create, organize, and store employee records.
As you write, be sure to explain the different types of employee documents, how to file these documents, who has access to them, and when and how they should be destroyed.
It's also essential to share these policies and processes with your employees. You can do this by including them in your policies and procedures manual, incorporating them into your onboarding process, and sending regular company-wide emails to remind employees about record-keeping procedures.
Writing this guidance down and communicating it with your team ensures consistency across your organization's records management. It also gives your HR department an easy reference point so they can make the right decisions when handling employee records.
Stay up to date with legal compliance
The laws and regulations around records management change often. This is especially true when it comes to evolving technology around digital records management.
Make sure you stay up to date with these changes and adjust your policies and procedures as necessary. By doing so, you can limit the risk of non-compliance which can result in penalties like fines or legal action.
Regularly review your employee records
Employee information changes regularly, often as a result of turnover, promotions, and changes in personal circumstances. Put systems in place to review your employee records on a regular basis to confirm they contain accurate information.
Digital records management tools often have features to help with this. For example, you could set up a recurring annual reminder to team members to update their personal and emergency contact details.
3 Best Employee Documents Management Tools
With a range of employee records management software available, it can be difficult to decide on the best one for your business. Here are our recommendations for the three best document management tools.
Connecteam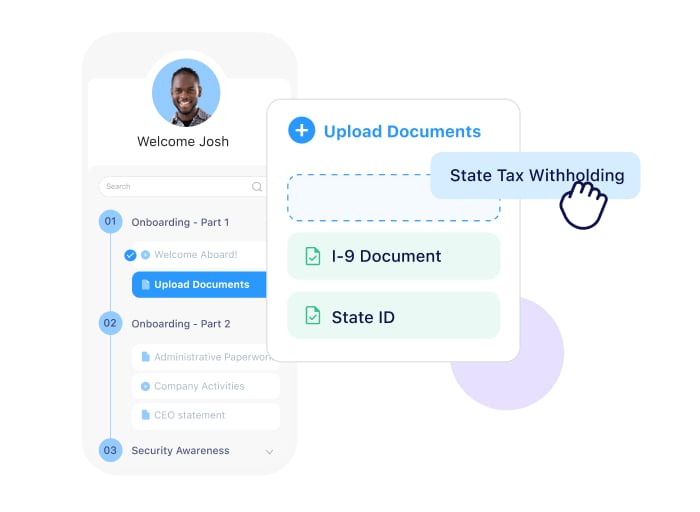 Connecteam makes it simple to manage all types of employee documents from their creation to their disposal. Connecteam's document management features securely store sensitive documents, simplify your operations, and help you stay compliant.
Using Connecteam's full-featured mobile app, you and your employees can upload documents on the go. You can then access employee records from their secure location via a centralized dashboard.
In addition, Connecteam offers unlimited storage. Store as much as needed and retain your documents for as long as required by law.
With a built-in team chat, Connecteam also enables you to share and discuss documents with your employees in real time. There are also advanced notification features you can use to keep your documents up-to-date and accurate. For example, Connecteam can notify you when employment contracts are due to expire.
Access permissions and end-to-end encryption further protect sensitive employee documents, preventing any data breaches.
Connecteam also has an intuitive interface and comprehensive customer support. It's easy for your team to get started, and they can easily get in touch with customer service if they have any questions or concerns.
But Connecteam is so much more than an employee record management app. It's an all-in-one digital employee management solution that includes features for scheduling, communication, employee recognition, and training. 
It's also a very affordable document management solution. Connecteam's free-forever Small Business Plan gives up to 10 users access to its most popular features, including employee document management. Paid plans start from $29 per month for up to 30 users, then only $0.50 monthly for each additional user.
Pricing
Starts at just $29/month for the first 30 users
Free 14-day trial
Free plan available
DynaFile
DynaFile is a cloud document management software that can be used for employee file management. It provides centralized web-based storage and digitizes businesses' records management processes.
It includes an automated scanning feature that supports batch scanning of large numbers of documents. Users can also share files via public or private document links.
DynaFile assigns barcodes to files during scanning that can later be used to find records. It also offers a feature that enables documents to be automatically filed.
Other features include user access permissions, admin controls, and electronic signatures. However, DynaFile doesn't offer a mobile app.
Pricing
Contact vendor for price
Trial: No
Free plan: No
Avokaado
Avokaado is a digital tool for contract lifecycle management. It helps users with drafting, negotiating, signing, and managing their contracts.
Users can draft contracts based on clause-based automation and templates. They can also automate deadline tracking and set reminders about important dates relating to documents like renewal dates.
Avokaado uses private cloud storage. This enables employers to track and collaborate on original or template-based contracts. The platform also lets users manage file access and add electronic signatures to contracts.
Avokaado is a standalone contract management system. However, it offers integrations with users' existing software including Persona and Salesforce.
Pricing
Starts at $312.40/month (Pricing listed only in euros: €290/month)
Trial: Yes
Free plan: Yes
For more information, check out our article on the 10 best HR document management software.
A Digital Record Management Solution for Your Business
Employee records management software is the best way to store and access your employees' records. It lets you do so quickly and easily, with a level of security that manual data handling can't match.
One of the most important aspects of managing your employees' records is understanding your legal obligations. Check the laws and regulations at a federal and state level to find out what records you must keep, how long you must keep them for, and who has access to them.
You can then set up a digital document management system that not only complies with the relevant laws but also meets the needs of your business.
Want to Receive More Great Articles Straight to Your Mailbox? Subscribe Here ⤵