Proper organization is the key to accurate, compliant personnel files that are easy to manage, protect, and access. In this article, we look at how to organize employee personnel files and why a document management system is an essential tool for all businesses.
Table of contents
Employee personnel files contain important information about your employees such as tax documents, performance reviews, employment contracts, and more.
Without a clear organizational structure for personnel files, important data can be lost or misplaced. That makes it more difficult for human resources (HR) workers, payroll administrators, and managers to find the information they need. In addition, losing track of employee data could leave your company out of compliance with state and federal labor laws. It also makes it harder to know when documents need to be updated or replaced.
In this guide, we'll explain what's included in an employee personnel file and offer five tips for how to organize employee personnel files.
What Is a Personnel File?
An employee personnel file is a collection of documents related to an employee's tenure at your company. It serves as a record of their employment from the time they apply for a job to the time they leave.
Personnel files are important for a variety of internal business purposes and legal requirements. They serve as a reference point for all administrative, managerial, contractual and compensatory, developmental, and disciplinary questions related to an employee.
Employee files are also important for regulatory compliance and typically contain data that employers are required by law to keep. This includes employee tax documents like Form W-4, which is required by the IRS, and compensation records, which are required by the Fair Labor Standards Act (FLSA).
In addition, employee files provide a secure home for legal documents, such as employment contracts and non-compete agreements. It is essential that your company has these documents readily accessible in the event of a labor dispute.
Who Is Responsible for Organizing HR Files?
HR administrators are typically responsible for organizing human resource files and handling the documents in personnel files on a daily basis. They're also responsible for ensuring that documents are up-to-date and providing access to files for those who need them.
Managers may also be tasked with adding documents like performance reviews to employee files. In that case, they should have a working understanding of the file organization system.
What Goes in an Employee Personnel File?
The first step in learning how to organize HR files is deciding what forms and data should be included in them. We'll list some of the common documents that human resources typically keep in personnel files.
Compliance documents
Compliance documents are any employee-related documents that your business is required by federal law or state law to keep. These include:
Immigration documents (such as I-9 forms)
Employee timesheets, pay stubs, and other payroll records
Demographic data (including name, social security number, gender, and address)
Job description for each employee's position
Employee benefit enrollment forms (such as 401(k) enrollment forms)
Worker's compensation documents
Termination data, including COBRA insurance and unemployment documents
Company documents
Company documents are any files that are used internally by your company or provide a record of an employee's history with your company. They may include:
Resume and job application cover letter
Signed job offer letter
Employment contract
Performance review documents
Record of promotions and raises
Signed acknowledgment of company policies, including your employee handbook
Non-compete or non-disclosure agreements
Disciplinary records
Resignation letter and exit interview documentation
Confidential Employee Files
Importantly, your company will likely need to keep one or more sets of confidential personnel records that are separate from your main employee files.
Documents in these confidential files should be accessible only to HR administrators who have a need to view them. They should not be accessible to managers, and the process for viewing them should be tightly controlled.
Files that should go in an employee's confidential file include:
Background checks
Drug test results
Child support documents
Wage garnishment records
Beneficiary information
Any records related to ongoing litigation
You'll also need to consider how to store employee files that include medical information. Medical data is protected under the Health Insurance Portability and Accountability Act (HIPAA). It must be stored in its own confidential medical file, separate from other types of confidential data.
Medical files may include:
Health, dental, and vision insurance enrollment forms
Life insurance enrollment forms
Insurance claims and doctor's notes
Medical leave request documentation
Disability accommodation requests
Paper vs. Electronic Employee Files
One big decision you'll need to make is whether to use paper or electronic files.
For decades, employee files were all paper records. Most businesses had locked filing cabinets to which only HR administrators had access. Each employee had their own manilla envelope that would gradually fill with paper documents over time.
These days, it's rare to see companies holding onto paper records. The best way to organize employee files is electronically. Digital employee files are typically more convenient and provide several important advantages.
First, electronic documents are searchable. You can quickly pull up a specific employee's latest performance review just by searching for the employee's name in your file manager or document management system. That saves a lot of time compared to digging through a filing cabinet and looking for a specific piece of paper.
It's also more cost and space-efficient to keep electronic records. You don't need to take up valuable real estate with a massive filing cabinet in your main office. There are no printing or shredding costs, either.
In addition, electronic records can be more secure than paper records. HR administrators can configure access permissions so that managers can only see the employee files for their direct reports. These permissions eliminate the risk that employee files could be seen by someone who isn't authorized to view them.
From a regulatory standpoint, paper and electronic documents are largely equivalent. Your company can use software to fill out and sign forms entirely online or scan paper forms to create digital copies. In most cases, once you create a digital copy of a document, you're free to dispose of the original paper copy. A few notable exceptions exist, such as X-ray images, as required by the Occupational Safety and Health Administration.
Whether you choose to keep paper or digital employee files, it's a good idea to maintain backups. For paper records, this means storing copies of all of your documents off-site—at a commercial document storage facility, for example.
For digital records, you can save backups to a hard drive or store them in the cloud using a service like Google Drive. Many HR management systems that offer document storage, such as Connecteam, automatically back up your employee files in the cloud.
Read our in-depth review of the best document management systems of 2023
How to Organize Employee Files: 5 Tips
Now that we've answered what a personnel file is and you know what to include in one, we have 5 tips for how to organize employee files electronically.
Standardize your filing system
Our first tip for how to organize human resource files is all about consistency. However you decide to organize your files, do so across your entire HR system.
At the level of individual files, use a standardized approach to naming documents. For example, you might name documents using the formula:
[Employee Last Name] [Employee First Name] – [Document Name] – [Year]
This naming scheme makes it easy to see who a document belongs to, what the document is, and how old it is.
At the level of employee folders, you can apply a similar standardization. For example, each employee can have a folder with their name or employee number. Within that folder, you can have sub-folders labeled "Onboarding," "Payroll," "Performance Reviews," and so on. Then, put the same types of documents into each of these sub-folders for each employee.
Use a document management system
Using a dedicated app to organize documents can make it significantly easier to manage employee files. Document management systems enable you to drag and drop files between folders, search for documents by name or contents, and much more.
Some document management systems, like Connecteam, also enable employees to securely upload required HR documents to your system themselves. The software uses automations to put every employee personnel file and form where it's supposed to go, saving time and reducing errors.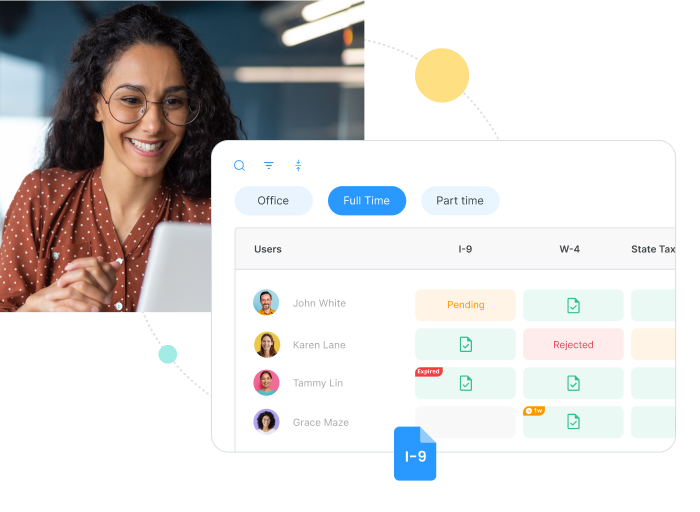 Connecteam also offers a self-service portal for managers and employees to view documents. For example, you might want to allow managers to view employee performance reviews and employees to view pay stubs. This frees up your HR team to focus on more important tasks than constantly responding to document requests.
Start your free 14-day trial of Connecteam now
Set up access permissions
An important part of learning how to organize employee files electronically is setting up access permissions. Access permissions determine who in your company can see which employee files. They're essential for ensuring that sensitive employee data is only visible to those who need to see it. Permissions also help prevent files from being accidentally moved, edited, or deleted.
With a file management app to organize documents, it should be simple to establish access permissions. A good place to start is to give managers access to non-confidential files for their direct reports only. Senior managers may need access to files for reports two tiers down.
Only senior HR administrators and benefits managers should have access to employee benefits information and other confidential documents. Only members of your company's legal team should have access to files related to ongoing litigation.
Add forms and checklists to your HR workflow
Another tip for how to organize personnel files is to use forms and checklists, like those available with Connecteam. These ensure that employees fill out every document they're required to.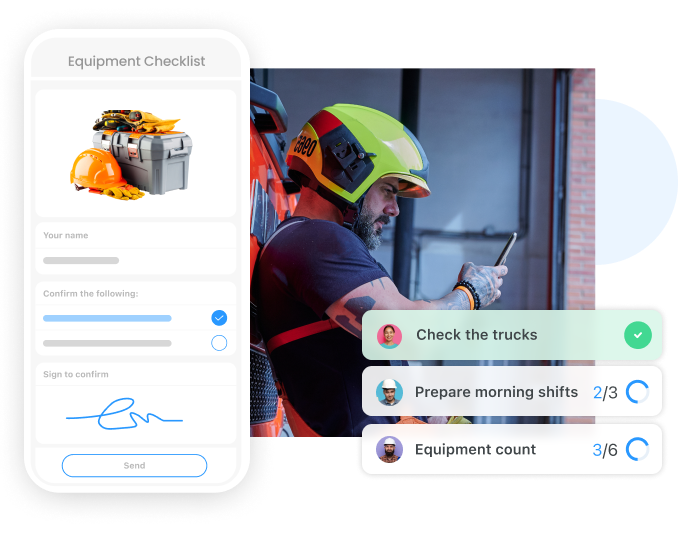 Both forms and checklists are especially helpful during onboarding and at the start of each year, when employees have numerous documents to provide. It will be easy for both employees and HR managers to see if an important file or form is missing.
Monitor document expiration dates
One of the trickier aspects of managing employee files is staying on top of form renewals and certification expirations. The question is how to organize employees' personnel files in such a way that you can be sure your employee forms are always up to date.
Once again, using a document management system can help. When an HR administrator uploads a document, they can assign an expiration date to it. This might be one year from the day the form is uploaded, the date a certification expires, or the last day of the year.
Connecteam, for example, allows you to set expiration dates per document entry or per type. Assigning expiration dates by type (for example, one year or 18 months) saves you from having to do so manually for each document.
Your document management system will then automatically notify you or the employee when an expiration date is approaching. This ensures that files and forms are renewed before they expire so there's no lapse in compliance.
Summary
Understanding how to organize employee files can make a huge difference in your business's HR operations. Well-organized employee files make it easier for HR administrators and managers to find the information they need. They're also critical to ensuring that your business remains in compliance with tax and labor laws.
The best way to organize employee files is electronically, ideally using a dedicated HR document management system like Connecteam. You can create a standardized file naming system, control access permissions, easily stay on top of document expirations, and more.
Easily Manage Employee Personnel Files with Connecteam
Connecteam is the ultimate solution for managing employee personnel files. Our dedicated HR management platform offers secure document storage, easy access, and advanced permissions for confidential information.
From employee contracts and performance reviews to training certificates and vacation requests, Connecteam helps streamline your HR processes so you can focus on what matters most – your business.
Sign up for a free 14-day trial today and experience the benefits of Connecteam for yourself.
Want to Receive More Great Articles Straight to Your Mailbox? Subscribe Here ⤵