Being in charge of an HVAC company requires handling many moving parts, both literally and figuratively! On a regular basis, technicians are traveling to various job sites, parts and inventory arrive in and out, bills are filed, payroll and schedules needs to be completed, fleet vehicles need maintenance, employee engagement needs attention and so much more. But there just aren't enough hours in the day.
With all of these challenges, we decided to take a closer look as to why hundreds of HVAC companies chose Connecteam as the solution to all their problems. And exactly how they utilize our employee app to stay on top of it all.
Challenges HVAC companies faced before Connecteam:
Safety protocols must be followed
"Updating our entire team about hazards or incidents takes a lot of time, this can cost us big time and can even endanger our staff. We lose a ton of time calling employees to ensure they're aware of safety protocols when necessary. And the fact that we need to schedule meetings that work for every single employee to discuss safety protocols is a hassle I am no longer willing to deal with."
"Updating safety protocols just wastes paper to print everything and add to binders. Distributing these updates to multiple job sites is time-consuming and we can't be sure our entire team is aware of the changes."
"Every time a report comes in, we can lose a ton of time playing ping-pong if a mistake was made, and that's if we even get the report on time."
"All the paperwork is completed through traditional methods, i.e. paper and Excel spreadsheets. This is a totally inefficient process as the forms must be seen and acted on immediately by management, but we don't always get these forms. Plus, we send out a lot of information and attachments by email and that takes a lot of time and we can't track if everyone opened the email and read it."
Time tracking is a complicated process
"I can spend an entire day on just time tracking and payroll and it isn't efficient because I'm stuck going through endless piles of Excel spreadsheets and illegible paper scribbles. This makes it too easy for mistakes to happen."
"I'm always engaged in a game of ping pong with my team because of mistakes I see or just trying to find someone to cover a shift."
It's also worth mentioning that Connecteam's integration with QuickBooks Online and Gusto helps make exporting timesheets for payroll easy and 100% accurate.
Internal communication is a tough task
"Communicating anything to my entire staff isn't easy – I have to use Whatsapp and emails, and I can just never be sure the message went across. Whether it's an encouraging message, a positive review, a new protocol, rough weather conditions, an HR announcement or whatever. I don't have a way to track who received and read my message(s) and usually, it's essential for me to know who read and didn't read what I sent. And coordinating meetings to deliver these kinds of messages is time we can't afford."
"My team can't always reach me because I'm juggling a dozen tasks and when I do get to them, it's usually irrelevant by that point."
Connecteam is the best app for HVAC companies
From HVAC scheduling and dispatch, multiple communication tools, resource center, equipment manuals, online reports and ticketing system, you can do it all and more on Connecteam's HVAC app. Everything is neatly available in one place, at any time.
How Connecteam helps you tackle common challenges
Making safety and awareness a priority
Working in height and in a high-risk environment, safety is a crucial aspect of HVAC companies, therefore raising awareness and standards is a common goal for HVAC companies using Connecteam.
Quick and easy reporting: employees can send reports right to the office while they're on-the-go so the relevant office or supervisor can evaluate and respond in real-time. For example, service equipment reports and hoist and moisture reports.
Safety digital resources: make sure all safety protocols, tips and resources are available in the tap of a button, additionally key materials such as 'lessons learned', incident findings, and periodical safety tips are available at anytime.
Ongoing safety trainings: managers and safety officers are able to maintain an eye on each employee's progress so they're aware of who finished a course or quiz and can even send reminders to those who haven't finished.
Safety first communication: it's easy to distribute and communicate safety related updates and protocols, such as incident finding reports, procedural updates in real-time or risk factors such as rough weather conditions or closed routes.
In order to maintain day-to-day operations, checklists and reports are typically used to reduce friction from daily activities, automate information flow, and gain better oversight on business matters and employee affairs. Common checklists and reports HVAC companies create on Connecteam include:
Safety hazard observation
Incident report
Vehicle accident report
Safety inspection form (for supervisors)
Repair order ticket
Safety inspection checklist
Expense reimbursement
Employee performance review
In addition, all entries that are submitted by employees are digitally logged, can be automatically sent to a predefined email address as a PDF copy and can be exported in an Excel sheet.
Streamlining communication
Communicating with every single employee is crucial but isn't easy to achieve. With Connecteam's communication tools, it is much easier to reach and communicate to the employees on the field:
Chat groups and channels: to streamline day-to-day communication easily and efficiently, chat about the employee of the month, poor weather conditions, the best route to the job site, great customer reviews, and more. Start a one-on-one chat or create specific groups diversified by location, department or more. 
Realtime push notifications and updates: send formal and informal announcements, including HR updates, announcements, information distribution, safety reports and more.
Employee directory: find the right contact details of coworkers, managers and more. Search by name, job role, department, and so on.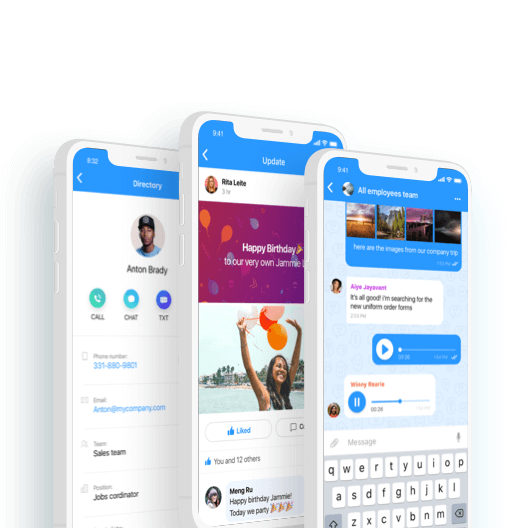 Company protocols are instantly available
HVAC companies need to have common resource material available in a click for all their employees to ensure compliance:
Safety and emergency protocols
Code of ethics
Sexual harassment prevention policy
Uniform policy
Human resource needs
The HR department of an HVAC company uses Connecteam for communication, employee engagement, and to automate processes.
Recommendations: easily recommend friends or family for a position at the company to increase recruitment reach.
Vacation and sick leave request: employees receive an instant update if requests were approved or denied.
Personal information form: on-boarding new employees requires certain information like personal information, contact information, emergency contact, documents like tax forms /photo ID, etc.
Updating contact information: employees can easily update their contact information right on the app and the HR department knows it in real-time – from changes to address, name, mobile number, email, bank account information and more.
Employee satisfaction surveys or performance reviews: HR can use the premade templates or even create their own to send surveys and track responses in real-time. Plus, it's easy to maintain performance reviews on a regular basis for more accurate feedback.
Compliance purposes
HVAC employees must be compliant and that's achieved through 'Read and sign' forms and periodical refresher training courses. With Connecteam, all documents are logged and automatically sent as a PDF copy to predefined email(s) which may be customized per form. In addition, users can export a summary report whenever needed.
Read and sign documents include:
Employee handbook acknowledgment
Uniform agreement
Sexual harassment prevention policy
Incident findings report
Other read and sign documents.
Periodical refresher trainings include:
Winter driving
Ventilation training
Heating and cooling system safety
Protocol refresher training.
Training all employees
With Connecteam, HVAC companies can offer training through the app so all employees are reached on a regular basis. In addition, you can track the progress and can execute training at anytime and employees can complete the material in their own time.
Health and safety training
Sexual harassment prevention training
Equipment usage and maintenance
Test and quizzes.
However, this isn't only about on-boarding new hires but also improving your "senior" employees' professional skills on an on-going basis to avoid knowledge gaps.
Job scheduling
HVAC companies deal with handling complex scheduling needs but Connecteam makes that much easier to manage:
Dispatch service calls to employees in real time with all the information they need.Keep records of check in and check out time and location with GPS stamps.
Allow employees to add shift notes and comments for further explanation when necessary.
Let employees accept and reject shifts (optional – can be disabled).
Connecteam is an all-in-one employee management solution with numerous capabilities to scale your business. And considering its amazing price, it's an easy choice to make. Start free trial now and feel free to shoot us a message at [email protected].
Connecteam's HVAC app is made for you
From HVAC scheduling and dispatch, multiple communication tools, equipment manuals, online reports and ticketing system, you can do it all on Connecteam's HVAC app. And all for a totally affordable price.
Start for free
Want more great articles straight to your inbox? Subscribe Here ⤵