The World's Best Employee Time Clock App
Simple, accurate time clock solution for the deskless workforce
One-touch clock in and out
Real-time visibility
Advanced GPS capabilities
Simplify your payroll process
Easily track employee work hours,
streamline payroll process, and more!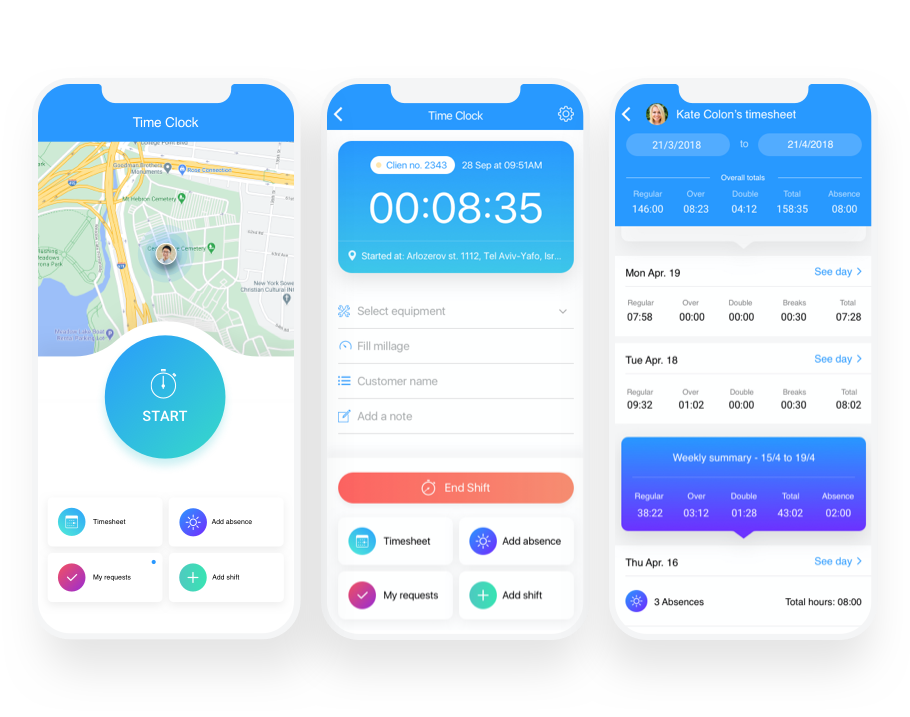 Mobile Time Tracking
Built & designed for deskless teams
Automate time tracking with a simple mobile time clock app. Include GPS location, digital time log, jobs, and more. A simple and intuitive user experience that doesn't require any training.
Start your free trial
Timesheets Made Simple
Save time and effort on payroll calculations
Streamline timesheets review and approval process. Quick actions and visual flags point out what matters: auto-breaks, overtime, double-time, daily limits, and more.
Discover more about our timesheets solution
Real-time Visibility
Always know who clocked in, when, and where!
Whether you're in the office or in the field, gain real-time visibility into staff activity. Easily contact team members with the in-app chat function and track team performance, even on-the-go!
Start your free trial
Absences & Paid Time Off
Simplify absence requests and approvals
Get notified whenever an employee makes a request then simply review, accept or reject requests on the go. Employees receive real-time updates so they immediately know if their requests were approved or declined.
Start your free trial
A Kiosk Station App
Let the team clock-in from a centralized location
Set up the kiosk app in minutes to allow your team to easily and quickly log in and out using a unique, personalized PIN code from a single location. Supported on both iOS and Android.
Discover more about our kiosk app
Geofencing Capabilities
Ensure employees are where they should be
Avoid employees clocking-in outside the pre-designated site with advanced GPS geofence capabilities. Simply set up worksites and link them with a job, a customer, or a project. Once set up, employees utilize the time clock only in pre-defined locations. 
Discover more about geofencing
Push Notifications, Reminders & Reports
A time clock app that works for you
Smart automation ensures operations run smoothly: push notifications to remind your team to clock-in and out, daily limit alerts, auto clock out for employees who exceed the allowed working hours, and more. Avoid overtime and get daily summary reports!
Start your free trial
Watch the video below to see Connecteam time clock in action!
What Our Customers Say
This software is so user-friendly. It has saved us a TON of time with the time clock, chat, and workflow features. Their customer service is the most helpful from any company I have ever worked with
The Connecteam timeclock software is very easy to set up, roll out to users and maintain. It provided everything we needed and is very cost-effective. Great product for a good price and incredible support team!
This time clock app is extremely easy to use and there's also a free plan! It is easy to communicate and use! Everyone on the app loves it! Great Service! :)
Connecteam's employee time clock app offers a GPS time clock that can be accessed from any mobile device. Our employee time clock app can be used to track time spent on work hours, jobs, or projects. Designed especially for non-desk employees, our employee time clock app is easy to use and requires no training, so you can start using your very own employee time clock app for multiple employees within minutes. Connecteam's employee time clock app helps with monitoring regular hours, double hours and overtime, which all can be highly customized to fit your business' needs. Connecteam's employee time clock app can also help with mileage read, equipment usage, or any other information necessary to issue with payrolls. It also has an integrated in-app chat and easy to use timesheets, which makes the payroll process faster than ever before. If you're looking for a time clock app for multiple employees that are usually on-the-go with no access to a computer, Connecteam's employee time clock app is the most powerful and affordable solution for you non-desk employees.