Table of contents
Electronic communication can be an excellent way for teammates to stay connected with each other and customers. But, with so many different mediums, how do you know which ones are right for your business?
Linking several different electronic communication mediums into one network can take time. How can you be sure you're striking the right balance for your workplace?
Read on to learn the definition of electronic communication, the pros and cons of our favorite methods, and our top tips for implementing a strong electronic communication network.
What Is Electronic Communication?
Electronic communication is any way to contact your team that can be viewed, shared, or stored electronically. It's sometimes called electric communication or e-communication. Using several e-communication channels together makes an electronic communication network.
Electronic communication mediums include email, instant messaging apps, video calls, phone calls, blogs, and text messages. Your electronic communication network can include any combination of these types of apps.
Unleash the Full Potential of Your Business with Connecteam's All-in-One Management Software
Different Types of Electronic Communication
Each electronic communication medium has its own strengths and weaknesses. Choosing the correct channels for your business or team's unique situation will depend on your business needs.
Email
Did you know that approximately 33.2 billion emails are sent daily in the American corporate world? That's around 3.5 million emails a second!
Most businesses will be familiar with email as an electronic communication method. It is widely used in most businesses and is a reliable and effective method of sharing information.
Benefits of email communication
It's free to use: Most email networks are free to use and highly effective. The majority also come with integrated calendars.
It makes horizontal and diagonal communication easy: Email is a great way to reach everyone in your organization, from senior partners to junior associates. Combining horizontal and diagonal communication styles can create a collaborative environment and contribute to a strong company culture.
It's a reliable way to send attachments: Small to medium-sized attachments, including photos, files, documents, and videos, can be sent via email.
Drawbacks of email communication
The high volume of emails can get overwhelming: With around 3.5 million emails sent every second in corporate America, emails often go missing! Colleagues are likely to miss an email or two if they're having a hectic day. An email can also accidentally fall into your spam folder, putting you at risk of losing vital information.
It's slow and formal: The structure of email inboxes can make it harder to have a real-time conversation. Common email etiquette may mean that emails take longer to write than having a conversation or instant messaging.
Group messaging can be clunky: Sending emails to multiple people can become overwhelming quickly, and responses can easily get lost. Threads of conversation can be hard to follow.
Download your FREE guide on "10 Tips for Engaging Your Frontline Teams" ⤵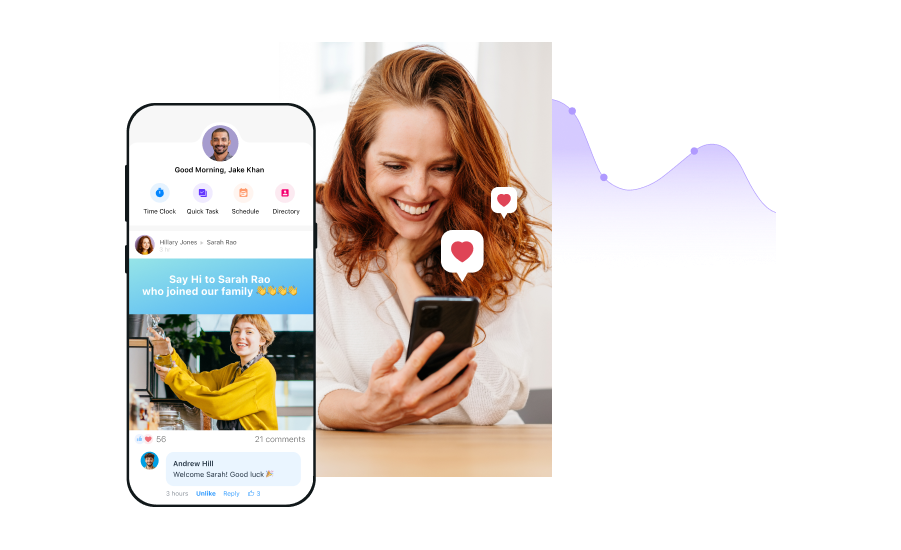 Messenger apps
Instant messaging (IM) has become popular as an electronic communication method. It's a great way for your employees to connect with both team members and customers.
According to SuperOffice, 46% of customers expect a response to their inquiry within four hours, and 12% expect a response within 15 minutes! Instant messaging will help you meet your customers' expectations with real-time chat.
Instant messaging is also a great option for internal communications. Managers like that they can easily and quickly talk to team members, and many colleagues enjoy the more casual group chat format.
For example, Connecteam's built-in IM system allows you to reach your employees instantly via a secure chat function. The app allows you to create collaborative group chats or have private one-on-one conversations with each team member.
Benefits of instant messaging
It happens in real time: One of the benefits of instant messaging is that your communication is almost instant! It's often a more effective way to send short messages or questions you need a quick answer to than writing out a long email.
It's informal: Instant messaging can help employees develop a more casual relationship with teammates.
Drawbacks of instant messaging
It creates the expectation of instant responses: While the instantaneous nature of IM conversations can be useful, it can also feel overwhelming to some employees. Employees might be distracted by instant messenger notifications and lose focus on other work.
If you find team members are overwhelmed by IM notifications, you may want to have a supportive conversation about their boundaries around communications. Try to stick to one of two methods of instant communication to prevent communication overload.
Read about 11 more ways to improve work performance here.
It can affect work-life balance: Some employees cite the rise in instant messenger platforms as a reason they struggle to maintain a work-life balance. Employees feel like they're constantly being monitored or fall into the trap of installing IM apps on their personal phones and checking them at all hours, making them "too contactable" outside of working hours and contributing to burnout.
Video calls and video sharing
The recent increase in remote working came with a rise in live video conferencing for collaboration between remote teams. This type of electronic communication is usually used alongside instant messaging platforms, as most IM platforms have integrated video conferencing software.
Sharing videos can also be a great way to communicate with both customers and employees. Many businesses are now using apps like TikTok to create short video content for colleagues and customers to keep younger employees engaged in communications.
Benefits of video communication
It puts a face to a name: With many businesses now employing fully remote teams, it is common to work with colleagues daily without ever seeing them in person! In this case, video calling can help keep employees from feeling lonely in the workplace. It can even be used for remote team-building activities to help people connect.
It creates engaging content: Video content and video calling can help break up the monotony of reading text off a screen, so employees and customers may feel more engaged with news, events, and their teams.
It's great for workplace presentations: Videos and video conferencing are ideal for sharing workplace presentations. If employees cannot attend a presentation, they can watch the video recording afterward.
Drawbacks of video communication
It can make people anxious: Some employees find it difficult to switch their cameras on during video calls as it makes them feel as if everyone is watching them. This usually isn't a problem if only one or two employees are not on video. However, if all employees feel this way, it can make video calls awkward.
Blogs and websites
Blogs and websites can be a great addition to your electronic communication network, especially when communicating with customers. Blogs and websites are often one of the first places customers will look for when they are researching your company. Therefore, it's crucial to have a website and/or blog that is well-written and represents you positively.
Internally, a blog or website can be used to store internal communications and useful articles that employees can read. These blogs might be about important business updates, or could include topical information such as "How to hold a great end of year review." These posts will help your employees' learning and development.
With the rise in the popularity of social media, blog communication platforms are a well-respected communication medium. Connecteam's app has all the news and update tools you need to create a great internal communication channel with a social-media-style feed. With easy-to-use app-based software, you can create engaging updates in just a few clicks.
Benefits of blogging and blog-style communication
It solidifies your position: Consistently putting out high-quality, informative blog posts about topics that matter to your customers can make your business into a trusted source of knowledge for your customers. As a result, they will be more likely to buy your products and services.
These well written blogs can also help your employees' development and answer simple questions they may have about the business. For example, if your employee has a question about how to improve their performance, a blog post about this topic will be helpful to them.
It's easy to maintain: Websites and blogs are one of the most accessible communication mediums to maintain. Website hosting platforms are usually user friendly, there are many services to choose from, and most hosts will have a technical support line you can call upon.
Drawbacks of blogging and blog-style communication
It can get expensive: If you aren't a writer or a website designer, paying someone to write blog articles or maintain your website can be costly. If you are a small business, you may want to consider learning these skills to save on costs. You can find other ways to reduce costs for your small business here.
Phone calls and voicemails
In modern workplaces, there is less emphasis on phone calls and voicemails as communication methods than there was in the past. However, this old-school system is still technically electronic communication, and it can still bring a personal touch that instant messaging or blogging platforms may lack.
Benefits of phone communication
New voicemail systems include predictive speech: Many voicemail tools now have text-to-speech capabilities that can automatically convert a voicemail message into a typed email. This can help ensure no messages go without a response.
It's accessible: Phone calls are a great communication tool for people with disabilities or those who struggle with modern communication methods. This communication strategy has stood the test of time, so if an employee isn't getting the hang of your IM system, you may want to encourage them to pick up the phone and talk their question out.
Drawbacks of phone communication
Missed calls can waste time: Missed calls and voicemails can be frustrating. When you continually miss calls, it can sometimes feel like you're playing voicemail tennis with your colleagues.
Consider setting time in your calendar designated for responding to any missed calls or voicemails you may receive. It can help to schedule a time to take an important phone call and step away from your usual desk space for a change of scenery.
SMS/Text messages
According to the PEW research centre, 97% of Americans own a cell phone. This is a huge market! It's a great idea to use text messaging for marketing and communication with customers to ensure you're reaching the widest audience. SMS messages can also be used internally, for example, to notify managers and team leaders of sickness absence.
The main difference between SMS and other instant communication platforms is that SMS uses cellular towers to send messages, while IM uses the internet. The benefit of this is that if there is a problem with internet connectivity, SMS will still be available to your team.
Benefits of text messaging
It's convenient: Being able to communicate with a device that most customers have with them 24/7 cannot be underestimated.
It's instant: As with instant messenger, with SMS, the speed at which you can get messages to customers and colleagues is quite high. Consider using text messaging in your electronic communication network if your industry values speed.
Drawbacks of text messaging
Poor signal may make messaging difficult: Poor cell phone service may reduce your customers' and employees' ability to receive your messages, especially in more rural locations. Before implementing this strategy, consider checking out signal strength across your state so you can see whether you'll be missing many potential customers.
Top Tips for Creating an Electronic Communication Network
Consider your brand persona
Your communication network needs to fit in with your brand's persona. What audience are you speaking to? What overall message do you want to send?
You should build your communication strategy around these questions and tailor your communication to your audience. For example, a company trying to appeal to Gen Z should not focus on phone calls as a marketing tool.
Grab their attention
Whether you're communicating with team members or customers, your messages should be short, descriptive, and memorable. Double-check your spelling and grammar before posting a communication, and keep your tone light and friendly.
Distribute communications widely
Ensure that all team members receive the information you want to share at the same time. Consider letting them schedule a regular hour of their work day to read workplace communications such as bulletins. The goal is to engage employees with your communication network, so giving them a specific time to do so will ensure your effort is well-spent.
Conclusion
Different digital communication methods each have their own pros and cons. Some teams will naturally gravitate towards email, while others might prefer text or video chat. Choose the right combination of methods, and you'll be able to create a strong electronic communication network to share easily with both team members and customers.
Communicate Easily & Instantly With Every Employee
Share important updates and communications with everyone in your business at the touch of a button.
Start now
Want to Receive More Great Articles Straight to Your Mailbox? Subscribe Here ⤵