Table of contents
Does it ever feel like your business moves at the speed of light? It's not just you. We're all dealing with tons of information every day, and the speed at which we can get the data we need has a big impact on business success.
At the same time, business can now stretch over long distances. Many organizations have contractors and remote employees from around the world.
The days of strolling to a colleague's desk to get a file or being able to wait two days for sales numbers are over for many of us.
Enter business instant messaging.
Instant messaging has been around since 1971 when it was created for US government computers. It allowed people to send digital text messages to each other in real-time.
Today, it's a powerful tool that can transform how your organization works by letting you send not just messages, but files, status updates, links, and mentions as well.
Let's take a look at why you might want to consider instant messaging for business, what benefits it offers, and how you can use it successfully.
What Are the Advantages of Instant Messaging for Your Business?
Instant messaging can be used to stay connected with your team and even your customers, whether they're in the field or at the next desk. Here are just a few ways you can use it:
Communicating with customers and offering services or tech support
Sending reminders to customers and team members about meetings or appointments
Collaborating on projects by sending files and updates in real-time—especially handy if your team is not all in one place
Polling team members or asking them for ideas or opinions
Checking in with employees, including deskless workers, to see how they're doing and whether they need any support in their work
So why would you want to use instant messaging instead of email or another option? This tech offers some big benefits for you and your employees.
Instant messaging is flexible
Today's tech lets you leave voice memos, send files, or send plain text. Messages can be read instantly, or when a worker has a minute to spare. If an employee is taking care of a customer or is out of range of a cell phone tower, for example, they can easily access their messages and reply when they're available again.
IM can replace email and other forms of communication. Employees don't need to look at an inbox or check a platform—messages often pop up prominently on a screen. They can be accessed from almost any mobile device or computer with an internet connection.
Instant messaging ensures connectivity for remote and hybrid workers
If you have deskless workers, remote workers, or just workers who sometimes step out to lunch or head to another company office, IM lets you stay in touch. You can always reach employees when you need to, and with an employee chat solution like Connecteam, you can even check that they've received and read your message.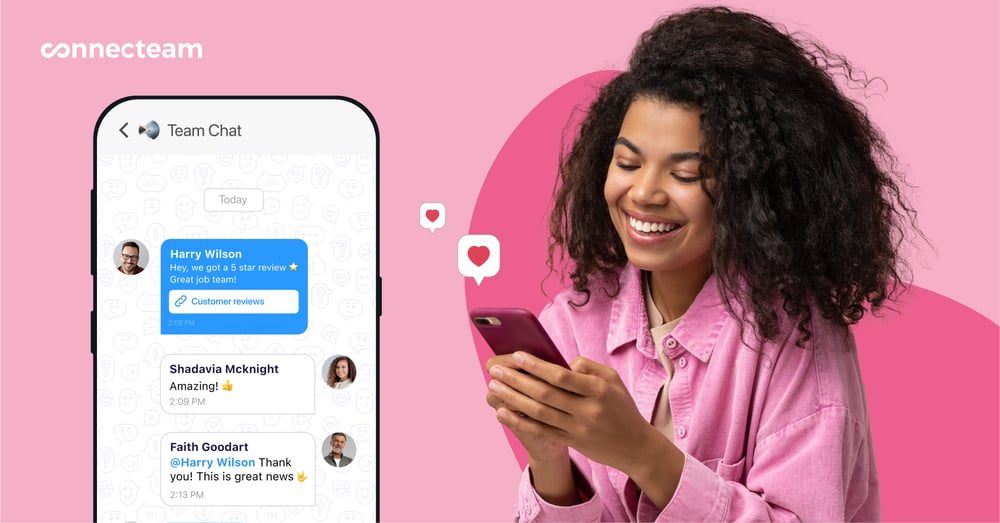 Instant messaging keeps everyone in the loop
Sometimes, you need to pivot. Maybe a client canceled a big project, or leadership decided to take a new direction with a department. Not to worry—IM will let you communicate important updates with everyone who's affected, sending push notifications to individuals or even entire teams at once. You even have a digital trail of who you've reached out to, so no one is left out.
Communicate Easily & Instantly With Every Employee
Easily share updates, announcements, and other information with relevant teams, departments, or locations with the #1 employee communication app.
Instant messaging can keep your team safe
Let's say you manage a team of utility workers, and you get word that a big storm is moving in. If some of your team is in the field, you can use IM to send a message directly to their phones, warning them to get to safety. IM can therefore be an important part of your health and safety plan when time is often of the essence.
Instant messaging saves you time
Do you want customers to be able to reach out to you so you can resolve issues fast? Got a quick question for a colleague, but don't want to get caught up in a longer discussion? With IM, you don't have to open an email, walk to someone's desk, or play phone tag. With a few swipes of a screen and a few words, you can get the answers you need to get tasks done.
Instant messaging makes you more productive
Imagine having an entire server of information in your pocket. With a mobile device and a good IM platform, that's exactly what your employees can enjoy. Your team can easily share files, pictures, checklists, videos, and almost everything else they need for a job, directly from a mobile phone.
You can also get more done in small snippets of time with instant messaging. No matter where you are, or whatever the time, you can spend a few minutes taking care of customer questions or taking the next step on a project—your workplace is right there in your phone.
Instant messaging can improve team trust and the quality of your communication
Research proves it. A City University of Hong Kong study by Carol Xiaojuan Ou and Robert M. Davison surveyed 253 employees, concluding that the advantages of instant messaging outweigh the drawbacks. Specifically, the study found that IM mimics in-person communication (in part because it's in real-time) and this helps build trust and improves the quality of communication.
Instant messaging can make your business more inclusive
Phones and IM apps have amazing accessibility features, from voice recognition to the ability to zoom in or increase screen brightness and sound. For anyone living with visual or auditory impairment, these features can make instant messages easier to read than paper documents or other forms of communication. And for neurodiverse employees and customers, using IM can be less intimidating than talking in person or on the phone.
Instant messaging can help you build your company culture
IM isn't just useful for getting the job done. It can also help consolidate company culture. Want to send a birthday message to a team member? You can do so with a meme (and a link to a gift card) through IM. Need to check in on a colleague with a lot on their plate? A quick instant message gets it done. IM isn't just great for business. It can be good for team cohesion and morale, too.
Instant messaging can improve your bottom line
About 73% of customers prefer live chat when communicating with businesses, and customers who use live chat spend 60% more than those who don't. For customers, chat can be an attractive alternative to being on hold on the phone for a long time.
With IM, live chat can go directly to your employee's phones, so they can respond to clients in real-time. This can help you close more sales and improve customer satisfaction and confidence. When customers can reach your team easily and instantly, it also promotes your business as a straight-talking and transparent organization. After all, customers aren't being passed around from department to department on the phone or waiting for an email reply.
Instant messaging can improve team creativity
Because it's so flexible, IM can be a way to encourage innovation and creativity in your organization. Let's say you run into a problem on a project. With IM, you can create a team chat or even send out a message to the whole company, asking for ideas. In real-time, workers can chime in with their thoughts and your team can look through the chat log to capture the best solutions. This way, IM can easily act as a brainstorming session or a mobile whiteboard.
The casual nature of IM communication can help, too. Unlike a formal report or an in-person brainstorming session, where people are asked to speak up in front of a room, instant messaging can be a low-pressure way to contribute. Team members can quickly add a snippet of an idea when they feel inspired to. The informality can also make it easier for employees to share ideas that aren't yet fully formed. And you never know when the spark of one of these ideas is exactly what you've been searching for.
Instant messaging helps you keep records
Have you ever had a conversation in person and wished you could hit rewind to capture an idea or review an important term? IM keeps a digital trail for you. Whether you want to get a new team member up to speed on what you've talked about in a meeting, or you need a record of your interactions with a customer for compliance purposes—instant messaging keeps a log. You can even save and upload it if you need to.
What Are the Best Practices for Business Instant Messaging?
Just downloading an app promising free instant messaging for business isn't enough. You need to make sure you choose the right tech and then use it correctly. Here's how.
Don't overdo it. If your team is constantly fielding instant messages, they can't focus on their job. Worse, after a while, they may start ignoring messages if there are too many of them. They could miss crucial data. Before hitting Send, always ask whether an instant message needs to be, well, instant. Would this piece of communication work better in an email or combined with a few other pieces of information in one message later on? Save IM for urgent things your team needs to know right now.
Use just one business instant messaging tech option. If your workers are getting instant messages on three different platforms, things will fall through the cracks. Try to use just one team platform. Connecteam's app lets you send instant messages and chat with your team, but it also includes powerful training to help you use the app. What's more, the app lets you create your own educational materials for your team, including video training. It even includes document storage, scheduling, and other features. It's an all-in-one solution for keeping your teams connected.
Set some ground rules on acceptable behavior. IM may be casual, but what happens on business instant messaging should still be professional. Create and share a written policy with your team, outlining what is and isn't allowed. For example, you might want a "no swearing" rule, or you could request that managers be included on all chats with customers to ensure a great client experience.
Make sure online confidentiality rules also apply to instant messaging. Some companies set rules about what files and information can and can't be shared online, to make sure confidential information, such as customer contact information, is kept secure. Make sure employees are clear that this applies to IM also.
Train your team. Don't assume everyone who works for you knows how to use the latest IM platforms. Always offer training when rolling out a new IM platform or when your platform undergoes a major update. Training means everyone has an equal understanding of how to use the tech. It also makes your team even more efficient, because they can learn how to use all the cool, lesser-known features of your platform. I suggest using Connecteam's training software for employees to create short training sessions for your team. Supplement the training sessions with a quiz to see if they properly understood the session.
Getting the Message About Instant Messaging
Here's the great news about IM for businesses: tech is more integrated than ever before. Today, you can do more than just send text messages. You can also send files, checklists, memes, links, and more. Use IM to connect with customers and teams, improving efficiency, sales, and time management. It all starts with a few taps and swipes of a screen to capture all the benefits of instant messaging for your business!
The All-in-One Communication App to Reach Every Single Employee
Create secure group chats or 1-on-1 chats in just a few clicks and give  your team all the information they need at their fingertips!
Want more great articles straight to your inbox? Subscribe Here ⤵