Disability awareness training is a type of education that helps companies, leaders, and teams understand the challenges faced by people with disabilities in order to improve accessibility and inclusion in the workplace. This type of training is meant to help all employees understand different disabilities and learn what can be done to treat everyone with dignity and respect—while also making the workplace more efficient and functional.
Why Is Disability Training Important for Your Company?
In the US, 26% of adults are living with a disability. Most large companies already employ people with disabilities; it's likely you'll interview or employ someone with a disability at some point. Your team members are also likely to encounter people with disabilities in interactions with customers and clients. Despite this, many businesses are not set up to accommodate those with disabilities, both employees and customers, and there is often stigma and misunderstanding about disabilities and discrimination against those who live with them. This can be an uncomfortable topic to address, but ignoring it can lead to lower worker morale, decreased productivity, employee burnout, and even bullying and harassment.        With that in mind, there are many benefits to implementing disability awareness training at your business.
It helps everyone on your team. Disability training can make everyone more comfortable by creating standards and best practices for situations that might be unfamiliar to some. It can empower individuals with disabilities to contribute more easily and help employees give every customer the best possible experience. 
In addition, training can make everyone more efficient. For example, if all workers learn keyboard shortcuts designed for people with mobility challenges, they may find their own work becomes faster, even if they have full mobility. Using closed captioning or sharing meeting information in a few formats may help workers living with disability, but it can also help all employees better review and absorb information.
It keeps your company compliant. In many countries, discrimination against those living with disabilities is illegal. In the United States, federal laws such as the 1990 Americans with Disabilities Act (ADA) and the 2008 Americans with Disabilities Act Amendments Act (ADAAA) prohibit discrimination in the workplace and require "reasonable accommodations" from employers for people with disabilities.
It helps remove bias. About one in three people have an unconscious bias against individuals living with disabilities. Notably, this is a higher rate of bias than prejudices based on race or gender. Training can help reduce bias so all workers are able to feel more comfortable and confident on the job and the talents and contributions of employees with disabilities are more readily recognized.   
It helps make your workplace more diverse and inclusive. Companies introduce diversity, equity, and inclusion (DE&I) strategies to bring new ideas and voices to their businesses. Diverse businesses earn 19% more in revenues than homogeneous companies, and disability training allows companies to accommodate a wider variety of people who can bring valuable assets to the table.
It builds your culture. Disability training helps team members understand each other more fully, communicate better, and accommodate each other's needs, creating a stronger team.
What Are the Different Types of Disability Training?
Since different companies have varying needs, there are different kinds of training available, including the following. 
Technology and accessibility disability training: This training teaches your team how to use software and technology to accommodate different kinds of disabilities. For example, you may learn how to use voice activation on a computer or how to accommodate clients with mobility challenges.
Awareness training: This type of training challenges and reduces bias and explains the best practices and communication styles needed to create an inclusive workplace. It can help eliminate ableist language and create a more welcoming environment for all workers.
Specific disability training: If you already employ or hope to recruit team members with specific disabilities, such as neurodiverse candidates or vision-impaired workers, you can get training that focuses on these topics. This can also be useful if you have vendors or customers with specific impairments and want to know more about the best ways to make them feel welcome.
Compliance and rights-based disability training: This training helps workplaces appreciate what "reasonable accommodation" is and helps them understand what their legal obligations are. Teams may learn about case studies and the rights people living with disabilities have under federal and state laws.
Training is available in many formats, from in-classroom learning to webinars to blended sessions that include live training and online learning. If you have a remote or deskless team, it can be useful to offer asynchronous training that can be completed at each worker's own pace.
Download your FREE guide on "6 Pillars for Improving Frontline Employee Retention" ⤵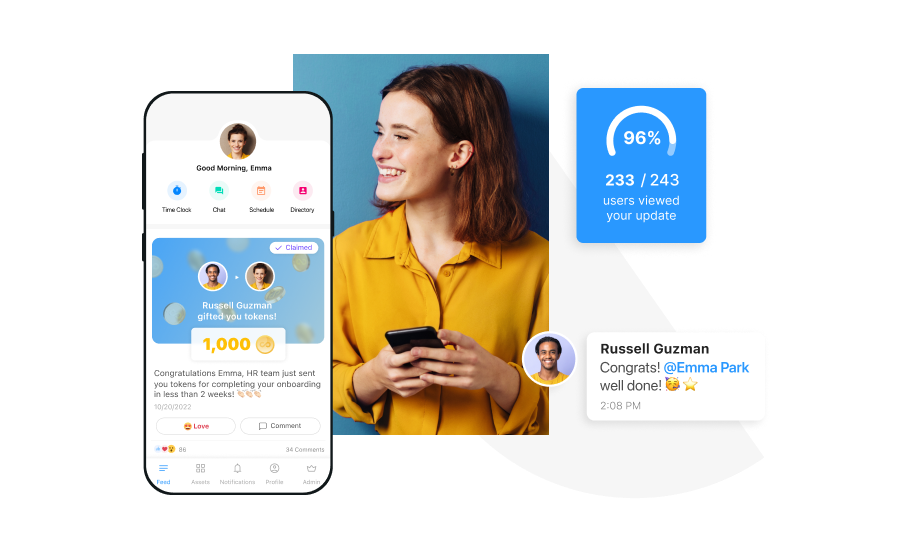 How Can You Successfully Implement Disability Training at Your Organization?
The specific needs of your business, your budget, and your team will guide how you introduce disability awareness training to your company. You may want to do the following.
Determine what kind of training you need. Your goals can determine what you want to offer. If you have seen bias in the workplace, you may want awareness training, for example, and if you're worried about compliance, you may want ADA-specific information. You can also use Connecteam surveys and polls to determine what kind of training your team feels is needed at your company.
Establish the budget and logistics. Consider how much you can spend on diversity training. Then, determine how education will happen. Will you pay your team to attend in-person sessions? Will training be mandatory and include a testing component to ensure everyone understands the core ideas? Or, will training be optional and something employees can complete on their own time and at their own pace?
Consider where in the employee lifecycle training should happen. If you have a robust DE&I strategy, you might want to include disability training during onboarding and additional training after an employee has worked at your company for a few months. Or, you may want yearly disability training for everyone on your team. Your budget and needs can help determine this.
Contact vendors or create your own training. The ADA National Network is one option for compliance training, and many private trainers and organizations offer this type of learning as well. Look for trainers with extensive experience, certification, or accreditation, and the type of training format you need. If possible, look for trainers who are living with disability themselves. 
You can also create your own online training with Connecteam, which allows you to create learning experiences that can be accessed from anywhere.  
Get many team members involved. Disability training is best when everyone on your team is learning. Leaders can use disability training to make better company-wide decisions as well as hiring and promotion choices. 
For managers and employees who are taking care of customers and teams, disability training builds stronger teams and helps you serve clients and customers more equitably. For HR, training is important to ensure bias-free HR policies and to give HR professionals a greater understanding of what to do in cases of discrimination in the workplace.
Follow up on disability training. Disability training is most powerful when it is not a one-time event. Encourage your employees to discuss inclusion and disability in follow-up meetings and discussions to review what they have learned and to reinforce best practices. Open up discussions on ways you can implement what you have learned together through actionable steps in the workplace, and give team members a chance to ask questions so they can explore any ideas that were not clear to them. 
You can also use the Connecteam knowledge base to store ADA and disability education materials so your team can refer to them after training is complete.
Take steps to improve based on what you've learned. As you learn more about hearing loss, vision loss, neurodiversity, cognitive impairments, and other disabilities, you may notice areas where your company needs to change. You may learn about rights individuals have under the ADA and realize you need to make better accommodations in your workplace. For example, or you may find out your recruiting process has been unintentionally biased.
Once you know more, it's important to carefully plan and implement changes so that processes and operations are more inclusive for people with both visible and hidden impairments.
Creating a Better Workplace for Everyone
Disability training does not just benefit workers living with a disability. It can make your workplace more efficient and your team stronger. It can help you target hidden biases so you can serve customers better and even tap into talent you didn't realize was available to you.
Stay Ahead With Connecteams Courses
Master Disability Awareness Training quickly and easily.
Try Connecteam Here