Group training involves presenting, learning and development opportunities to your employees in groups, rather than individually.  Groups of employees can be formed based on shared experiences, such as new hires or job duties. They can also be grouped by team or department, or by availability when rolling out organization-wide training, such as DEI training or new employee software.  Training and development is a key HR responsibility. Effective training improves employee performance and productivity, as well as organizational growth. Your employees are also likely to be hungry for training opportunities—a recent analysis identified that 49% of workers want to develop their skills but don't know where to start. By understanding different training delivery methods, you can develop a varied employee training program that keeps your employees engaged and motivated. 
Benefits of Group Training
Group training offers several advantages over individual training.
Group training promotes consistency. With group training, you can roll out the same information in the same way to every employee involved. This makes group training ideal for standardized training that focuses on process and procedure, such as onboarding, or topics with important key messages such as anti-discrimination, employee well-being, or health and safety. 
It makes measurement and feedback easy. As all employees receive identical training, it's easier to compare and understand the data or feedback you receive on the effectiveness of your group training program. You can also standardize your data-collection processes and request feedback from multiple employees at once, making the process more efficient to manage. 
It keeps costs down. It takes less time to train a large group than schedule coaching sessions for individual employees, and you can use the same materials and trainer. Therefore, group training offers significant cost savings, especially if you're hiring an external trainer who charges by the hour/day. 
It helps build team dynamics. Group training is an opportunity for employees to build on their professional relationships and collaboration, especially between colleagues who don't often work together. By training in teams, employees can learn faster, with individuals prompting each other to come up with better, more creative solutions. 
These advantages need to be balanced against the potential drawbacks of group training. 
Disadvantages of Group Training
Group training does have some disadvantages to be aware of the following:
Group training doesn't cater to individual learning styles. People learn in a variety of different ways—some absorb new information much better as a result of one-on-one training or prefer a more personalized approach to their learning and development. Group training can limit you to the use of one learning style. One way to try and address this is by incorporating different activities in your training –  catering to different learning styles. For example, you can facilitate individual activities, pairings, or smaller groups, while using a mix of video training, online training, and group discussions.
It can impact the depth of learning. Some employees may not feel confident asking important questions in a group setting or may be influenced by the rest of the group in their behavior and responses. This can affect the degree to which your employees take the training on board. 
It can be difficult to arrange. Finding a convenient time is key to ensuring as many employees as possible attend. But trying to coordinate the schedules of multiple employees can prove challenging. Book your training well in advance so that employees can plan around group training sessions.
Group Training Delivery Methods
Instructor-led vs computer-based employee training
You may have someone in your organization who is qualified and available to present your group training program. Or, if your in-house team lacks the necessary skills, you may consider engaging an external trainer. While this will cost some money, an external trainer is a credible subject-matter expert experienced in running group training sessions. Instructor-led training can be offered in-person or online, for example, via a live webinar. The advantage of instructor-led training is that it's interactive. Participants can ask questions as they go, eliminating any knowledge gaps by the end of the training.  Another option is fully computer-based training, which is delivered via a software program, such as an 'eLearning' course or mobile app, without the use of an instructor. This approach is useful for a variety of training situations and can often be preferred is the solution is comprehensive.
In-person vs online employee training
With in-person training, you train groups of employees in the same physical location. Employees may prefer this approach so they can connect and interact with their colleagues face-to-face during the training. It's also good for topics requiring a collaborative or hands-on approach to learning.  In comparison, online training doesn't require employees to be in the same place. Employees can access it from anywhere, so it's especially useful for training groups of remote or deskless workers.
On-site vs off-site employee training
If you have the office space, you can conduct your group training on-site. Make sure the space is suitable to accommodate the number of employees you want to train and has the necessary equipment. You will also likely need to book it in advance so no one else at your organization wants to use it during the time scheduled for your training.  You can also hold your training at an off-site location, such as a dedicated training facility or conference room. While this has an associated cost, it gives you access to bigger spaces and facilities designed for corporate training. 
Download your FREE guide on "6 Pillars for Improving Frontline Employee Retention" ⤵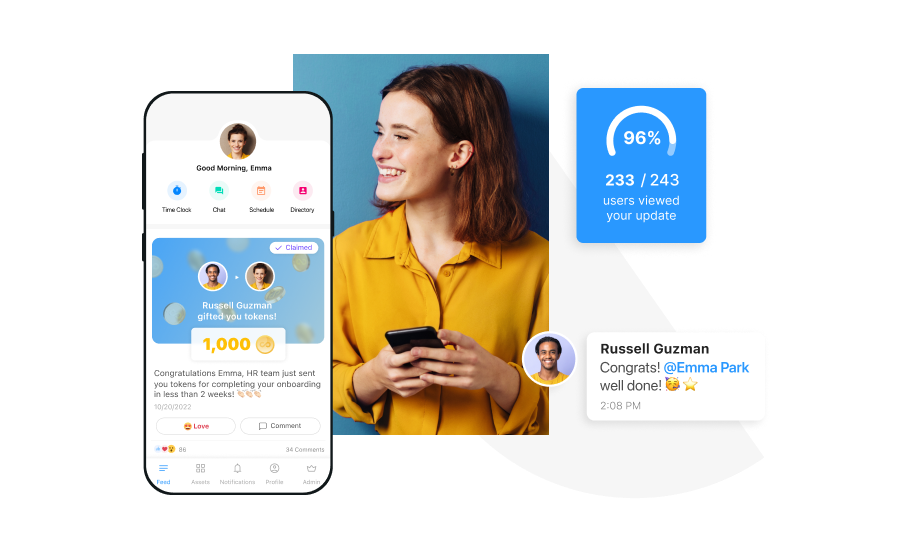 Tips for Arranging Group Training
Here are some tips to help you design an effective group training program for your employees. 
Plan the logistics of the training session(s). 
Before scheduling, identify your specific training topic, as well as some of the following details.
Who will be presenting it? This may be one of your qualified employees, or you might engage an external trainer. 
Who needs training? Is it select groups or the whole organization? If it's the whole organization, think about how you will group employees. 
When will you do it? Is it one-off or regular training? Will it be delivered in a single session or over several days or weeks?
Where you will do it? Do you need to arrange an off-site location or book a space in your office? Will it be online, and, if so, do your employees have everything they need to access it?
Make employee training enjoyable.
Sometimes employees might struggle with group training or think of it as a waste of time. For this reason, it's a good idea to frame the training positively. You may want to offer incentives such as a lucky door prize or catering to encourage attendance.  To maximize the benefits of group training, involve employees directly in the training and encourage their active participation, for example, by using quizzes or other games. 
Evaluate the training afterward.
Once employees complete the training, follow it up to find out how effective it was. A good way to do this is with an app-based employee survey. You can use the feedback you collect to refine and improve future training sessions. 
Conclusion
Group training allows you to deliver education and training to your employees in groups, rather than individually. Doing so can save you time and money and presents an opportunity to encourage teamwork.  At the same time, group training can be complicated to organize and can cater to limited learning styles. You can overcome this by developing a strategic group training program well in advance and incorporating different learning activities into it. 
Easily Create and Manage Training Plans!
Get your team up to speed quickly with Connecteams Training.
Try Connecteam Here