An employee—or staff—directory is a database of employees' essential information. It typically contains details such as job titles, contact details, and personal information. Searchable by name, location, role, etc., it makes it easy for employees to find and connect with their coworkers.  Previously printed like a phone book, employee directories are now digitized. They are typically created and managed electronically using mobile-friendly
software programs
. This means that your employees can access the information anywhere at any time. 
Why do You Need an Employee Directory?
For convenience. An employee directory simplifies maintaining and managing relevant employee information. Updating employees' details is easy and the changes are immediately available to your workforce. For employees, a directory is a quick way to find a specific coworker. Employees can spend time building relationships with their colleagues rather than manually trying to track them down. 
For improved communication. According to Gallup, open, timely, and accurate communication leads to a more engaged and dedicated workforce. An employee directory makes cross-department communication and collaboration easy—employees can find the person they need to speak with, even if they haven't met them before. This is especially useful for larger organizations. It's also ideal for connecting remote teams or employees in different office locations. Employees can see colleagues' time zones and working hours when setting up calls or meetings. 
To act as an organizational chart. You can quickly see employee roles and reporting lines with an employee directory. This makes employee expertise easier to find and allows for a better flow of information within the organization. 
For new hires. By sharing your employee directory as part of your onboarding process, new hires can get an overview of the organization, find relevant people more easily, and learn more about their colleagues. 
Information to Include in an Employee Directory
You can choose what information to include in your employee directory based on your organization's needs. It can be as simple as an employee name and email or it can include more detailed bios.  Employee directories typically include employee profiles with practical information to find a specific coworker or someone with relevant expertise.
The employee's full name—including their pronouns or nicknames
Job information such as their role, department, or project
Contact details including email address, phone number, and username for online chat apps such as Slack or Zoom
Who they report to or who their manager is
Location and timezone
Work hours/ preferred contact hours
Skills, qualifications, and work experience
Languages
Download your FREE guide on "10 Tips for Engaging Your Frontline Teams" ⤵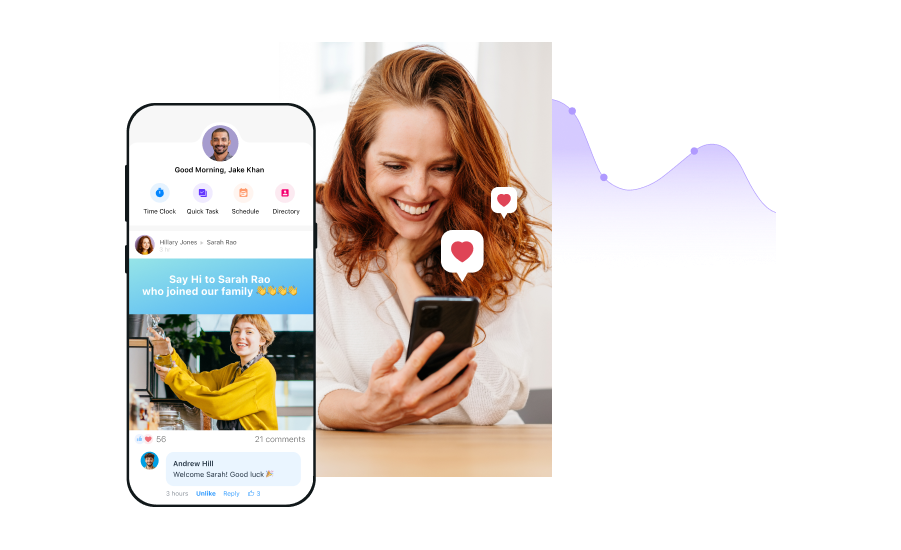 You can also include additional information in your employees' profiles. This builds a sense of company culture by helping employees get to know each other on a personal level—even if they don't regularly interact in person. Additional information includes:
A photo
Interests outside of work
Birthdays
A short bio
Social media profiles
Start date at the organization
"Fun facts"
Tips for Maintaining an Employee Directory
For privacy reasons, many organizations have their employee directories for internal use only. Some organizations make it available externally on their website—for transparency and to build their brand. If you do this, you may want to amend the type of information provided.  To encourage an inclusive workplace you should include all employees in the database regardless of their position or seniority. If you have concerns about managing the volume of correspondence for executive-level employees, you can limit their contact information or provide the details of their assistant or deputy.  So it can be used to its full potential, it's also important to keep your employee directory up to date. HR can manage this or you can give employees access to update their information as needed.  
Conclusion
An employee directory is a searchable database of your employees' information—such as their role, contact details, location, skills and qualifications, and biography. It's worth setting up an employee directory to help your employees connect easily. An up-to-date employee directory can also improve communication and the flow of information within your organization.