9 Best Snow Removal Business Software Solutions in 2020
To some, snow removal may appear super easy, however, snow removal employees know that's not the case. It's more than just showing up to a job site and shovelling away snow and ice. It's about management, communication, scheduling, maintaining equipment, estimating, billing, maintaining client relationships and more.
With the right tools, you can transform your snow removal business and your team. The software you use should offer immediate results, quick and easy implementation, the ability to increase performance and customer relations. Plus, it should be easy to use and affordable. As such, we compiled a list of nine snow plow management software solutions that you and your employees can greatly benefit from – without burning a hole in your pocket either.
These Are The 9 Best Snow Removal Business Software Solutions in 2020:
Evernote is the best software for boosting productivity for your snow removal employees, thanks to its amazing note-taking capabilities and seamless collaboration. Depending on the plan you purchase, the features vary. 
Evernote Basic offers you a single place for all your notes, lists and reminders. Evernote Premium helps keep you organized from everywhere – plan, maintain records, and manage projects. Lastly, Evernote Business makes it easy to collaborate with your employees so you can manage projects, clients, and meetings.
Price: Choose from three pricing plans: Evernote Basic – free and has a 60MB upload limit per month. Evernote Premium – $7.99/month. And Evernote Business – $14.99/month with a minimum of two users.
Free trial: Yes, a free trial is available.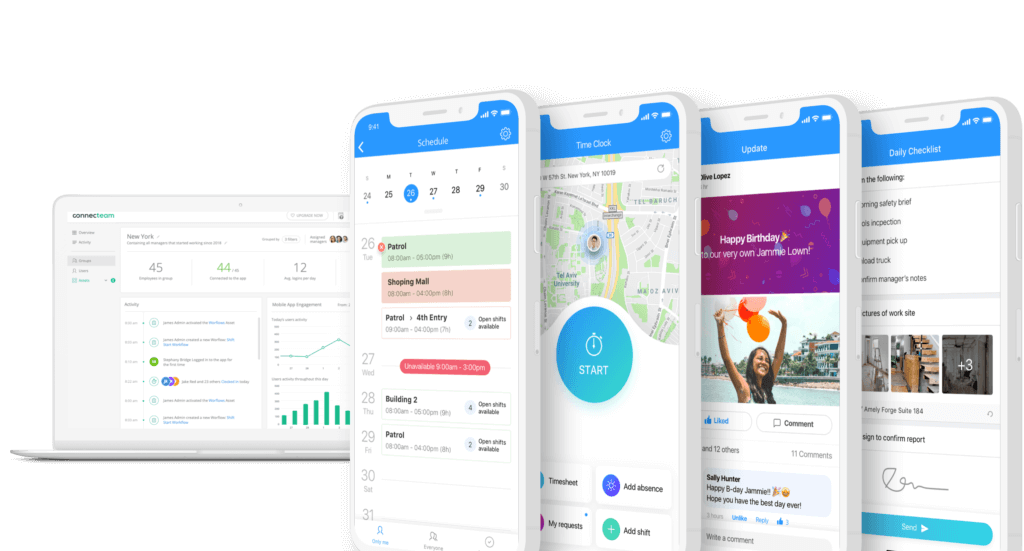 Connecteam's snowplow management software is used by business owners and their crews to better organize and manage day-to-day operations. This means that there is one platform to manage communication, scheduling, dispatching, and more. Using Connecteam helps snow removal professionals run their business more efficiently so that they can improve customer satisfaction, land more jobs, and grow their company.
With Connecteam, snow removal businesses can do the following:
Connecteam has countless more features that can benefit your snow removal company, that's why over 8,000 businesses worldwide rely on Connecteam for their day-to-day needs.
Price: Pricing starts at $29/month for up to 200 users. 
Free trial: While there is no free trial, there is a free plan available! 
Connecteam is the best app for snow removal pros
Connecteam has countless features to help scale your business and with it's affordable, amazing pricing, it's a no-brainer to start with the free plan.
Try for free
Whatever device you have, you can store, share, and access your files. Storage is used by Google Drive, Gmail, and Google Photos, then you can store files, save email attachments, and can also back up photos and videos. As you're out in the field, it's that easy to scan paper documents – snap a photo of receipts, letters, statements, etc. and Drive stores them as PDFs straight away.
Price: With a Google Account, the first 15 GB of storage are free.
Showing up to each job site requires showing up on time, and that's where Waze comes in. Enter the address and Waze will show you the fastest route, complete with the arrival time. While on-route, you're alerted to shortcuts and live traffic updates so you have everything you need to arrive on time. Your snow removal employees will greatly benefit from Waze's route assistance, just download and go. 
Price: Free. 
The weather determines if you can complete a job as planned or if you need to alter your plans. AccuWeather provides you with real-time weather reports and current conditions for all local and international locations. Some 1.5 billion people rely on AccuWeather every day and when it comes to your snow removal business, this free solution can influence your entire day. 
Price: Free.
Driving around from one customer to another can really eat up the gas in your car and let's face it, gas isn't always the cheapest. That's why millions of users across the nation rely on GasBuddy. GasBuddy shows you which station has the cheapest gas and all you need to do is plug in the zip code or city name. GasBuddy is available in the United States, Canada, and Australia.
Price: Free.
Carrying around a bulky flashlight to every single job site isn't ideal, especially as you need arms to do the job. Many professionals find it much easier to download the Flashlight app, available on Android and Apple, so that you have super-bright lighting to work in tricky areas. You can easily turn the flashlight on and place it in a strategic location so you can focus on the job instead of finding adequate lighting. 
Price: Free. 
No more double booking – with Google Calendar, you can easily synch, schedule, book and meet – it's that easy to organize your life and your business. While on-the-go, you can view and edit events, update events in real-time, see upcoming events, RSVP to invitations, set goals, make scheduling easy with smart suggestions (guests, titles and times), and so much more. You can also connect and collaborate with employees and clients by using one suite: Gmail, Drive, Docs, etc. 
Price: Free. 
Lay the course for your professional career with LinkedIn – find coworkers, find a job or post an opening, and find a training session to further develop your skills. It's a great way for your snow removal employees to take things to the next level while maybe even finding new clients. 
Price: Free. 
Take your business to the next level with any, and even all, of the nine snow plow management software solutions we listed above. Each can benefit your business and employees in ways you didn't even know you needed. From communication to landing more gigs to scheduling and payroll, these solutions can help you focus on the bottom line before the snow starts to set. 
Connecteam: one app for your snow removal business
Connecteam offers the best all-in-one employee management app so you can easily manage all your employees from one place. Features like communication capabilities, scheduling or dispatching, time tracking, submitting forms while on the go and so much more.
Find out more
Want to get more tips?
Join 20,000+ others who get our weekly newsletter with Business owner tips!