New hire gifts are gifts given to new employees to welcome them to an organization. Also referred to as onboarding packages, employee welcome kits, or induction boxes, new hire gifts can be company-branded—such as mugs, pens, or T-shirts—or other miscellaneous items—for example, an indoor plant, a gift voucher, or a hand-written welcome note.  Organizations typically give new hires a gift in the weeks before their start date or on their first day at the office. For remote employees, new hire gifts can be delivered to their homes.  New hire gifts contribute to the overall
employee onboarding experience
. They should be given in addition to any items new employees need to do their job, to celebrate their first day. 
Why Give New Hires a Gift?
Onboarding is your first opportunity to engage with a new employee, so it's important to get it right. Employees who have an exceptional onboarding experience are
2.6 times
more likely to be extremely satisfied in their role.  Including a gift in the onboarding process makes new employees feel welcome and included in the company from day one. It helps set the tone for a positive employment experience and gets them excited to work for your organization. 
Improve employee engagement, loyalty, and retention
Giving new hire gifts also communicates that your organization values its employees. Recognition like this is essential to employee engagement and loyalty. When employees feel valued, they are more likely to remain with a company. Your onboarding process is an opportunity to start doing this from day 1. An effective formal onboarding process has been shown to increase new hire retention rates by
50%
. 
Promote your company's culture, brand, and core values
New hire gifts are also a great way to promote your company culture and brand. You can adapt the gifts to your organization—for example, by giving new employees company merchandise with your logo or a pack of products you sell. New hires often mention a welcome gift to their friends and family when talking about their new job, which can help contribute to a positive reputation for your organization.  Finally, new hire gifts are an opportunity to reinforce your company's core values. For example, if you are in the health and wellness space, you can curate new hire gifts that reflect this—such as an essential oil kit, healthy snack box, or yoga mat. Helping new employees identify with these values reassures them that they are working for the right organization. 
Download your FREE guide on "10 Tips for Engaging Your Frontline Teams" ⤵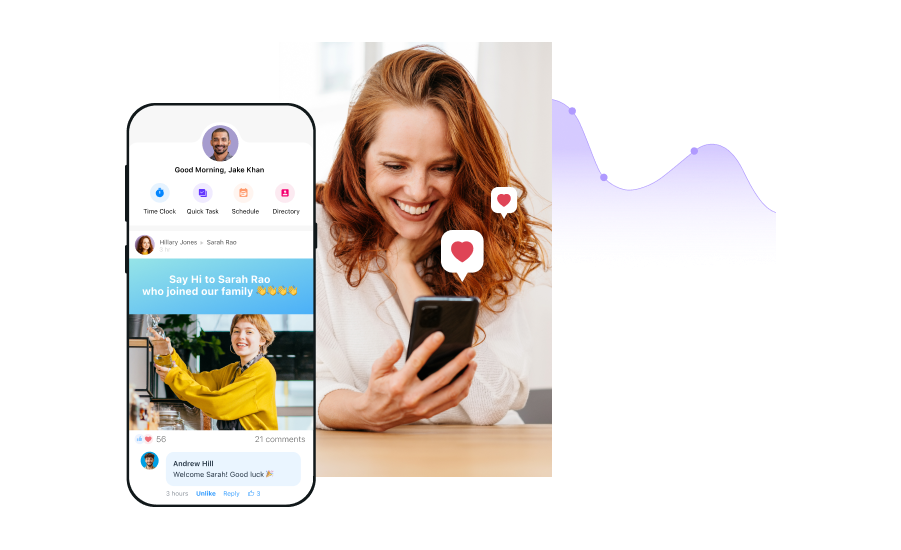 Tips for Choosing New Hire Gifts
Be thoughtful. The ideal new hire gift strikes a balance between promoting your brand, communicating your company culture, and being genuinely useful or valuable to the employee. Gifts that do this are more memorable and the recipient is more likely to tell friends and family about them. 
Be inclusive. You can adapt new hire gifts to suit an individual or the department they are joining. But make sure your approach to new hire gifts is fair and inclusive. Only offering a gift to some new employees or offering gifts of significant difference in value may isolate other employees. 
Choose gifts to fit your budget. Your new hire gifts don't have to be extravagant or expensive to represent the thought that went into them. For example, a handwritten welcome note from a manager can go a long way in building goodwill with a new employee. 
Your organization should bear the cost of new hire gifts, not your employees. Budget for gifts as part of your organization's recruiting costs, rather than expecting other employees to contribute to them. 
Seek feedback on your new hire gifts. When reviewing your onboarding process, ask new hires about their gifts. This helps you understand whether they find them valuable and allows them to suggest other gift ideas. 
New Hire Gift Ideas
The list of possible gifts you can give new hires is endless. It includes both company-branded items, as well as more generic products that range from high-end, expensive gifts to thoughtful yet inexpensive gestures.  You can gift products purchased externally or ones your organization makes or sells. You can also personalize most of these gifts—for example—by printing an employee's initials or name on it.  Here are some new-hire gift suggestions.
Company-branded gifts: mug, hat, t-shirt, hoodie, pen, keychain, lanyard.
Eco-friendly gifts: reusable water bottle, takeaway coffee cup, tote bag.
Wellness gifts: a yoga mat, indoor plant, fitness tracker, candle.
Useful gadgets: headphones or a headset, laptop case, USB, portable phone charger.
Desk accessories: a desk organizer, notepad, stickers, calendar, mouse pad.
Food or drink gifts: tea, coffee, a bottle of wine, a food hamper, a snack box, chocolates.
Other gifts: gift cards, books relevant to their role, a subscription to an industry publication.
Small but meaningful gestures: a handwritten welcome note or card, an invitation to lunch with their manager, decorating their workspace. 
Conclusion
Gifting something to your new hires is a great way to welcome them to the organization, celebrate their first day, and enhance their overall onboarding experience.  New hire gifts don't need to be extravagant or expensive. But they should be thoughtful—the right gift can communicate your company's culture, brand, and values and help set the tone for a new hire's employment experience.