Employee rewards are benefits or bonuses that are given to employees who go above and beyond what's expected of them or who meet specific performance targets. Reward programs can be put in place to reward employees who reach specific performance or quality targets. You can vary the type of rewards and bonuses as required. 
What's the difference between employee rewards and recognition? 
First up, it's important to differentiate between employee rewards and employee recognition. The two terms are used interchangeably by some, but in reality, they are quite different. Rewards can be considered a form of recognition, but recognition is not really a reward in and of itself.  Rewards programs are based on the idea of giving a monetary or physical bonus for good performance. They can become quite costly for your company if you're not careful, but they can boost employee performance when used well. On the other hand, recognition programs are designed to make employees feel appreciated and good about their work. They are much more cost-effective than rewards programs and could be a good option for smaller businesses with a tight budget. Or, the two types of programs can be used in tandem.  
What are the benefits of employee rewards programs? 
Developing a new employee rewards program can have numerous benefits for your business. Some of the main reasons you should consider an employee rewards program include the following. 
Showing appreciation for good work. 
Increasing motivation and boosting productivity by making employees want to be at work. 
Building a positive workplace by encouraging friendly competition between employees striving to meet rewards targets. 
Boosting employee retention by making your employees want to keep working for you.
However, keep in mind that employee rewards programs can be expensive. Ensure you weigh up the cost versus the benefit and try to find a good balance.  
Refine Employee Recognition with Connecteam
Connecteam's employee
Rewards
feature is simple to use, allowing you to reward accomplishments or goals, recognize individual efforts, and promote team achievement. With customizable goals, tokens of appreciation, public recognition, acknowledgements and more – it's the perfect way to empower your employees and foster engagement in the workplace.
Learn More about Connecteam!
How to Design an Employee Rewards Program
When you're designing a new employee rewards program, it's important to keep things like your budget, your company vision, and what rewards targets you want to set at the front of your mind. The following steps will help you design a great rewards program for your organization. 
Step 1: Understand why you want a program.
Before you implement an employee rewards program, you need to understand why you need one and what company goals it's going to be advancing. This will help you focus your program and provide the most benefits.
Step 2: Create a budget.
It's important to understand how much you can afford to spend on your rewards program. You can always revisit the budget in the future. 
Step 3: Identify reward criteria.
Before you launch your employee rewards program, you should create clear criteria that identify how and when employees should be rewarded. This will help keep the program fair and competitive.
Step 4: Decide on your rewards.
There are a few different types of rewards you could go for, including monetary bonuses or physical items. It could be a good idea to send out a survey to see what rewards your employees would like to receive. 
Step 5: Implement your program.
Once you've fine-tuned your employee rewards program, it's time to roll it out. Ensure your employees understand it and how it works. It's often worth making a rewards handbook or document that clearly outlines your program. 
What Kind of Employee Rewards Are There? 
Employee rewards can generally be split into two categories: monetary and non-monetary. These can be further split into more specific subcategories. 
Monetary Rewards
Monetary rewards can come in the form of
direct compensation
or
indirect compensation
. Direct compensation involves a direct monetary reward and may include things like lump-sum bonuses, overtime rewards, or pay increases. Indirect compensation, on the other hand, is when you pay for something for your employee, such as their health insurance or parking fees. 
Non-Monetary Rewards
Non-monetary rewards can be further split into
intrinsic
and
extrinsic
rewards.  Intrinsic rewards are those that employees are motivated to go for because they have a sentimental or psychological value, such as a plaque or certificate. These can help employees feel appreciated and recognized. Extrinsic rewards typically motivate employees to compete because the reward is something that's valuable, useful, or fun. This could be technology or gift cards, but don't rule out more unique ideas like fun experiences or tickets to shows.   If you're having trouble deciding what sort of rewards to give, ask your employees! They will appreciate the effort, and you will be able to rest assured that you've made a good choice. 
Structured vs spontaneous rewards 
Employee rewards can be further defined as structured or spontaneous. 
Structured rewards
involve periodic bonuses that employees expect and know they are going to get. These can become a little ineffective, as they are often seen as boring. They can also cause problems if some employees don't reach their targets but feel they should be rewarded regardless. 
Spontaneous rewards
aren't expected by the employee, making them more enjoyable to receive. They are easier to personalize, and they can be used to reward things like high performance, the end of a difficult job, or signing a big contract. 
Download your FREE guide on "6 Pillars for Improving Frontline Employee Retention" ⤵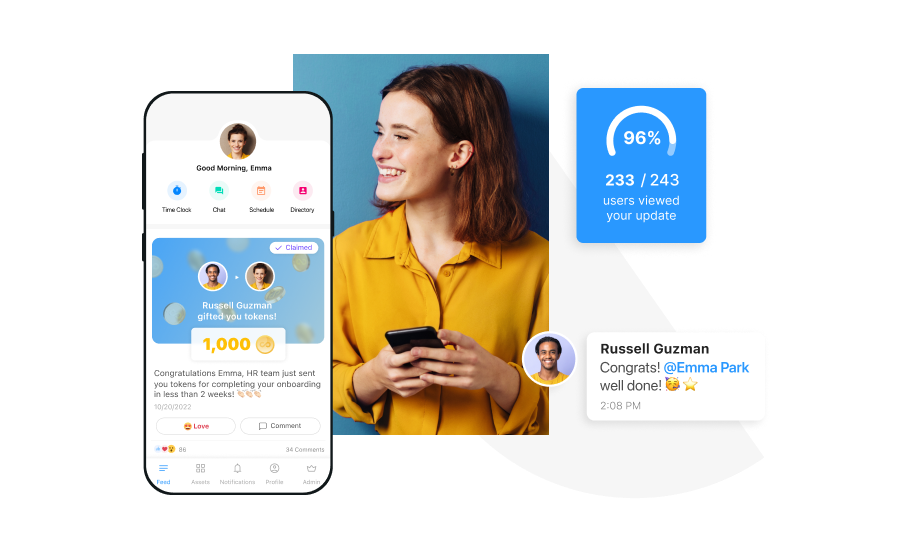 Ten ideas for creative employee rewards
There are countless ways that you can reward employees, especially if you're willing to spend a little money and get creative. Here, we've outlined 10 unique ideas for rewarding your employees.
An extra day off
Most employees would jump at the chance to have a three-day weekend, and you can make this happen by rewarding employees with extra days off when they meet or exceed performance and quality targets. 
Free dinner vouchers
Another great way to show your appreciation for specific employees is to give them vouchers for a popular cafe or restaurant. This will enable them to get out and relax for a few hours, and they should appreciate the gesture. 
A special parking spot
You could also reward employees with their own dedicated parking spot for a week, a month, or for as long as they continue to meet their targets. You could even make a little reservation sign to really show them that it's their space. 
Sporting event tickets
You do have to be a little careful with this one, as not everyone enjoys watching sports. But for some people, tickets to the weekend's baseball game could be the best gift ever. 
Festival or concert tickets
For those who don't like sports, a festival or concert ticket could be the perfect alternative. Again, though, you should be a little careful here to ensure you're choosing appropriate tickets for each employee. 
Wine tasting or brewery tours
If you want to reward an entire team or department, wine tasting or a brewery tour could be the perfect solution. It's a good idea to do this at the end of the week so your employees can wind down with a few drinks if they're so inclined. 
Conference tickets
For some team members, getting the chance to attend a special conference could be the best gift ever. If you want to give a certain employee a special reward, you could send them to a conference of their choice. They might even learn things that will be useful for your company! 
A food hamper
Who doesn't love a good food hamper? There are loads of pre-made hampers out there with artisanal foods and specialty ingredients. Or, you could put together a personalized hamper to show your employees that you really care. 
A "dress-down" day 
Rewarding your team with a dress-down day from time to time can help boost their morale and keep them interested in the job. There's nothing like getting rid of the day-to-day uniform and wearing more casual clothes occasionally. 
Work from home days
If your workforce is still largely in the office, a simple yet effective reward could be allowing employees to work from home a few days per week. This will help them feel relaxed without the pressures of the daily commute, and you might even find that they're more productive!  At the end of the day, your rewards program is really only limited by your imagination. It's a good idea to take input from your employees to ensure you're rewarding them in a way they appreciate. 
Conclusion
Employee rewards are a useful tool for boosting workplace morale and performance. By creating a solid rewards program, you can show appreciation for good performance and high-quality work.  There are many different types of employee rewards and rewards programs. Now that you know the benefits, if you don't already have employee rewards in some way, it could be time to develop a program. 
Reap of Employees Benefits!
Unlock the rewards of employee motivation with Connecteams Rewards. Try it out and motivate your team today!
Try Connecteam Here