Awards and prizes are a recognition of your staff's hard work, usually focusing on one skill or activity in particular. They incentivize and celebrate outstanding results and ideas while encouraging building skills, including creativity and problem-solving.
Awards vs. Prizes: What's the difference?
In practice, the terms awards and prizes are often used interchangeably, but there is a distinction between them. Awards refer to formal forms of recognition and are usually linked to a specific skill set, achievement, or business unit. For example, a company may have separate awards for Best Customer Engagement and Best Operational Efficiency. Awards don't always involve compensation such as cash or perks, but they can act as career accolades for the winners. Prizes, on the other hand, usually refer to some kind of compensation, either cash or in kind, given to one or several winners. For example, paid vacations, gift cards, and cheques can be offered as prizes. In such cases, the competition itself or the winning entry may be titled as a Prize—for example, the Customer Service Prize at a brick-and-mortar retailer.
Benefits of Awards and Prizes
Offering awards and prizes to your workforce encourages employee engagement and contributes to a lower turnover rate. Here is a summary of the benefits you can expect from this initiative. Achievement recognition Getting rewarded for your hard work feels good. Recognizing employee achievements through awards and prizes helps increase workplace satisfaction and reinforces meritocracy. As a result of feeling appreciated, workers may stay with your business for longer. Performance incentivization The prospect of an award can incentivize top performers to push themselves and work in more innovative and efficient ways. This effect can be particularly beneficial for your business during high-pressure scenarios, such as peak tourism season in the hospitality industry. Increased competitiveness Your staff's natural competitiveness can be encouraged by offering a prize or award for their best work. This sense of competition can also influence coworkers to sharpen their skills and aim higher than usual. Increased innovation Innovative ideas are fostered when individuals or teams are incentivized to produce their best results. If you want the award or prize to generate new ideas for the business as a whole, you can hold a competition to produce inventive solutions or reward existing, thought-provoking initiatives. Improved teamwork When awards or prizes are offered to teams, the incentive of a reward and the working process can help your employees build teamwork skills and result in stronger workplace relationships. These effects are particularly beneficial when people with different specialties work together towards winning the award.
Download your FREE guide on "10 Tips for Engaging Your Frontline Teams" ⤵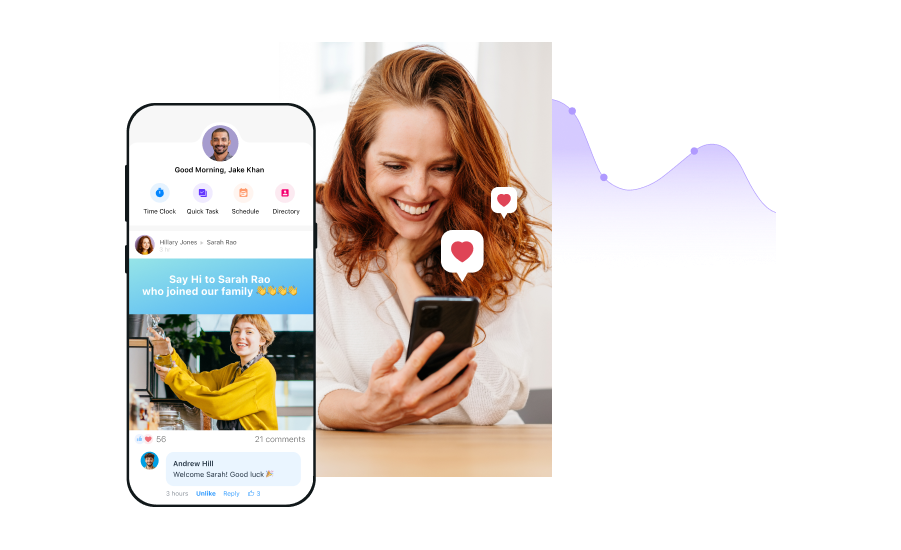 Types of Awards and Prizes
There are many different awards and prizes you can offer your employees. However, most of them fall into three main categories. They are either awarded based on quantifiable metrics, intangible values, or a self-contained competition. Metrics-based Awards and prizes based on quantifiable metrics are relatively easy to organize and judge since applicants' entries are quantifiable and can be ordered hierarchically. For example, a restaurant chain can reward the venue with the most customers served in a week, while a hospital can recognize the department with the highest patient satisfaction score. Metrics-based competitive initiatives are usually announced in advance, are time-bound, and may be divided into different categories—such as seniority level or specialism.  Values-based Awards and prizes based on values are usually judged on intangible criteria. For instance, a Best Team Player award may prioritize communication skills in one company and negotiation skills in another. Businesses may also wish to prioritize and celebrate values such as social responsibility, perseverance, creativity, innovation, and leadership. Often, values-based awards and prizes rely on coworkers' nominations and votes or on applicants' personal statements. To minimize the risk of bias, you can anonymize applications during the review stage or invite independent external judges to review the nominations.  Competition-based A competition is a self-contained event during which team members demonstrate skills such as teamwork, problem-solving, and creativity while working towards a final product or presentation. Competitions can reinforce skills and knowledge needed on the job, but they can also be fun and relaxed, like a Best Costume prize at the company Halloween party. Competitions can be costly to organize, especially if they involve cash prizes and hiring external venues. However, they can be a vital break from the day-to-day job, inspire team building, and encourage your employees to develop new skills.
Examples of Awards and Prizes
There are many examples of awards and prizes that businesses have offered over time. You can even create your own version, based on your company values and metrics. Below, we list three common examples, one for each award and prize type outlined above. Employee of the month A popular and often metrics-based award is Employee of the Month, which can mean different things for different companies. For example, for a retailer, the top employee could be the one that exceeded their individual targets and got the best feedback from both customers and colleagues. To recognize this distinction, you can post the winner's picture and bio in the staff area or in the internal newsletter. You can also incentivize competition by offering in-kind prizes such as gift cards or a dinner-for-two at a local restaurant. Lifetime Achievement award The Lifetime Achievement award recognizes a team member that's further along in their career and has had a lasting impact on their industry. This distinction is normally values-based and not easily quantifiable, with nominations for the award provided and assessed by a committee with an overview of past and current staff members. The criteria for winning the Lifetime Achievement award might include outstanding impact on customers, innovations made in the company and wider industry, and offering inspiration and mentorship to peers. Hackathons At first, hackathons were niche events in the technology industry, but they have since expanded to encourage innovation and teamwork across sectors. A hackathon is a competition that lasts between one and three days, has a particular theme, and invites multiple teams to create prototypes of their ideas and project plans to support them. An award or prize is offered to the winning team, which can include mentorship from senior leaders and the capital to implement their ideas.  While hackathons can be expensive to organize, they are excellent at generating solutions to business problems. As well as this, they put coworkers in a high-pressure environment, where skills including problem-solving and creativity can improve rapidly.
Conclusion
Awards and prizes incentivize and reward outstanding staff achievements, thus contributing towards a higher employee satisfaction rate and a decreased turnover. By actively doing their best work, team members also build valuable skills such as problem-solving, creativity, and collaboration. There are many examples of awards and prizes out there, including recognitions such as Employee of the Month and hackathon awards, and most are offered based on metrics, values, or competitions. You can choose one of the classic ones to engage your workforce or create your own, based on your business characteristics.